Cinnamon Pecan Coffee Cake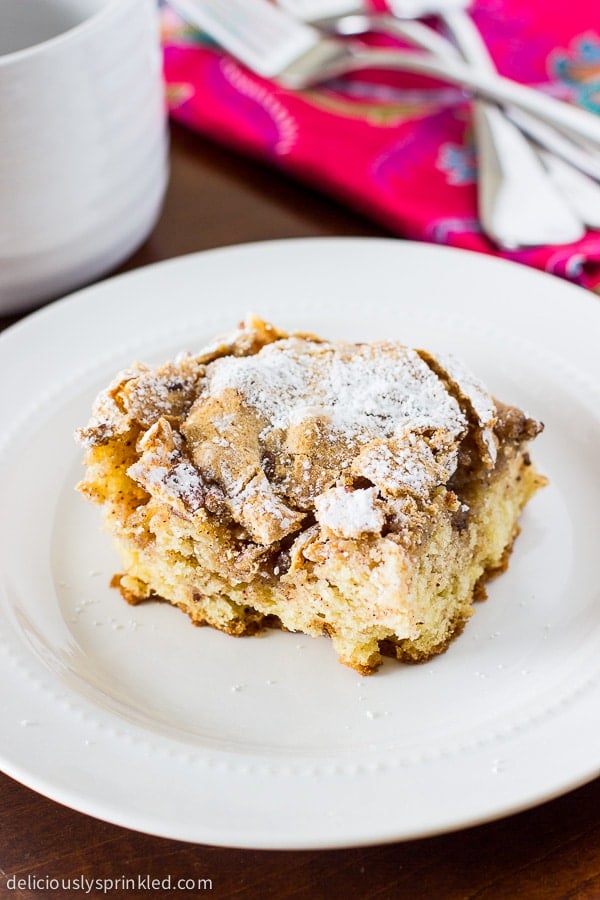 Homemade Cinnamon Pecan Coffee Cake is one of my favorite holiday traditions. During the holiday season, I make this coffee cake at least three times, it's that good. And for me, I could eat this coffee cake every morning, not just during the holiday season and I would be one happy girl!
This cinnamon pecan coffee cake is super easy to make, I have been making it with mom since I was a little girl. I love that it's filled with all the cinnamon flavor we all love in a traditional coffee cake with a crunchy pecan topping that is to die for. Sprinkle with some powdered sugar and enjoy with your favorite coffee.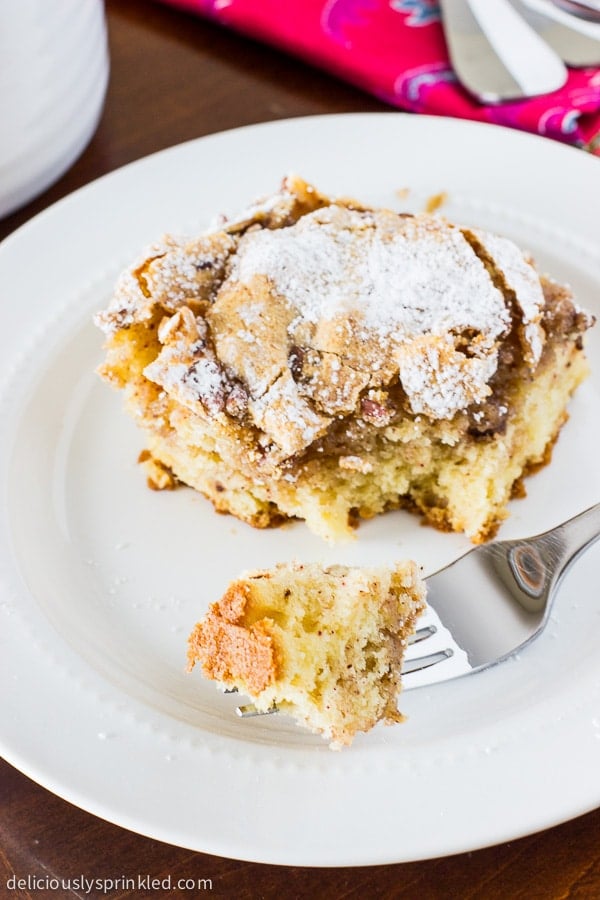 JUST A FEW BAKING TIPS:
✔  This coffee cake is made with sour cream which makes this cake super moist. But just make sure you use regular sour cream, not the "Light Sour Cream"… because it really does make a difference in my coffee cake recipe.
✔ I used chopped pecans in my recipe this time but you can use walnuts, macadamia nuts, or even chopped almonds. I like to use a different type of nut each time I make this coffee cake but my favorite is chopped pecans.
✔ The easiest way to sprinkle the powdered sugar on top of this cinnamon pecan coffee cake, is place a little less than 1/4 cup of powdered sugar in a sifter and gently tap the side of the sifter over top of the coffee cake. Cut the coffee cake into squares and enjoy!
STEP-BY-STEP GUIDE ON HOW TO MAKE THIS CINNAMON PECAN COFFEE CAKE: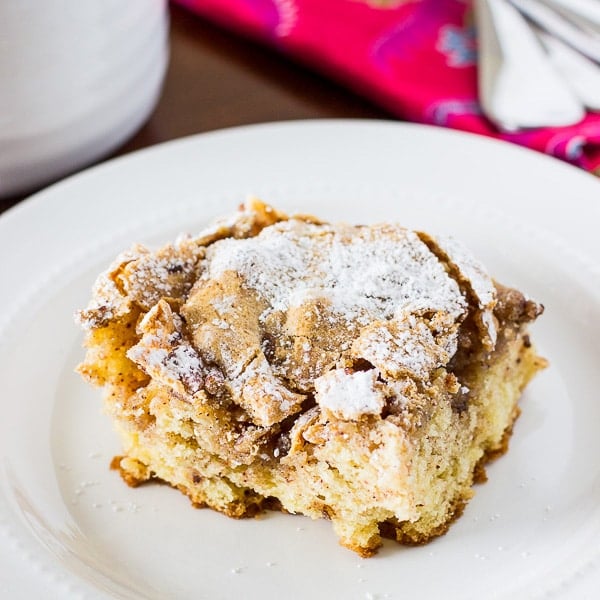 Yield: Serves 12
Cinnamon Pecan Coffee Cake
★ Make sure to read my BAKING TIPS above before you start baking!
Prep Time 15 minutes
Cook Time 40 minutes
Total Time 55 minutes
Ingredients
1/2 cup (1 stick) butter, softened
2 large eggs, beaten
1 teaspoon baking soda
1 1/2 cups all-purpose flour
1 cup granulated sugar
1 cup sour cream
1 1/2 teaspoons baking powder
1 teaspoon vanilla extract
1/4 cup powdered sugar, optional
1/2 cup granulated sugar
1/2 teaspoon ground cinnamon
1/2 cup pecans, chopped or your choice of nuts
Instructions
PRE-STEP: Preheat oven to 350F degrees. Spray 9x9 inch pan with non-stick cooking spray and sprinkle with a light dusting of flour onto the bottom of the pan. Set aside.
STEP 1: In a small bowl, mix sugar, cinnamon, and chopped pecans together to make pecan mixture. Set aside.
STEP 2: Using an electric or stand mixer, cream together butter and sugar.
STEP 3: Add beaten eggs and vanilla extract. Set aside.
STEP 4: In a large bowl, whisk together baking soda, flour, and baking powder. Add dry ingredients to mixture and combine.
STEP 5: Add sour cream and mix until combined.
STEP 6: Place half of the batter into prepared pan and sprinkle the top of the batter with half of the pecan mixture. Add remaining batter to pecan mixture and sprinkle the remaining pecan mixture on top of batter.
STEP 7: Use a knife to swirl the top of the batter. Bake for 40 minutes. Using a sifter, sprinkle the top of the coffee cake with powdered sugar. Let cool completely before cutting into squares.
Notes
❤ I'd love to see what you have baked! Just snap a photo and hashtag it #DELICIOUSLYSPRINKLED or tag me @deliciouslysprinkled on Instagram!
BAKING TOOLS I USED TO MAKE THIS COFFEE CAKE:
Check out more of my Breakfast Recipes…
Try this Cinnamon Roll Funfetti Cake, it's a favorite at our house! ♥