Frosted Lemon Cheesecake Bars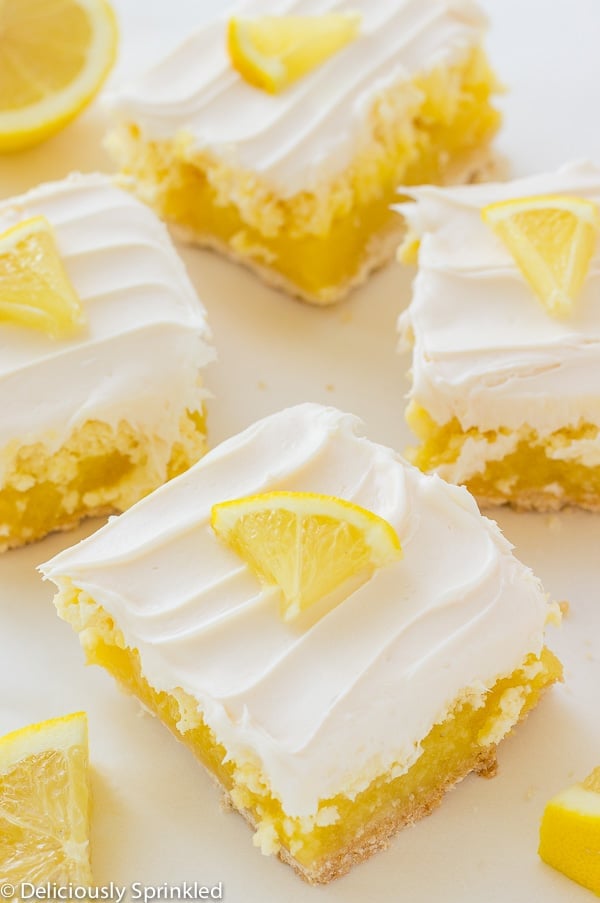 Calling all lemon lovers! ♥
These Frosted Lemon Cheesecake Bars have all my favorite lemon desserts in one. These bars start out with the classic layer of lemon bars, then a layer of lemon cheesecake topped with a delicious cream cheese frosting. Seriously, these lemon cheesecake bars are AHHHH–mazing.
I will be making these bars for Easter brunch and all summer long.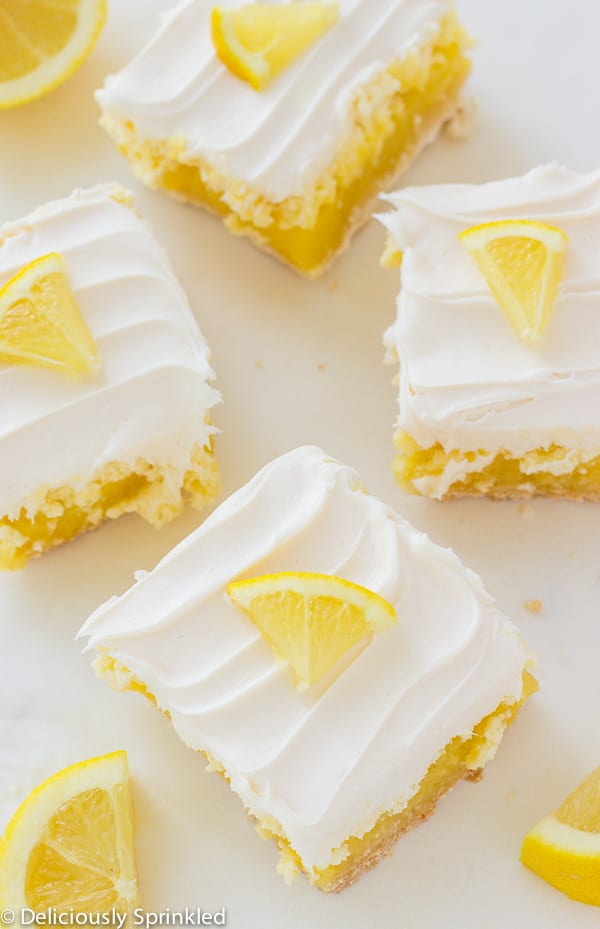 JUST A FEW BAKING TIPS:
✓ LINE YOUR BAKING PAN: To make it super easy for you to cut these lemon bars into squares, line your 13×9 inch baking pan with aluminum foil, leaving enough overhang on the sides and spray the foil with non-stick cooking spray. Once the bars have cooled lift the bars out of the pan, folding down the aluminum foil sides.
✓ FROSTING: For the cream cheese frosting, I recommend using heavy whipping cream because it gives the frosting that thick, creamy, texture that everyone loves. But if you don't have heavy whipping cream, you can use milk but just note that your frosting might not be as thick.
✓ CUTTING BARS INTO SQUARES: The secret to cutting these bars into perfect squares is to use a plastic knife or a silicone spatula because they don't have sharp edges for the lemon bars to stick to, so they cut more smoothly. Also, make sure that the bars are COMPLETLY COOLED before cutting.
STEP-BY-STEP GUIDE ON HOW TO MAKE THESE FROSTED LEMON CHEESECAKE BARS: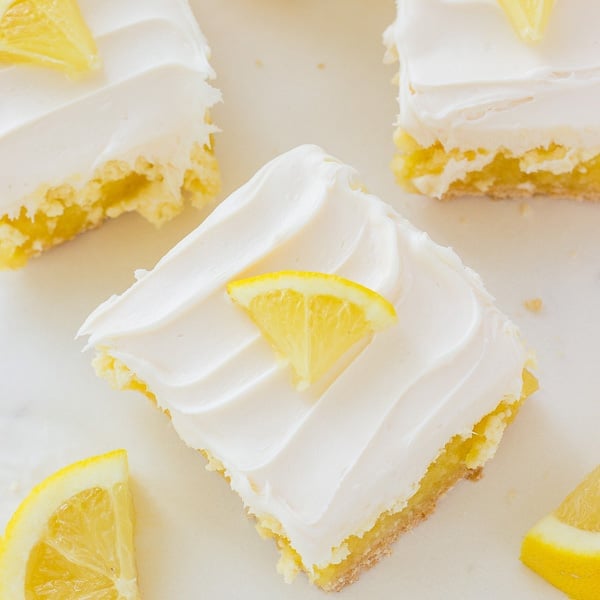 Yield: 24 Bars
FROSTED LEMON CHEESECAKE BARS
Prep Time 15 minutes
Cook Time 40 minutes
Additional Time 20 minutes
Total Time 1 hour 15 minutes
Ingredients
CRUST:
2 boxes Krusteaz™ Meyer Lemon Bar Mix
LEMON LAYER:
2 packets lemon mixes from Krusteaz™ Meyer Lemon Bar Mix
2/3 cup water
6 large eggs
CHEESECAKE LAYER:
2 (8oz.) packages cream cheese, softened
¾ cup granulated sugar
2 large eggs
1 teaspoon vanilla extract
¼ cup sour cream
CREAM CHEESE FROSTING:
1 cup unsalted butter, softened
1 (8oz) package cream cheese, softened
4 cups powered sugar
¼ teaspoon salt
1 tablespoon vanilla
2 tablespoons heavy whipping cream
Instructions
PRE-STEP: Preheat oven to 350F degrees. Line 13 by 9-inch baking pan with foil, leaving a 2-inch overhang on two sides; coat the foil with cooking spray. Set aside.
CRUST LAYER:
STEP 1: Press both crust packets evenly into baking pan. Bake for 8-10 minutes
LEMON LAYER:
STEP 2: In a mixing bowl, mix lemon mix packets, water and eggs until well blended. Pour lemon mixture over crust.
CHEESECAKE LAYER:
STEP 3:  In a mixing bowl, using an electric stand or hand mixer, cream together cream cheese and sugar until smooth. Mix in eggs one at a time. Add vanilla and mix in sour cream. Pour cheesecake mixture over lemon layers. Gently spread cheesecake filling into an even layer.
STEP 4:  Bake for 35-40 minutes. Remove from oven and allow to cool at room temperature for 45 minutes then transfer to refrigerator and chill at least 2 hours.
CREAM CHEESE FROSTING:
STEP 5:   Beat softened butter on medium speed with an electric or stand mixer. Beat for 3 minutes until smooth and creamy. Add cream cheese, powdered sugar, heavy cream, salt and vanilla extract, increase to high speed and beat for 3 minutes. Spread an even layer over chilled bars. Cut into squares. Store leftovers in an airtight container in refrigerator.