Very Berry Ice Cream Pie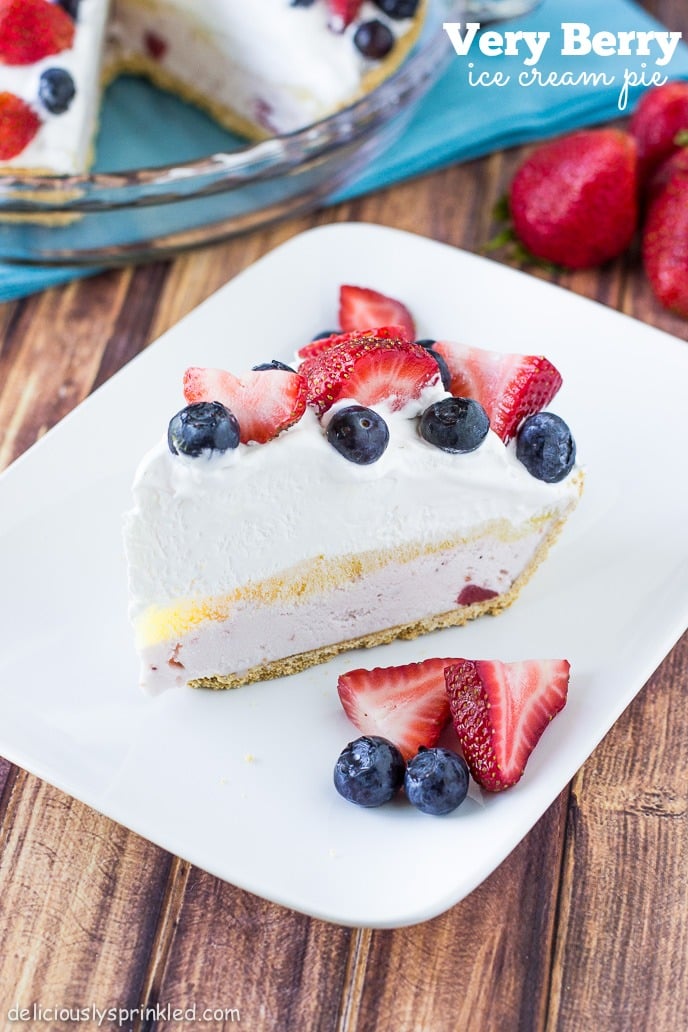 Summer time here in Wisconsin to me, is all about buying fresh produce and giving my oven a much needed break. If you been following my blog for a little while now, you now that I got super excited when I saw all the fresh produce hitting the stores in late spring that I had to make my Strawberry Cheesecake  Bars recipe.
My grocery store of choice, where I do all my shopping for my blog and my personal stuff is at Walmart and I especially love Walmart's produce section, they always have the freshest fruits and vegetables, like these fresh strawberries and blueberries I used on top of my Very Berry Ice Cream Pie today!
And today's ice cream pie is one of those family traditions! My aunt would always make this delicious ice cream pie for 4th of July, and as you can guess it was always a huge hit with the family. I mean, come on who doesn't like strawberry ice cream, lemon creme, Cool Whip, and fresh berries!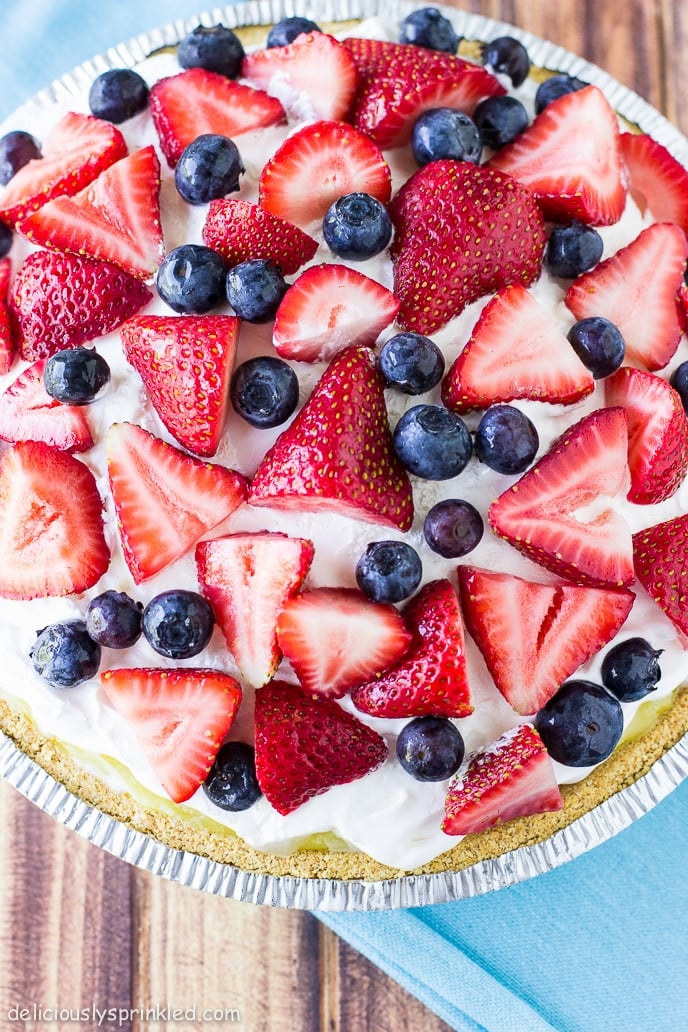 This ice cream pie is so simple to make, all you need is one 9-inch graham cracker pie crust, strawberry ice cream, lemon creme pie filling, Cool Whip, fresh strawberries, and fresh blueberries. The hardest part of this whole recipe is waiting for the pie to freeze before serving.
Someone needs to invent a freeze machine, that freezes things FAST like a microwave can do for heating things up quickly! 🙂
Anyways, bring this very berry ice cream pie to your next summer get together and you will be asked to make this ice cream pie again for the next get together. Trust me, I made this pie once for a friends party and I have been requested to bring this pie each time for years now!
Step-by-Step on how to make this delicious Very Berry Ice Cream Pie: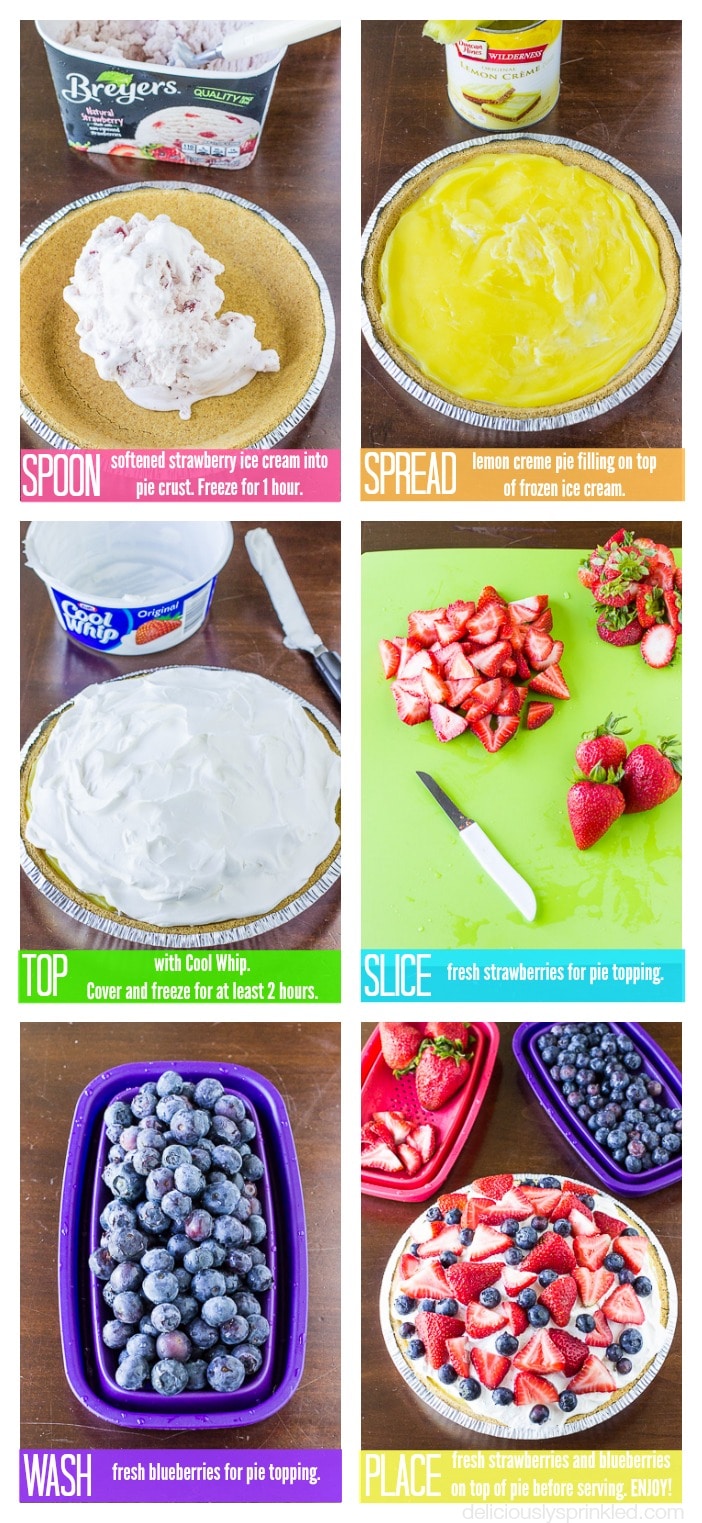 BAKING TIP
I have also made this ice cream pie with blueberry, strawberry banana, and chocolate ice cream. If you use chocolate ice cream, replace the lemon creme pie filling with marshmallow creme and the pie will taste like chocolate covered fruit…so GOOD!
Very Berry Ice Cream Pie
Yield: 8 Slices

Total Time:3 hours 15 minutes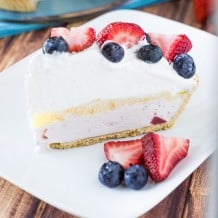 Ingredients:
1 (9-inch) graham cracker pie crust
2 cups strawberry ice cream, softened
1 cup lemon creme pie filling
1 tub Cool Whip, thawed
2 cups fresh strawberries, sliced
1/4 cup fresh blueberries
Directions:
Spoon softened strawberry ice cream into pie crust, using a spatula to spread ice cream evenly into the crust. Place pie in freezer for 1 hour or until ice cream is firm.

Spread lemon creme over top of frozen ice cream and then top with Cool Whip. Cover the pie with aluminum foil and place in it the freezer for at least 2 hours or until Cool Whip is firm.

Slice fresh strawberries and wash blueberries to place on top of the pie right before your ready to serve.
53 Responses to "Very Berry Ice Cream Pie"
Leave a Comment