Very Berry Ice Cream Pie
This Very Berry Ice Cream Pie is perfect for your 4th of July gathering or BBQ!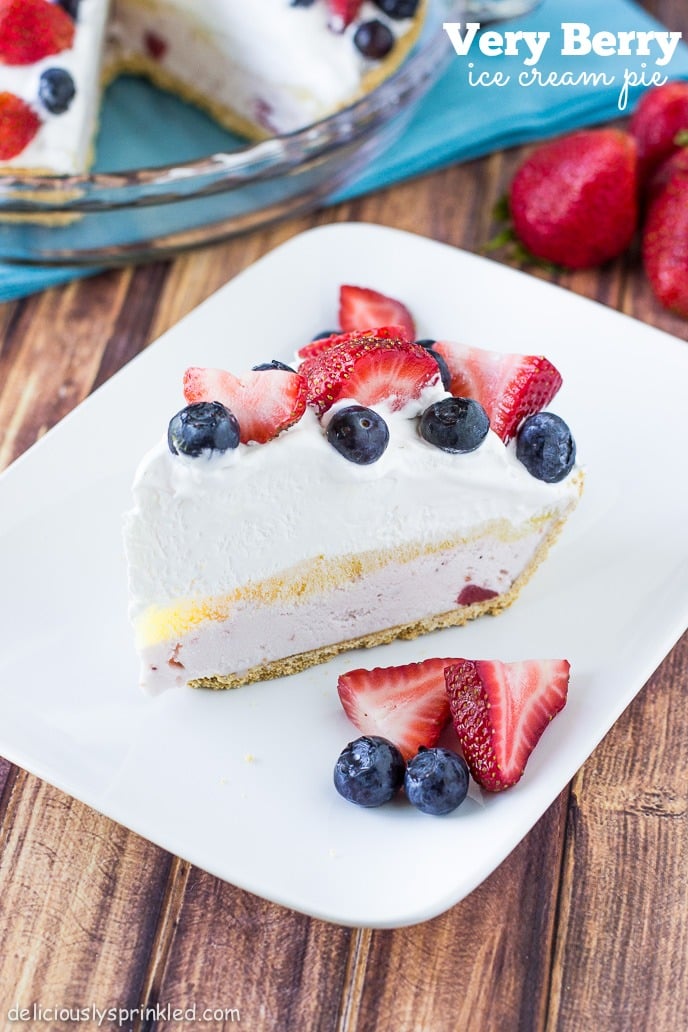 Summer can be summed up in three little letters: H-O-T. What better way to cool off than with a giant slice of this Very Berry Ice Cream Pie? It's cool and packed full of flavor to cool down your temp while warming up those taste buds.
While this ice cream pie is perfect for the upcoming 4th of July BBQ, it's also perfect for a number of other summer parties as well! And during summer, there are no rules, right? So who says you can't have your dessert first before eating anything else? Play that grown-up card and eat your slice of pie when that hunger hits!
I love the fact that this pie has only 6 ingredients and is super-simple to make. While it takes a few hours for it to freeze up and be ready, it's definitely worth the wait!
After your first bite of this Very Berry Ice Cream Pie, you'll be hooked. There is no other ice cream pie out there that will make your taste buds dance like this one. Make this up "just because" or for a celebration. You can't go wrong with this Very Berry Ice Cream Pie recipe!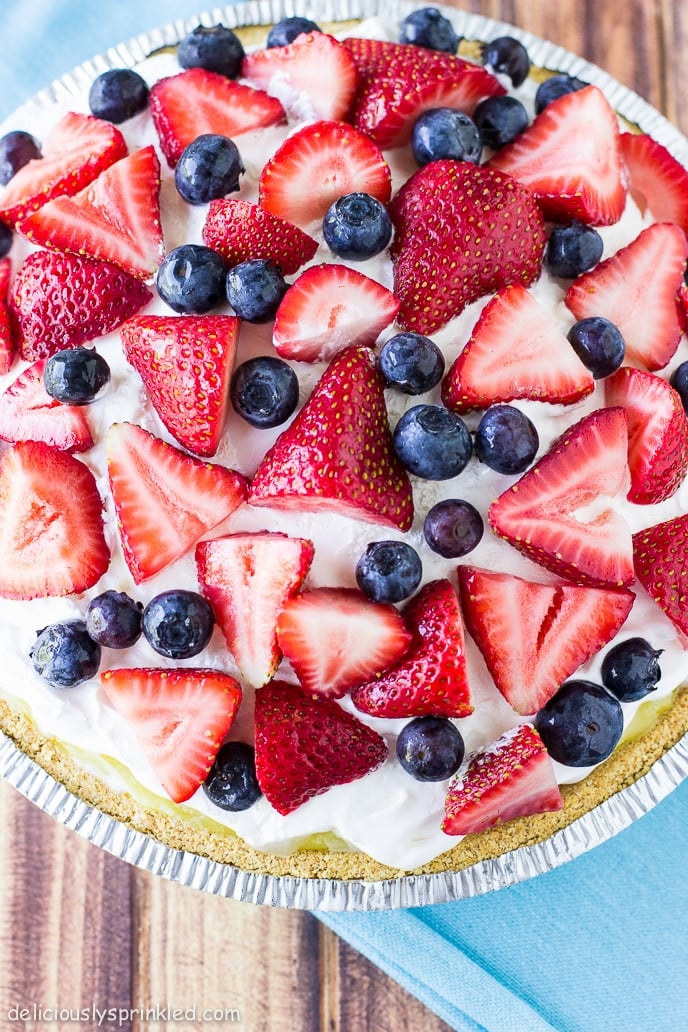 HOW TO MAKE ICE CREAM PIE
EASY PIE CRUST: I'm making it easy today because we all know that especially during the summer, we have no time to be in the kitchen all day. So I used a store bought graham cracker crust, keeping things simple.
ICE CREAM: I've made this pie using strawberry ice cream, vanilla ice cream and even cherry ice cream. Use your favorite ice cream flavor, I would just stay away from chocolate ice cream because lemon and chocolate might not go together very well.
STRAWBERRIES & BLUEBERRIES: Top the the pie with fresh strawberries and blueberries. You could also use raspberries or even bananas.
MORE NO BAKE RECIPE IDEAS
NO BAKE STRAWBERRY & CREAM PIE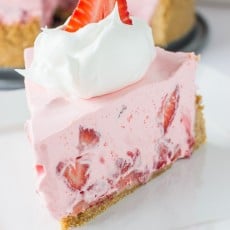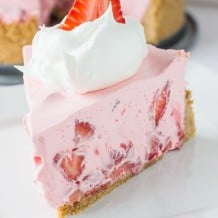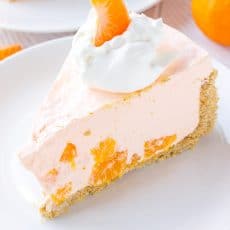 STRAWBERRY SHORTCAKE TRIFLE CUPS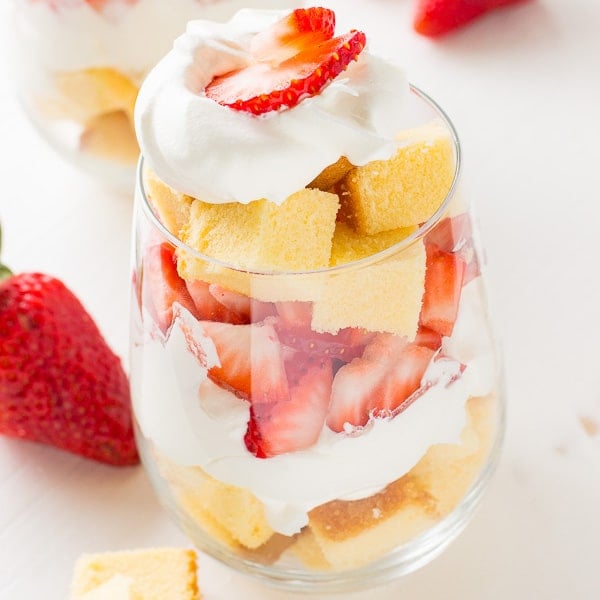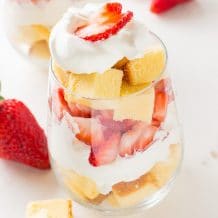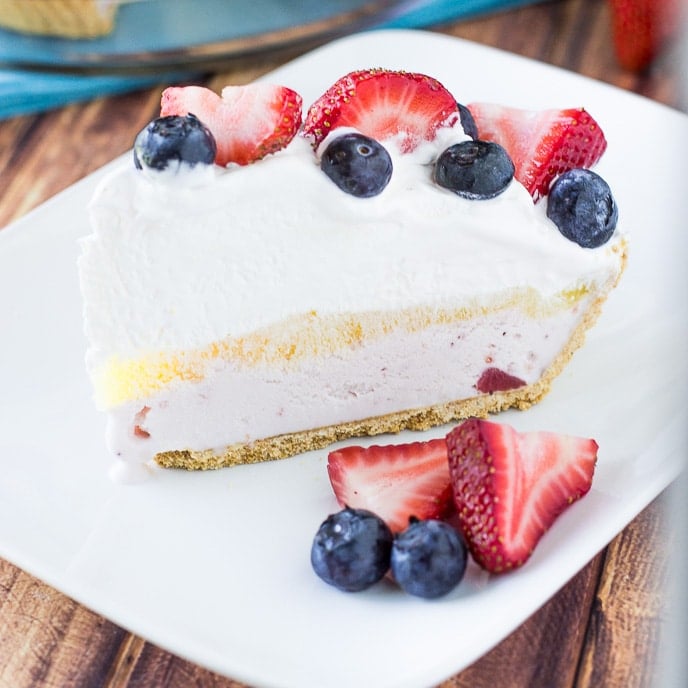 Yield: 8 Slices
Very Berry Ice Cream Pie
Additional Time 3 hours 15 minutes

Total Time 3 hours 15 minutes
Ingredients
2 cups strawberry ice cream, softened
1 cup lemon creme pie filling
1 tub Cool Whip, thawed
2 cups fresh strawberries, sliced
1/4 cup fresh blueberries
Instructions
STEP 1: Spoon softened strawberry ice cream into pie crust, using a spatula to spread ice cream evenly into the crust. Place pie in freezer for 1 hour or until ice cream is firm.

STEP 2: Spread lemon creme over top of frozen ice cream and then top with Cool Whip. Cover the pie with aluminum foil and place in it the freezer for at least 2 hours or until Cool Whip is firm.

STEP 3: Slice fresh strawberries and wash blueberries to place on top of the pie right before your ready to serve.