Fresh Peach Lemonade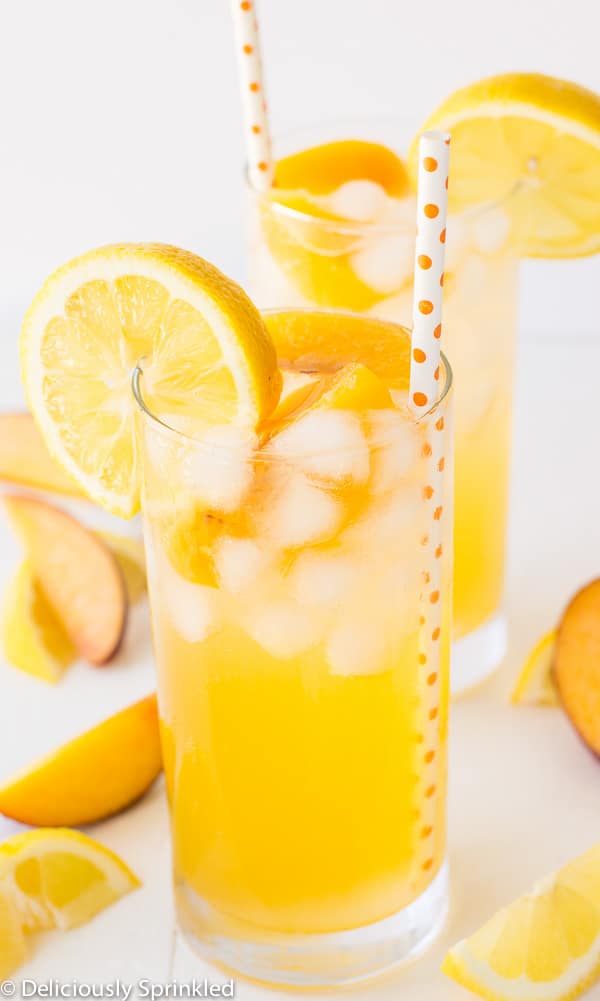 Fresh Peach Lemonade
It's (almost) summertime! Time to schedule those beach vacations, clean up the backyard area for parties, and fire up the grill! I'd be lying if I said that summer wasn't my favorite season. As much as I love the fall and winter holidays, and as great as Easter just was… There's something so relaxing, vibrant, and fun about summer that will always hold a place in my heart!
This Fresh Peach Lemonade perfectly captures how I feel about summertime in one tall, cold, fruity pitcher. The flavors here are bright and vibrant from both peach nectar and freshly squeezed lemon juice. With just the right amount of sugar added, each sip of this summery drink is sweet enough to satisfy, but not overly sweet. It's just the right balance of tartness and sweetness.
While you can skip the fresh fruit garnishes in your pitcher, I recommend keeping them in there! Not only do lemon and peach slices look pretty in the pitcher, they also give the fresh lemonade even more of an aromatic experience and they infuse their natural flavors. Friends and family of all ages will love this easy to make and perfectly picturesque Fresh Peach Lemonade!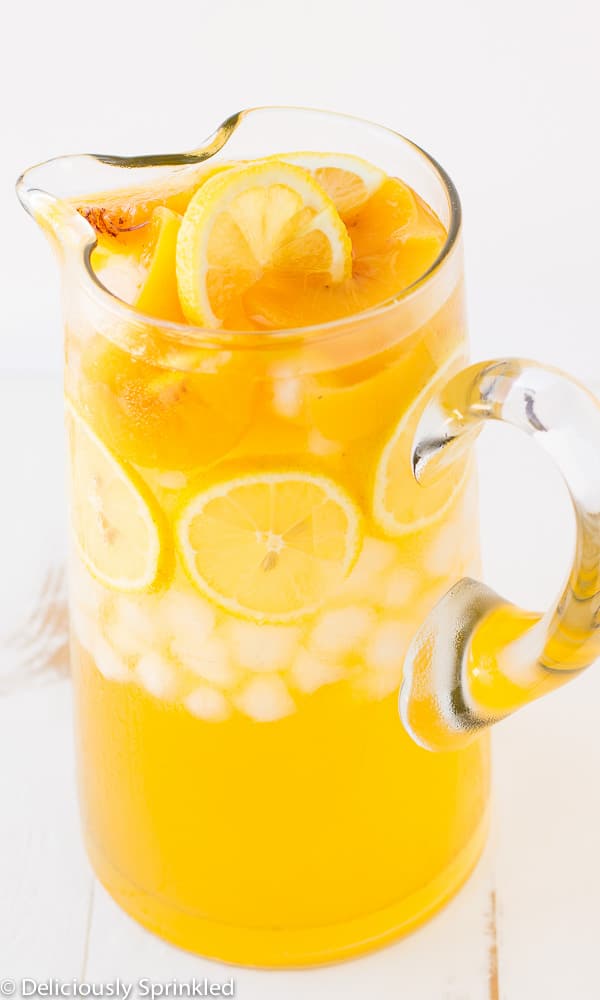 Serve a tall, cool pitcher of Fresh Peach Lemonade at any summertime event! Whether it's a backyard BBQ, a pool party, or a trip to the beach – everything under the sun is made more enjoyable with a glass of this tart, sweet, fruity concoction.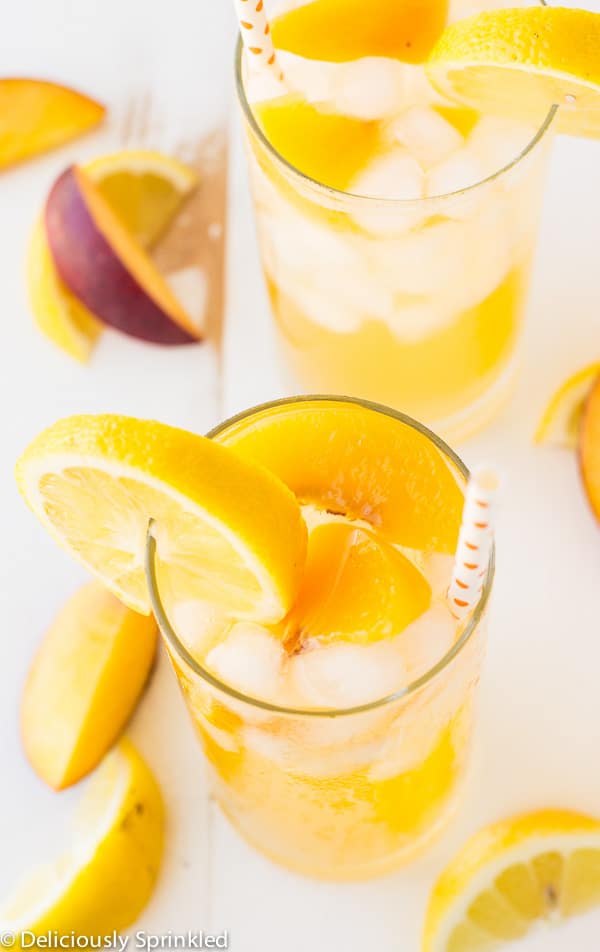 Fresh Peach Lemonade Ingredients
These ingredients are simple and inexpensive! You probably already have most (if not all of them) already in your kitchen.
SUGAR: 1 cup granulated sugar
WATER: 4 cups cold water
LEMON JUICE: 2 cups freshly squeezed lemon juice (about 11 lemons)
PEACH NECTAR: 1 (11 oz.) can peach nectar
LEMON SLICES
PEACH SLICES
ICE CUBES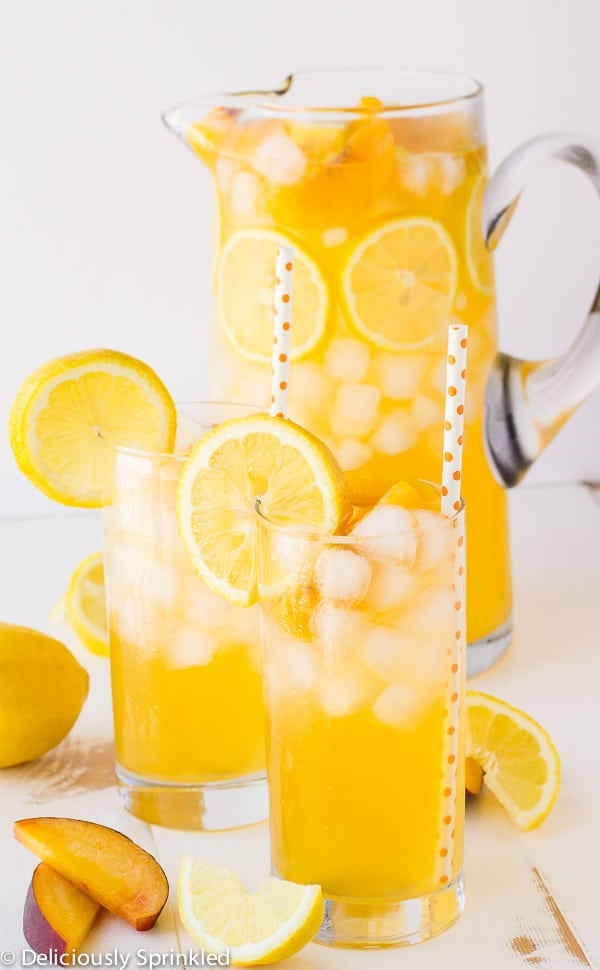 How to Make Fresh Peach Lemonade
This homemade lemonade with peach nectar is SO wonderfully easy to make!
COMBINE. In a large pitcher, combine the sugar, water, freshly squeezed lemon juice, and peach nectar. Stir the ingredients together until the sugar fully dissolves.
CHILL. Cover the pitcher and chill it for a minimum of 2 hours and up to 24 hours.
ENJOY! Serve the Fresh Peach Lemonade on ice with lemon slices and peaches. Enjoy!
Tips for the Best Fresh Peach Lemonade
Use freshly squeezed lemon juice! It makes a huge difference in your lemonade. The bottled stuff just doesn't deliver the same fresh results as the real deal! As the base of your lemonade, you'll want to make sure you don't cut corners with your lemon juice.
Make sure you let your pitcher sit in the fridge for at least 2 hours prior to serving! That way, it'll not only be nice and cold, but all of the flavors will have time to settle.
Don't skip out on the fresh garnishes! They add a little extra oomph to the lemonade.
While I like this kid-friendly lemonade just the way it is, you can also make it for adults only with a cup of vodka!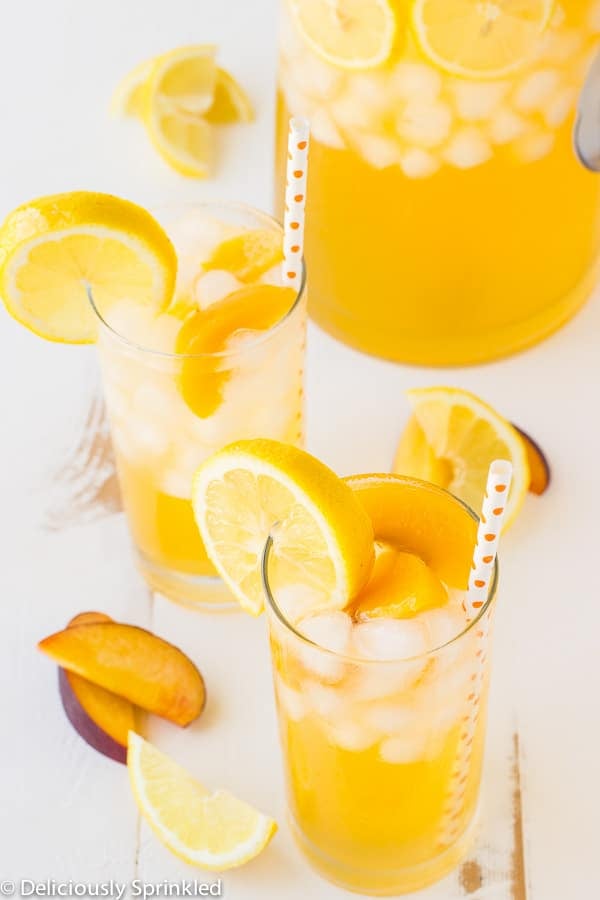 This summer, stay refreshed with all of my favorite homemade drinks! Some of my favorites include Party Punch, Homemade Lemonade, and Strawberry Peach Green Iced Tea. If it's more adult-friendly drinks you want to sip on, you need to try my favorite beachy Easy Pineapple Rum Punch!
Yield: 8 (8oz.) Servings
Fresh Peach Lemonade
Prep Time 15 minutes
Additional Time 2 hours
Total Time 2 hours 15 minutes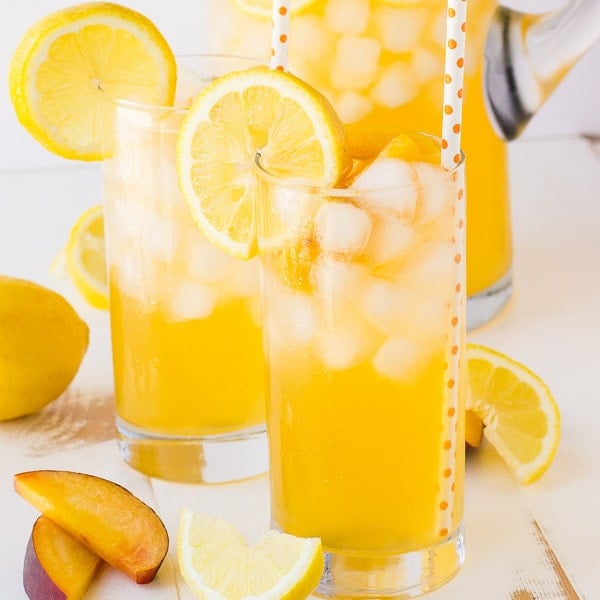 Ingredients
1 cup granulated sugar
4 cups cold water
2 cups freshly squeezed lemon juice (about 11 lemons)
1(11 oz.) can peach nectar
lemon slices
peach slices
ice cubes
Instructions
In a large pitcher combine sugar, water, lemon juice and peach nectar. Stir until sugar dissolves. Cover & chill for 2 to 24 hours.
Serve on ice with lemon slices and peaches.
Nutrition Information:
Yield:
8
Serving Size:
1
Amount Per Serving:
Calories: 132
Total Fat: 0g
Saturated Fat: 0g
Trans Fat: 0g
Unsaturated Fat: 0g
Cholesterol: 0mg
Sodium: 22mg
Carbohydrates: 35g
Fiber: 1g
Sugar: 31g
Protein: 1g
Some of the links above are affiliate links, which we get paid a small commission for recommending my favorite products at no extra cost to you! Thank you for supporting Deliciously Sprinkled.