Easy Pineapple Rum Punch
This Easy Pineapple Rum Punch will absolutely be your summer go-to drink!
After one sip of this refreshing and truly delicious drink, your taste buds will be begging for more.
Never in my life have I ever had an "adult" beverage that I truly enjoyed as much as this one!
Maybe it's the combination of the pineapple chunks, cherries, and rum (yum!) or quite possibly it's the perfect blend of the trio of delicious juices in this fruity and refreshing rum punch.
And while there is a bit of alcohol involved, don't overlook the healthy fruit that's packed into this drink!
Pineapple juice, orange juice, and peach mango juice are truly the star of the show and take this Easy Pineapple Rum Punch from good to great.
If your summer calendar is full of BBQ's and festive dinners with your friends and family, this needs to be what you bring to share at each and every event.
It's the perfect way to introduce those in your life to one of the best drinks that they'll ever have.
Plus, it's always nice to have your own drink of choice available for you to drink whenever you want!
Mix up a pitcher (or two!) of this seriously simple rum punch and keep that tasty flavor flowing all summer long!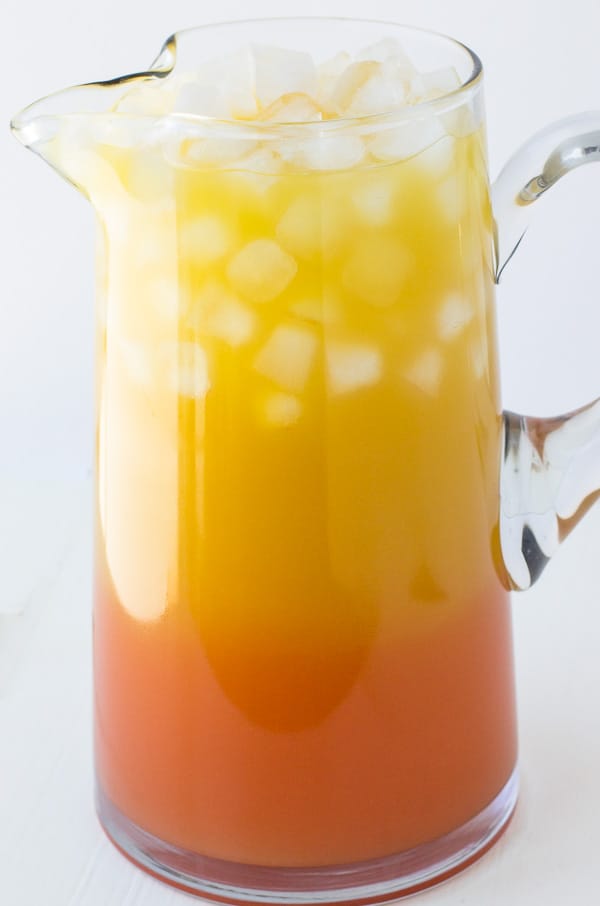 HOW TO MAKE THIS PUNCH
DON'T LIKE RUM?: No problem, I've made this punch without alcohol and I replaced it with 7-UP to make it fizzy. You could also use ginger ale or if you don't like rum and still want it to be an adult drink, you can add vodka or champagne.
MAKE BEFORE THE PARTY: You can make this rum punch the night before the party and bring it out when it's party time. If your using 7-UP or champagne I would add that right before your ready to serve this punch!
GARNISH: Fill the pitcher with pineapple chunks or serve each glass with pineapple and a cherry.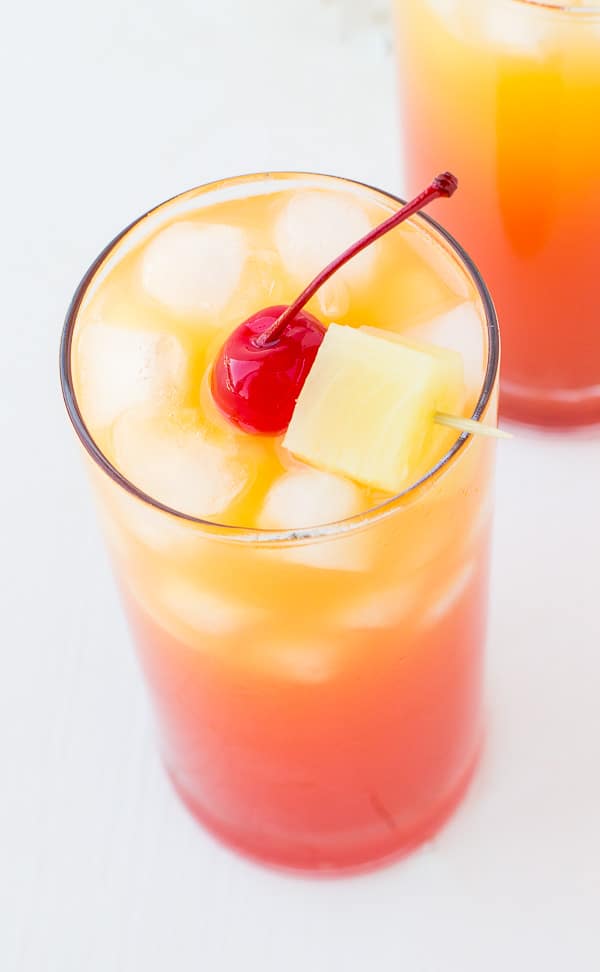 MORE DRINK RECIPES TO TRY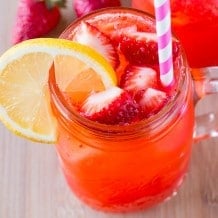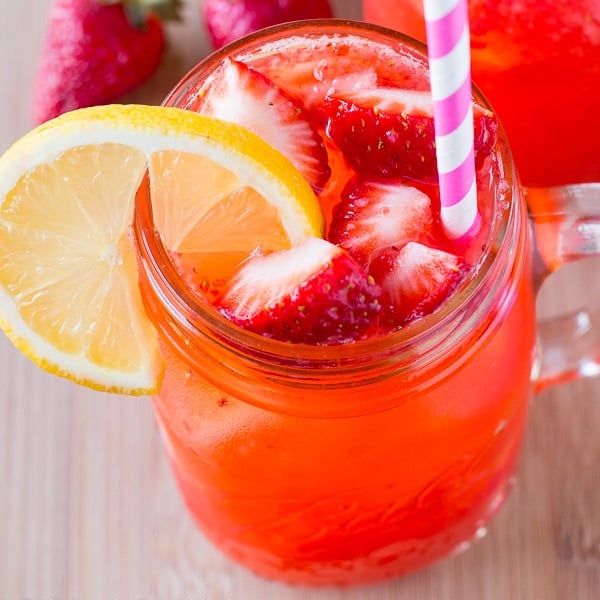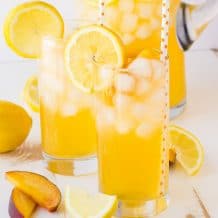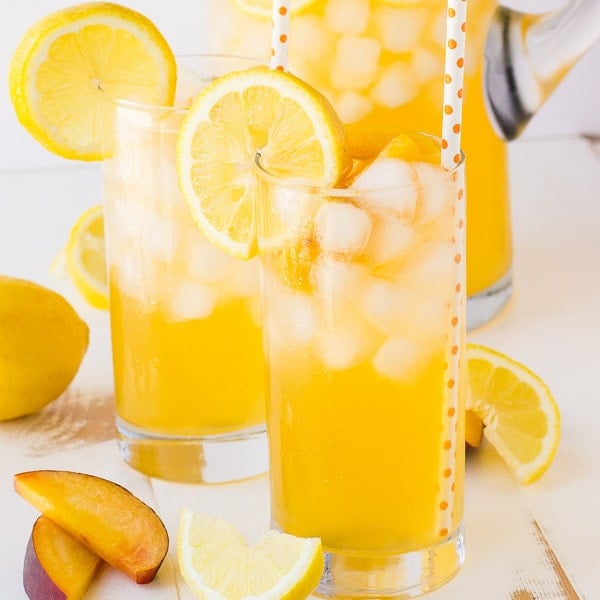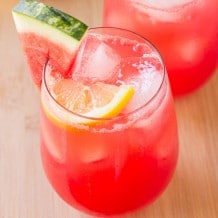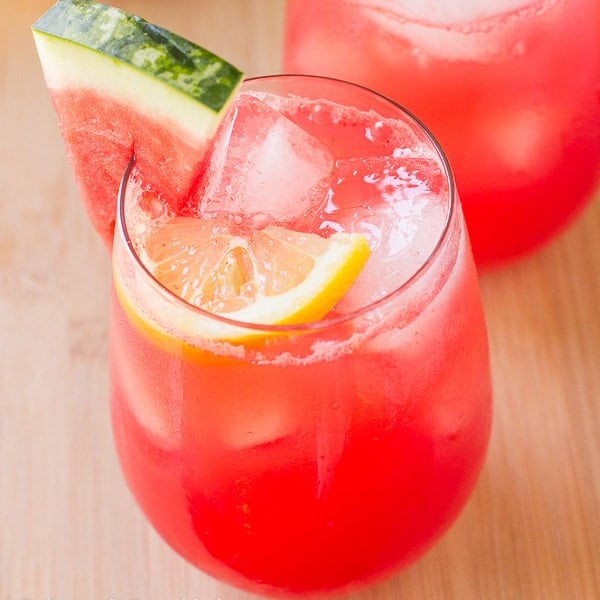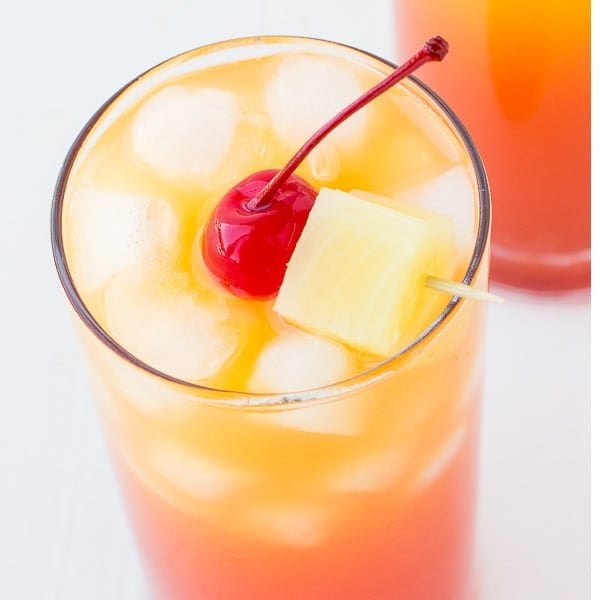 Yield: Serves 12
Easy Pineapple Rum Punch
Prep Time 5 minutes
Total Time 5 minutes
Ingredients
4 1/2 cups pineapple juice
1 1/2 cups orange juice
1 cup orange peach mango juice
2 cups dark rum
3 Tablespoons grenadine syrup
pineapple chunks, and cherries, for serving
Instructions
In a large pitcher, combine all ingredients. Serve over ice and top with pineapple chunks and cherries.