Strawberry Smoothie
This Strawberry Smoothie is a classic smoothie bursting with fresh strawberries.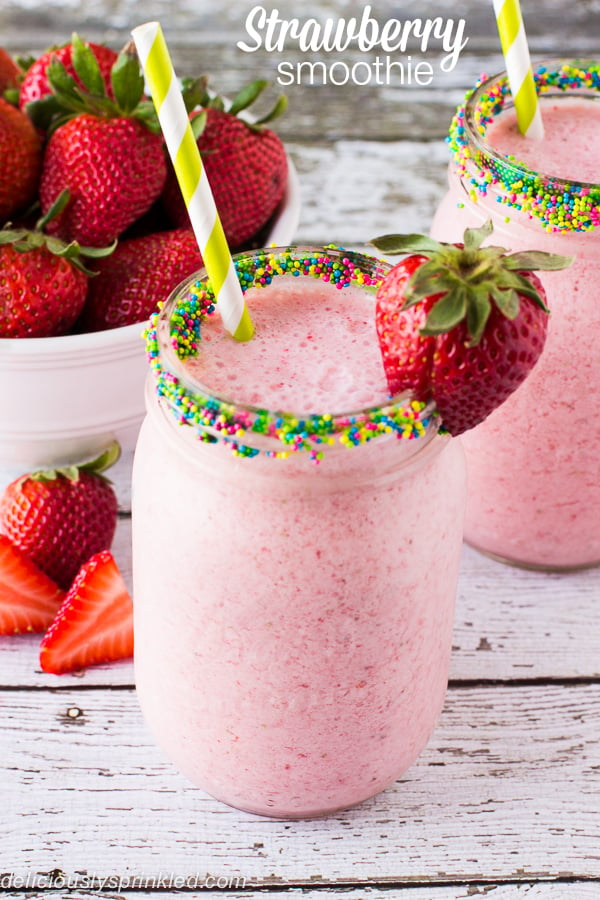 My favorite way to start the morning is with a smoothie.
They can be made in seconds and are a great way to start your day with fruits and vegetables.
Lately "green drinks" have been all the rage, and don't get me wrong I still love my Berry Green Smoothie but I wanted to switch things up.
This strawberry smoothie is one of my all time favorite smoothie recipes and I love that it only takes a matter of minutes to whip together.
And adding SPRINKLES to your morning smoothie always makes for a great day!
When it comes to smoothies, for me- less is more. I like really being able to taste the fresh fruit and all the flavors, I like to keep things simple.
A handful of fresh strawberries, some strawberry greek yogurt and a splash of almond milk makes for a perfect combination.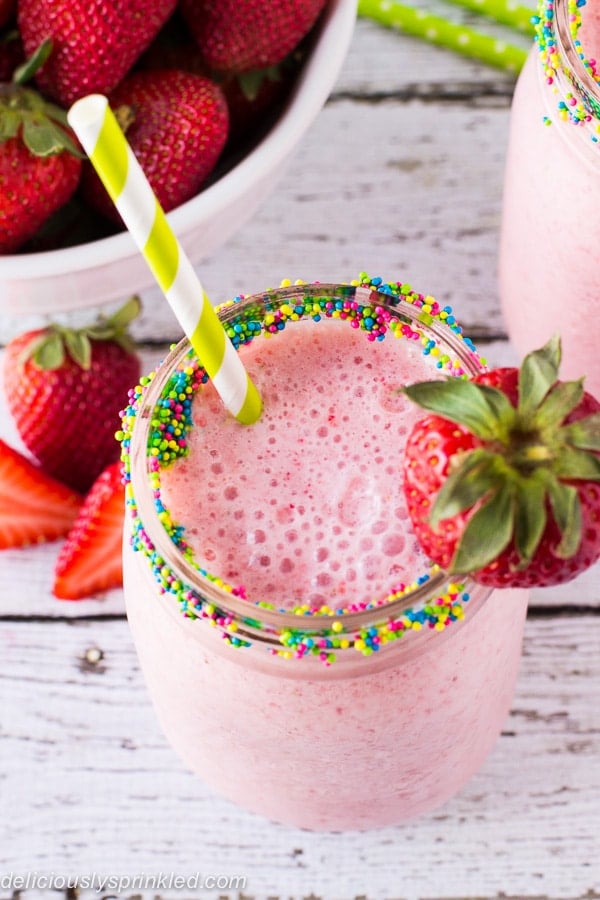 HOW TO MAKE A STRAWBERRY SMOOTHIE
BEST SMOOTHIE BLENDER: I always get asked what blender I use to make my smoothies. My favorite blender to use is the Ninja Blender but it's kinda pricey (totally worth it though), so another favorite of mine that's  less expensive is this blender.
USE FROZEN FRUIT: I like to use frozen strawberries instead of ice cubes in my smoothies. And to make it super easy, I just  buy the chopped frozen strawberries in the frozen section of my grocery store, because I'm all about making things quicker and easier!
FILL UP YOUR BLENDER: When putting the ingredients in your blender, layer the ingredients softest to hardest (frozen). So for this strawberry smoothie, first add the strawberry yogurt, vanilla almond milk, greens. Then add the frozen strawberries.
EXTRA SMOOTHIE LEFTOVER? If you have some leftover smoothie, you can put it in the fridge for later. Once your ready to drink it, I like to add a little extra yogurt to the smoothie to thicken it up again.
MORE SMOOTHIE RECIPES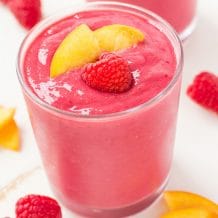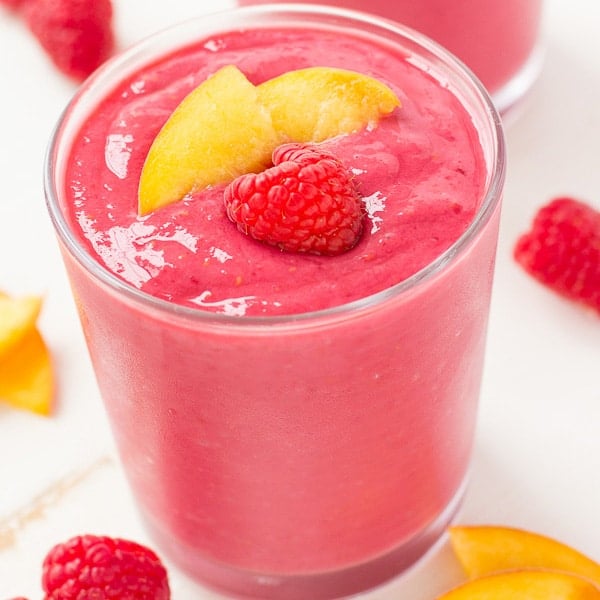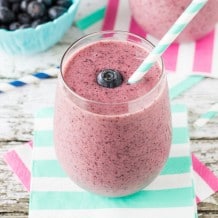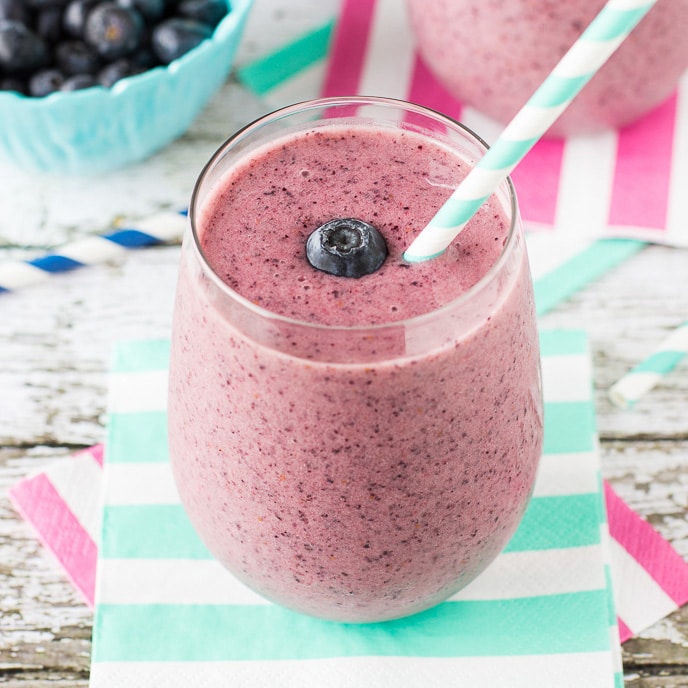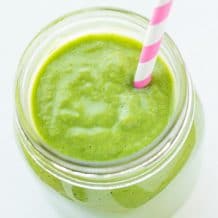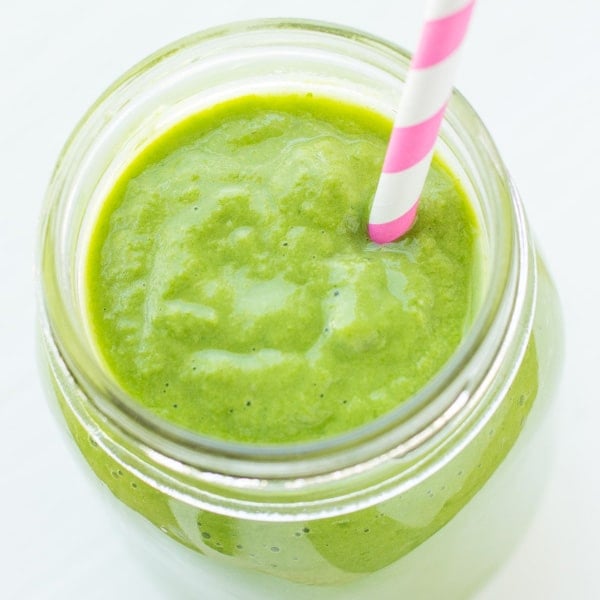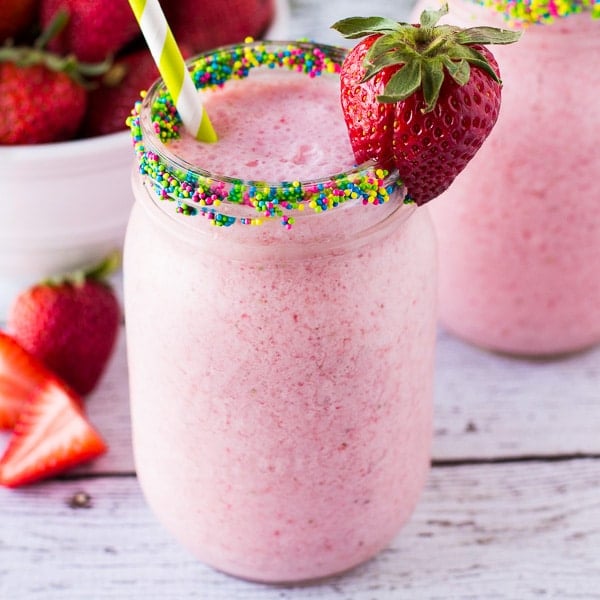 Yield: 2 Servings
Strawberry Smoothie
Prep Time 5 minutes

Total Time 5 minutes

★ Make sure to read my SMOOTHIE TIPS above before you start baking!
Ingredients
1 cup strawberry yogurt
1 cup vanilla almond milk
2 cups frozen strawberries
2 Tablespoons lemon juice
sprinkles
Instructions
STEP 1: Place all ingredients into blender (liquid ingredients first).

STEP 2: Blend on high for 2 minutes or until smooth. Scrap down sides and blend for another 30 seconds.

STEP 3: Serve and enjoy!
Notes
*I used vanilla almond milk but you can also use soy milk, cow's milk, coconut water or plain water.

*Store leftover smoothie covered in the refrigerator for up to 2 days.