Easy Tater Tot Casserole Recipe
If you're looking for a delicious holiday dish or just an easy weeknight dinner, you're going to LOVE this Easy Tater Tot Casserole Recipe. Easy to prepare, quick to bake, and enjoyable to eat!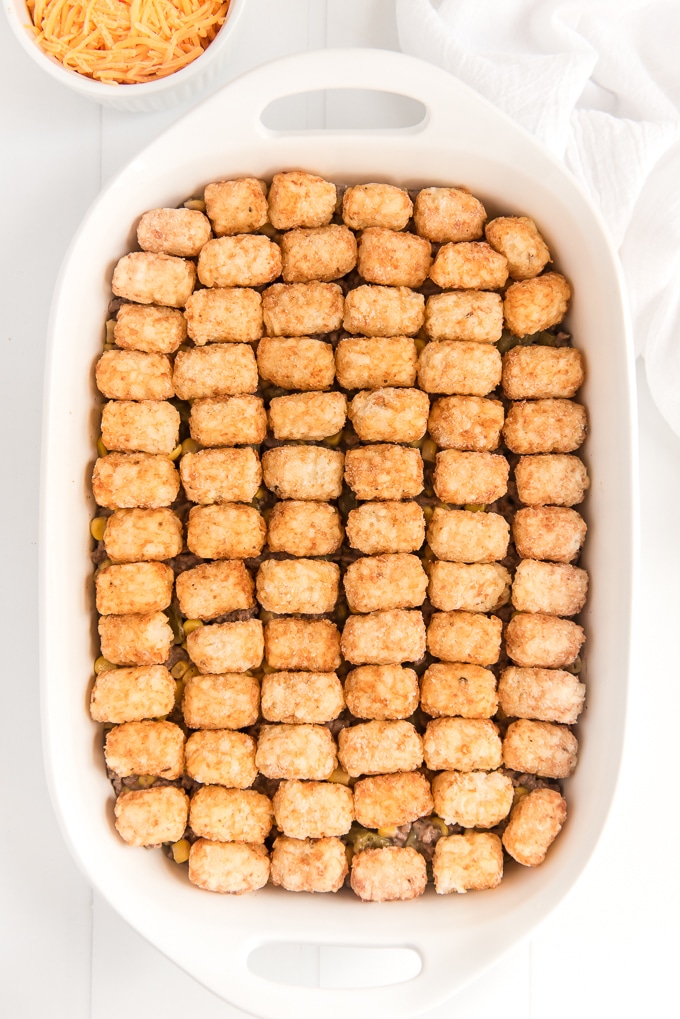 EASY TATER TOT CASSEROLE
I don't know about you… but I really despise casserole dishes that are hard to make. It's 2020 after-all, does anybody really have the time or energy for a complicated meal? Definitely not me!!
That's why I'm happy to report that not only is this dish super delicious – it's easy too! The hardest part is frying up the ground meat (but if you're looking for a tater tot casserole without meat, you can even cut that out). Rest assured that you'll have a meal on the table in under an hour. Win win!
TATER TOT CASSEROLE WITH CORN
Easy is great, but what about the TASTE?! It's heavenly, I assure you. If you're a fan of shepherd's pie, I like to think that this is a super fun twist on a classic. Between the potatoes from the tater tots, the meat, and the veggies – it's perfection. The tastes and textures go so well together.
Tater tot casserole would make a fun new dish to your Thanksgiving menu, too! It's a real crowd pleaser that will have everyone begging for the recipe. My family is always begging me to make more when I cook this up!
Now, let's get to the tater tot casserole recipe, shall we?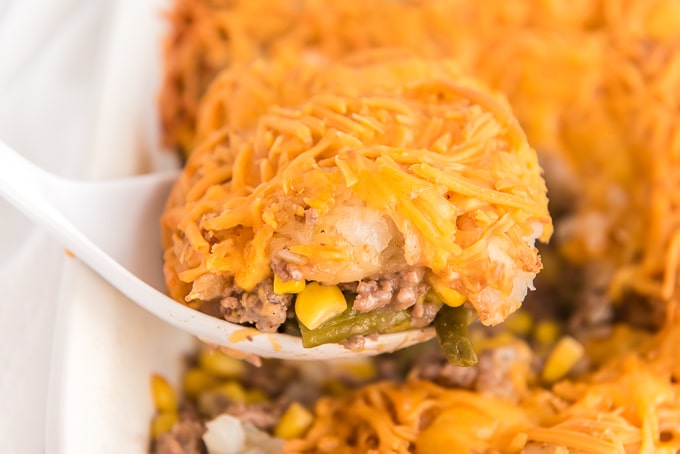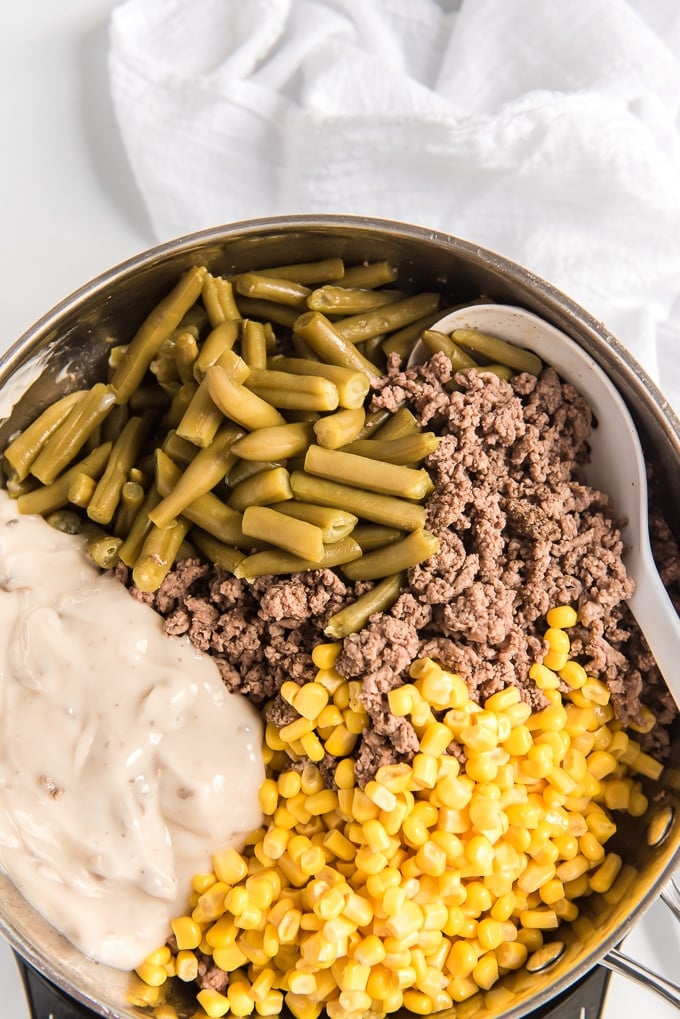 COOKING TOOLS YOU MIGHT NEED
Before you begin, make sure you have these cooking tools in your kitchen:
BAKING DISH: A good baking dish is a MUST have and I love this one for cooking.
RAMEKINS: I love using these dishes for measuring out ingredients ahead of time!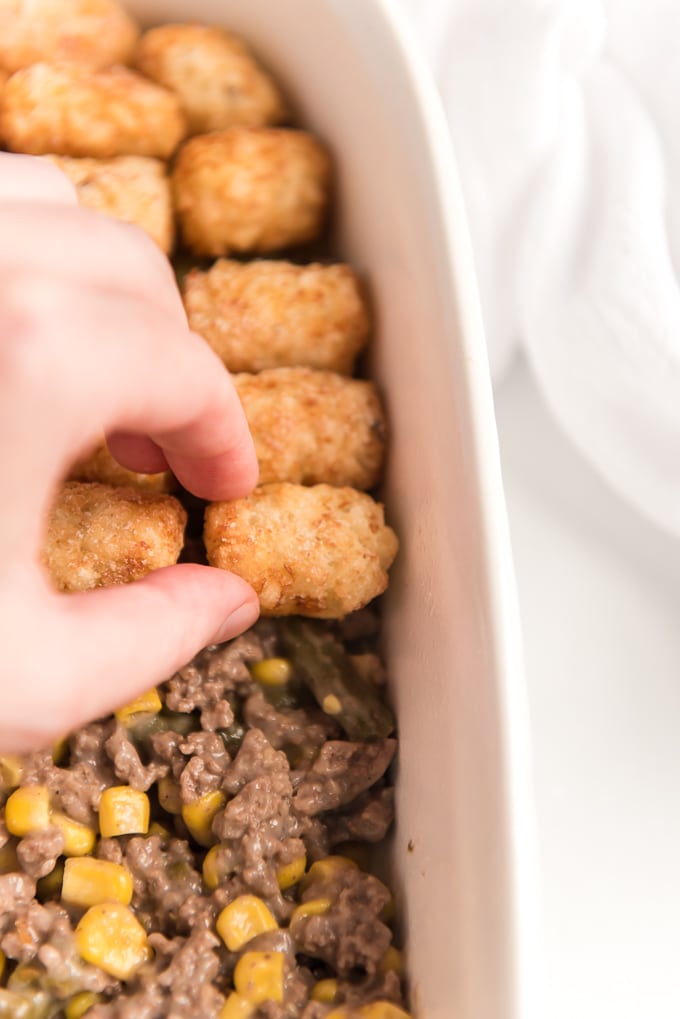 TATER TOT CASSEROLE INGREDIENTS
For this easy tater tot casserole, you'll need these ingredients:
GROUND MEAT: I used ground beef for this recipe, but you can use your favorite ground meat!
CREAM OF MUSHROOM: Cream of mushroom makes this dish so creamy.
GREEN BEANS: I used canned green beans, but fresh can also be used.
CORN: Tater tot casserole with corn is the BEST – just make sure to drain the can first.
TATER TOTS: You'll need a package of tater tots for the main attraction in this casserole dish.
CHEESE: Cheese is kind of a must if you ask me, don't you think?!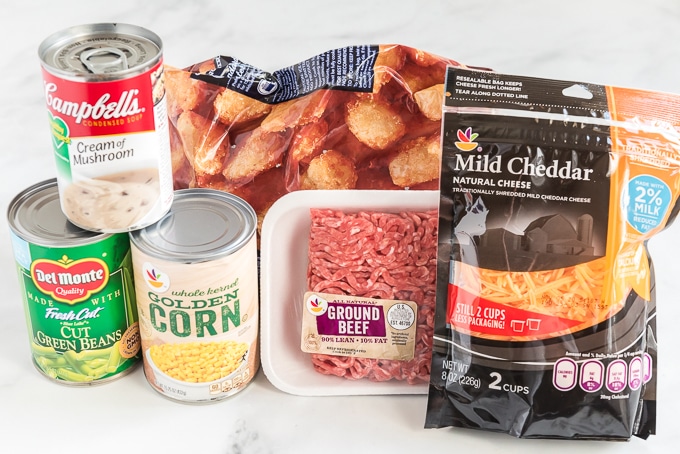 HOW TO MAKE TATER TOT CASSEROLE
Scroll down below for the printable step-by-step casserole recipe!
PREP: Start by preheating your oven to 400F and greasing a 9×13 baking dish.
BROWN MEAT: Brown ground beef in a large skillet over medium heat for 7-10 minutes, until fully cooked and season with salt and pepper.
ADD INGREDIENTS: Stir together cream of mushroom soup, green beans, and corn into the ground beef.
LAYER INGREDIENTS: Add the mixture to the bottom of your baking dish, making sure it's spread evenly along the bottom. Add an even layer of tater tots and top with cheddar cheese.
BAKE: Bake in the oven for 30-45 minutes, until the tater tots are golden brown and crispy. Enjoy!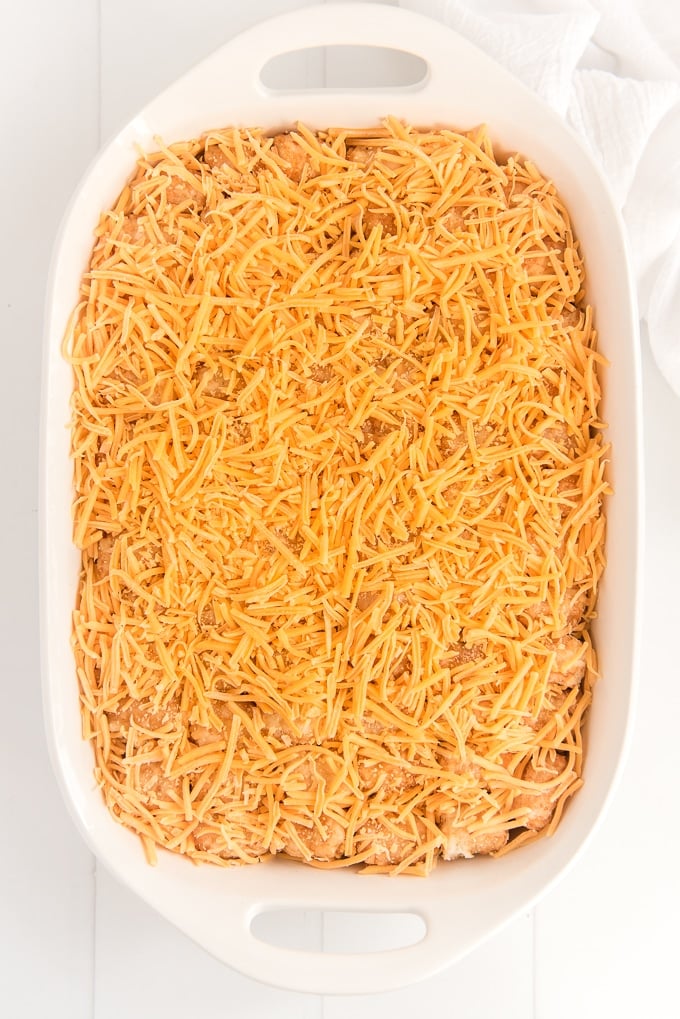 CAN I MAKE TATER TOT CASSEROLE WITHOUT MEAT?
Sure! If you'd like, you can skip frying up the meat and stir the soup and veggies together in a mixing bowl instead.
WHAT SIDES GO WITH TATER TOT CASSEROLE?
This dish is perfect all on its own! Between the potatoes, meat, and veggies – you have a well rounded meal. If you'd like, you can serve it with something light such as salad.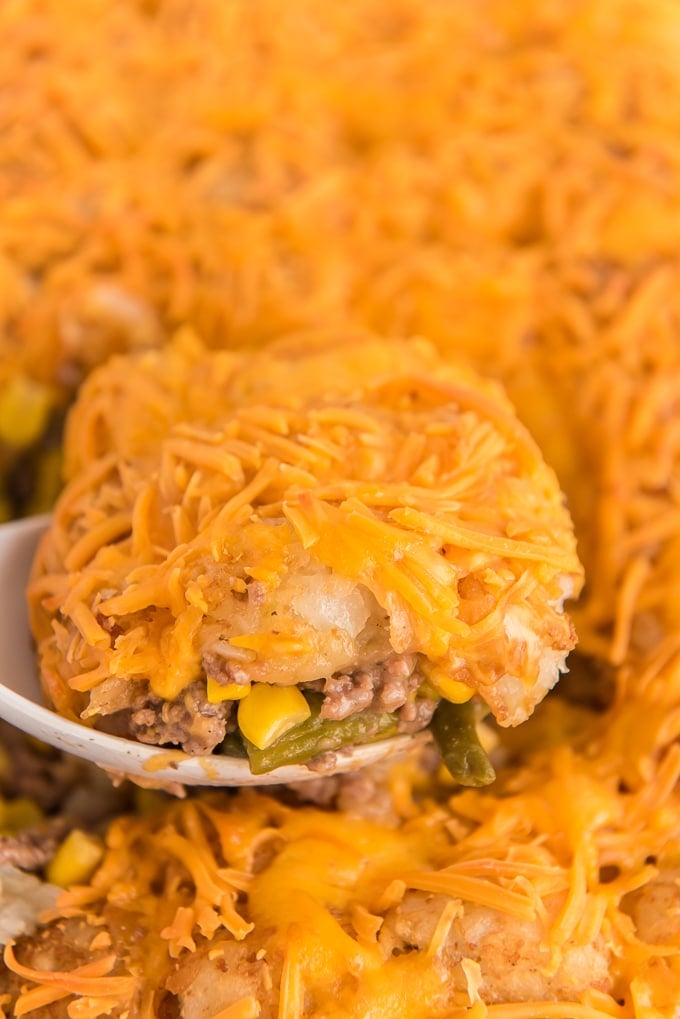 HOW DO I STORE TATER TOT CASSEROLE?
For best results, store any leftovers in an airtight container in the fridge for 3-4 days. You can also place it in the freezer for 3-6 months, keeping in mind quality will decrease overtime.
CAN I REHEAT THIS EASY CASSEROLE RECIPE?
Absolutely. This tater tot casserole dish reheats pretty easy! Just pop it in the microwave in 30 second increments and stirring between each one until you reach your desired temperature.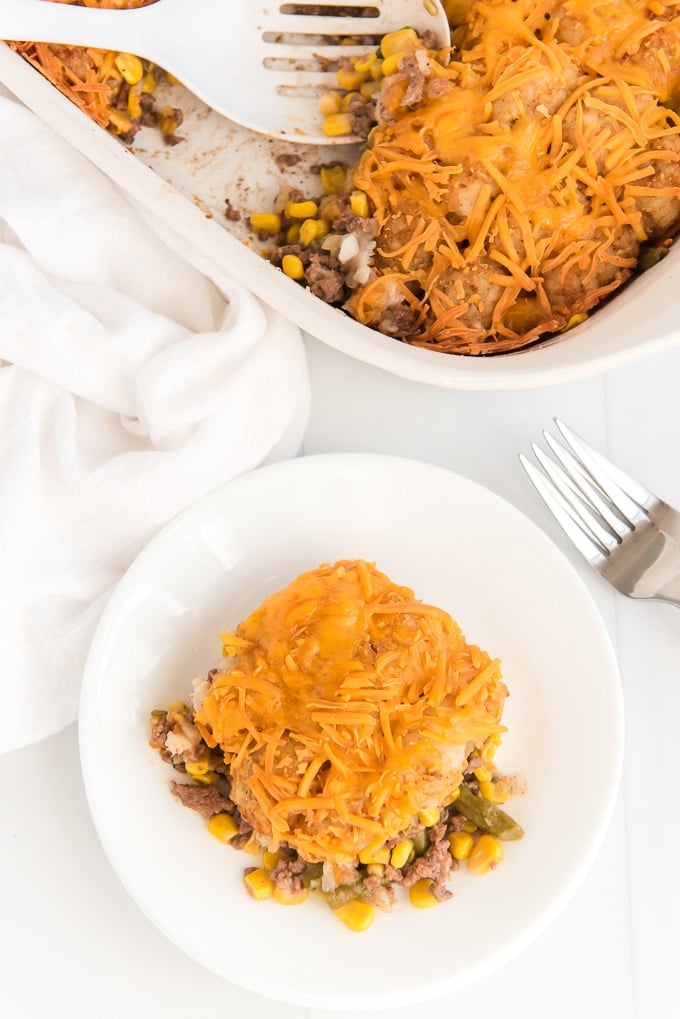 MORE CASSEROLE DISHES:
If you have tried this Easy Tater Tot Casserole recipe, then please rate it in the recipe card and let me know how it turned out in the comments below!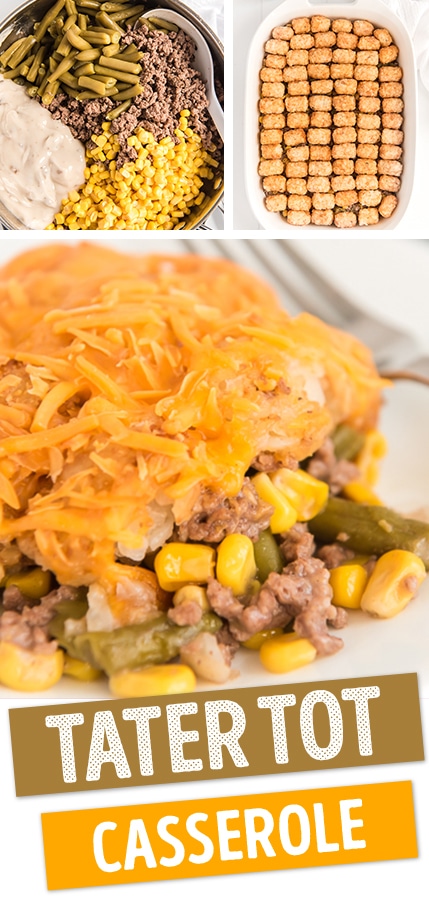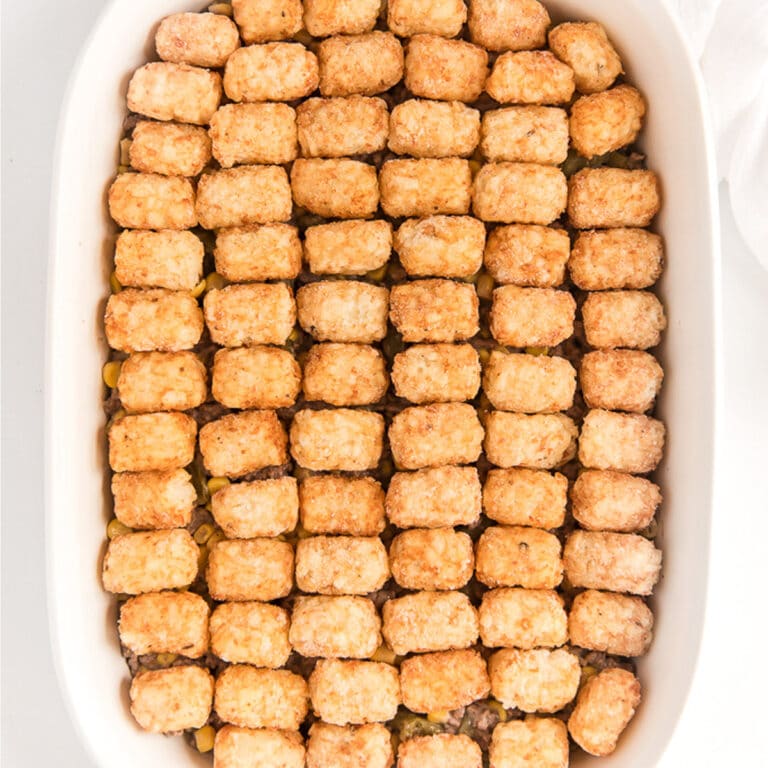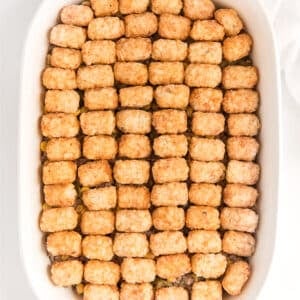 Leave a Review
Easy Tater Tot Casserole
Tater tot casserole is an easy holiday dish or weeknight dinner that's truly satisfying. Easy to prepare and incredibly delicious to eat!
Print Recipe
Pin Recipe
Ingredients
1 pound ground beef
1 can cream of mushroom soup
1 can green beans
1 can corn, drained
1 bag frozen tator tots
2 cups shredded cheddar cheese
Instructions
Preheat oven to 400°F. Spray 9x13-inch baking dish with non-stick cooking spray. Set aside.

Cook and stir ground beef in a large skillet over medium heat until no longer pink and completely browned, 7 to 10 minutes; season with salt and black pepper              

Stir cream of mushroom soup, green beans, and corn into the cooked ground beef; pour the mixture into the prepared baking dish. 

Layer tater tots evenly over the ground beef mixture; top with Cheddar cheese.

Bake for 30-45 minutes or until tator tots are crispy.
Notes
Swap Out the Ground Meat. You can easily make this casserole with any type of ground meat. So give it a try with ground chicken or turkey too.
Using Regular Ground Beef? If you are using a ground beef with more fat content I highly recommend draining it after you brown it in the skillet. This will keep it from being overly greasy.
Don't Like Mushrooms? You can easily swap out the cream of mushroom soup for different type of creamy soup that you enjoy using in casseroles.
Change Up the Vegetables. You can easily swap it out for other types of canned vegetables if you prefer. I find that mixed vegetables, carrots, and peas all work great.
Calories: 532kcal, Carbohydrates: 45g, Protein: 24g, Fat: 30g, Saturated Fat: 11g, Polyunsaturated Fat: 5g, Monounsaturated Fat: 10g, Trans Fat: 1g, Cholesterol: 69mg, Sodium: 1006mg, Potassium: 713mg, Fiber: 5g, Sugar: 4g, Vitamin A: 648IU, Vitamin C: 15mg, Calcium: 239mg, Iron: 3mg
This blog post contains affiliate and/or referral links, which pay me a small commission for recommending my favorite products at no extra cost to you! Additionally, as an Amazon affiliate, I earn from qualifying purchases.