The Best Beer Bread Recipe
This is the only Beer Bread recipe you'll ever need! It's soft, buttery, cheesy, and has the best touch of beer flavor. With a prep time of 10 short minutes and only 5 inexpensive ingredients called for, this is a certified easy quick bread recipe!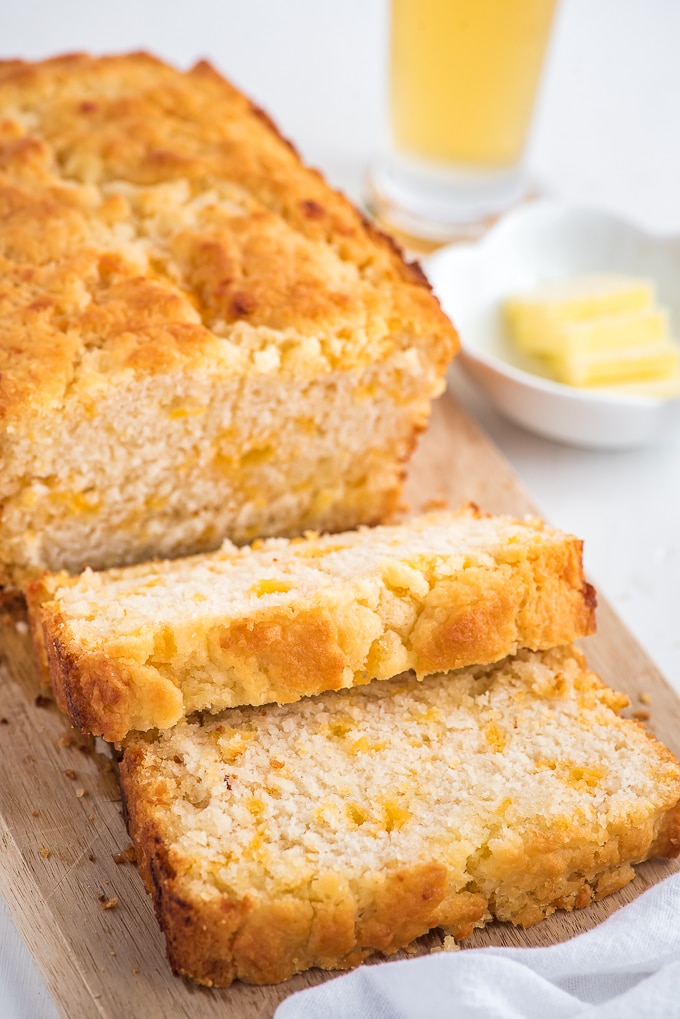 The Best Beer Bread Recipe
Picture this – you just made a heaping pot of chili and you don't know what to serve with it. You're sick of cornbread and you want something a little different… Allow me to introduce you to the wonders of easy, cheesy Beer Bread! This quick bread recipe is truly QUICK. You only need about 10 minutes or less of prep time before tossing it in the oven.
The list of ingredients needed is delightfully short and sweet. All you need is self-rising flour, sugar, cheddar cheese, beer, and some salted butter. As for the beer, we always have Busch and Miller Lite in the house so that's what I use out of convenience! They both lend a great subtle beer taste to the bread that's pretty perfect. Feel free to switch that up if you'd like!
Some Beer Bread recipes don't have cheddar in them. You know what I call those? Sad Beer Bread recipes! Of course you can skip adding the cheese if you want, but why would you ever do that?! The addition of cheddar cheese makes this bread even more delicious than it already is. The cheesiness combined with the buttery softness and beer flavor makes every bite so mouthwatering!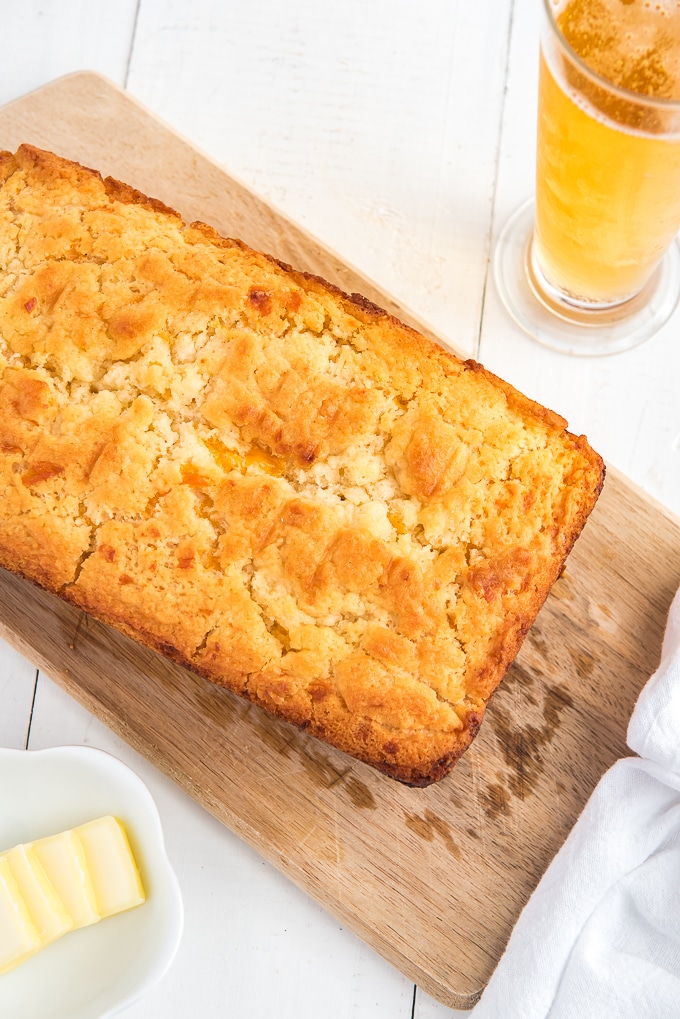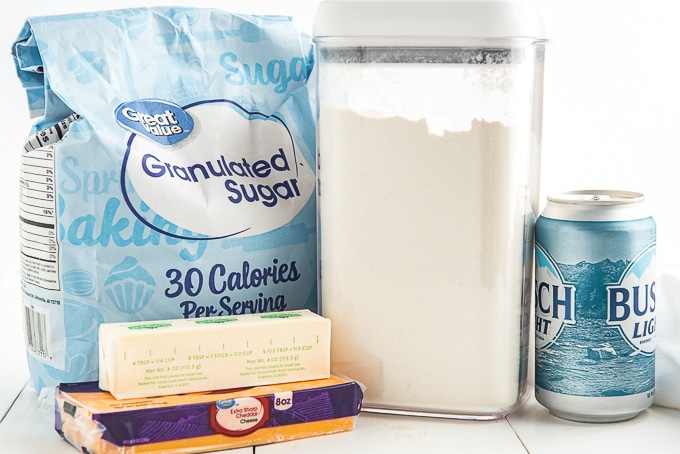 Ingredients for Beer Bread
FLOUR – 3 cups self-rising flour
SUGAR – ¾ cup granulated sugar
CHEESE – 1 cup shredded cheddar cheese
BEER – 1 (12 oz.) beer, room temperature (any beer works, we always have Busch and Miller Lite in the house so that's what I use)
BUTTER – ½ cup (1 stick) salted butter, melted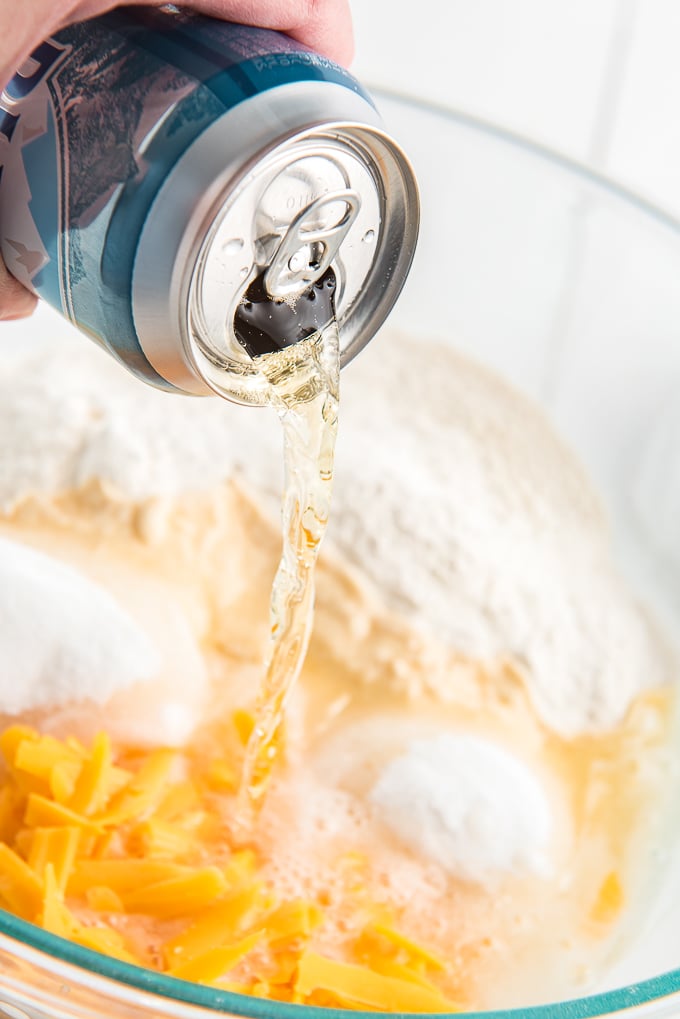 How to Make Beer Bread
PREPARE. Preheat the oven to 350°F. Spray a loaf pan with cooking spray or line it with parchment paper. If you use parchment paper, leave a little bit of the edges hanging from the sides of the pan so you can later lift the bread out.
MAKE THE BATTER. Combine all of the measured ingredients (except for the butter) in a large bowl. Then, pour the batter into the loaf pan.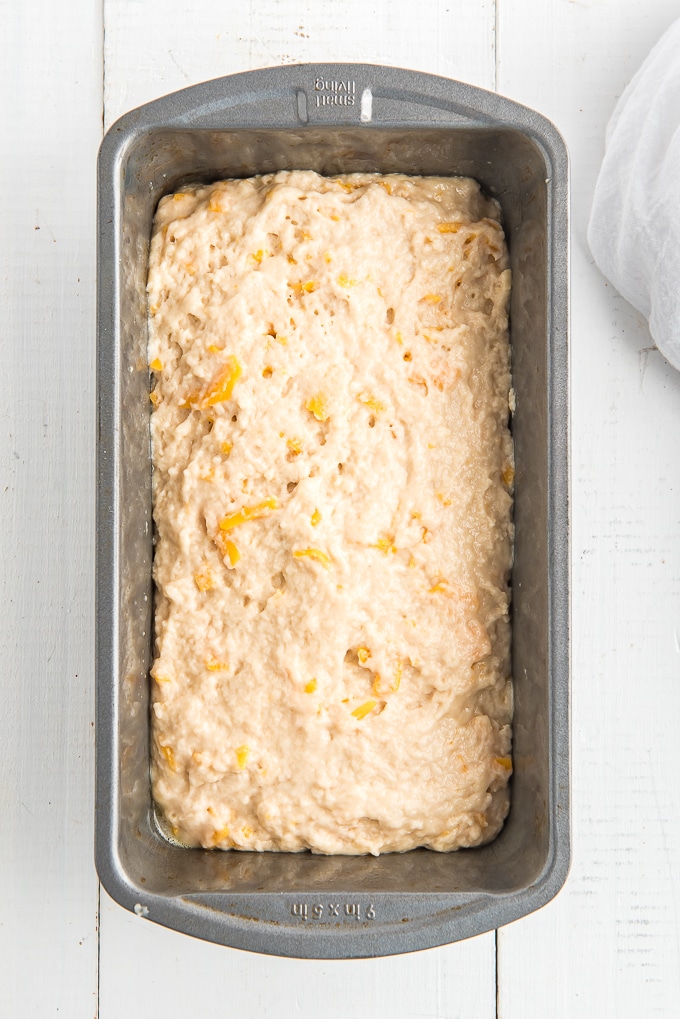 BUTTER IT UP. Pour the melted butter evenly all over the top of the batter.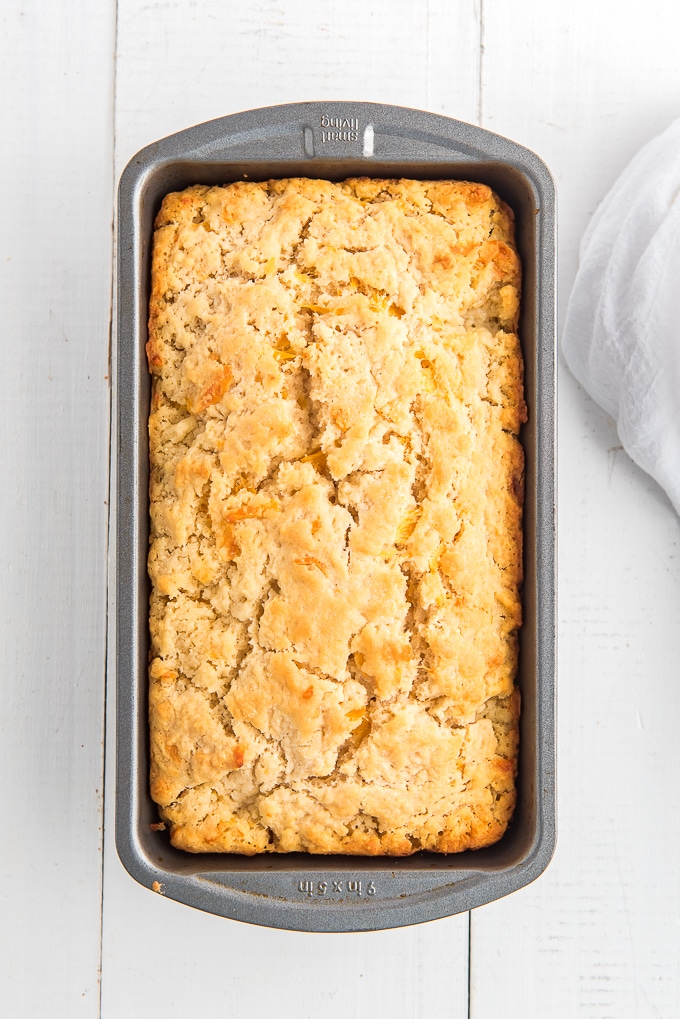 BAKE IT. Bake the Beer Bread for an hour. Enjoy all of the cheesy, beer-y smells in your kitchen!
ENJOY! Let the bread cool before slicing and serving.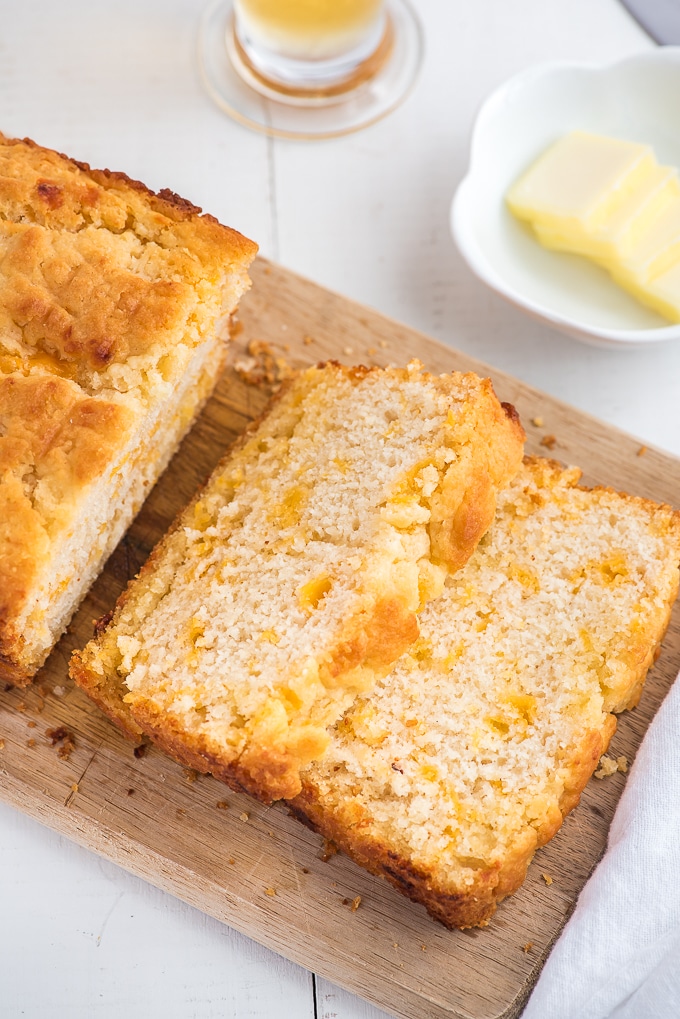 Tips for the BEST Beer Bread Recipe
Choose the right beer. Avoid darker beers like Guinness and hoppy beers like IPAs. I've found that simple light lagers like Miller and Busch lend the best beer flavor without being overpowering or just straight up weird. Those craft beers you love? Save those for sipping – not baking! Also, make sure your beer is room temperature prior to mixing it with the other ingredients.
Grate the cheese yourself. For the best flavor and consistency, grate the block of cheddar cheese yourself. Pre-shredded cheese is covered in powder to prevent it from clumping in the bag, which can also negatively impact the bread.
Top the bread with butter. Remember – don't mix the butter into the batter! The melted butter is to be drizzled directly on top of the unbaked loaf, not mixed into it. That's how it forms the most incredible golden buttery top.
How long will Beer Bread last?
In an airtight container at room temperature, Beer Bread will stay fresh for about 24 hours. I've found that after about 2 days, the outside of the bread becomes sticky and moist.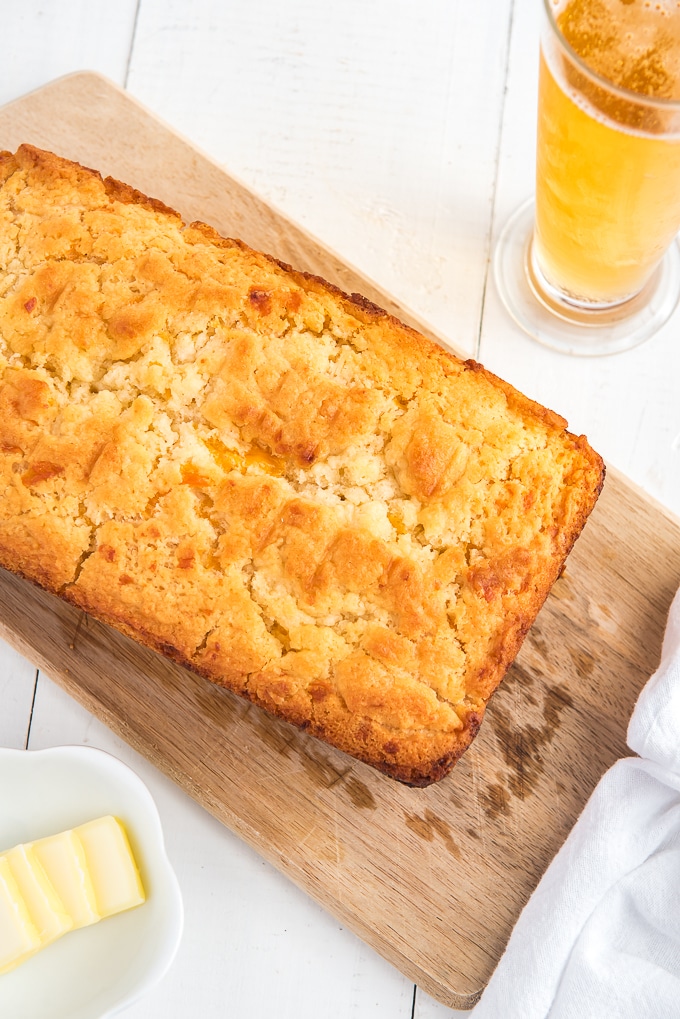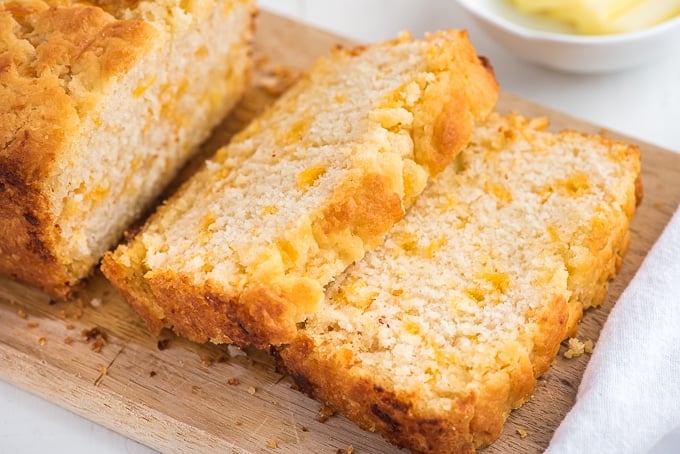 Yield: 1 Loaf
The Best Beer Bread Recipe
Prep Time 10 minutes
Cook Time 1 hour
Total Time 1 hour 10 minutes
Ingredients
3 cups self-rising flour
¾ cup granulated sugar
1 cup shredded cheddar cheese
1 (12 oz.) beer, room temperature (any beer works, we always have miller lite in the house so thats what i use)
½ cup (1 stick) salted butter, melted
Instructions
Preheat oven to 350 degrees. Spray loaf pan with non-stick cooking spray or line with parchment paper leaving extra on the sides to lift bread out once cooled.
In a large mixing bowl, mix together the flour, sugar, cheese and beer. Pour into prepared loaf pan.
Drizzle the top of the bread dough with the melted butter.
Bake for 1 hour or until a toothpick inserted into the center comes out clean.
Let cool completely before slicing.
Notes
I recommend serving the bread the same day or within 1 day of making. After about 2 days, the outside of the bread can become sticky and moist.
Nutrition Information:
Yield:
8
Serving Size:
1
Amount Per Serving:
Calories: 302
Total Fat: 6g
Saturated Fat: 3g
Trans Fat: 0g
Unsaturated Fat: 2g
Cholesterol: 16mg
Sodium: 657mg
Carbohydrates: 54g
Fiber: 1g
Sugar: 19g
Protein: 8g
Craving more comforting bread recipes? You'll love these little savory Cheesy Bacon Cornbread Muffins! And of course you can always keep things nice and sweet with Apple Bread and Pumpkin Chocolate Chip Bread.