Peaches and Cream Bars
These Peaches and Cream Bars are everything you LOVE about Peach Cobbler in bar form!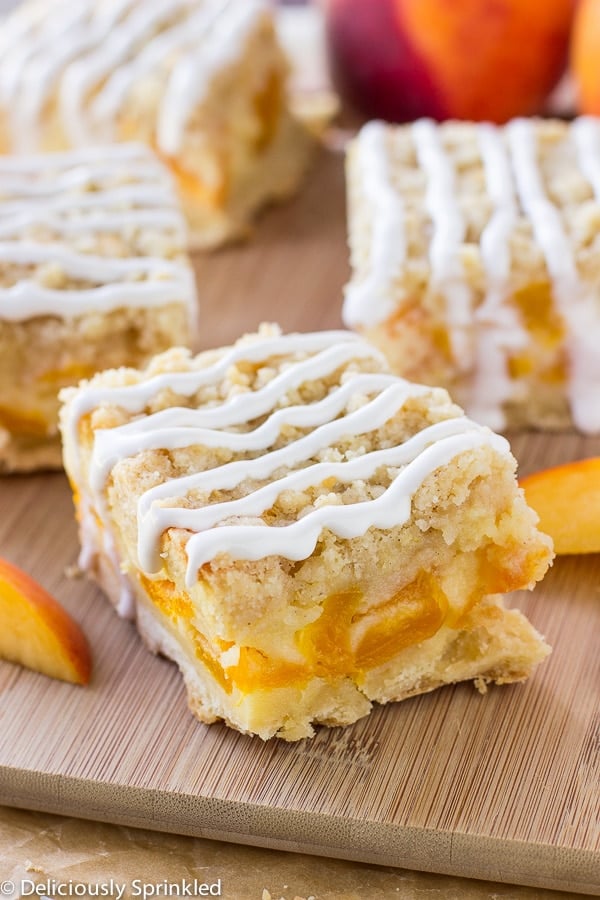 Calling all CRUMBLE lovers and/or peach cobbler fans!
Ever since I made my Blueberry Cheesecake Crumble Bars a couple weeks ago, I have been craving some delicious crumble topping. So when I saw a huge pile of peaches at my local grocery store, I just had to make these amazing Peaches and Cream Bars to satisfy my craving…hello crumbles!
These peaches and cream bars have a thick buttery bottom layer covered with a sweet peach filling and topped with the BEST buttery crumble topping. Seriously, these bars are a super addicting and as always, super simple to make. Drizzle each bar with vanilla glaze or/and serve with a scoop of vanilla ice cream, either way I know your going to love them!
If your looking for a delicious summer or anytime dessert these bars are a MUST!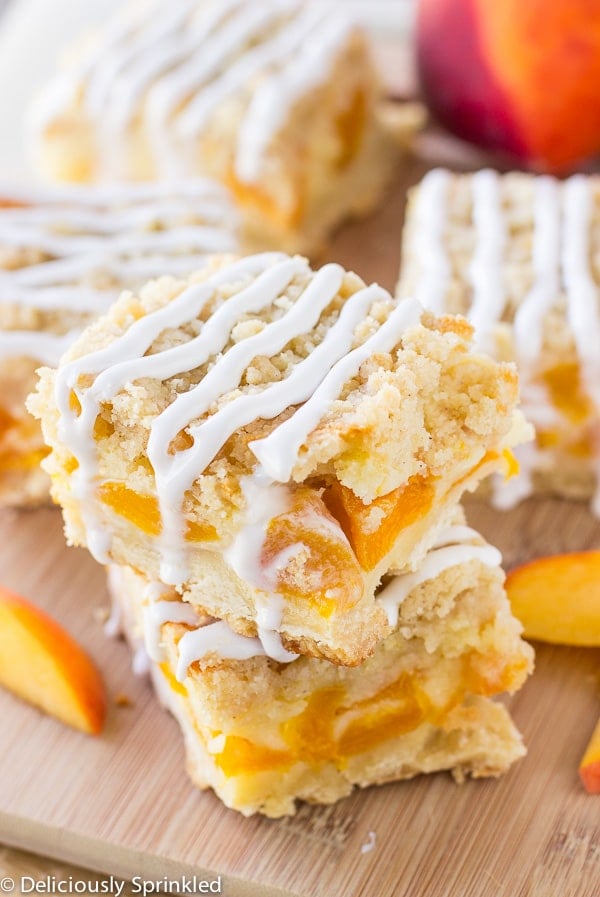 HOW TO MAKE PEACH COBBLER BARS
✓ LINE YOUR BAKING PAN: To make it super easy for you to cut these bars into squares, line your 9×13 inch baking pan with aluminum foil, leaving enough overhang on the sides and spray the foil with non-stick cooking spray. Once the  bars have cooled lift the bars out of the pan, folding down the aluminum foil sides. Use a sharp knife to cut these bars into squares and enjoy!
✓ MAKE THE CRUST & CRUMBLE: I used a food processor, but you could also use an electric hand or stand mixer. 
✓ PEACHES: You can use fresh or canned sliced peaches. You will need about 3-4 fresh peaches or 3 (15.25 oz.) cans of sliced peaches. If you use canned sliced peaches make sure to drain them WELL & slice/cut in half so that the peach slices are not so big.
MAKE CRUST: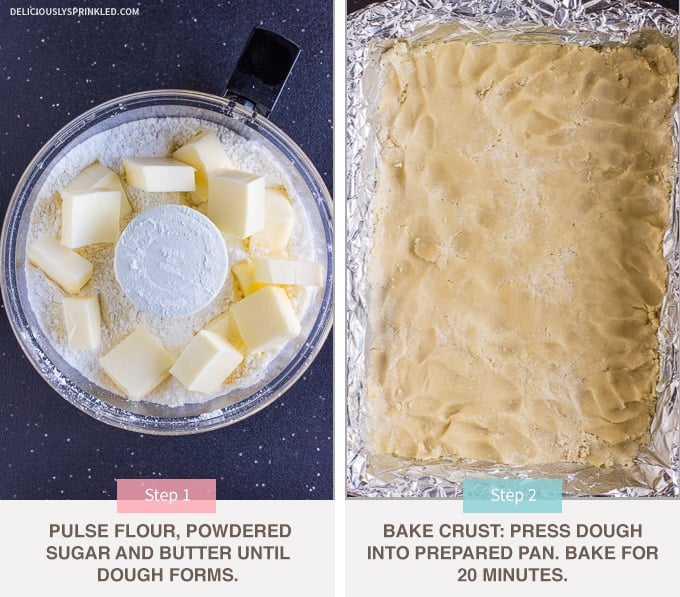 MAKE CRUMBLE, PEACH FILLING & BAKE:

MORE PEACH RECIPES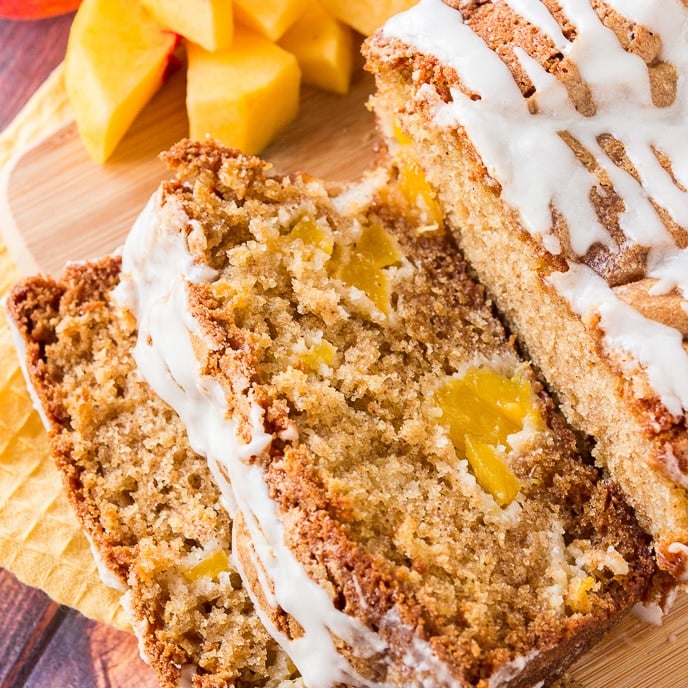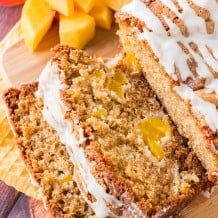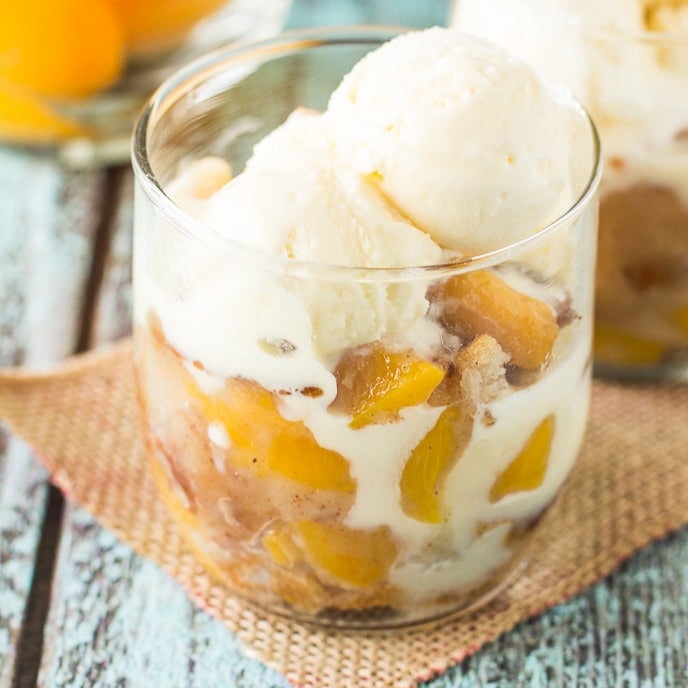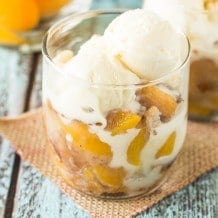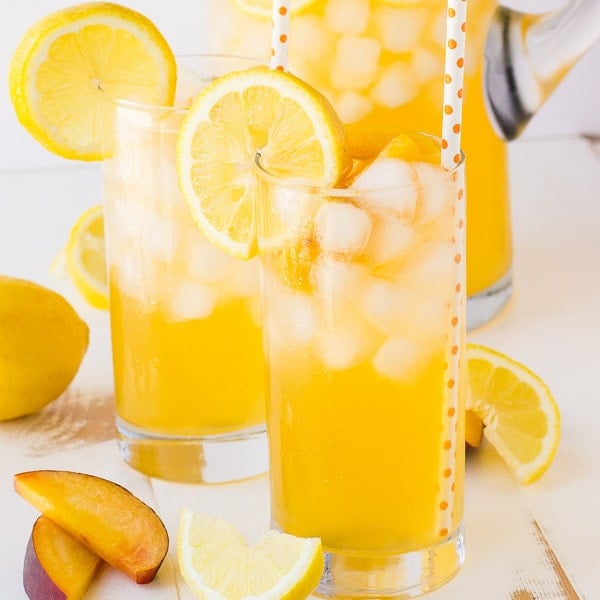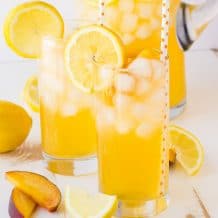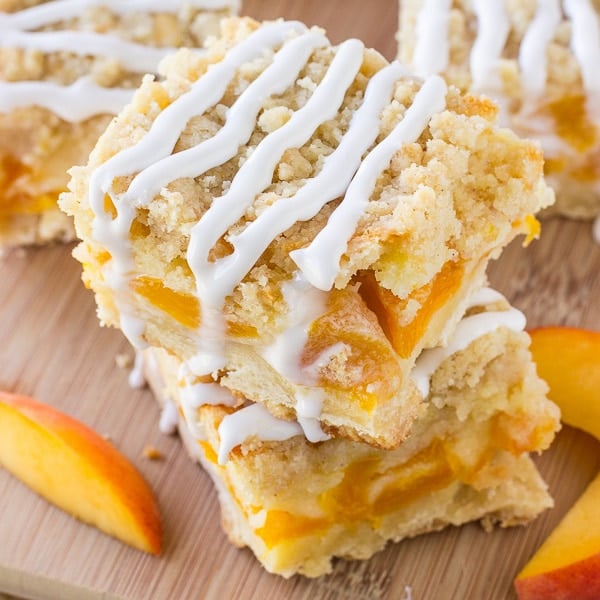 Yield: 24 Bars
Peaches and Cream Bars
Prep Time 20 minutes
Cook Time 50 minutes
Total Time 1 hour 10 minutes
Ingredients
2 cups all-purpose flour
1/2 cup powdered sugar
1 cup salted butter, diced
1 1/2 cups all-purpose flour
3/4 cup granulated sugar
1/4 teaspoon ground cinnamon
pinch of salt
4 large eggs
2 cups granulated sugar
1 cup sour cream
3/4 cup all-purpose flour
pinch of salt
4 cups peaches, pitted and thinly sliced*
vanilla cookie icing, for topping
Instructions
PRE-STEP: Preheat oven to 350F degrees. Line a 13 x 9 inch baking pan with aluminum foil and GENEROUSLY spray with non-stick cooking spray. Set aside.
MAKE CRUST:
STEP 1: In a food processor, pulse flour, powdered sugar, and diced butter until crumbly.
TIP: If you don't have a food processor, you can use a medium sized bowl instead. Whisk together flour and powdered sugar. Using a fork or your fingers, cut in the butter until mixture becomes crumbly.
STEP 2: Press dough crust into prepared baking pan. Bake for 20 minutes. Let cool for at least 10 minutes.
MAKE CRUMBLE:
STEP 3: Using an electric hand or stand mixer, combine flour, sugar, and salt. Mix until combined. Add butter and mix until mixture appears crumbly. Set aside.
MAKE PEACH FILLING:
STEP 4: In a large bowl, whisk together eggs and sugar.
STEP 5: Add in the sour cream, flour, and salt.
STEP 6: Fold in sliced peaches.
STEP 7: Pour peach filling over baked crust. Sprinkle crumble topping over top of peach filling. Bake for 45-50 minutes or until top is lightly browned. Let bars cool for at least 1 hour before cutting into bars.
STEP 8: Cut bars into squares and top with vanilla cooking icing.
NOTES:
Notes
* PEACHES: You can use fresh peaches or frozen sliced peaches. Also, you can use canned peaches (you will need 3 15.25 oz. cans).
* STORE: In fridge for up to 5 days.