Strawberry Lemon Bars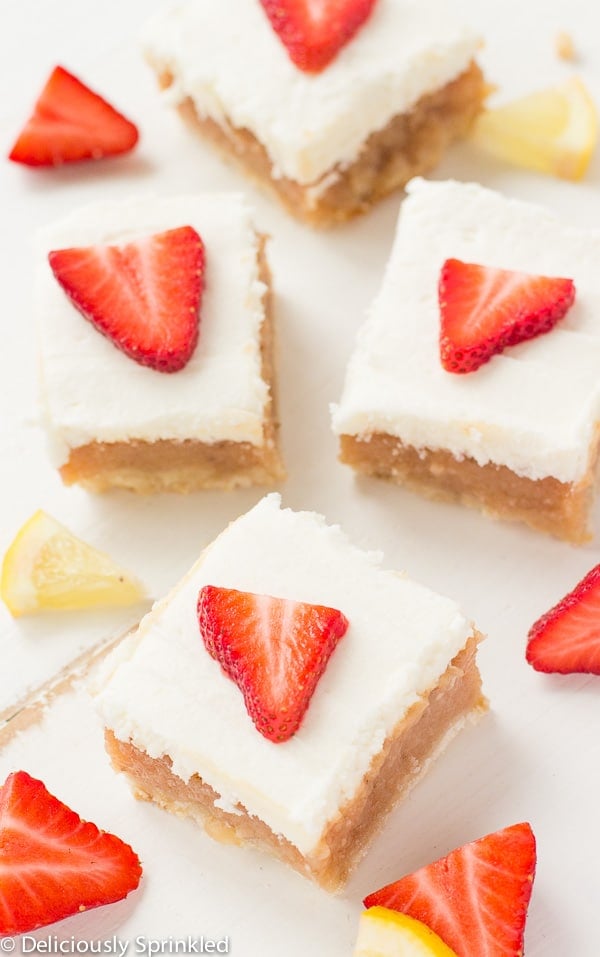 Who is over winter like I am!? Ugh, I'm so ready for spring to be here and stay. We have been teased a lot this winter with one day it can be super nice and warm and then the next day winter comes back in full force.
So I thought, I would keep spring alive at least inside today by making these delicious Strawberry Lemon Bars. If you have followed my blog for a while now you know that I love love LOVE anything lemon, especially my favorite Lemon Pie Bars.
But these Strawberry Lemon Bars might be my new favorite! To make these bars I used my all-time favorite Krusteaz™ Meyer Lemon Bar Mix which makes these bars super simple and quick to make. All you need is the lemon mix and some fresh strawberries. And to make these Strawberry Lemon Bars extra delicious and lemon-y, I topped them with my favorite lemon buttercream frosting.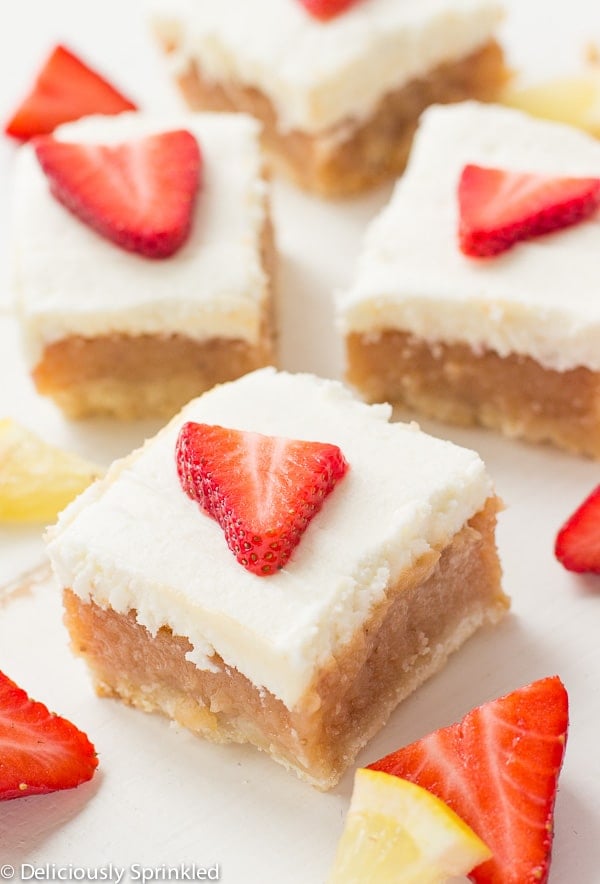 HOW TO MAKE STRAWBERRY LEMON BARS
✓ LINE YOUR BAKING PAN: To make it super easy for you to cut these lemon bars into squares, line your 13×9 inch baking pan with aluminum foil, leaving enough overhang on the sides and spray the foil with non-stick cooking spray. Once the bars have cooled lift the bars out of the pan, folding down the aluminum foil sides.
✓ FROSTING: For the lemon buttercream frosting, I recommend using heavy whipping cream because it gives the frosting that thick, creamy, texture that everyone loves. But if you don't have heavy whipping cream, you can use milk but just note that your frosting might not be as thick.
✓ CUTTING BARS INTO SQUARES: The secret to cutting these bars into perfect squares is to use a plastic knife or a silicone spatula because they don't have sharp edges for the lemon bars to stick to, so they cut more smoothly. Also, make sure that the bars are COMPLETLY COOLED before cutting.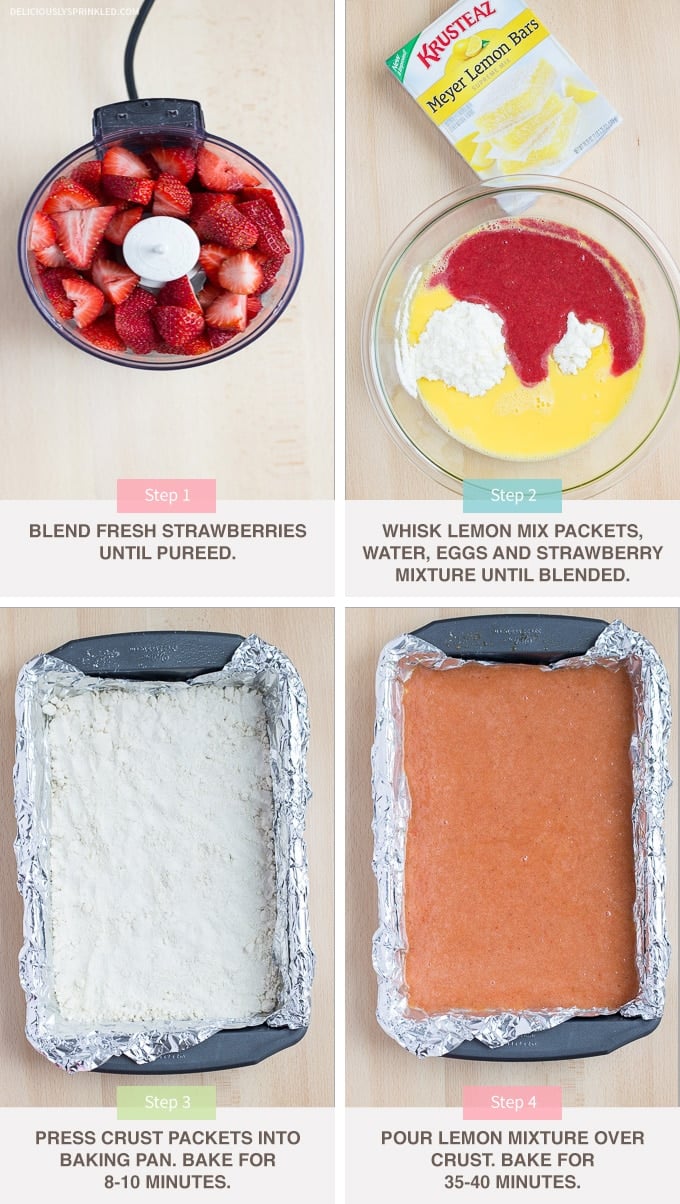 MORE BAR RECIPES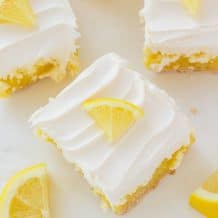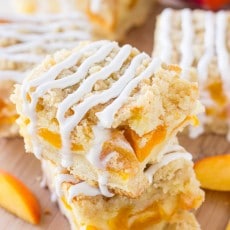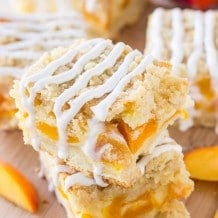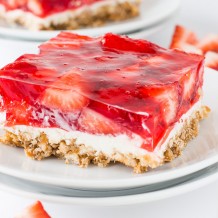 Yield: 24 Bars
Strawberry Lemon Bars
Prep Time 15 minutes
Cook Time 40 minutes
Additional Time 20 minutes
Total Time 1 hour 15 minutes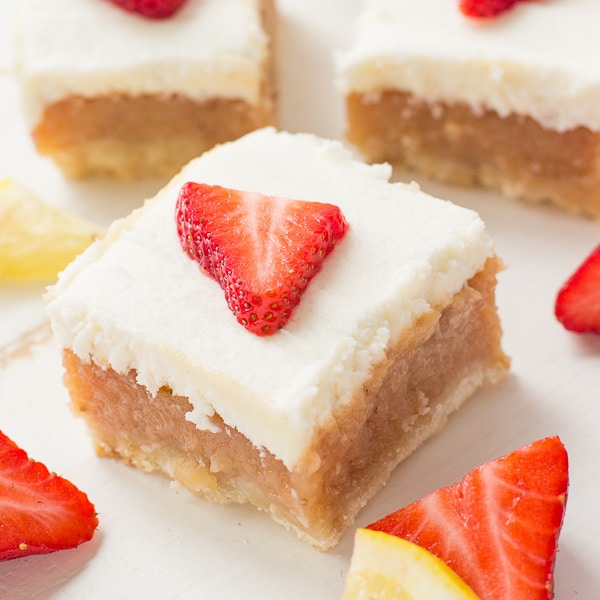 Ingredients
2 boxes Krusteaz™ Meyer Lemon Bar Mix
2 packets lemon mixes from Krusteaz™ Meyer Lemon Bar Mix
2/3 cup water
6 large eggs
1 cup fresh strawberries, pureed
1 cup unsalted butter, softened
1 (8oz) package cream cheese, softened
4 cups powered sugar
¼ teaspoon salt
1 tablespoon lemon extract
2 tablespoons heavy whipping cream
Instructions
STEP 1: Heat oven to 350°F. Line 13 by 9-inch baking pan with foil, leaving a 2-inch overhang on two sides; coat the foil with cooking spray. Set aside.
Lemon Layer:
STEP 2: Using a blender, blend fresh strawberries until pureed. In a mixing bowl, whisk lemon mix packets, water, eggs and strawberry mixture until well blended. Let sit.
Crust:
STEP 3: Press both crust packets evenly into baking pan. Bake 8-10 minutes.
STEP 4: Pour lemon layer over hot crust. Bake 35-40 minutes. Remove from oven and allow to cool for 45 minutes then transfer to refrigerator and chill at least 2 hours.
Lemon Frosting:
STEP 5: Beat softened butter on medium speed with an electric or stand mixer for 3 minutes. Add cream cheese, powdered sugar, salt, lemon extract, and heavy cream, increase to high speed and beat for 3 minutes.
STEP 6: Spread an even layer over chilled bars. Cut into squares.
I am a proud member of the Krusteaz® Baker's Dozen program. I was hired by the brand as an ambassador and content creator. Thank you for supporting my wonderful sponsors. They make it possible for me to keep the ideas coming! All content, ideas, photography and opinions are that of my own and I'd have it no other way!