Taco Pizza Recipe
Treat yourself and your family to the ultimate kid-friendly dinner – TACO PIZZA! This easy recipe takes everything you love about cheesy, beefy tacos and piles it high on top of soft crescent rolls. No matter which way you slice it up, you're going to love this easy and fun weeknight dinner idea!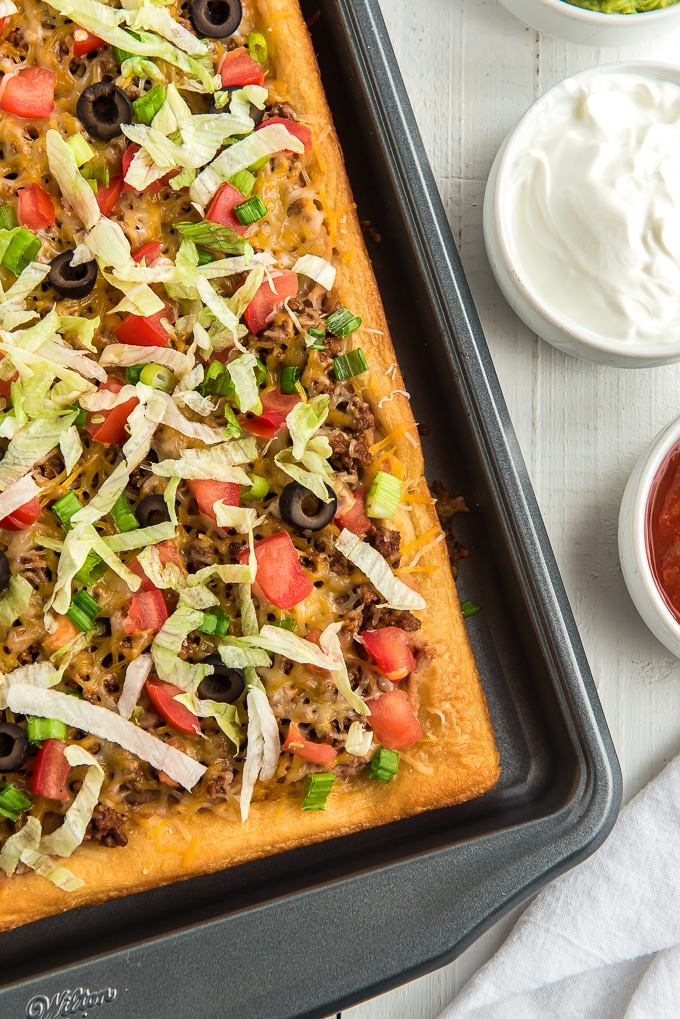 Taco Pizza
Taco Tuesday just got so much more exciting! Next time you're craving cheesy beans and ground beef, toss aside the tortillas and instead grab some store-bought crescent rolls dough. It serves as the softest, fluffiest, and most delicious base to all of your family's favorite taco toppings! This is a great way to sneak some protein on to your picky eater's plate, that's for sure.
On a crazy busy weeknight, you'll really appreciate just how easy this Taco Pizza is to whip up. You pretty much just have to cook the ground beef, bake the dough, assemble the taco layers, bake again until all warm and melty, and enjoy! Oh, and you can't forget the toppings of course. I like to make a little taco bar with stuff like guacamole and salsa, that way everyone can top off their Taco Pizza slices however they'd like.
While Taco Pizza is one of my favorite fun weeknight dinners to make, it's also perfect for serving at parties and potlucks. I mean really, who doesn't love cheesy beef with taco toppings on top of perfectly baked crescent rolls? It's definitely an indulgent meal and the beef and beans are sure to fill you up. You may be craving a second slice but be too full to snag one… Which is the best!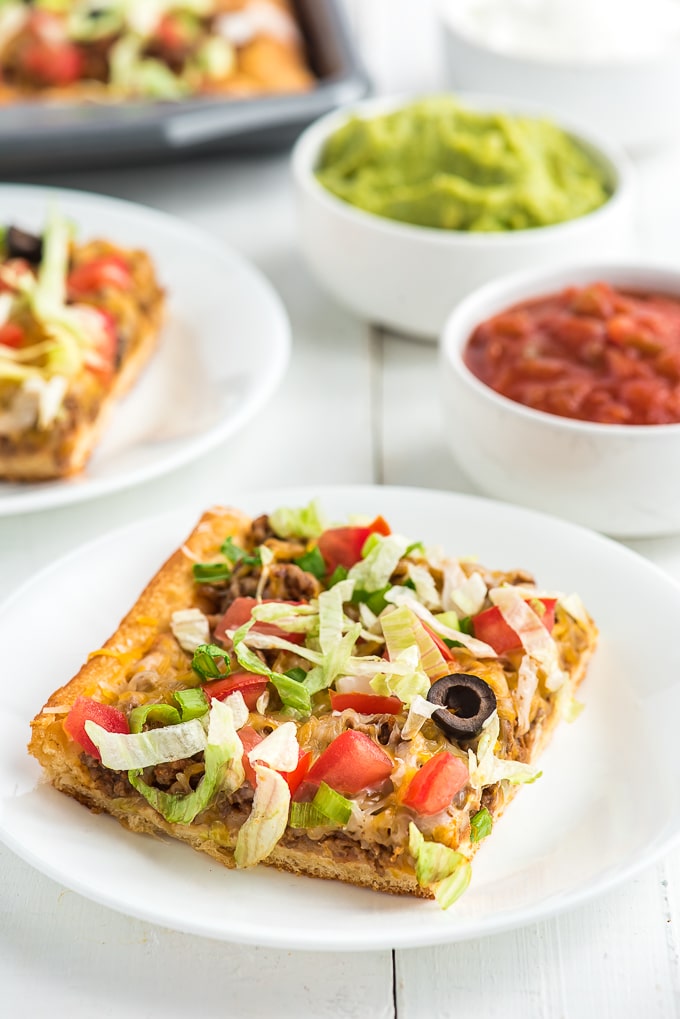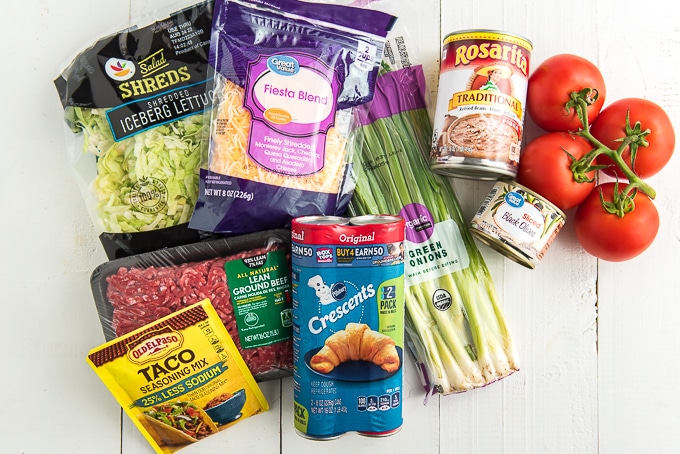 Ingredients for Taco Pizza
BEEF – 1 lb. ground beef
TACO SEASONING – 1 envelope taco seasoning mix
CRESCENT DOUGH – 2 (8 oz.) cans Pillsbury crescent rolls
BEANS – 1 (16 oz.) can refried beans
CHEESE – 2-3 cups shredded cheddar cheese or Mexican blend
TOMATOES – 1/2 cup chopped tomatoes
OLIVES – 1/4 cup sliced black olives
GREEN ONIONS – 4 green onions, chopped
LETTUCE – ½-1 cup shredded lettuce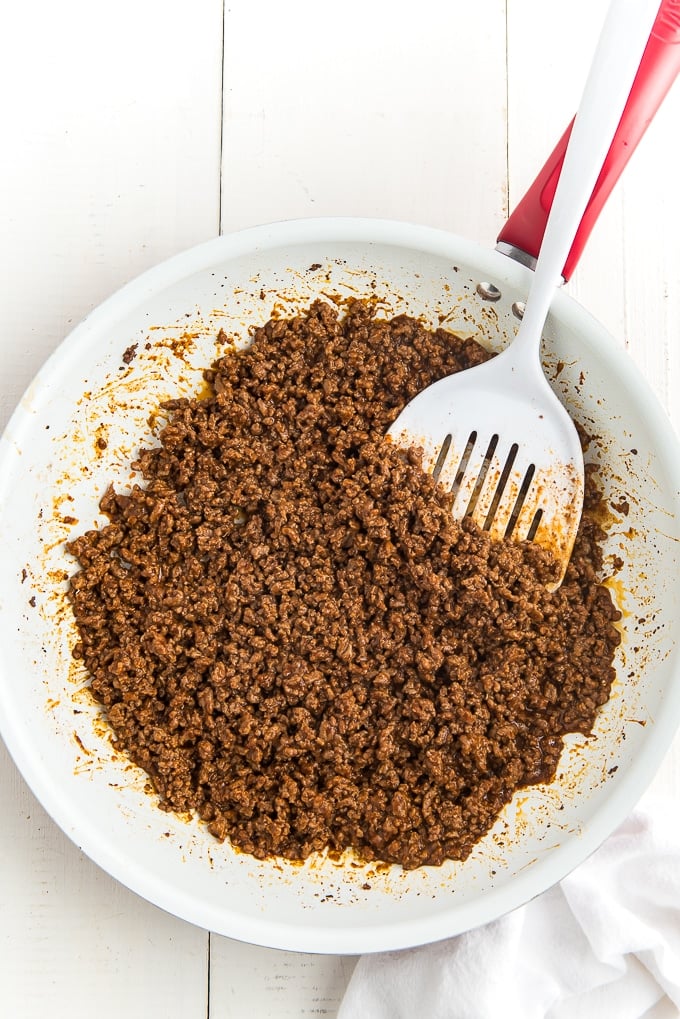 How to Make Taco Pizza
COOK THE BEEF. Cook the ground beef in a pan over medium heat until it's nice and browned. Stir in the taco seasoning to make it flavorful!
BAKE THE DOUGH. Unroll the crescent rolls dough and spread it out in a baking dish. Bake at 375°F for about 11-13 minutes or until golden brown.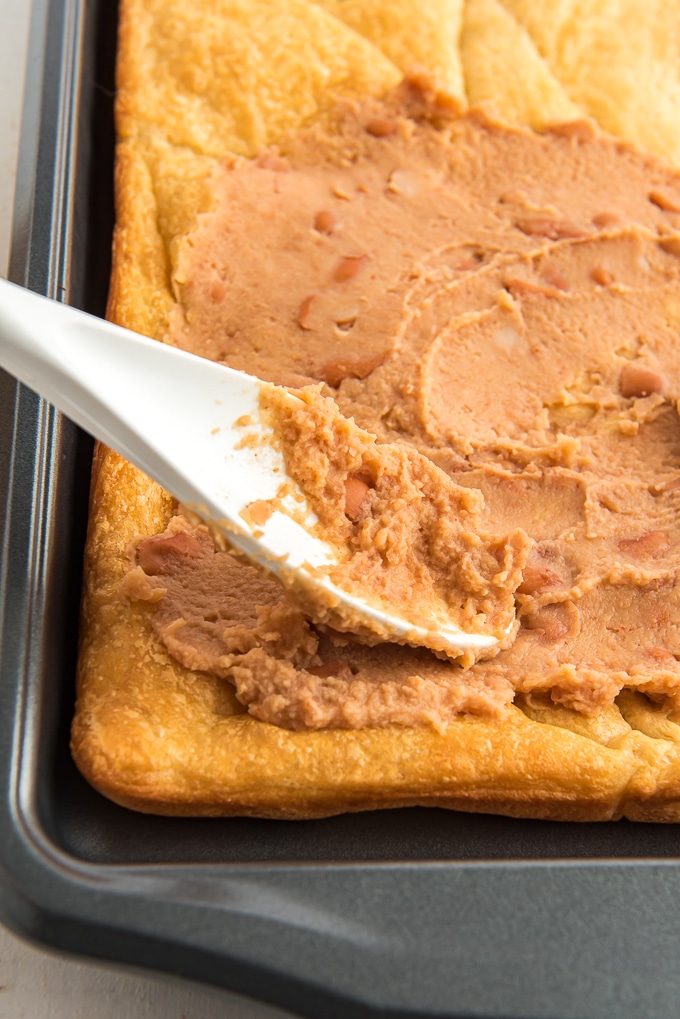 ASSEMBLE. Microwave the beans until they're warmed, then spread them evenly across the baked crescent dough. Top with the ground beef, cheese, tomatoes, black olives, and green onions.
BAKE AGAIN. Pop the Taco Pizza back in the oven until it's warm and the cheese has melted.
ADD LETTUCE. Right before you serve it, top off your Taco Pizza with shredded lettuce.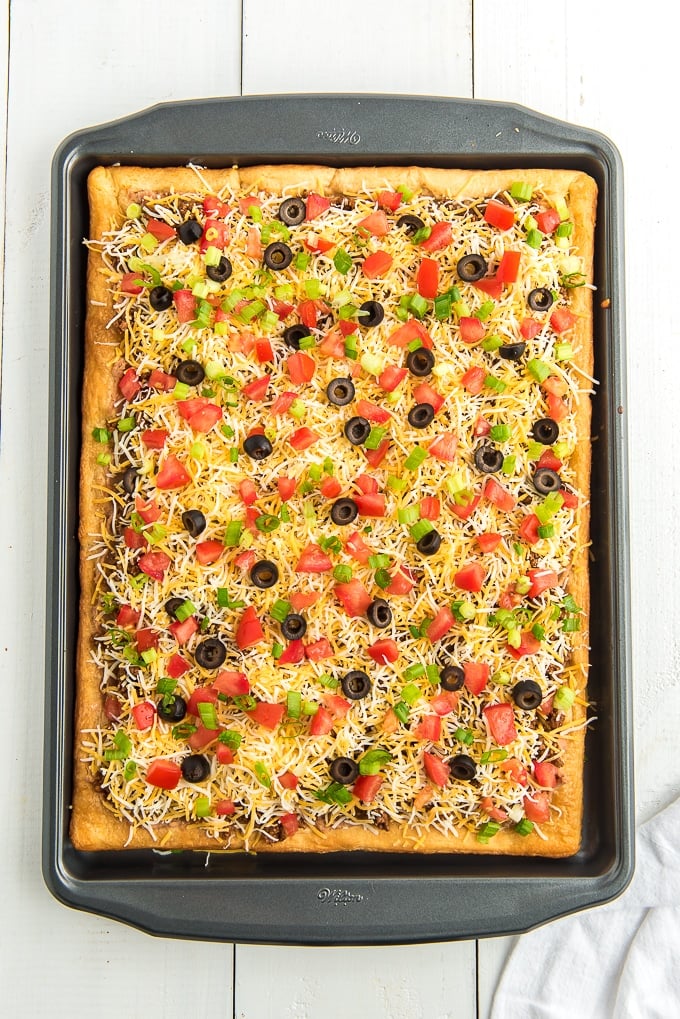 How to Serve Taco Pizza
I love slicing and serving Taco Pizza with sides of guacamole, salsa, and sour cream! If you present all of your favorite toppings as an assembly line and let people decide which ones they want, it's a fun way to make sure everyone has all of their favorite toppings.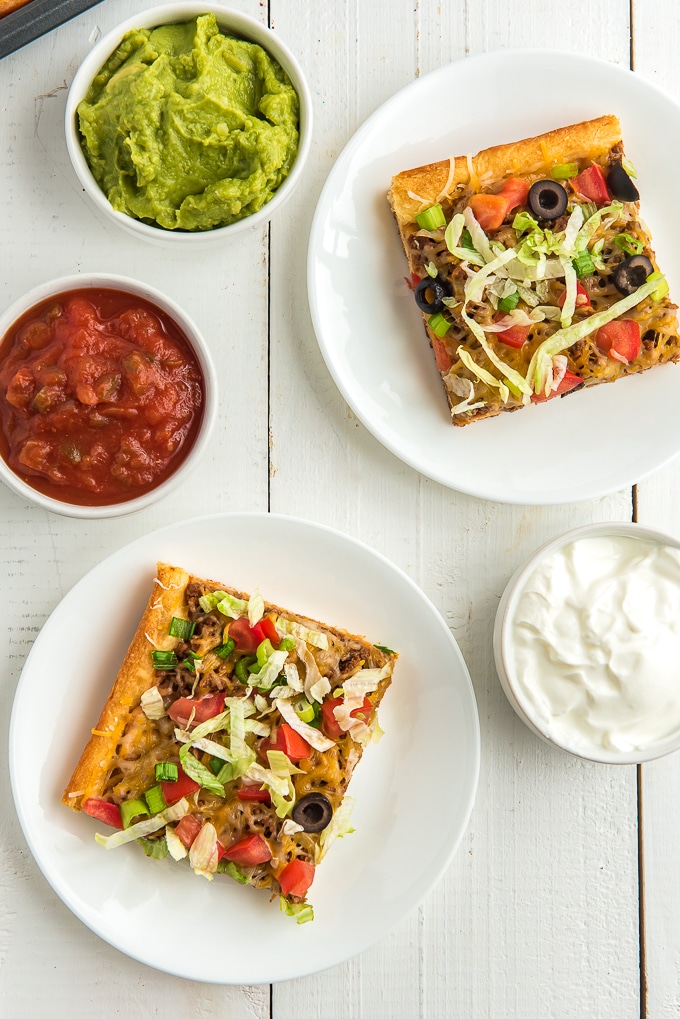 Variations to Try
Change the meat. Not a fan of ground beef? No problem! You can swap it with ground turkey, chicken, or even a plant based protein.
Give it a spicy kick. It it's heat you're after, toss some cayenne pepper into the ground beef along with the taco seasoning.
Make it even cheesier. If you're a cheese lover (who isn't?!), consider adding a sprinkle of cojita cheese on top of your slices of Taco Pizza!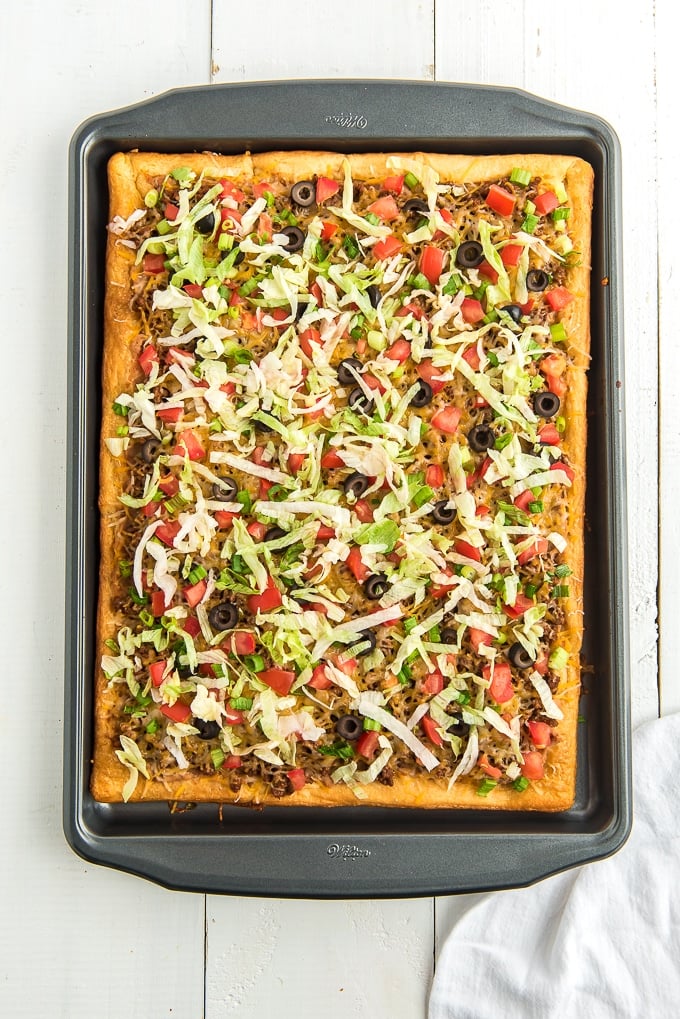 Yield: Serves: 12
Taco Pizza Recipe
Prep Time 10 minutes
Cook Time 20 minutes
Total Time 30 minutes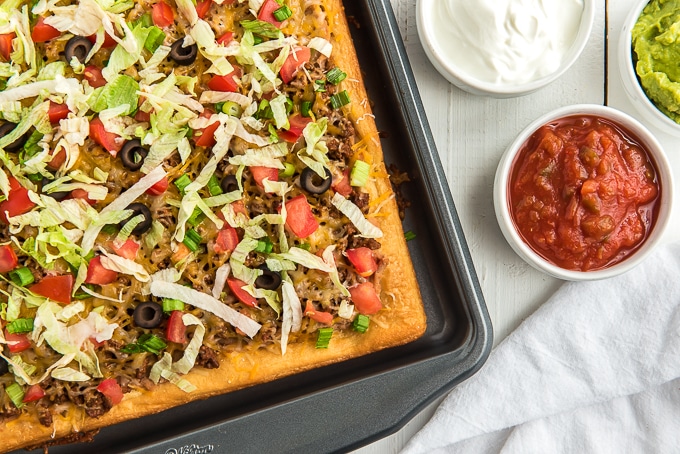 Ingredients
1 lb. ground beef
1 envelope taco seasoning mix
2 (8 oz.) cans Pillsbury crescent rolls
1 (16 oz.) can refried beans
2-3 cups shredded cheddar cheese or Mexican blend
1/2 cup chopped tomatoes
1/4 cup sliced black olives
4 green onions, chopped
½-1 cup shredded lettuce
Instructions
Preheat oven to 375 degrees.
Brown ground beef and drain. Add taco seasoning to the ground beef according to the package directions
Unroll crescent rolls into rectangles. Place in ungreased 11 1/2 inch x 16 1/2 inch jelly roll pan or cookie sheet. Press dough over the bottom and 1/2 inch up sides to form crust. Bake at 375 oven for 11 to 13 minutes or just until golden brown.
Microwave beans in a microwave safe bowl for 1 minute. Carefully spread beans over warm crust creating a thin layer.
Top with cooked beef mixture, sprinkle with cheese followed by tomatoes, black olives and green onion. Return to oven for 3-6 more minutes until cheese is melted.
Top with shredded lettuce.
Serve with sour cream, guacamole and salsa on the side.
Nutrition Information:
Yield:
12
Serving Size:
1
Amount Per Serving:
Calories: 365
Total Fat: 27g
Saturated Fat: 14g
Trans Fat: 1g
Unsaturated Fat: 10g
Cholesterol: 91mg
Sodium: 543mg
Carbohydrates: 7g
Fiber: 1g
Sugar: 1g
Protein: 25g
Hungry for more taco Tuesday recipes? I've got you covered! Enjoy all of your favorite flavors with recipes like Taco Dip, Doritos Taco Casserole, and Easy Taco Soup.