Lucky Charms Munch
This delicious Lucky Charms Munch is an easy snack recipe made with pretzels, M&Ms, white chocolate and lucky charms marshmallows.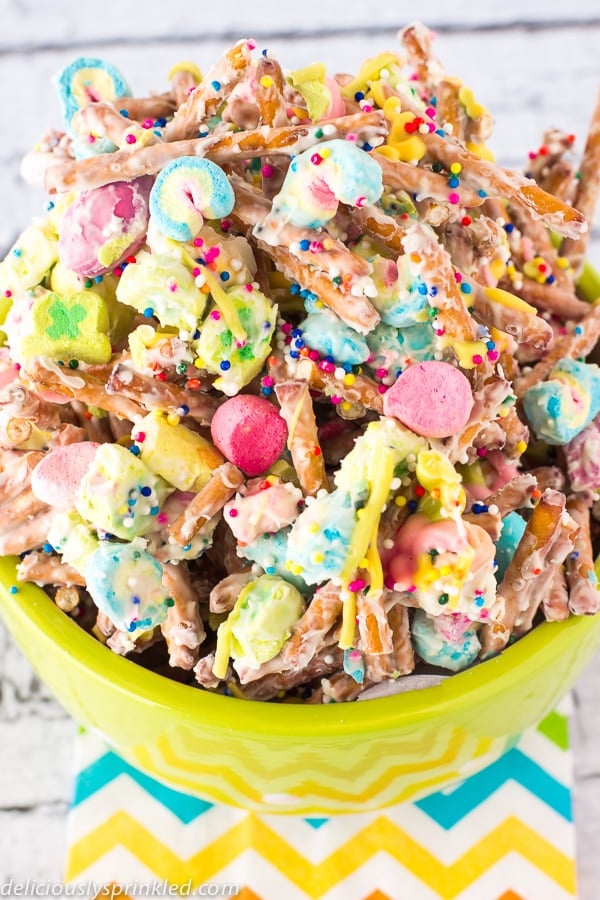 St. Patrick's Day is only a little over a week away! 🍀
I love St. Patrick's Day because I get a reason to use my  favorite cereal, Lucky Charms to make cupcakes, snack mixes, and rice crispy treats.
So if your looking for a fun, easy snack to celebrate St. Patrick's Day, then you have to make this Lucky Charms Munch.
It's SOOO good and SUPER ADDICTING!  😋
The combination of Lucky Charms marshmallows, M&M's, pretzels, white chocolate and SPRINKLES is what keeps everyone diving into this mix of goodness over and over again.
I'm always trying to come up with an excuse to make this munch as often as possible because it's just so delicious! 💚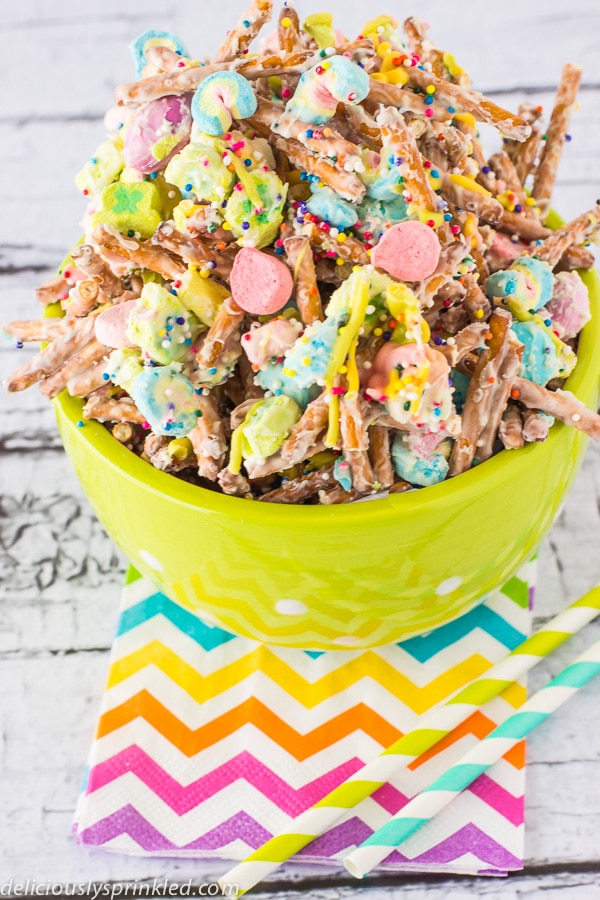 HOW TO MAKE PRETZEL SNACK MIX
 LUCKY CHARMS MARSHMALLOWS: I get a lot of questions asking me how many cups of marshmallows I used for this Lucky Charms Munch, and I would have to say that I used at least 1 1/2 cups of marshmallows. And if you don't want to pick out all the marshmallows from the cereal, you can just buy a bag of marshmallows….making this munch even easier to make!
 WHITE CHOCOLATE: I HIGHLY RECOMMEND that you use white chocolate baking bars for this recipe. I like to use the Ghirardelli White Chocolate Baking Bars. BUT if all you have is white chocolate chips, here is a tip to make sure you melt the chocolate chips correctly. When I melt chocolate chips, I like to add about 1 teaspoon of shortening to the chocolate chips and microwave in 30 seconds intervals, stirring after each 30 seconds until the chocolate is smooth.
CANDY MELTS: I used pink, vibrant green and yellow candy melts. You can find them in the baking aisle at WalMart or Target.
 MIX IN MORE: Feel free use your favorite mix-in's like peanuts, Chex cereal, semi-sweet chocolate instead of using white chocolate to coat the munch, the options are endless.
WATCH OUR VIDEO ON  HOW TO MAKE THIS LUCKY CHARMS MUNCH
MORE EASY SNACK RECIPES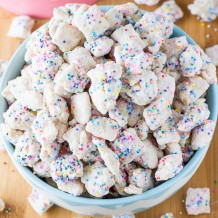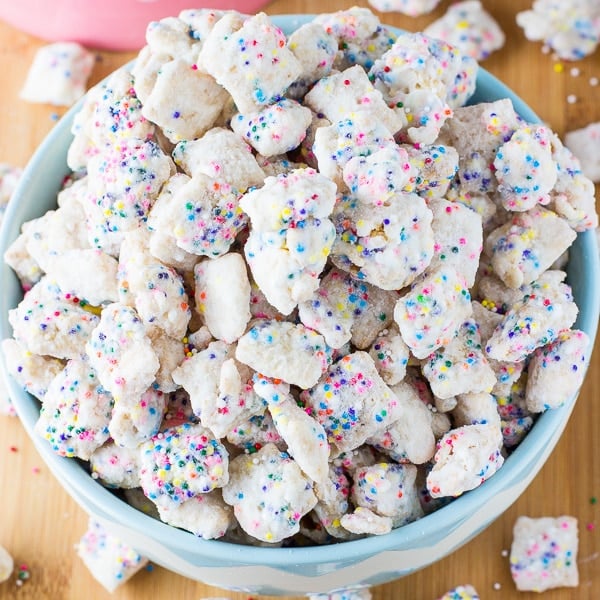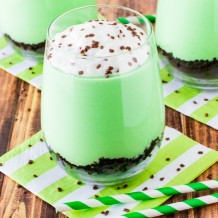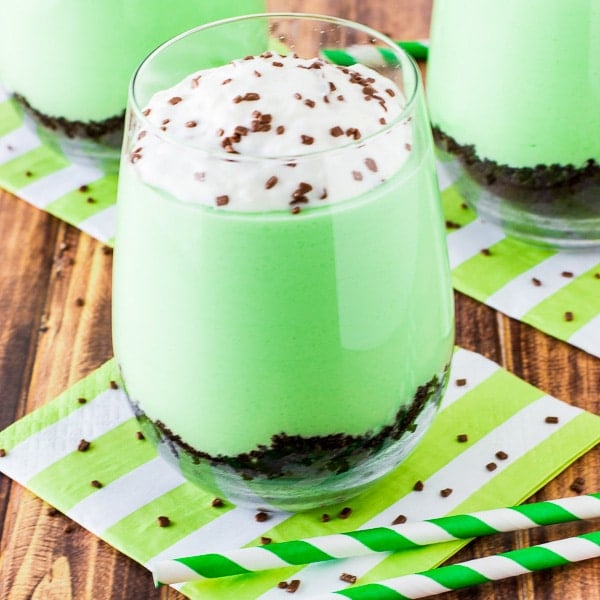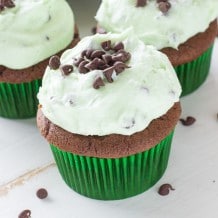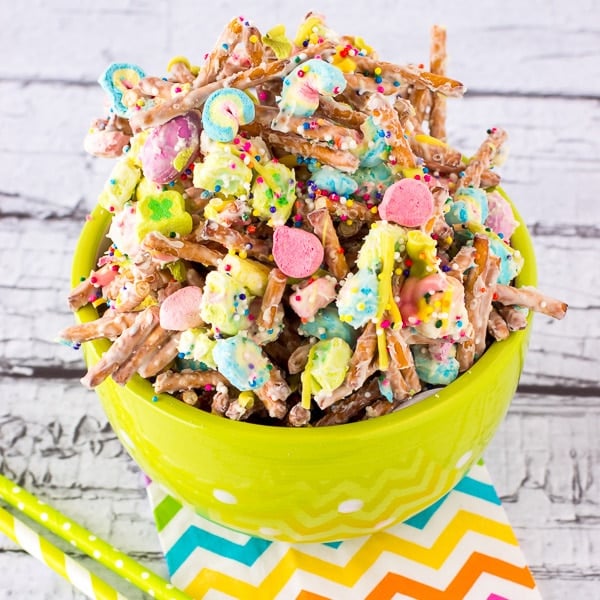 Yield: 6 Cups
Lucky Charms Munch
Prep Time 10 minutes

Additional Time 15 minutes

Total Time 25 minutes
Ingredients
1 box Lucky Charms cereal
6 cups pretzel sticks
8 ounces white chocolate baking bars
1/4 cup colored sprinkles
1/2 cup of each pink, yellow, and green candy melts
Instructions
STEP 1: Pour box of cereal out onto a large baking sheet. Pick out all the marshmallows; set aside.

STEP 2: In a large bowl mix the pretzels, M&M's, and marshmallows together.

STEP 3: In a medium microwavable bowl, microwave white chocolate chips for about 2 minutes, stirring every 30 seconds, until chips are completely melted. Pour over mixture and toss until evenly coated.

STEP 4: Spread mixture in single layer on baking sheet. Immediately sprinkle with candy sprinkles and drizzle with melted pink, yellow, and green candy melts. Let stand until set, about 15 minutes. Gently break up mixture and enjoy!

NOTES:
Notes
*Store Lucky Charms Munch in a covered container in the fridge for up to 1 week.