No Bake Energy Bites
These No Bake Energy Bites make the perfect healthy snack. They are so easy to make and you only need 5 simple ingredients.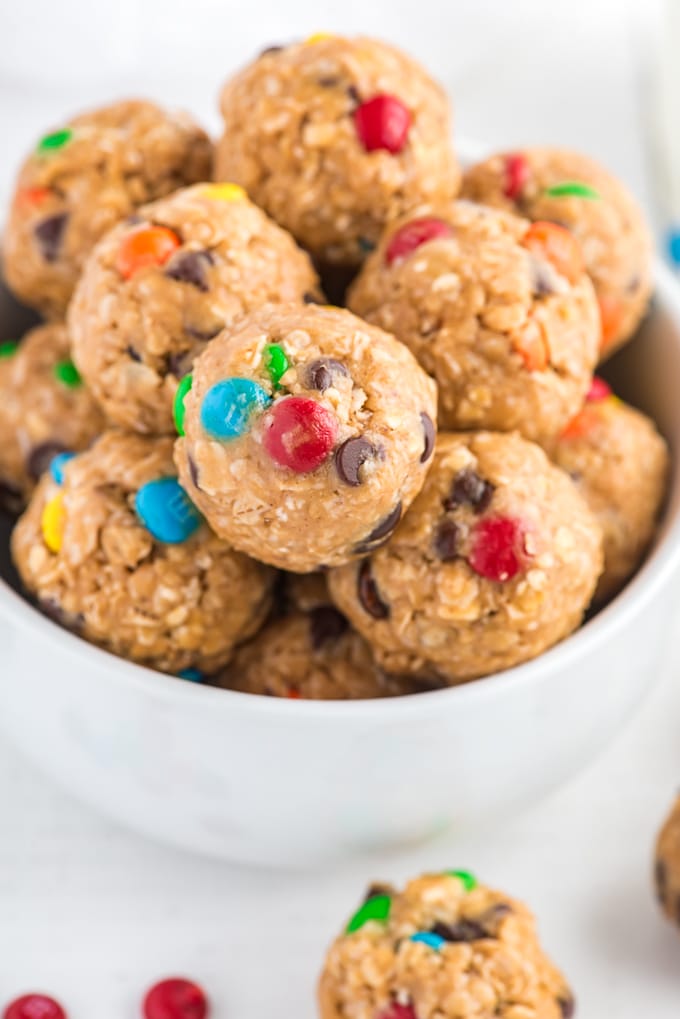 Healthy No Bake Energy Balls
These chocolate and peanut butter bites are packed with good for you ingredients. I was looking for a healthy snack that was easy to make and easy to just grab & go.
And of course, I had to add M&Ms so my kids would also eat them.
If your looking for a quick protein rich snack, just add a spoonful of protein powder. The extra protein will keep you full between meals. I also love adding some collagen powder to give my skin an extra little glow. WIN-WIN right? Healthy snack and glowing skin!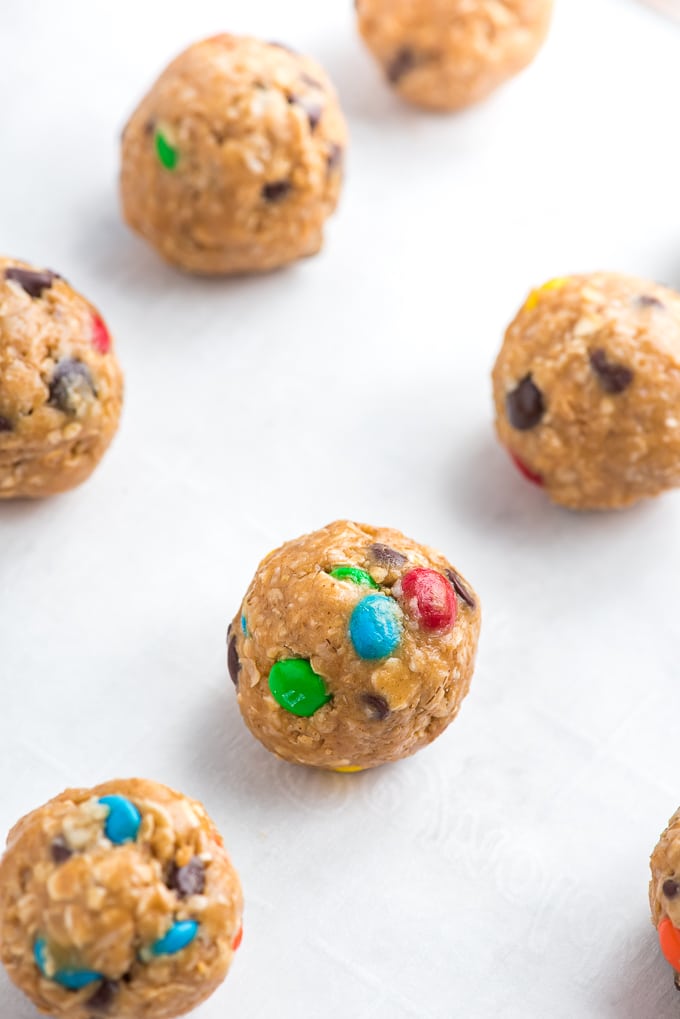 I've been switching up my mix-ins by adding raisins which basically make these energy bites taste like an Oatmeal Raisin Cookie!
The options are endless when it comes to this quick and easy healthy snack. Oh and these also make a great small dessert, especially these ones with chocolate and M&Ms. You could even have two and not feel to guilty about it.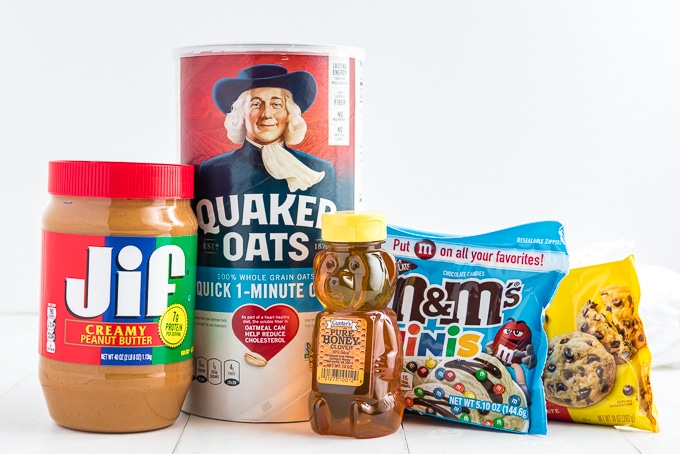 Recipe Ingredients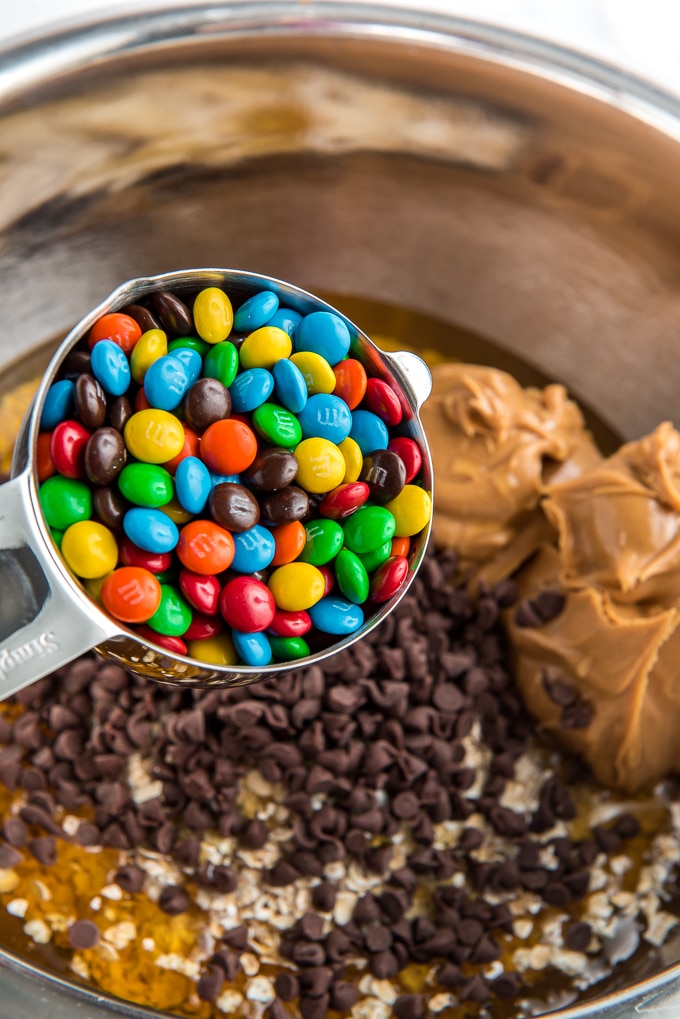 How To Make Energy Bites
MIX: In a medium or large bowl, add the quick oats, peanut butter, chocolate chips and honey. Stir everything together.
STIR IN THE ADD-INS: I like to add in M&Ms but you could leave them out. You could also add flaxseed or even chopped peanuts.
STORE IN FRIDGE: Cover the mixing bowl and let chill in the fridge for at least 1-2 hours. I like to make the mixture the night before and then in the morning just roll them into balls.
ROLL INTO BALLS: I use a cookie scoop & then roll into a ball. The cookie scoop helps start the balls making it easier.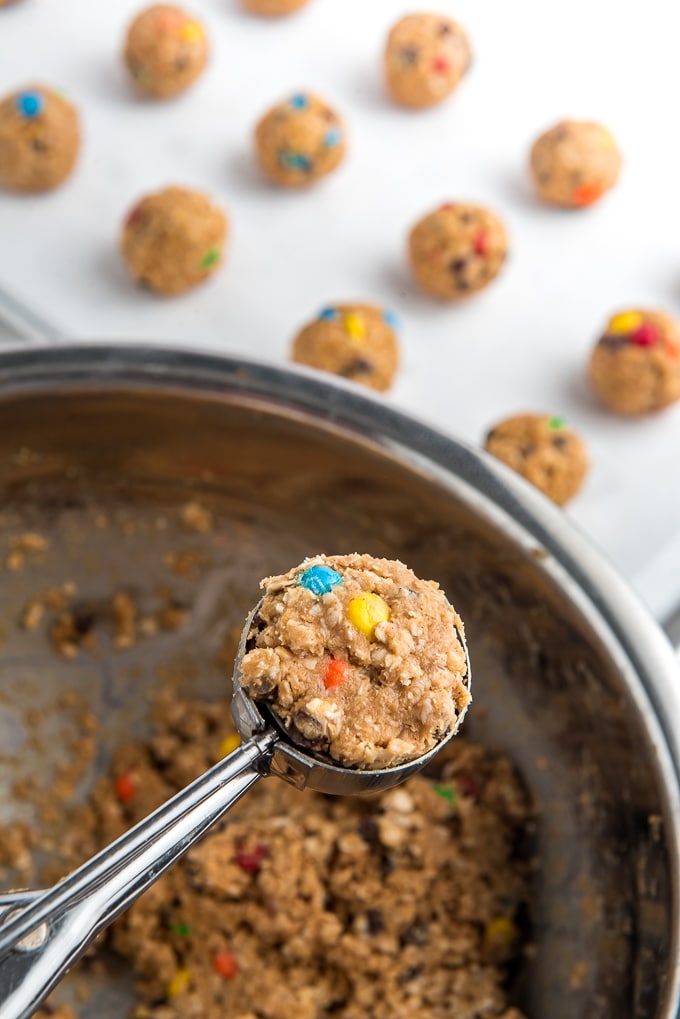 Recipe FAQs
CAN I USE OLD FASHIONED OATS INSTEAD?
Yes, absolutely! The texture might be slightly different but using either instant oats or old fashioned oats work great with these energy bites.
HOW TO STORE ENERGY BALLS?
Store the energy bites in an airtight container for up to 1 week in the fridge.
CAN I FREEZE NO BAKE ENERGY BALLS?
YES! You can freeze them in a freezer bag for about 3-4 months. Once your ready to eat them, let them thaw to room temperature.
CAN I ADD PROTEIN POWDER?
Of course, you can mix any protein powders into the mixture. I usually add about 1 spoonful of protein powder.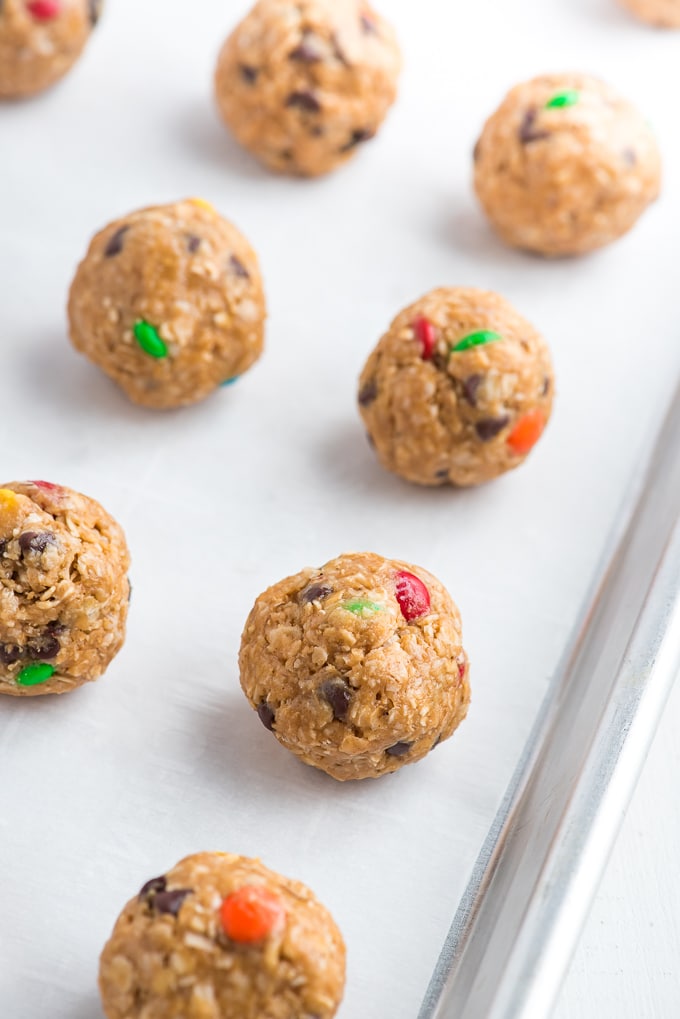 Tips For Success
Don't skip the step of chilling the mixture in the fridge before making them into balls. The honey and the peanut butter needs to set or it will be a sticky mess.
Don't use a natural peanut butter, natural peanut butter is usually more runny due to the extra oils. If you only have natural peanut butter…no worries, just add an additional cup of oats to the mixture.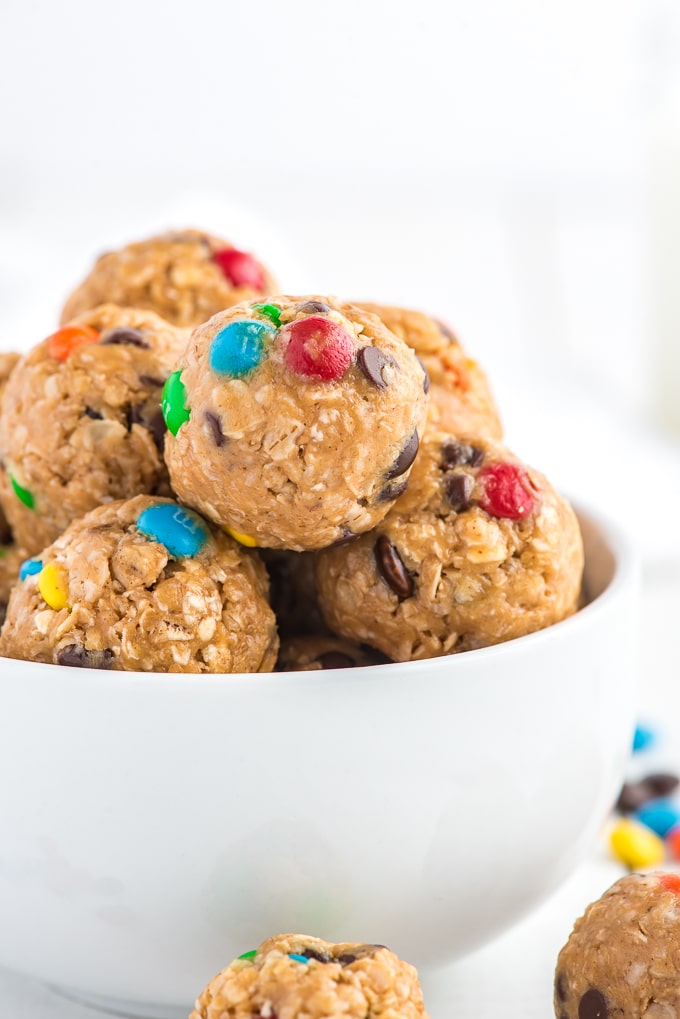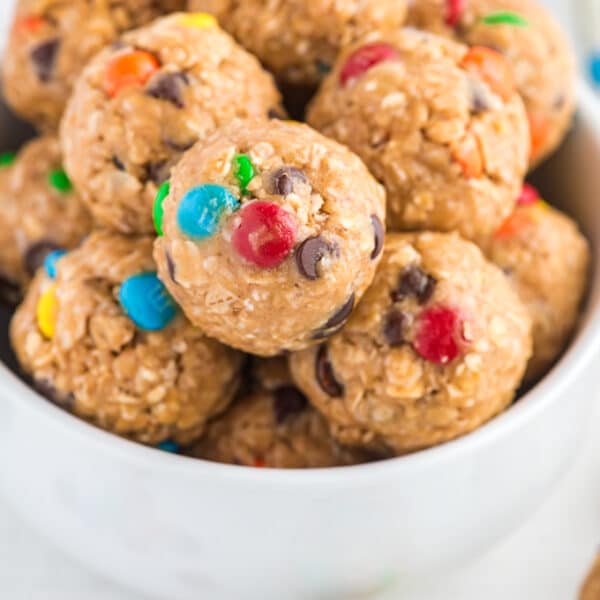 Leave a Review
No Bake Energy Bites
These easy to make No Bake Energy Bites are a healthy snack with so many options to add your favorite mix-ins. These also make for a healthy dessert too!
Print Recipe
Pin Recipe
Ingredients
3 cups quick oats
1 cup peanut butter
½ cup mini chocolate chips
½ cup mini m&ms
⅔ cup honey
Instructions
In a large bowl, mix quick oats, peanut butter, chocolate chips, and honey together.

Add mini m&m's.

Cover the mixing bowl and chill in the fridge for at least 1-2 hours or overnight.

Roll into balls, approximately 1 inch thick. Enjoy immediately.
Notes
STORE: In an airtight container in the fridge for up to 1 week.
FREEZE: I store mine in a freezer bag. Thaw in the fridge overnight. Can be frozen for 3-4 months.
Calories: 205kcal, Carbohydrates: 27g, Protein: 5g, Fat: 10g, Saturated Fat: 3g, Polyunsaturated Fat: 2g, Monounsaturated Fat: 4g, Trans Fat: 0.02g, Cholesterol: 1mg, Sodium: 63mg, Potassium: 122mg, Fiber: 2g, Sugar: 17g, Vitamin A: 22IU, Vitamin C: 0.1mg, Calcium: 24mg, Iron: 1mg
You May Also Like…
Some of the links above are affiliate links, which we get paid a small commission for recommending my favorite products at no extra cost to you! Thank you for supporting Deliciously Sprinkled.