CRISPY RANCH ZUCCHINI FRIES
CRISPY RANCH ZUCCHINI FRIES
These Crispy Ranch Zucchini Fries are AMAZING!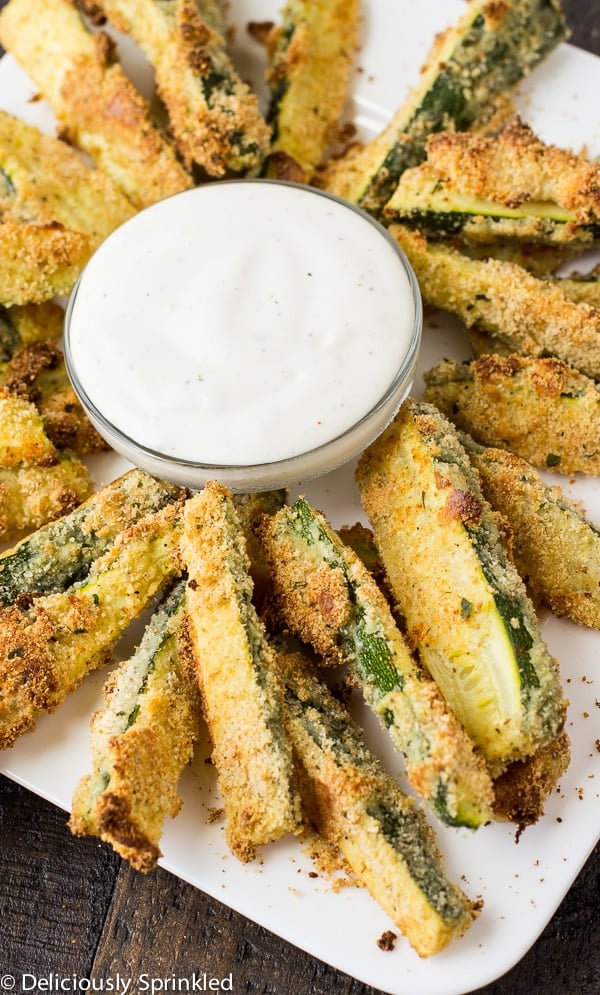 Zucchini season is here!
I'm not going to lie, I never been a huge fan of zucchini. I mean zucchini bread is good, but plain old zucchini is just not my fave until I made these Crispy Ranch Zucchini Fries.
OMG!!!!!! They're amazing!
When I first made them I thought that they would be mushy but I was so WRONG. They came out EXTRA CRISPY just like french fries but better. The ranch bread crumb coating took these zucchini fries to a whole new level of yumminess.
I also love that I don't have to feel bad about eating the whole plate of these fries because they're a veggie. RIGHT!?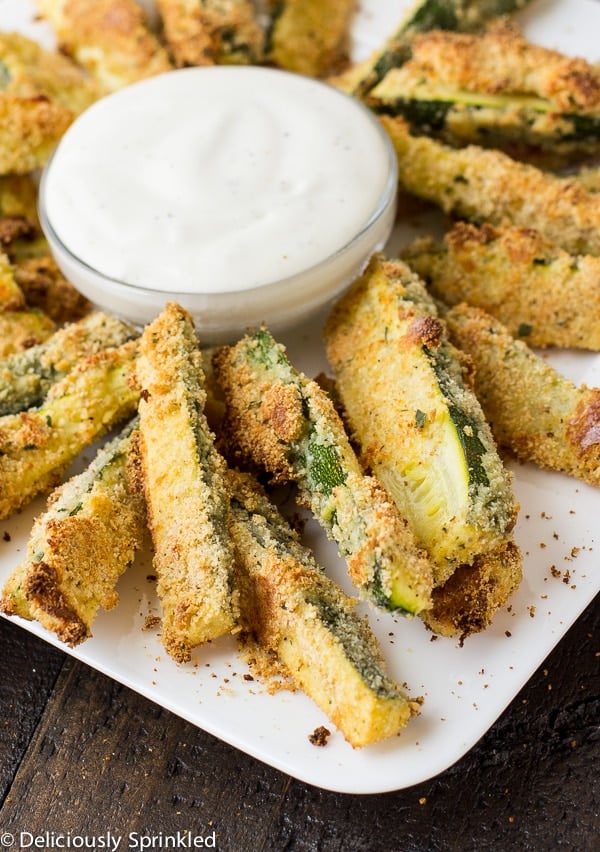 HOW TO MAKE BAKED ZUCCHINI FRIES
✓ BAKING: To make sure that these zucchini fries are cooked thoroughly & crispy I would HIGHLY recommend using a silicone baking mat. If you don't have one, you can get them here. I use mine all the time!
✓ EXTRA CRISPY: Do you like your fries EXTRA crispy? I do! So here is a trick, right before I put these fries in the oven I lightly sprayed them with a cooking spray which makes the fries extra crispy!
✓DIPPING SAUCES: I loved dipping these zucchini fries into my favorite ranch dressing but you can also dip them in the marinara sauce which is also super good!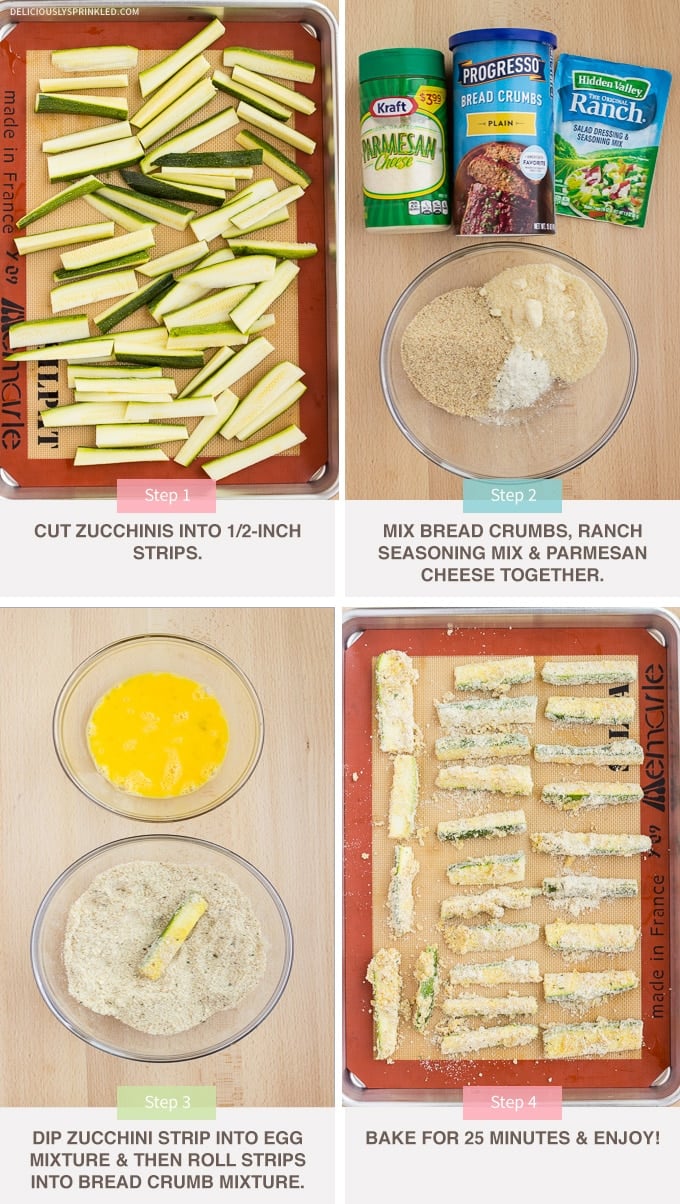 MORE SUMMER SIDE RECIPES
EASY BACON RANCH BROCCOLI SALAD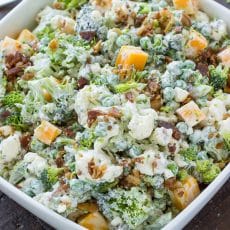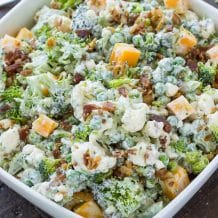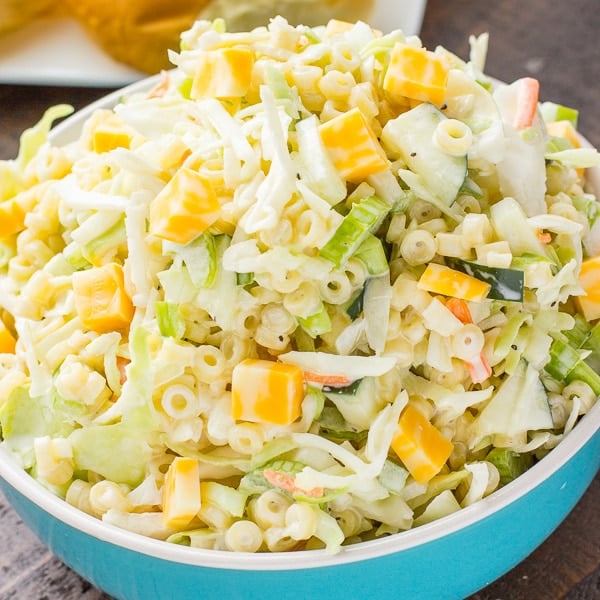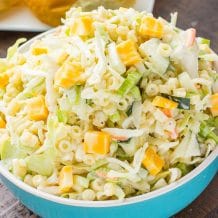 LEMON POPPY SEED ZUCCHINI BREAD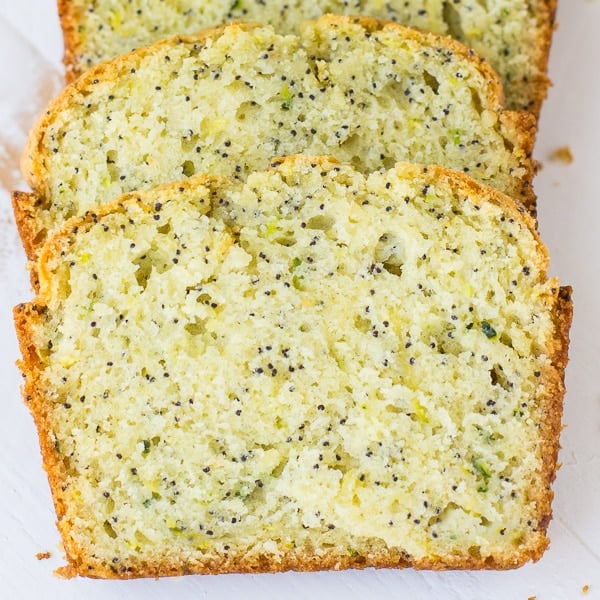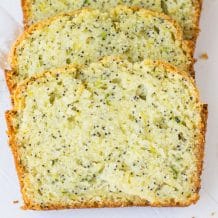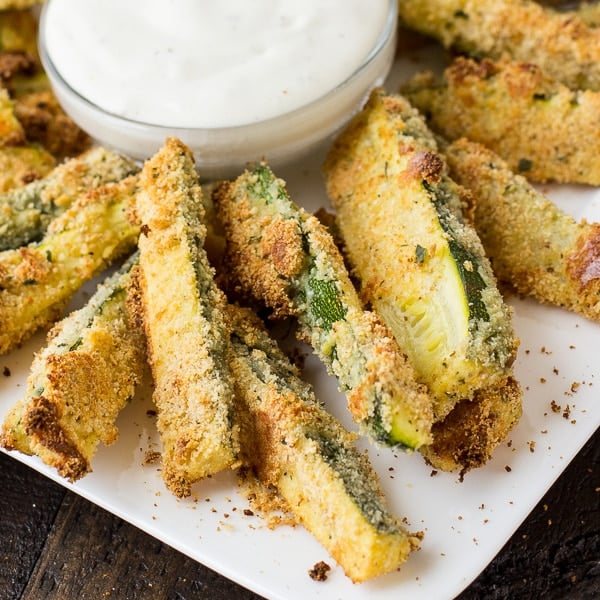 Yield: Serves4-6
Crispy Ranch Zucchini Fries
Prep Time 10 minutes
Cook Time 25 minutes
Total Time 35 minutes
Ingredients
3 zucchinis
1/2 cup plain bread crumbs
1/2 cup parmesan cheese
1 (16 oz.) packet ranch dressing & seasoning mix
2 eggs, beaten
Instructions
PRE-STEP: Preheat oven to 425F degrees. Line a large baking sheet with aluminum foil sprayed with cooking spray or silicone baking mats. Set aside.
STEP 1: Cut ends off of each zucchini. Then cut each zucchini in half and cut into 1/2-inch strips.
STEP 2: In a small bowl, whisk together eggs. In another small bowl, mix bread crumbs, parmesan cheese and ranch mix.
STEP 3: Dip each zucchini strip into egg mixture, shaking to remove any excess, and roll strips in bread crumb mixture to coat. Transfer coated zucchini strips to the prepared baking sheet.
STEP 4: Bake for 25 minutes, turning once at around 10 minutes left. Serve with ranch dressing or marinara sauce.
Nutrition Information:
Yield:
6
Serving Size:
1
Amount Per Serving:
Calories: 122
Total Fat: 6g
Saturated Fat: 2g
Trans Fat: 0g
Unsaturated Fat: 3g
Cholesterol: 70mg
Sodium: 329mg
Carbohydrates: 11g
Fiber: 2g
Sugar: 3g
Protein: 7g