Baked Vanilla Donuts
These Baked Vanilla Donuts are the easiest, most delicious donuts you can make at home and you can have a dozen of them because they're BAKED.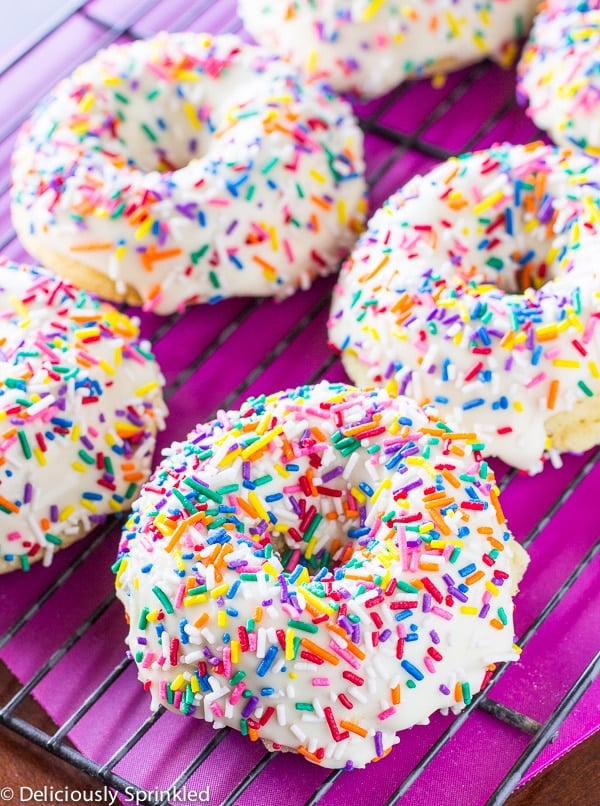 I love waking up a little earlier on the weekends to make a quick batch of these baked vanilla donuts.
These baked donuts are the best and I always say that I don't feel as guilty about eating these donuts because they're baked, so I can have two!
These donuts are dipped in a thick, vanilla glaze and topped with SPRINKLES.
Because we all know  SPRINKLES make donuts so much better, and like I always say SPRINKLES in the morning always make for a great start to the day!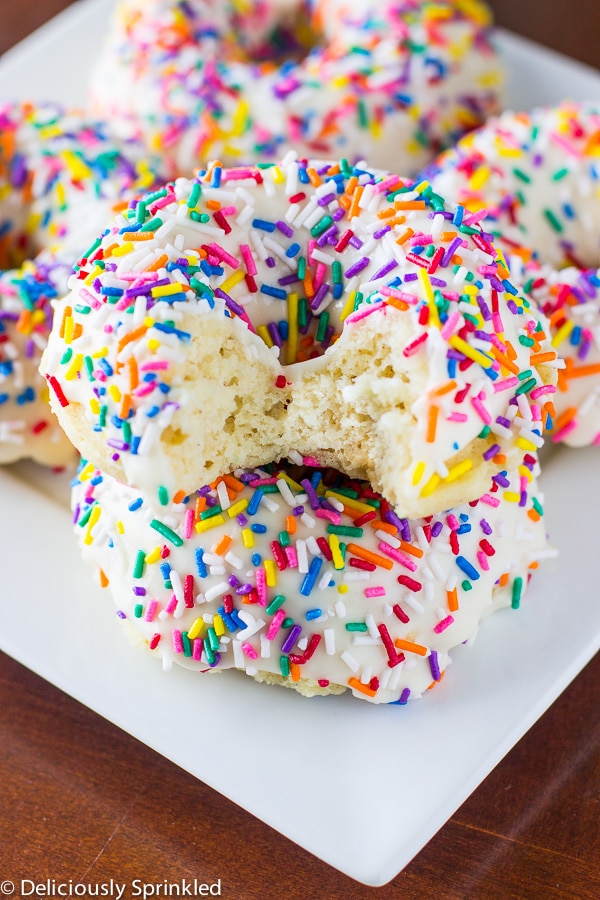 HOW TO MAKE BAKED DONUTS
MY FAVORITE DONUT PAN: These donuts are super easy to make, you don't even need to bring out your mixer. All you need is a couple of mixing bowls and a whisk. Oh yea, and also a super cheap donut pan…if you don't own one, you need to get one ASAP.
EASY WAY TO FILL DONUT PAN:  I find the easiest way to fill the donut pan with the donut batter is to use a large ziplock bag. All I do is fill the donut batter into the ziplock bag and cut the corner off of one end and pipe the batter into each donut cup. Easy peasy.
VANILLA GLAZE: To make a thick glaze on top of these donuts, I like to dip each donut three times into the bowl of vanilla glaze. I start out by dipping each donut once in the vanilla glaze and then I put them on a pan with a wire rack to let the glaze set. Wait a couple minutes and dip each donut again, let them set and dip them one more time for the perfect thickness of glaze. And on the last dip, SPRINKLE the top of each donut with SPRINKLES.
SPRINKLES: I buy all my SPRINKLES here!

MORE BREAKFAST RECIPES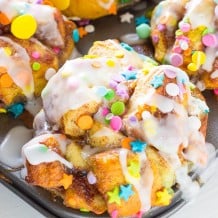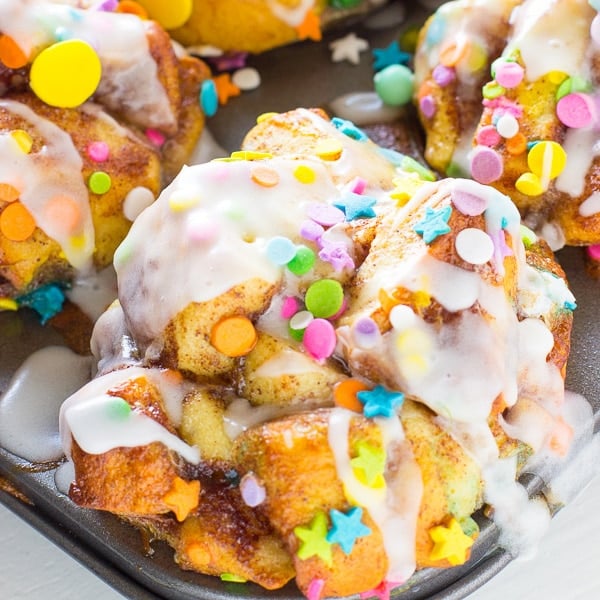 APPLE STREUSEL FRENCH TOAST BAKE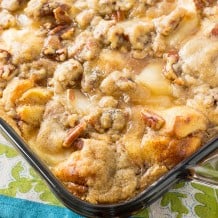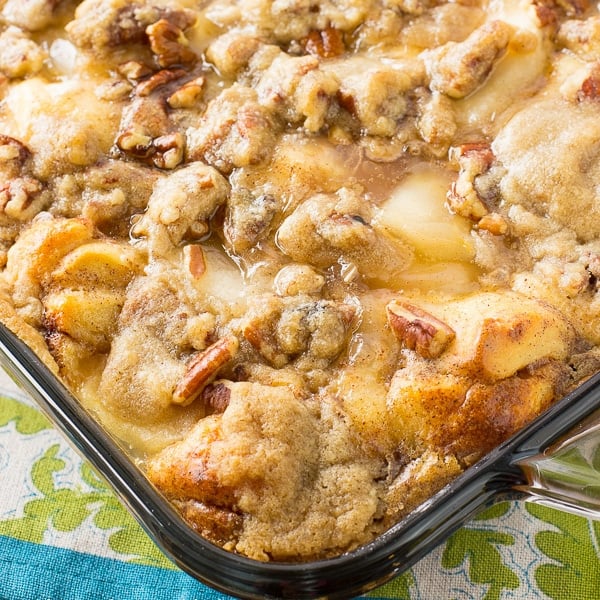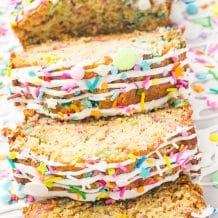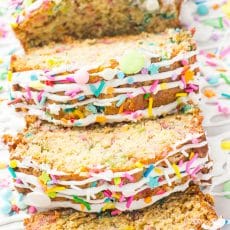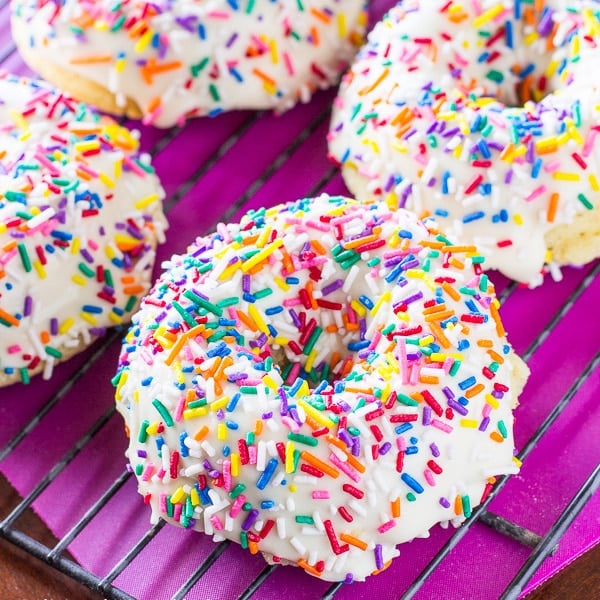 Yield: 16 Donuts
Baked Vanilla Donuts
Prep Time 15 minutes
Cook Time 10 minutes
Total Time 25 minutes
★ Make sure to read my TIPS above before you start baking!
Ingredients
2 2/3 cups all-purpose flour
1 1/2 teaspoons baking powder
1/4 teaspoon baking soda
1 teaspoon nutmeg
3/4 teaspoon salt
3/4 cup granulated sugar
1/2 cup milk
1/2 cup sour cream
2 large eggs
1/4 cup butter, melted
1/4 cup vegetable oil
2 teaspoons vanilla extract
1/2 cup milk
4 cups powdered sugar
2 teaspoons vanilla extract
sprinkles, for topping
Instructions
PRE-STEP: Preheat oven to 425F degrees. Spray a donut pan with nonstick cooking spray. Set aside.
STEP 1: In a large bowl, whisk together the flour, baking powder, baking soda, nutmeg, salt, and sugar. Set aside.
STEP 2: In a medium sized bowl, whisk together the milk, sour cream, and eggs until smooth.
STEP 3: Whisk in the melted butter, vegetable oil, and vanilla extract . Pour the wet ingredients into the dry ingredients and stir until just combined. Do not overmix. The batter will be very thick.
STEP 4: Spoon the batter into a large zipped bag. Cut a corner off the bottom of the bag and pipe the batter into each donut cup, filling 3 ∕ 4 of the way full.
STEP 5: Bake for 10 minutes or until the edges are lightly browned. Remove from the pan and bake the remaining donut batter. Allow the donuts to slightly cool before glazing.
MAKE THE VANILLA GLAZE:
STEP 6: In a medium sized bowl, whisk together the milk, powdered sugar, and vanilla extract until smooth.  Dip the top of each donut into the bowl of glaze, and sprinkle with colored sprinkles immediently after glazing. Let glaze set for 5-10 minutes before serving.