Energizing Green Smoothie
The BEST green smoothie recipe EVER!! Made in just a few minutes, this energizing green smoothie is the perfect healthy start to you day.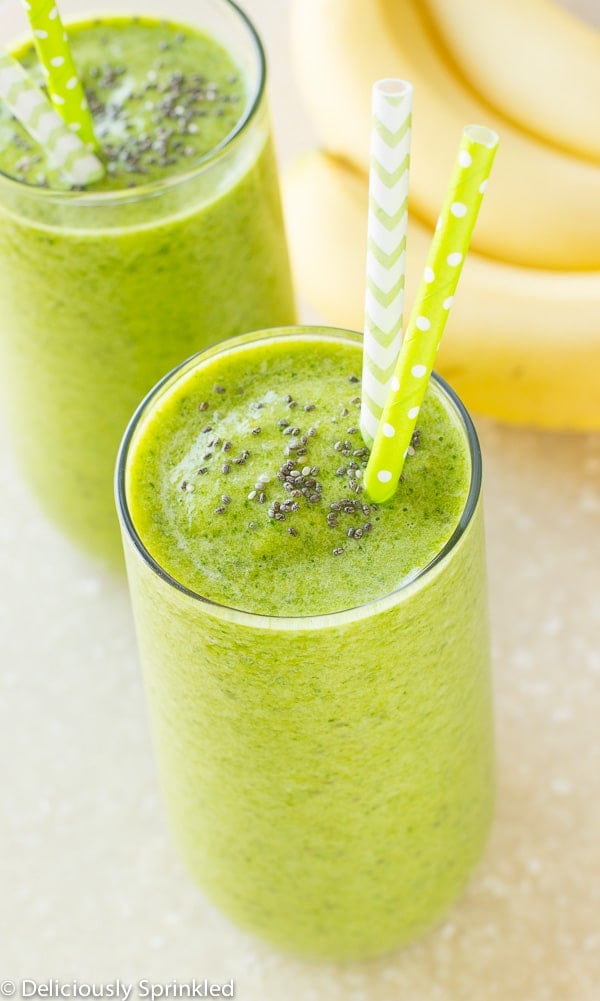 BEST GREEN SMOOTHIE
I hope you had a wonderful holiday season and enjoyed all the delicious food!! If you're anything like me, however, you're ready to get back on track after the new year. The best way to do so is with this green breakfast smoothie!
When it comes to healthy green smoothies, I've tried almost EVERY green smoothie out there and I hated them all, they're so gross! I was determined to come with the BEST green smoothie that tastes delicious, was healthy, AND would give me energy (lord knows I sure need lots of it these days!). I'm happy to say that this energizing green smoothie has all that AND I've given up my morning tea/coffee as a result!
Believe it or not… this green breakfast smoothie gives me WAY MORE energy without the crash in the afternoon. YAY!
GREEN BREAKFAST SMOOTHIE RECIPE
What I really love though is that this is SUPER EASY to make too!! Throw a few things in the blender and you're pretty much done. And in the morning – this is PERFECT as I do not have the energy yet for anything complicated, ha!
I've also included a section below of how you can customize this to your liking with all kinds of suggestions for greens and fruits. I didn't like them but that doesn't mean that you won't! ENJOY!!
KITCHEN TOOLS TO HELP YOU
For your healthy green smoothie, you'll want to make sure you have these kitchen tools:
BLENDER: This blender is the BEST for cutting spinach down all the way. For this recipe, you'll need a good strong blender so you don't end up with chunks. I can't recommend this one enough!!
MASON JARS: I used tall glasses for this recipe, but I LOVE serving smoothies in mason jars!
CHIA SEEDS: These are a MUST for all smoothie recipes! Such huge health benefits perfect for breakfast.
GREEN SMOOTHIE INGREDIENTS
For your green breakfast smoothie, you'll need these ingredients:
SPINACH: the "green" comes from blending up some spinach – just make sure it's fresh!
WATER: just a bit of water to turn the spinach into liquid!
MANGO: I LOVE mango in smoothies – they add such a delicious sweetness.
PINEAPPLE: Pineapple compliments the mango very well in smoothies!
BANANAS: I love bananas and they're a great source of nutrients in your healthy smoothie!
CHIA SEEDS: PERFECT for delivering maximum nutrients with minimum calories and promotes digestion, ENERGY and detoxification. A MUST HAVE ingredient if you ask me!
HOW TO MAKE A GREEN SMOOTHIE
Scroll down below for the full step-by-step printable recipe for an energizing green smoothie!
BLEND SPINACH: Toss spinach and water into your blender. Blend together until smooth (you don't want any leafy chunks).
ADD FRUIT: Add your mango, pineapple, bananas, and chia seeds; blend until smooth.
SERVE: Serve cold in a tall glass or mason jar. Enjoy!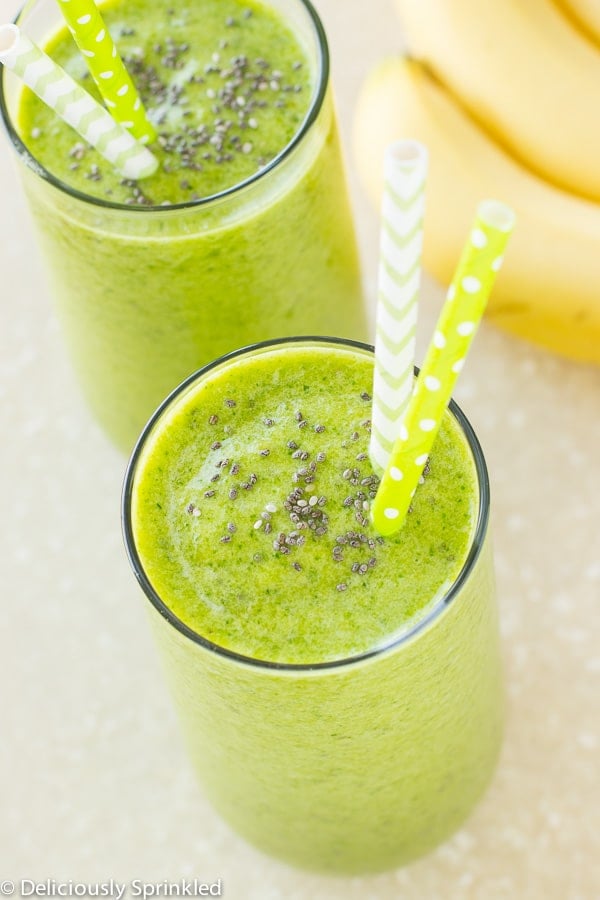 ARE GREEN SMOOTHIES GOOD FOR YOU?
Yes! With a green breakfast smoothie, you're adding all kinds of goodness to start your day with! Everything from protein, fiber, and so much more. There's no added sugars like other recipes either, so you're just getting all the nutrients from your greens and fruits.
WHAT SHOULD I PUT IN A GREEN SMOOTHIE?
While you can follow this recipe exact, you can also mix it up and try all kinds of things to start you day with! The simple answer is you can add greens, fruits, and desired add-ins. I'll break this down a little more to give you some ideas.
GREENS FOR SMOOTHIES:
Spinach
Kale
Collard greens
Celery
Romaine lettuce
Swiss chard
Argula
Beet greens
FRUITS FOR SMOOTHIES:
Mango
Pineapple
Banana
Strawberries
Blueberries
Blackberries
Raspberries
Peaches
Cherries
Oranges
Grapefruit
Grapes
Note: darker colored fruits will change the color of your smoothie and will result in a much darker color.
SMOOTHIE ADD-INS:
Chia seeds
Flax seed
Protein powder
Collagen
Acai berry powder
Coconut oil
Nuts
Matcha
Fresh herbs
Cold brew
Hemp seeds
CAN I USE FROZEN INGREDIENTS IN MY SMOOTHIE?
Yes, and you should! Frozen fruits will make your smoothie so much creamier and thicker! I prefer using frozen fruits over tossing ice in a blender.
WHAT IS THE BEST WAY TO BLEND A SMOOTHIE?
I find the key to the BEST green smoothie ever is by first blending your greens so you get that perfect green color, AND THEN tossing in your fruits. This is my preferred method. It's also best to start at a low speed and gradually increase as your ingredients start to break down.
CAN YOU MAKE GREEN SMOOTHIES AHEAD OF TIME?
You sure can! Fresh smoothies are best so I don't recommend making them entirely ahead of time, but some prep can be done to save on time. Try blending spinach + water and then pouring the mixture into ice cube trays and adding them to a freezer bag once frozen. You can also pre-portion your fruit to freeze.
Then, all you have to do is blend the spinach with a bit of water and toss in the fruit. No measuring anything out! (Just keep note of how many ice cubes you'll need for each batch.)
TRY THESE OTHER SMOOTHIE RECIPES:
If you have tried this Energizing Green Smoothie recipe, then please rate it in the recipe card and let me know how it turned out in the comments below!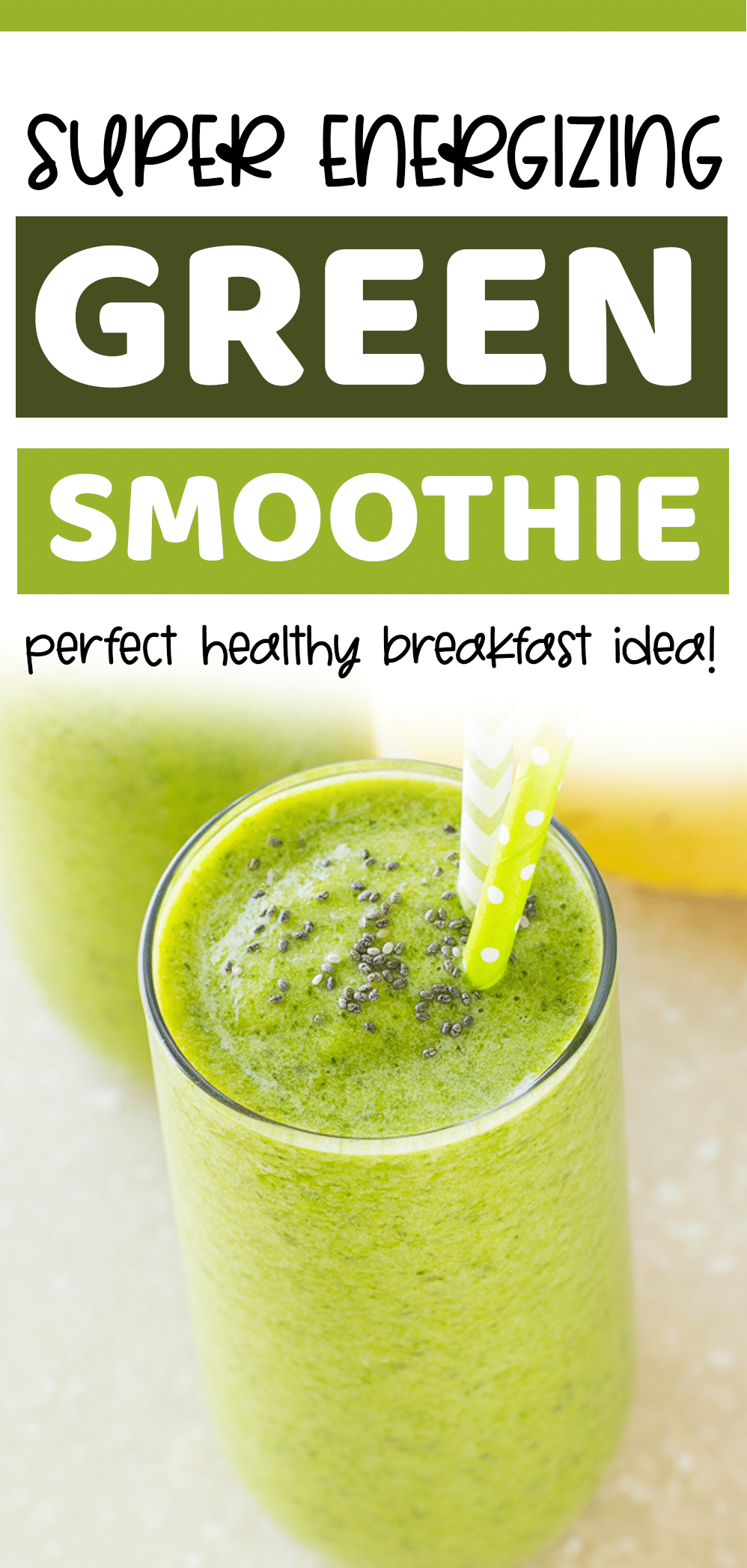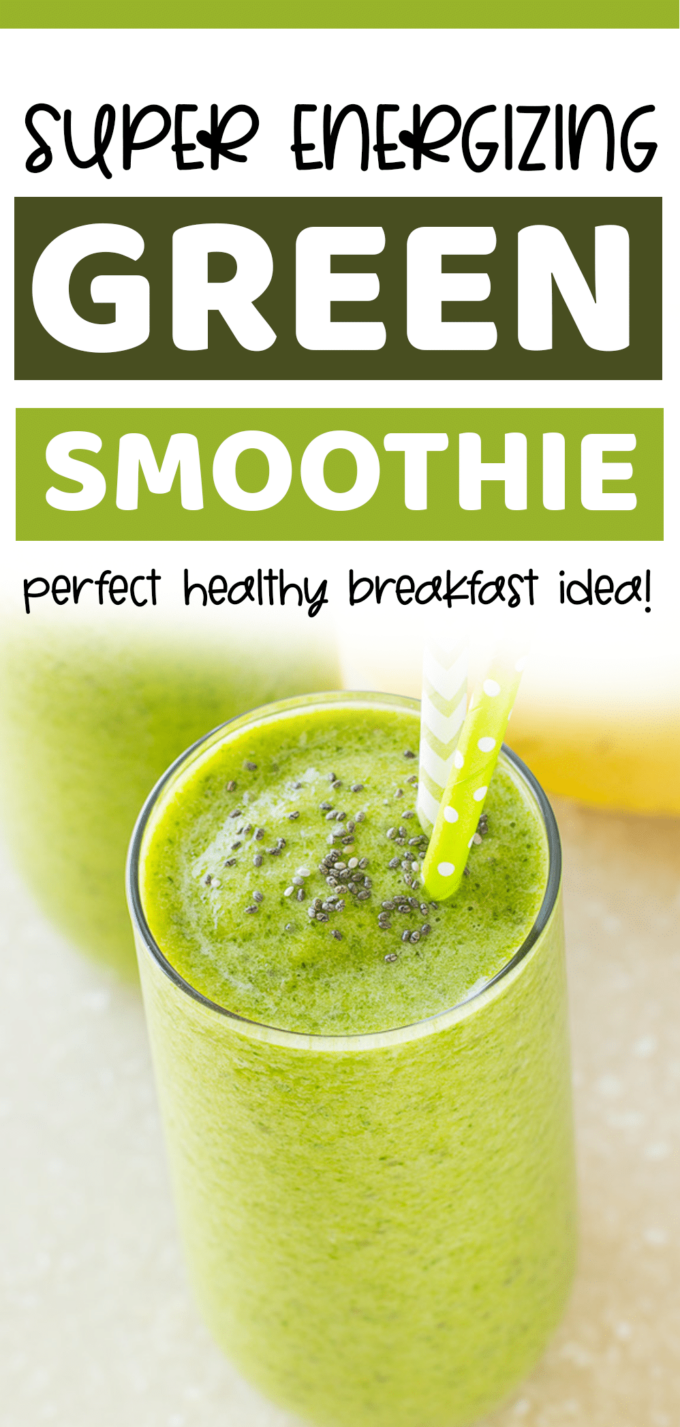 Yield: Serves 2-4
Energizing Green Smoothie
Prep Time 5 minutes
Total Time 5 minutes
The BEST green smoothie recipe EVER!! Made in just a few minutes, this energizing green smoothie is the perfect healthy start to you day.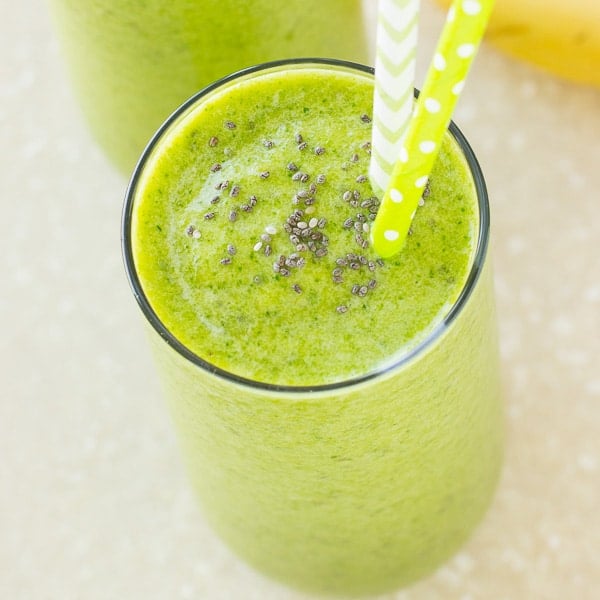 Ingredients
2 cups fresh spinach
2 cups water
1 cup frozen mango
1 cup frozen pineapple
2 bananas
2 Tablespoons chia seeds
Instructions
Toss spinach and water into the blender. Blend together until all leafy chunks are gone.
Add mango, pineapple, bananas and chia seeds. Blend until smooth.
Serve and enjoy!
Nutrition Information:
Yield:
4
Serving Size:
1
Amount Per Serving:
Calories: 163
Total Fat: 2g
Saturated Fat: 0g
Trans Fat: 0g
Unsaturated Fat: 2g
Cholesterol: 0mg
Sodium: 20mg
Carbohydrates: 36g
Fiber: 5g
Sugar: 26g
Protein: 3g
This blog post contains affiliate and/or referral links, which pay me a small commission for recommending my favorite products at no extra cost to you! Additionally, as an Amazon affiliate, I earn from qualifying purchases.