Funfetti French Toast Muffins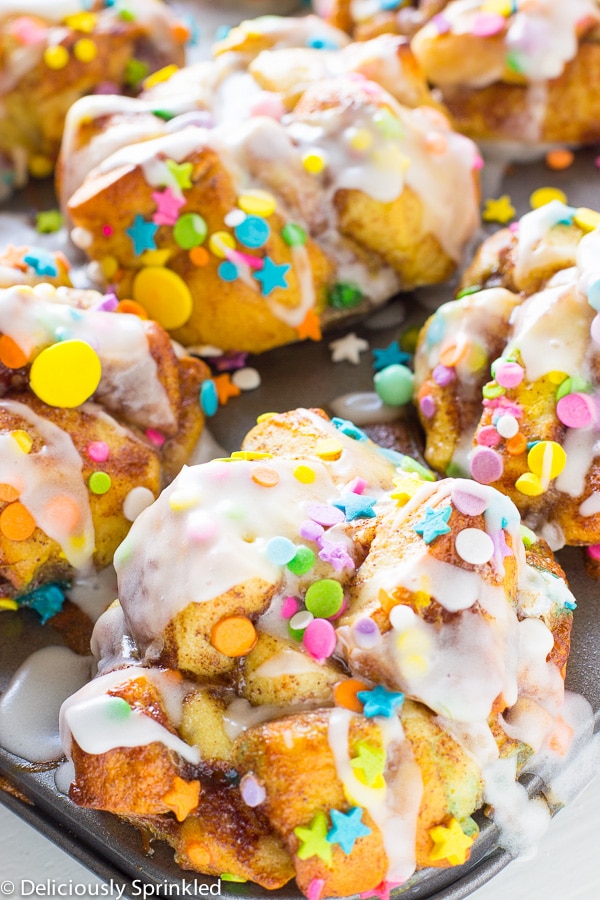 SPRINKLES for breakfast!?!?
YES, please.
Seriously, not only are these Funfetti French Toast Muffins absolutely delicious, they're also super simple to make.
Like almost all my recipes on my website!
These muffins make the perfect weekend breakfast or you can change out the SPRINKLES to coordinate with your party or holiday celebration, the options are endless when it comes these muffins.
To make these Funfetti French Toast Muffins, I started out by cutting up Pillsbury Grand Cinnamon Rolls into pieces.
I then made the traditional eggs mixture for french toast but rather than using milk I used International Delight Sweet Cream creamer.
The Sweet Cream creamer gives these muffins that added vanilla flavor that you wouldn't get from regular milk.
Lastly, I used the icing from the cinnamon rolls to drizzle on top and sprinkled each muffin with SPRINKLES!
And that's it.
SO EASY TO MAKE…SO GOOD…and OH, SO FUN! ♥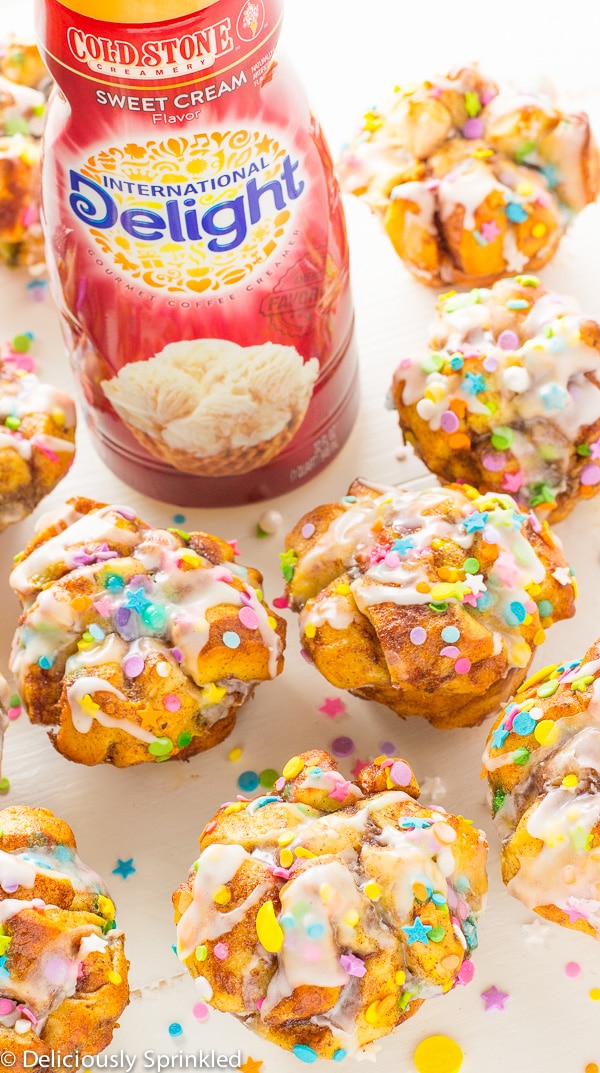 JUST A FEW BAKING TIPS:
✓ CINNAMON ROLLS: I used two packages of Pillsbury Grand Cinnamon Rolls to make 12 muffins. If you want to use regular cinnamon rolls, I would recommend using three packages or if you don't want to make 12 muffins you can use one package of Pillsbury Grand Cinnamon Rolls which will make 6 muffins instead but trust me you are going to want to make 12 muffins! 🙂
✓ SPRINKLES: I love Sweetapolita's Sprinkle Shop! She has a TON of super fun sprinkles, like the sprinkles I used to make these muffins!
STEP-BY-STEP GUIDE ON HOW TO MAKE THESE FUNFETTI FRENCH TOAST MUFFINS: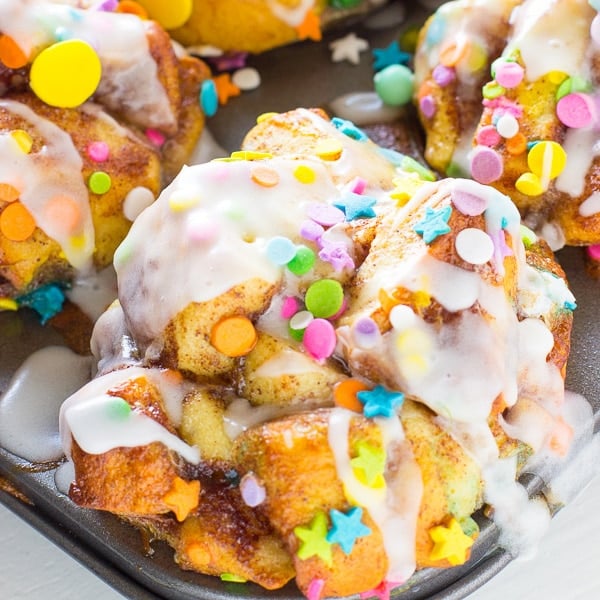 Yield: 12 Muffins
Funfetti French Toast Muffins
These Funfetti French Toast Muffins are the BEST way to start your morning. So easy to make and delicious to eat!
Prep Time 10 minutes
Cook Time 20 minutes
Total Time 30 minutes
Ingredients
1/4 cup International Delight Sweet Cream Creamer
2 large eggs
1 teaspoon ground cinnamon
1 teaspoon vanilla extract
2 packages Pillsbury Grand Cinnamon Rolls
1/2 cup sprinkles, plus additional sprinkles for topping
icing from cinnamon rolls
Instructions
Preheat oven to 375F degrees. Spray muffin pan with nonstick spray. Set aside.
In a medium-sized bowl, whisk together creamer, eggs, cinnamon and vanilla.
Unwrap packages of cinnamon rolls, set icing aside. Cut rolls into 8 pieces each.
Place pieces into egg mixture, stirring to coat.
Place 6 pieces into each muffin tin. Spoon any remaining egg mixture over the top of each muffin tin. Sprinkle the top of each muffin with sprinkles.
 Bake for about 20 minutes or until tops are golden brown.
Pour icing into a microwavable bowl and heat for 7 seconds. Spoon over each muffin and top with more sprinkles.