Marshmallow Creme Fudge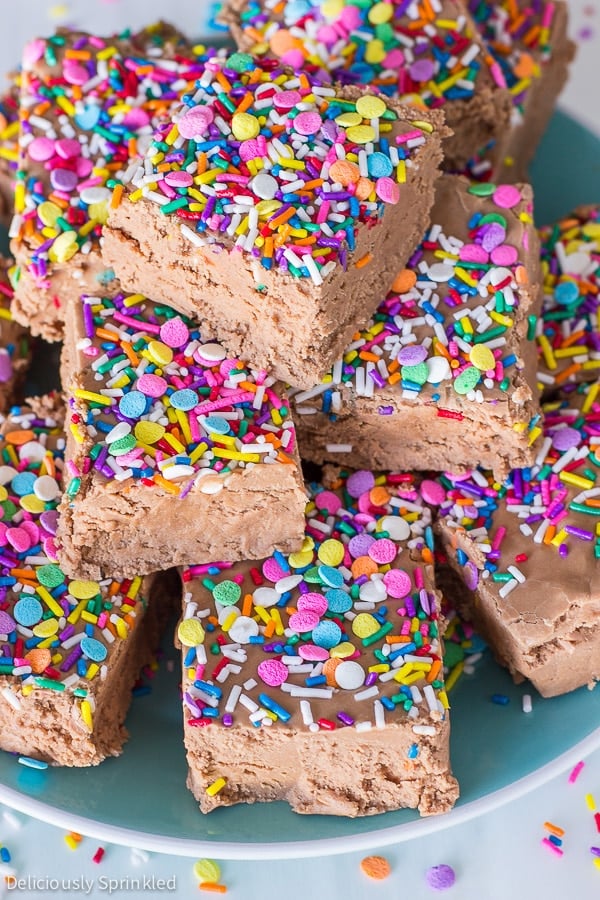 I'm so glad that it's finally March, it's been a long snowy, freezing cold, yucky winter and I'm so over it! So hopefully, now that it is March it will start to warm up but until then I thought I would share my favorite Marshmallow Creme Fudge with all of you today. Isn't this fudge so FUN!?
This Marshmallow Creme Fudge is a melt-in-your-mouth, creamy chocolate-marshmallowy fudge topped with SPRINKLES. It's so easy to make, it's fail proof. ★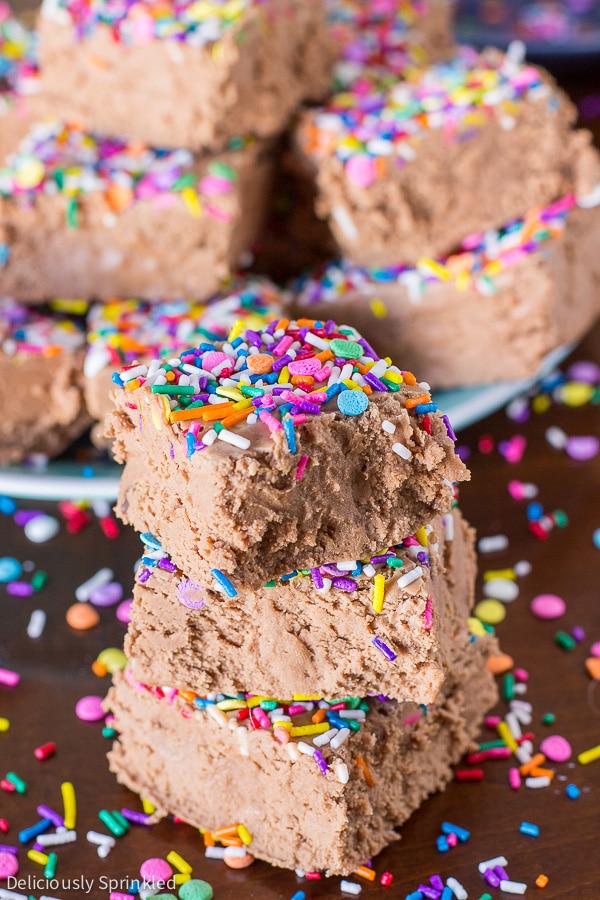 JUST A FEW BAKING TIPS:
✔ You don't need to have a candy thermometer to make this Marshmallow Creme Fudge but if you do have one, it will take the guessing out of worrying if you let the sugar mixture boil long enough. If you don't let the sugar mixture boil long enough then your fudge will not set and it will be too soft to even cut into. A good rule of thumb is to boil the sugar mixture for at LEAST 5 minutes.
✔ I find that using a plastic knife works the best when cutting the fudge into squares. Or spray your knife with non-stick cooking spray to make it easier to cut the fudge into squares.
✔ For this fudge, I used these colored SPRINKLES and these SPRINKLE dots. 
STEP-BY-STEP GUIDE ON HOW TO MAKE THIS MARSHMALLOW CREME FUDGE: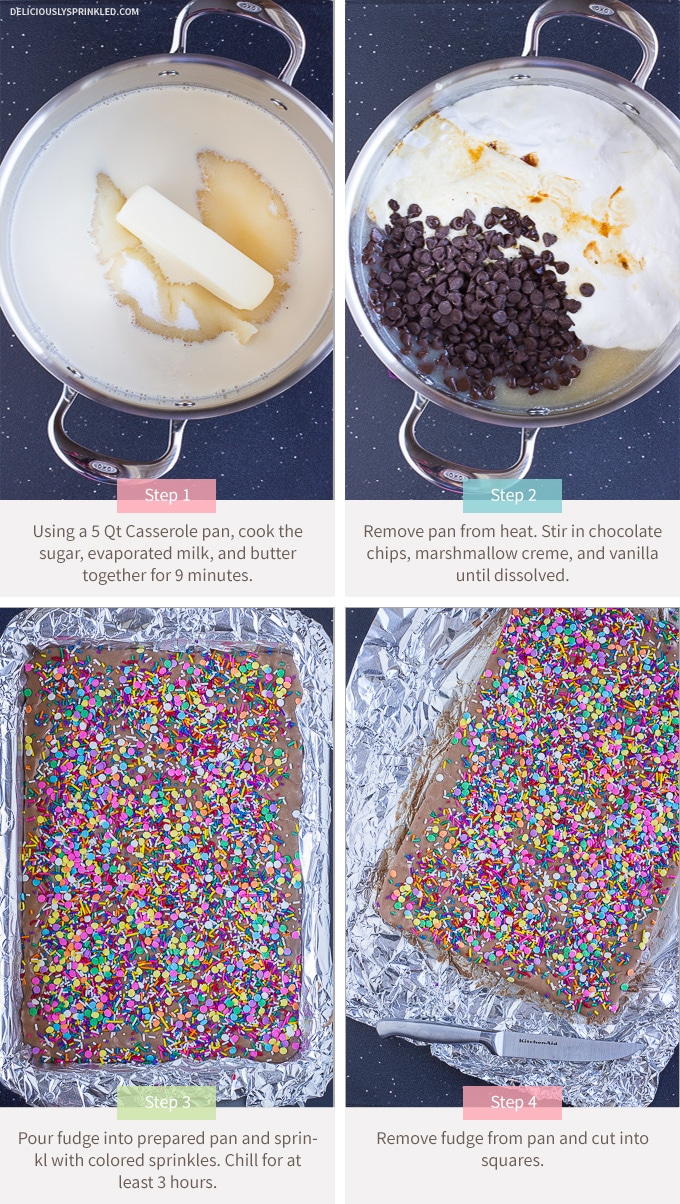 Marshmallow Creme Fudge
Yield: 36 Squares
Prep Time: 15 minutes (plus 3 hour chilling time)
Total Time: 3 hours 15 minutes
★ Make sure to read my BAKING TIPS above before you start baking!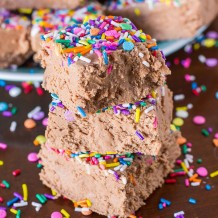 Ingredients:
4 cups granulated sugar
1 (12 oz.) can evaporated milk
1 cup (2 sticks) butter
2 (7 oz.) jars of marshmallow creme
2 (6 oz.) bags of semi-sweet chocolate chips
1 teaspoon vanilla extract
sprinkles, for topping
Directions:
PRE-STEP: Line a 9x13 inch baking pan with aluminum foil and spray with non-stick cooking spray. Set aside.
STEP 1: Using a 5 Qt. casserole pan, place sugar, evaporated milk, and butter into pan and bring to a boil. Boil for at least 5 minutes.  Stirring every 2-3 minutes.
*If using a candy thermometer, boil to soft ball stage.
STEP 2: Remove pan from heat. Add chocolate chips, marshmallow creme, and vanilla extract. Stir until marshmallow creme and chocolate chips are completely melted and smooth.
STEP 3: Pour fudge into prepared pan. Immediately sprinkle top of fudge with colored sprinkles. Place in fridge for at LEAST 3 hours before cutting into squares.
STEP 4: Once fudge is set, remove from pan and cut into squares.
* Store fudge covered in the refrigerator for up to 5 days.
BAKING TOOLS I USED FOR THIS RECIPE:
OXO Stainless Steel Pro 5 Qt. Casserole Pan
Heat-radiant aluminum core fused between two layers of stainless steel ensures even cooking from every side
Rolled edges designed for drip free pouring
Contoured handles designed to stay cool to the touch for a comfortable grip
Durable, all-metal construction allows cookware to move directly from stovetop to oven and broiler. Glass lids are oven safe up to 430°F
Works on all stovetops, including induction
Dishwasher safe
Candy Thermometer, optional 
Check out more Sprinkle Recipes…
And try these Funfetti Chocolate Covered Banana Bites next!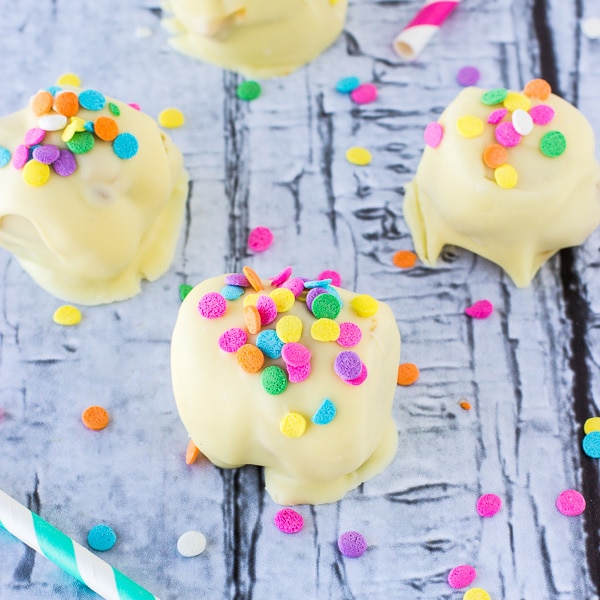 This is a sponsored post in partnership with #OXOCookeware. I'm thrilled to be partnering with them to share with you some favorite baking recipes of mine, and all opinions are my own as always. Thanks for supporting the brands that help make Deliciously Sprinkled possible!
9 Responses to "Marshmallow Creme Fudge"
Leave a Comment