Instant Pot Burrito Bowls
These Instant Pot Burrito Bowls will show you, and your taste buds that you no longer need a tortilla to enjoy that burrito flavor.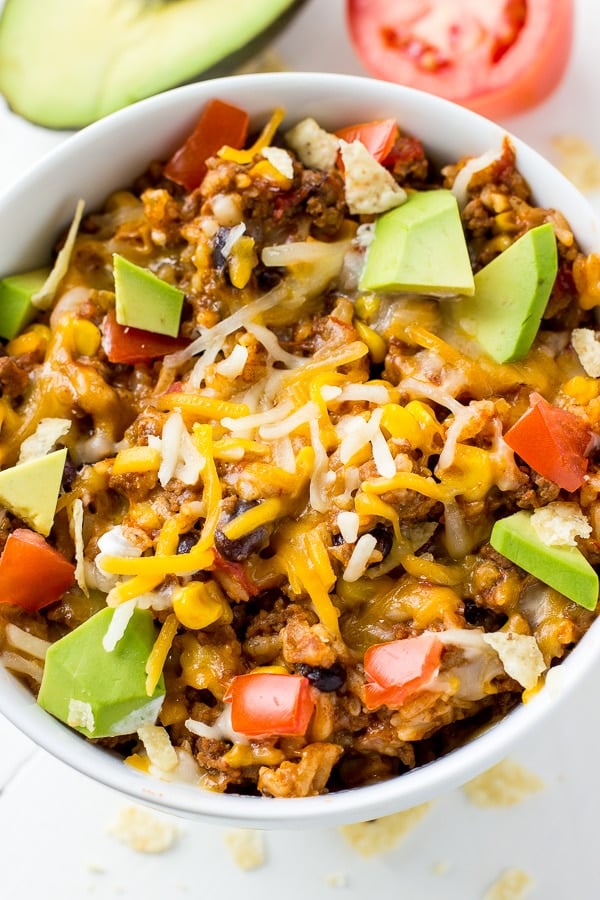 To say that I love my Instant Pot is an understatement. It has truly changed everything that I thought I previously knew about cooking. And my latest Instant Pot creation that I can't get enough of? Instant Pot Burrito Bowls.
If you are anything like me, you love burritos but hate that "carb overload" feeling that can accompany eating that giant flour tortilla that is part of the burrito territory. I started racking my brain trying to think of a way to keep that burrito flavor that I've grown to crave and love, but lose that tortilla aspect altogether. And once again, my Instant Pot came through!
Not only does this Instant Pot Burrito Bowl taste EXACTLY like a burrito, I honestly don't miss not having the tortilla at all! In fact, I actually prefer it this way more! I love the fact that if I want to add a bit of crunch, the tortilla chips give the option for a fun and much-needed texture. Plus, the flavors are spot on.
If you are looking for an awesome way to get that burrito flavor without the guilt, this Instant Pot Burrito Bowl recipe is exactly what you need!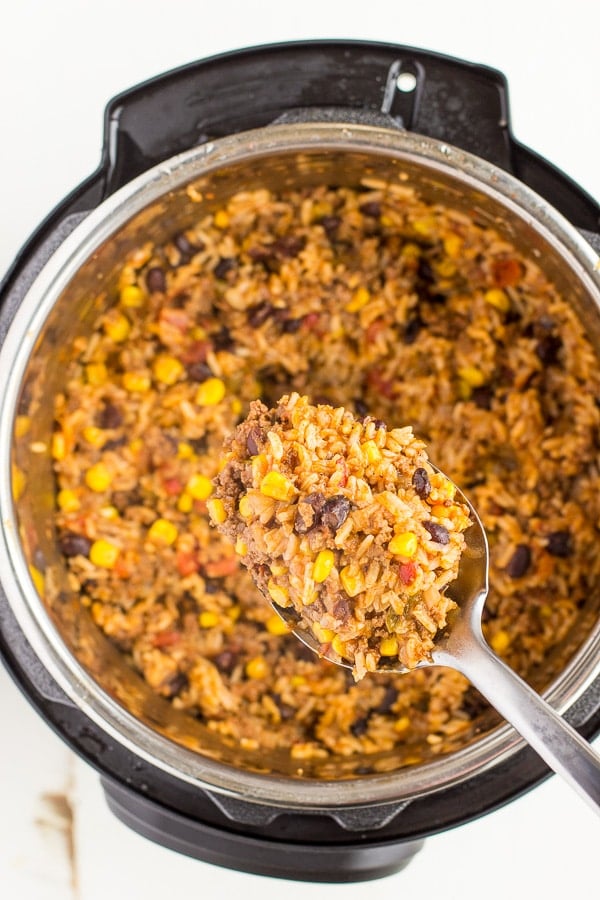 HOW TO MAKE INSTANT POT BURRITO BOWLS
INSTANT POT:  I have this Instant Pot, it's a 6 quart and perfect for my husband and I.  If you have a bigger family or your always hosting parties, I would HIGHLY recommend getting the 8 quart Instant Pot.
CHICKEN OR GROUND BEEF: I used ground beef to make these burrito bowls but I've also used chicken breasts. I use about 1 pound of boneless chicken breasts.
BURRITO BOWL TOPPINGS: Top with sliced avocado, tomatoes, tortilla chips and sour cream.
PERFECT MAKE-AHEAD RECIPE: I love making this on a Sunday and putting it separate containers for lunch all week long.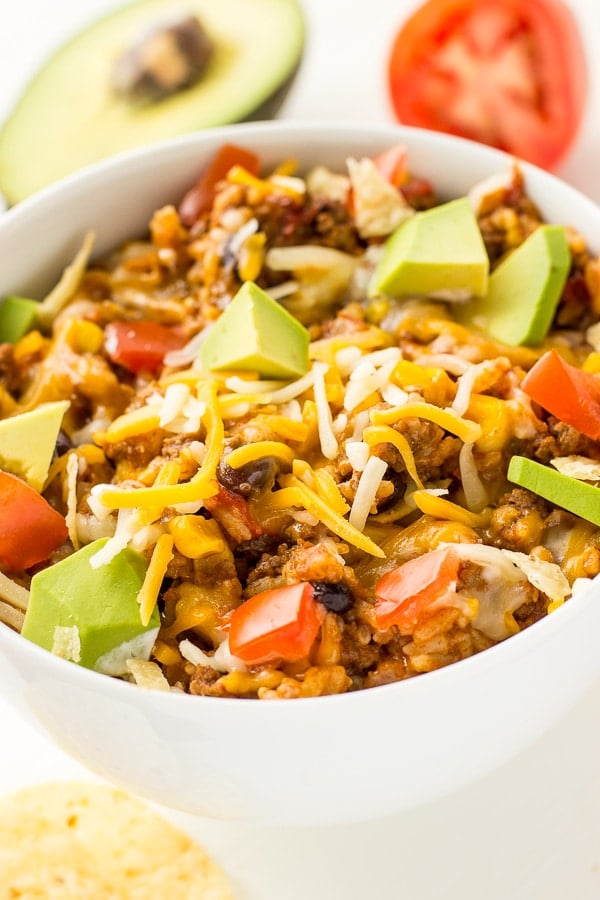 MORE INSTANT POT RECIPES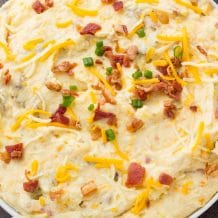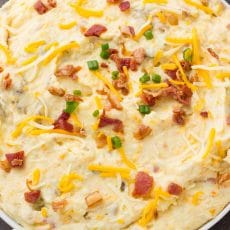 Instant Pot Brown Sugar-Glazed Carrots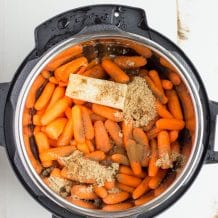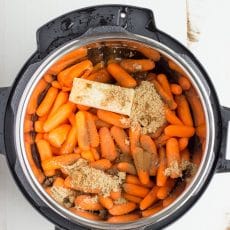 The BEST Instant Pot Macaroni and Cheese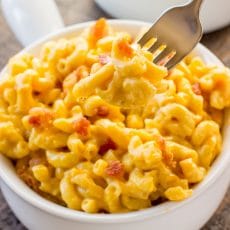 Instant Pot Burrito Bowls
Yield: Serves 4-8
Prep Time: 20 minutes
Cook Time: 20 minutes
Total Time: 40 minutes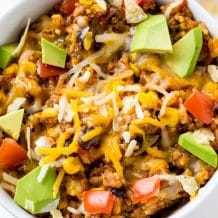 Ingredients:
1 pound ground beef
1 yellow onion, diced
2 packets taco seasoning
1 (15 oz.) can black beans, drained & rinsed
1 (15 oz.) can corn, drained
1 (16 oz.) jar medium salsa
1 cup  brown rice
2 cups chicken broth
shredded cheese
diced tomatoes
avocado
tortilla chips
sour cream
Directions:
STEP 1: Press the "Saute" button, brown the beef and the onions.
STEP 2: Add taco seasoning, black beans, corn and salsa.
STEP 3: Add chicken broth and rice. DO NOT STIR.
STEP4: Cover the pot and make sure the vent on the top of the cover is set to "Sealing". Press the "Pressure Cook" or "Manual" button on high pressure. Set timer to 10 minutes. Close and lock the lid. It should take the pressure cooker about 10 to 12 minutes to come to pressure and begin the 10 minute countdown. When cooking time is complete, do a quick release of the pressure.
STEP 5: Stir everything together. Serve with shredded cheese, tomatoes, avocado slices, tortilla chips and sour cream.
One Response to "Instant Pot Burrito Bowls"
Leave a Comment