Black Bean and Corn Salsa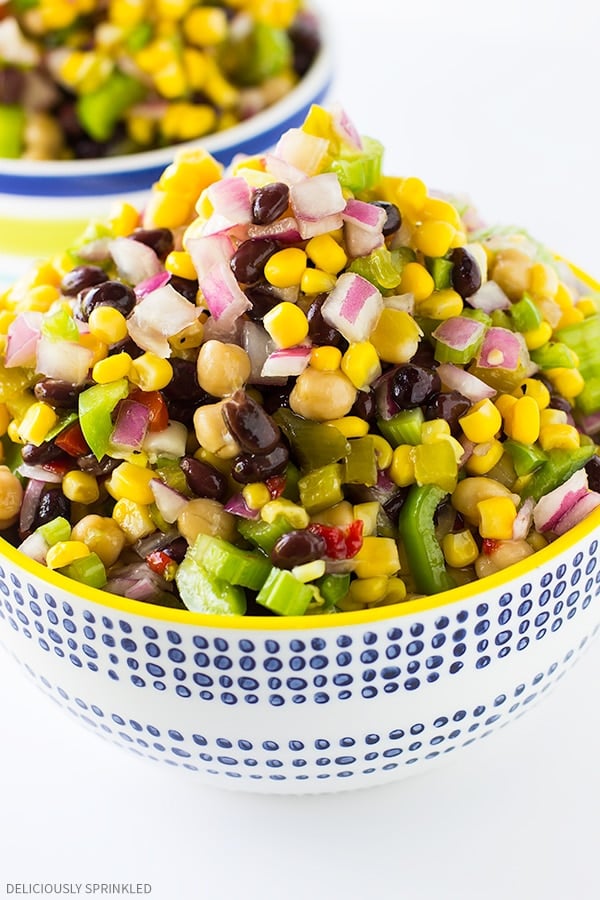 It's been so long since I made something without sugar! So I thought I would give the sugar and flour a break and share with you one of our families favorite salsa recipe. My aunt would bring this Black Bean and Corn Salsa to every family get together and it was always the first dip to be gone. It's so simple to make and it's exploding with flavor. Not only is this salsa great for dipping, it's also delicious on top of chicken or even a burger.
This Black Bean and Corn Salsa recipe makes a TON, so you can definitely use it as a dip and on top of your grilled food. I also sometimes add some fresh avocado to the top which is also delicious. So with Memorial Day next weekend, this is the perfect salsa to serve at your party!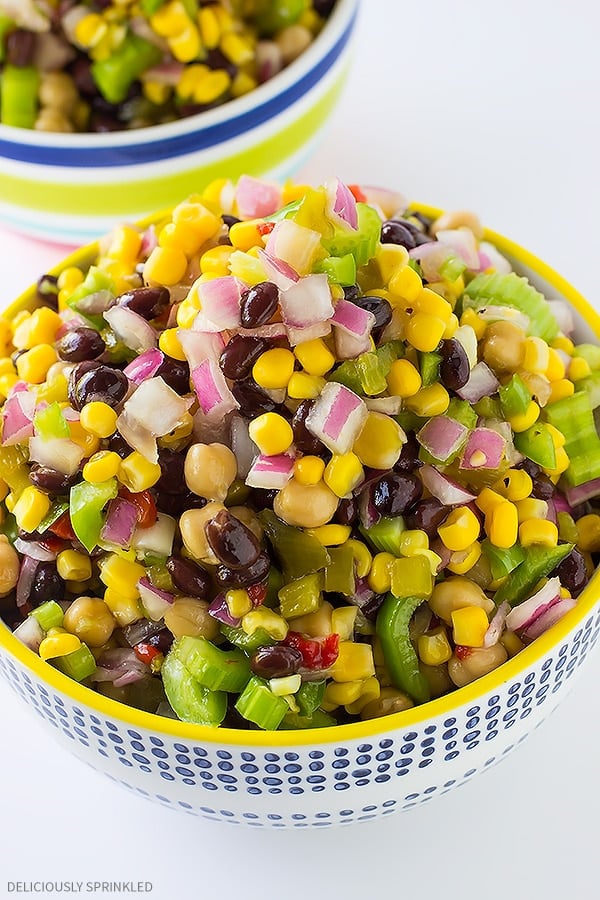 JUST A FEW TIPS:
 ✔ The longer you let this salsa marinate, the better it will taste. I like to leave it overnight, but if your in a rush make sure you let it marinate for at least 4 hours before serving.
 ✔  Add fresh avocado right before your ready to serve. If you put the avocado on top too soon, I find that the avocados will turn brown and no one wants that!
✔  Serve with tortilla chips or on top of all your favorite grilled foods. ENJOY!
STEP-BY-STEP GUIDE ON HOW TO MAKE THIS BLACK BEAN AND CORN SALSA: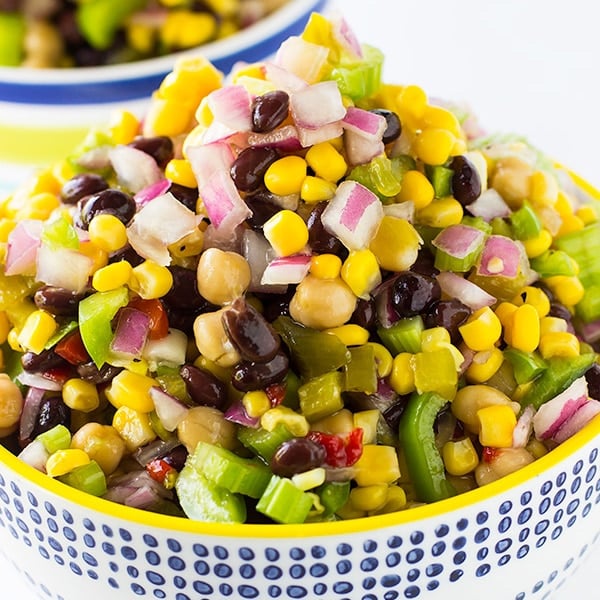 Yield: Serves 10-20
Black Bean and Corn Salsa
Prep Time 15 minutes
Additional Time 1 day
Total Time 1 day 15 minutes
Ingredients
3/4 cup cider vinegar
1 tsp water
1/2 cup vegetable oil
1 cup sugar
1 tsp salt
1/2 tsp pepper
1 (15 oz.) can garbanzo beans
1 (15 oz.) can black beans
2 (11 oz.) cans white shoe peg corn
2 (4 oz.) cans diced green chiles
1 (2 oz.) jar pimentos, chopped
1 cup green pepper, chopped
1 cup celery, chopped
1 cup white onion, chopped
Instructions
STEP 1: Combine the cider vinegar, water, vegetable oil, sugar, salt and pepper in a saucepan and bring to boil, stirring occasionally. Cool to room temperature.
STEP 2: Drain the garbanzo beans, black beans, corn, chiles and pimento and place in large mixing bowl. Add green pepper, celery, onion and cooled marinade and mix thoroughly. Refrigerate for 24 hours to allow flavors to meld. Serve with tortilla chips.
TIP: Allowing it to marinate for 24 hours or overnight, really does make a difference.