The BEST Instant Pot Macaroni and Cheese
THE BEST INSTANT POT MACARONI AND CHEESE
Ooey. Gooey. and oh so CHEESY! This seriously is the BEST Instant Pot Macaroni and Cheese.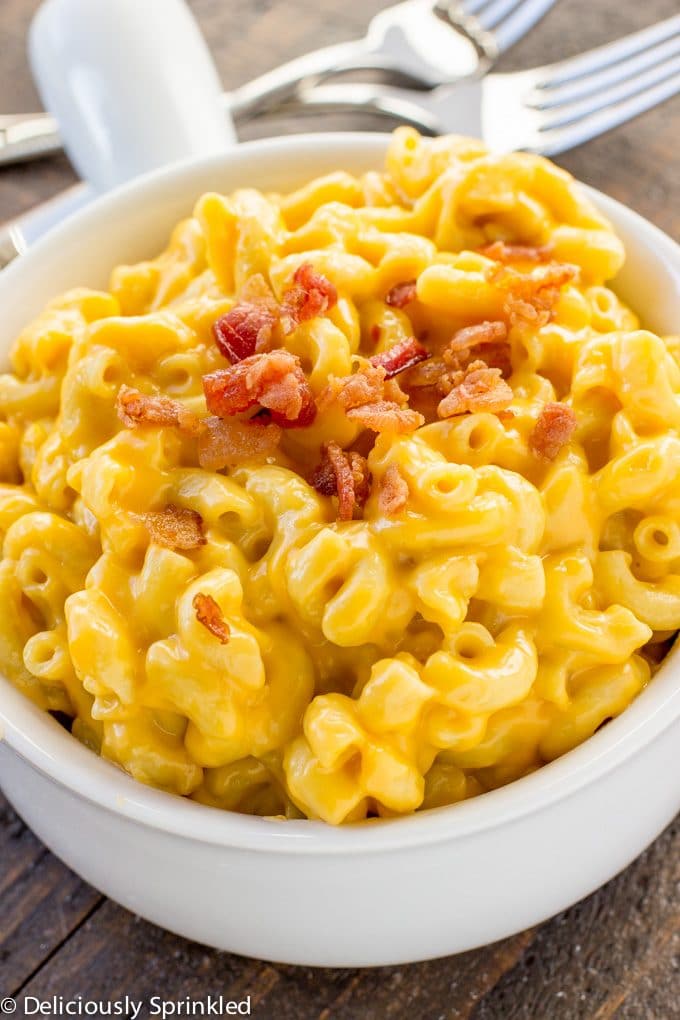 Can you believe Thanksgiving is NEXT WEEK already!? ????  I feel like it was JUST Halloween…time flies when your having fun, I guess.
And speaking of FUN…who is loving cooking dinner using their Instant Pot? I feel like the last month I've been actually excited about making dinner because I get to try a new recipe using my Instant Pot. ????
One of those new recipes is this macaroni and cheese. Bye bye blue box mac & cheese because this is The Best Instant Pot Macaroni and Cheese ever! ????
It took me a couple of tries to get this recipe PERFECT but once I did this mac and cheese turned out so creamy, cheesy and so delicious.
So if your still deciding on what Thanksgiving side dishes to make or what to make for dinner tonight, this Instant Pot Macaroni and Cheese wont' disappoint!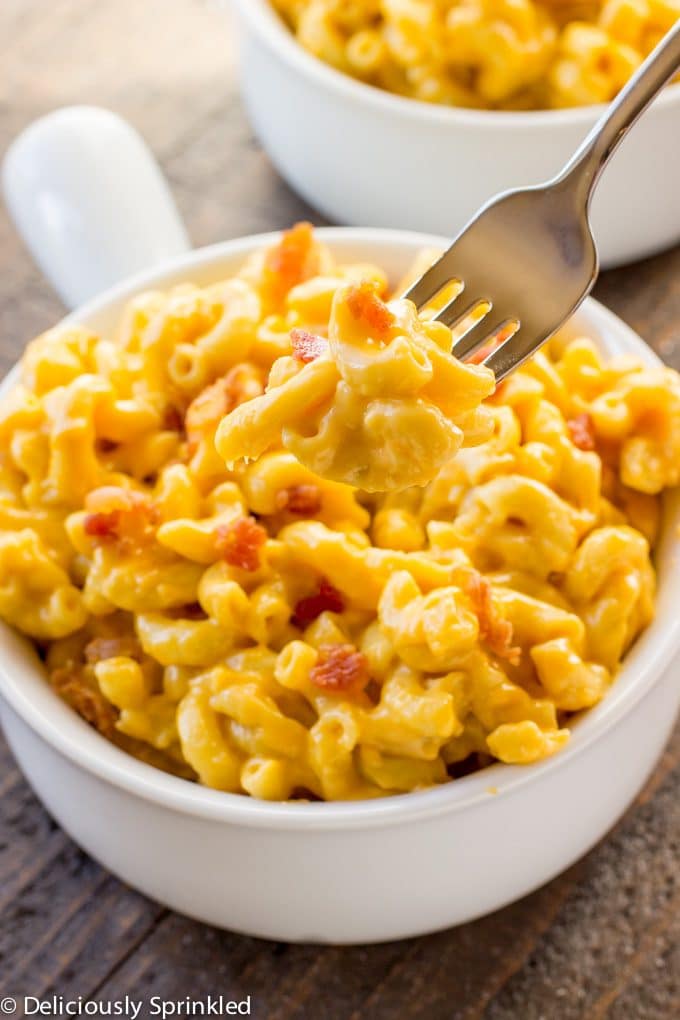 MACARONI & CHEESE INGREDIENTS
✓ 1 BOX ELBOW NOODLES
✓ EVAPORATED MILK
✓ CREAM CHEESE
 ✓ BUTTER
✓ SHREDDED SHARP CHEDDAR CHEESE
✓ GRATED PARMESAN CHEESE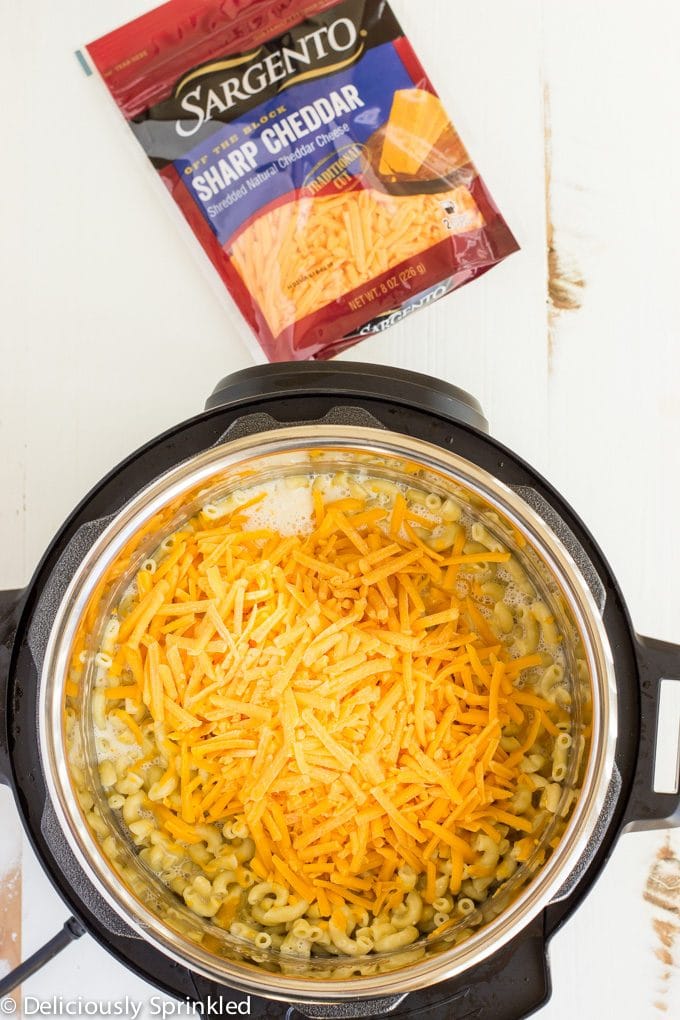 HOW TO MAKE INSTANT POT MACARONI & CHEESE
NOODLES: I used regular elbow noodles but you could use small shell  noodles, spirals or even penne noodles.
CHEESE: I used Sargento Off The Block Sharp Cheddar Cheese because I'm lazy and I don't want to shred my own cheese. If you buy "regular" shredded cheese I found that it does not melt very easily because of a chemical they add to the shredded cheese to make it last longer (or that is what i was told ????).
LEFTOVER'S: You probably wont have any leftover's because this macaroni and cheese is so good but if you do it heats up perfectly in the microwave. It you want it more creamy just add a little bit of milk to it before you put it in the microwave.
MY FAVORITE INSTANT POT:  I have this Instant Pot, it's a 6 quart and perfect for my husband and I.  If you have a bigger family or your always hosting parties, I would HIGHLY recommend getting the 8 quart Instant Pot. You can also make more things in the 8 quart like whole chicken, whole turkey, cheesecake, brownies…I have the 8 quart Instant Pot on my Christmas wishlist.
I also, recommend getting the Instant Pot Non-Stick Cooking Pot…I just got mine in the mail and it makes a HUGE difference because things don't "stick/burn" to the bottom of the pot anymore.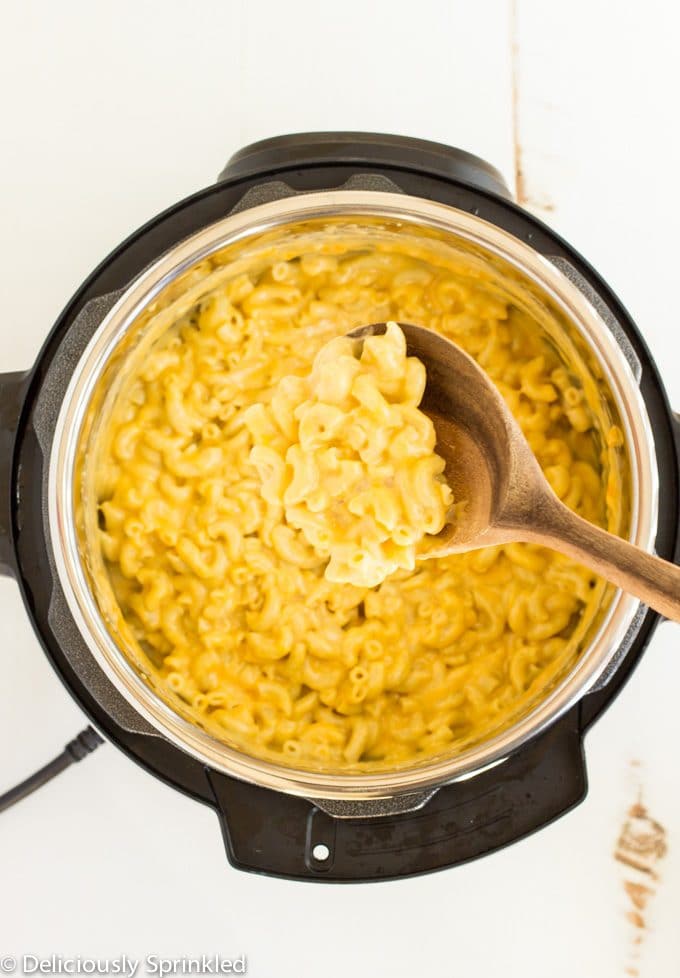 MORE EASY THANKSGIVING RECIPES:
Intant Pot Mashed Potatoes ????
Instant Pot Brown Sugar-Glazed Carrots  ????
Pumpkin Pie Twists ????
The Best Instant Pot Macaroni and Cheese
Yield: Serves 4-6
Prep Time: 5 minutes
Cook Time: 3 minutes
Total Time: 15 minutes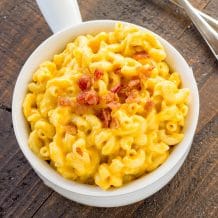 Ingredients:
1 (16 oz.) box elbow noodles, uncooked
4 cups water
pinch of salt
1 can evaporated milk
3 Tablespoons butter
2 ounces cream cheese, softened
4 cups shredded sharp cheddar cheese
1/4 cup grated parmesan cheese
bacon pieces, for topping
Directions:
FOR THE INSTANT POT:
STEP 1: Put the noodles, water and salt in the Instant Pot.
STEP 2: Cover the pot and make sure the vent on the top of the cover is set to "Sealing".
STEP 3: Press the "Pressure Cook" or "Manual" button. Set timer to 3 minutes.
STEP 4: Once the noodles are done cooking, switch the vent to "Venting" and do a quick pressure release, turn Instant Pot off.
STEP5: Carefully open the lid. Press the "Saute" button and then add the evaporated milk, butter and cream cheese. Mix until butter and cream cheese is melted.
STEP 6: Turn off Instant Pot. Add shredded cheese and parmesan cheese, mix until cheese is melted.
STEP 7: Add bacon pieces and serve immediately.
FOR THE SLOW COOKER:
STEP 1: Follow package instructions for preparing the macaroni noodles, but cook the noodles only half the amount of times as called for. Drain. Pour macaroni into slow cooker.
STEP 2: Add evaporated milk, butter, cream cheese, shredded sharp cheddar cheese and parmesan cheese. Stir together well.
STEP 3: Cover and cook on high for 3 hours, stirring occasionally. Serve with bacon pieces.
4 Responses to "The BEST Instant Pot Macaroni and Cheese"
Leave a Comment