CARAMEL APPLE PUDDING
Caramel Apple Pudding– The crunchy apple topping gives way to a gooey layer of cream cheese and butterscotch-caramel pudding, while the gingersnap crust lend a spicy touch.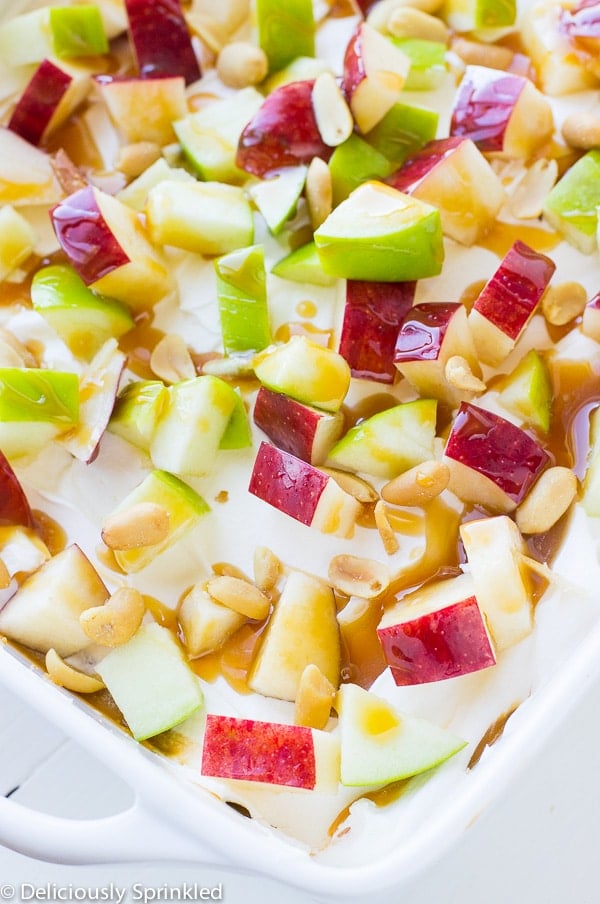 This No Bake Caramel Apple Pudding will delight your taste buds and trick them into thinking that they're eating a real caramel apple!
I know that there is such a thing as apple season, but I'm a firm believer that it shouldn't deter you from eating them all year long. I love ANYTHING apple flavored, but combining that apple flavor with caramel? Get outta here.
Growing up, I loved buying and eating caramel apples (truth be told…I still do!) but it seemed that they were always more of a "seasonal" item than anything. I realized after many attempts that trying to eat a Caramel Apple with ease was truly impossible. Then…it hit me. While eating caramel apples are fun, it's the flavor that I truly enjoyed!
With that realization, this No Bake Caramel Apple Pudding was born!
It's the flavor and the fun, without the mess! Plus, it's NO BAKE. Why spend hours of frustration making caramel apples when you can whip up this delightful and delicious recipe in mere moments?
While the urge to have a good ol' caramel apple may pop up here and there, fill those gaps with this amazing No Bake Caramel Apple Pudding. It's the perfect way to have that fun flavor all year long!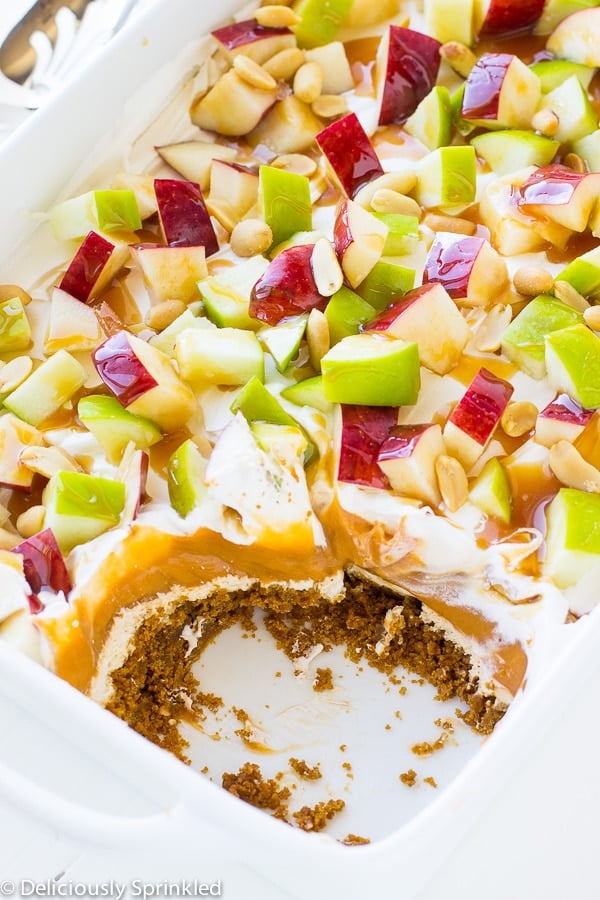 CARAMEL APPLE PUDDING INGREDIENTS
✓ GINGER SNAP COOKIES
✓ MELTED BUTTER
✓ CREAM CHEESE
 ✓ SUGAR
✓ MILK
✓ WHIPPED TOPPING
✓ INSTANT BUTTERSCOTCH PUDDING MIX
 ✓ CARAMEL ICE CREAM TOPPING
✓ RED DELICIOUS APPLE
 ✓ GRANNY SMITH APPLE
✓ PEANUTS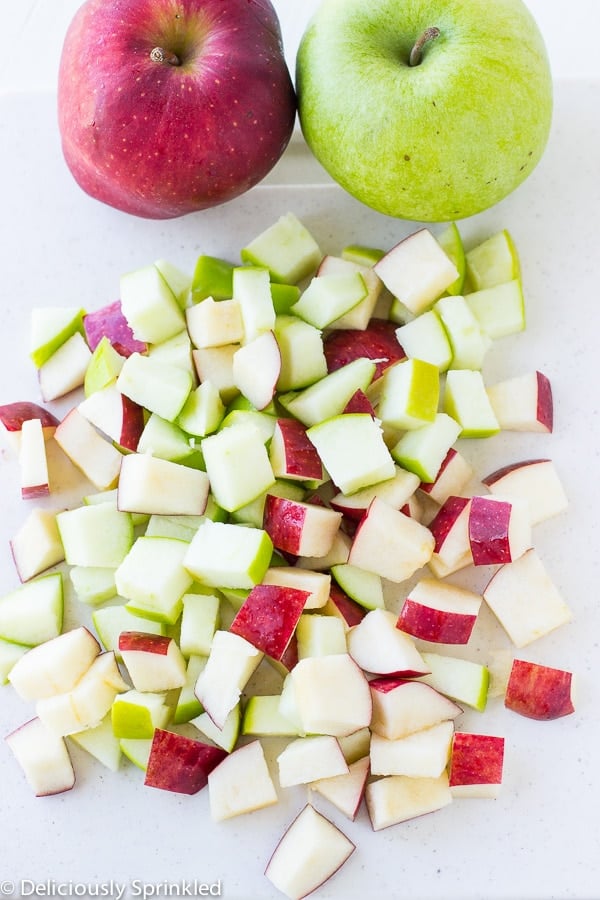 HOW TO MAKE CARAMEL APPLE PUDDING
MAKE THE CRUST: When making the gingernap crust, use the bottom of a measuring cup to press the crust into the baking dish.
HOW TO SOFTEN CREAM CHEESE FAST: Make sure the cream cheese is softened. For a quick way to soften cream cheese, place the unwrapped cream cheese onto a microwave safe plate and microwave for ONLY 10 SECONDS.
MAKE AHEAD OF TIME: This Caramel Apple Pudding can be made a day or two ahead of time. Once your ready to serve, then add the chopped apples and peanuts or your favorite caramel apple topping.
CARAMEL APPLE TOPPINGS: Mini M&M's, Sprinkles, Crushed Oreos, Gummy Worms, Candy Corn, Chocolate Chips…just to name a few!

MORE DELICIOUS APPLE RECIPES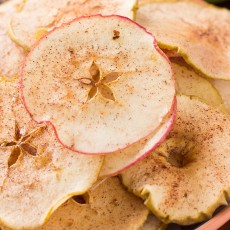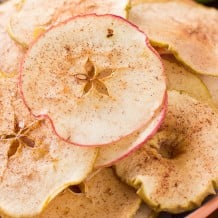 Apple Streusel French Toast Bake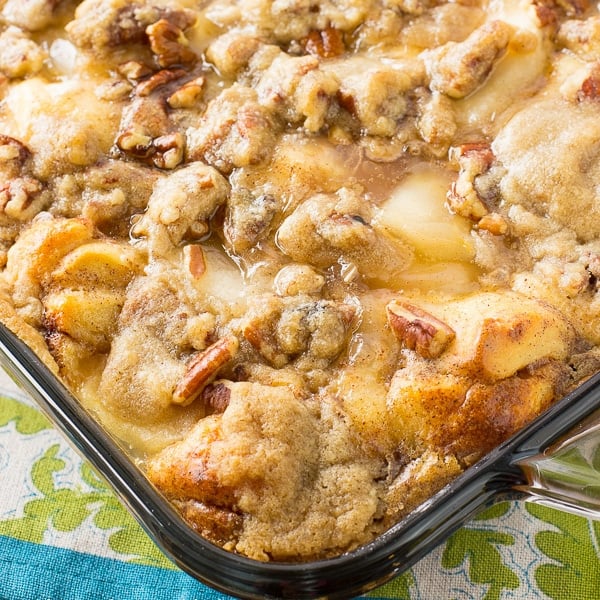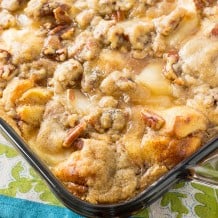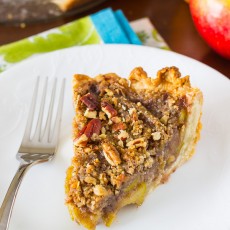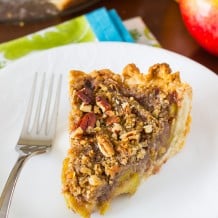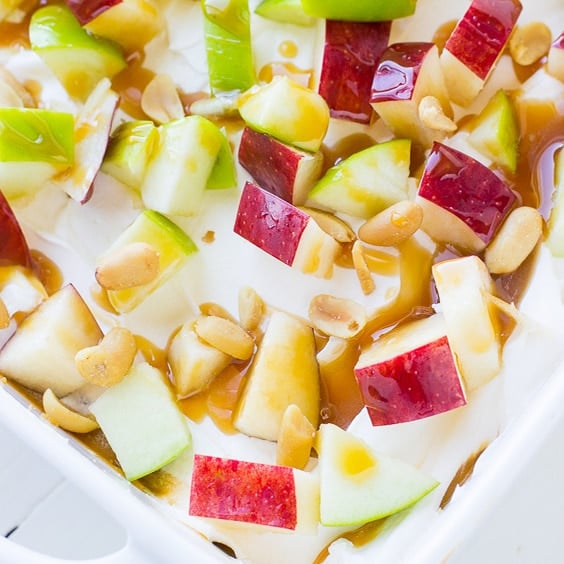 Yield: Serves 12-15
Caramel Apple Pudding
Prep Time 30 minutes
Additional Time 4 hours
Total Time 4 hours 30 minutes
Ingredients
2 cups crushed gingersnap cookies  (about 40 cookies)
1/3 cup butter, melted
1 pkg. (8 oz.)  cream cheese, softened
1/4 cup granulated sugar
3 1/4 cups milk, divided
1 carton ( 8oz.) frozen whipped topping, thawed
2 pkg. (3.4 oz. each) instant butterscotch pudding mix
1/2 cup caramel ice cream topping, divided
1 medium red delicious apple, chopped
1 medium granny smith apple, chopped
1/3 cup chopped peanuts
Instructions
STEP 1: Using a food processor , crush gingersnap cookies and butter together.
STEP 2: Press cookie crumbs onto the bottom of a greases 13-in. x 9-in. baking dish. Refrigerate for 15 minutes.
STEP 3: Meanwhile, in a large bowl, beat the cream cheese, Stevia In The Raw® and 1/4 cup milk until smooth. Fold in 1 cup whipped topping; spread over crust.
STEP 4: In a large bowl, whisk the remaining milk and pudding mixes for 2 minutes; let stand for 2 minutes or until soft-set. Stir in 1/4 cup caramel topping. Spoon over cream cheese layer. Cover and refrigerate for 15 minutes.
STEP 5: Spread remaining whipped topping over top. Cover and refrigerate for at least 4 hours or until filling is firm.
STEP 6: Just before serving, top with apples; drizzle with remaining caramel topping. Sprinkle with chopped peanuts.