Baked Apple Chips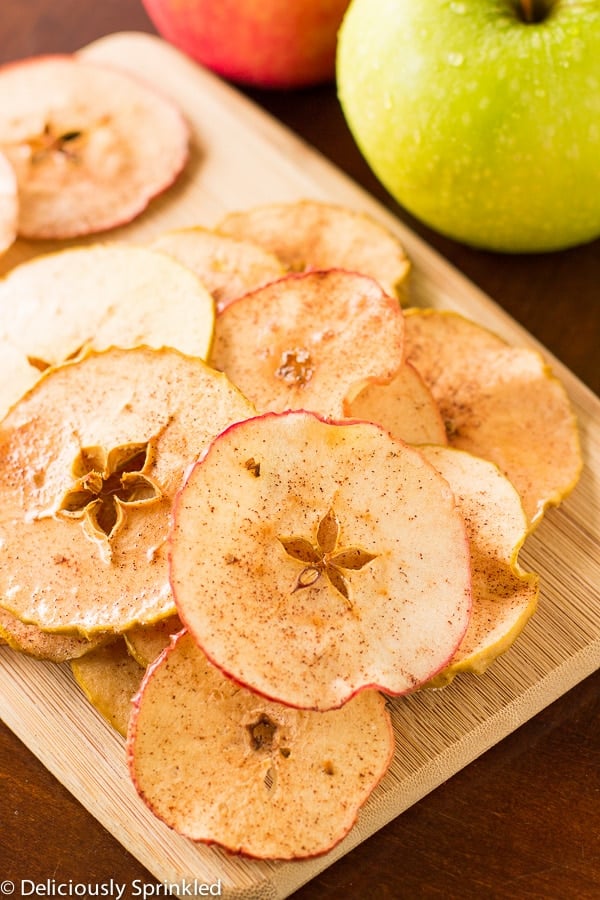 These Baked Apple Chips will make you never want to try anything fried, ever again!
Apples are just one of those foods that are so versatile in all the ways that you can eat and enjoy them.
While I love a crisp and juicy apple, sometimes I want something that's a little easier to just pack and go for when I'm headed out the door.
These Baked Apple Crisps are the perfect snack to keep in your purse or in your car when you're needing a quick and delicious snack!
The key to getting them to have that crispy crunch is to slice 'em nice and thin.
But don't get me wrong…even if you don't slice them thin enough, they are still going to bake up and taste amazing.
Did I mention that this recipe is literally foolproof? You cannot mess it up, no matter how hard you try!
I always tell people to make up a large batch because once you try one, you're not going to be able to stop.
And why should you?
They're healthy, they're delicious and they're homemade so you know exactly what you are consuming and putting into your body!
As they say, an apple a day keeps the doctor away! And you can choose to eat that apple as Baked Apple Chips if you want!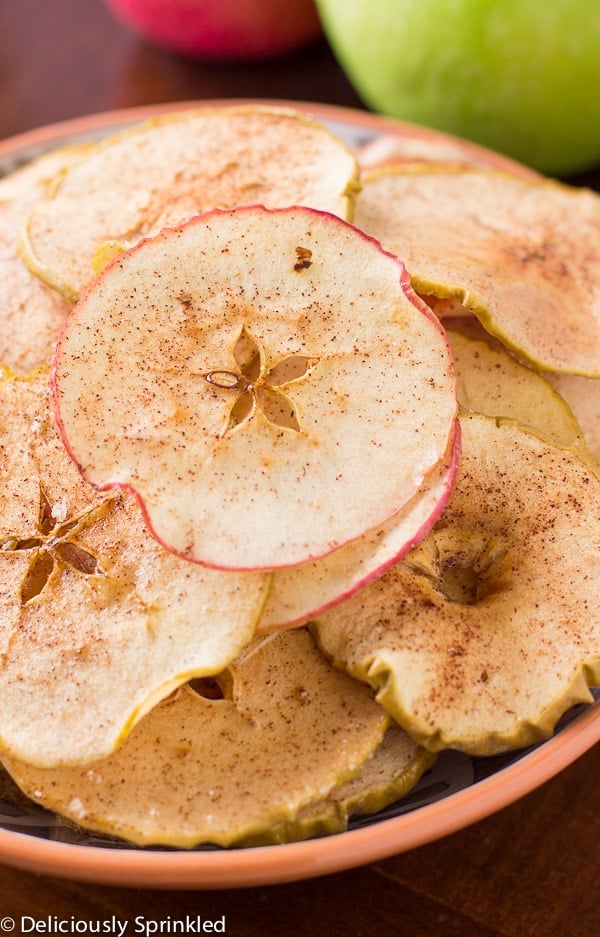 HOW TO MAKE BAKED APPLE CHIPS
PERFECT APPLES: I found that using Granny Smith (the green ones), Honey Crisp (the red/yellow ones), and or Pink Lady (the pinkish ones) apples are the BEST to use when making baked apples chips.
THINLY SLICED APPLES: To get perfect apple chips, you need to make sure to make the apple slices super thin. The easiest way to do that, is using a Mandoline. It slices each apple perfectly, if you don't have one I would highly recommend getting one.
NOT CRUNCHY ENOUGH?: If after you have baked the apple slices for 2 hours and you would like the MORE crunchy, all you have to do is turn off your oven and leave the apple slices in the oven for 3 hours. This will give them more time to get crunchy but not overly crunchy.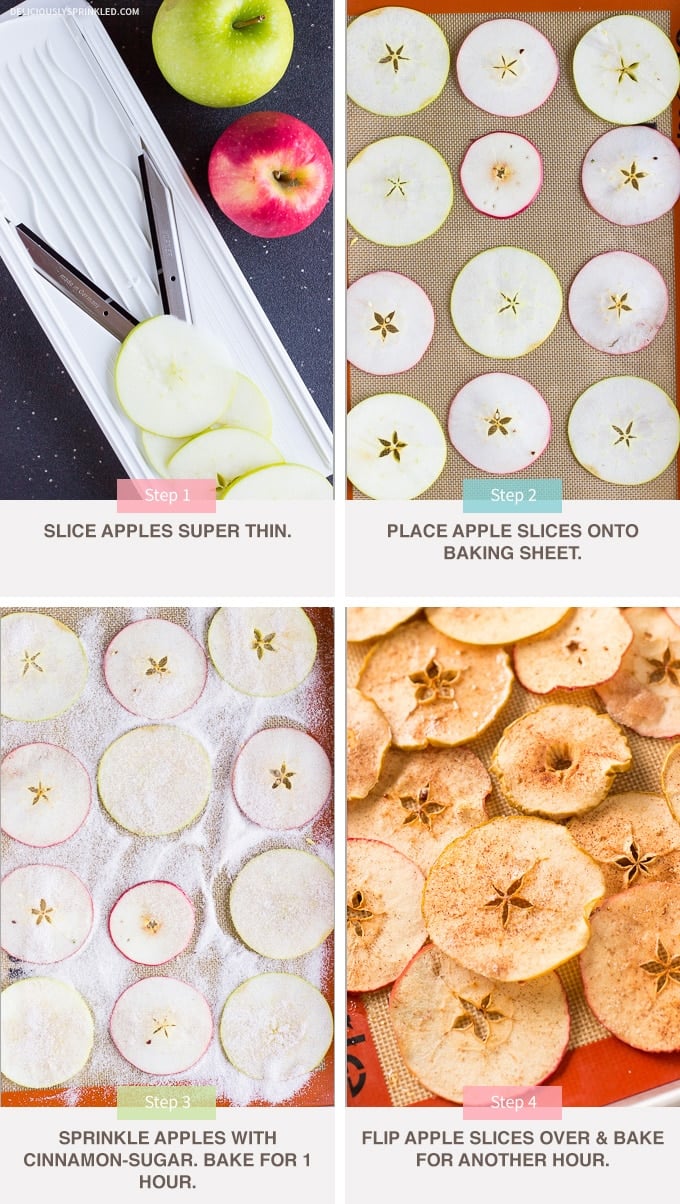 MORE APPE RECIPES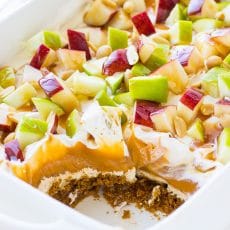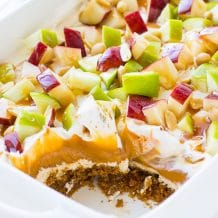 APPLE STREUSEL FRENCH TOAST BAKE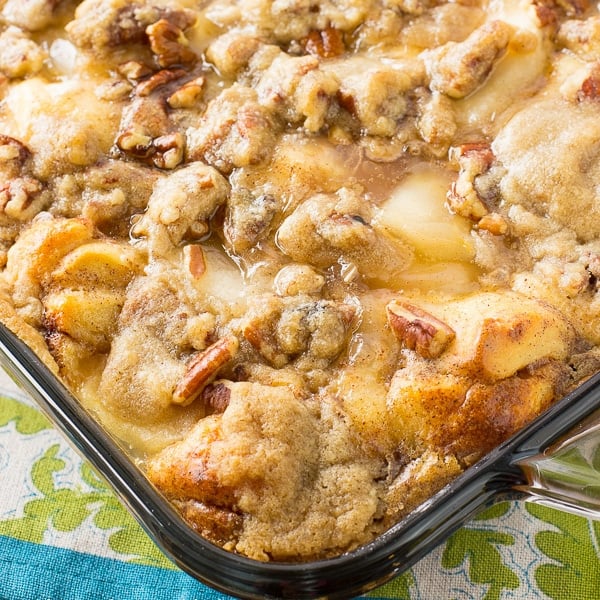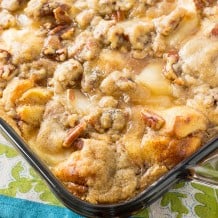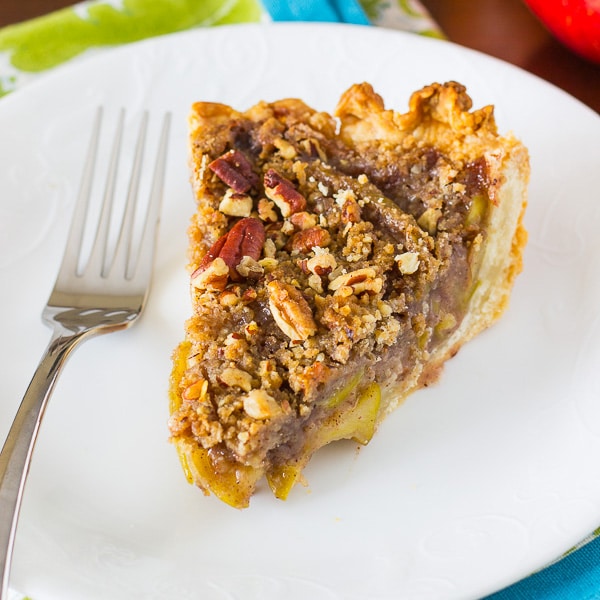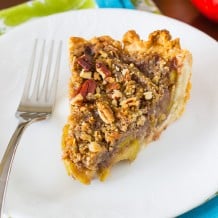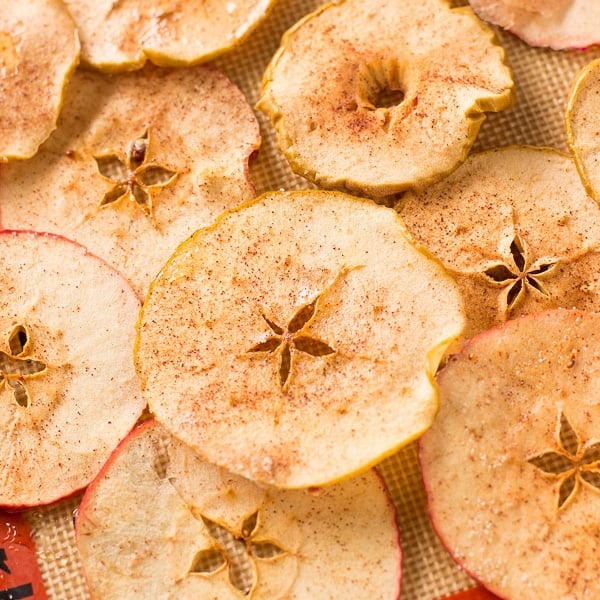 Yield: 20-30 slices
Baked Apple Chips
Prep Time 10 minutes
Cook Time 2 hours
Total Time 2 hours 10 minutes
Ingredients
3 apples  (Granny Smith, Honey Crisp, and/or Pink Lady)
1/2 cup granulated sugar
1 Tablespoon ground cinnamon
Instructions
Preheat oven to 225F degrees. Line two baking sheets with silicone baking mats or parchment paper. Set aside.
In a small bowl, mix sugar and cinnamon together. Set aside.
Using a mandoline, thinly slice the apples. Evenly, spread the apple slices onto the prepared baking sheets. Sprinkle cinnamon-sugar mixture over top of each apple slice.
Bake for 1 hour, flip the apple slices over and bake for another hour.