Holiday S'mores Bars
Holiday S'mores Bars might just be more festive than your favorite Christmas cookie! Peanut butter cookie dough serves as the base of these bars, and it's all dressed up with sweet marshmallows, red and green M&Ms, and plenty of smooth drizzled chocolate. Be sure to leave some out for Santa Claus this Christmas Eve!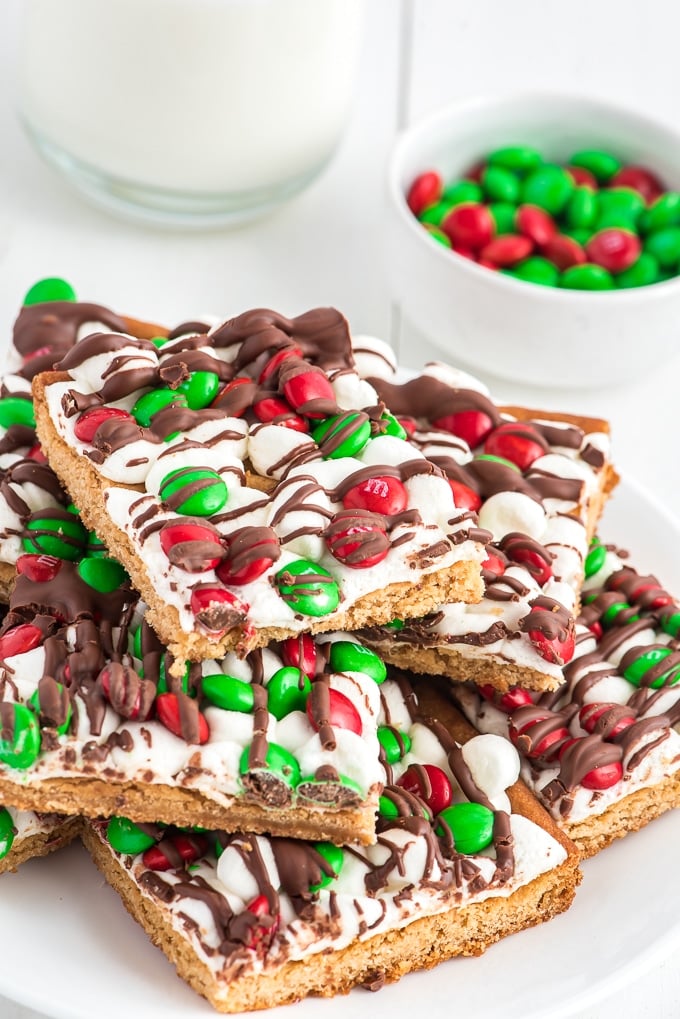 Holiday S'mores Bars
These dessert bars are so easy to make… And even easier to eat! If you know one thing about me, it's that I love dressing up store-bought ingredients. It just makes life a whole lot easier and, if we're all honest with each other, it usually tastes just like homemade stuff! This holiday recipe features store-bought peanut butter cookie dough that's baked to perfection and serves as the base to this incredible s'mores recipe.
Once you try these dessert bars, you're going to have a very difficult time saying which element of it is the best. Is it the cookie base? Is it the sweet and gooey marshmallow layer? Or, is it the very top that's loaded with festive M&M's all drizzled in smooth milk chocolate? If you're anything like me, you'll need to eat at least three bars before you can start making those kinds of difficult decisions. You know, for research purposes!
Technically, since this treat is made with cookie dough, it's totally worthy of being brought to your next cookie exchange. You'll love how fast these bars tend to fly off the serving platter! In fact, the last time I served these bars, I think I lost count of how many times I was asked "can you send me this recipe?" Be ready to share this popular recipe with friends!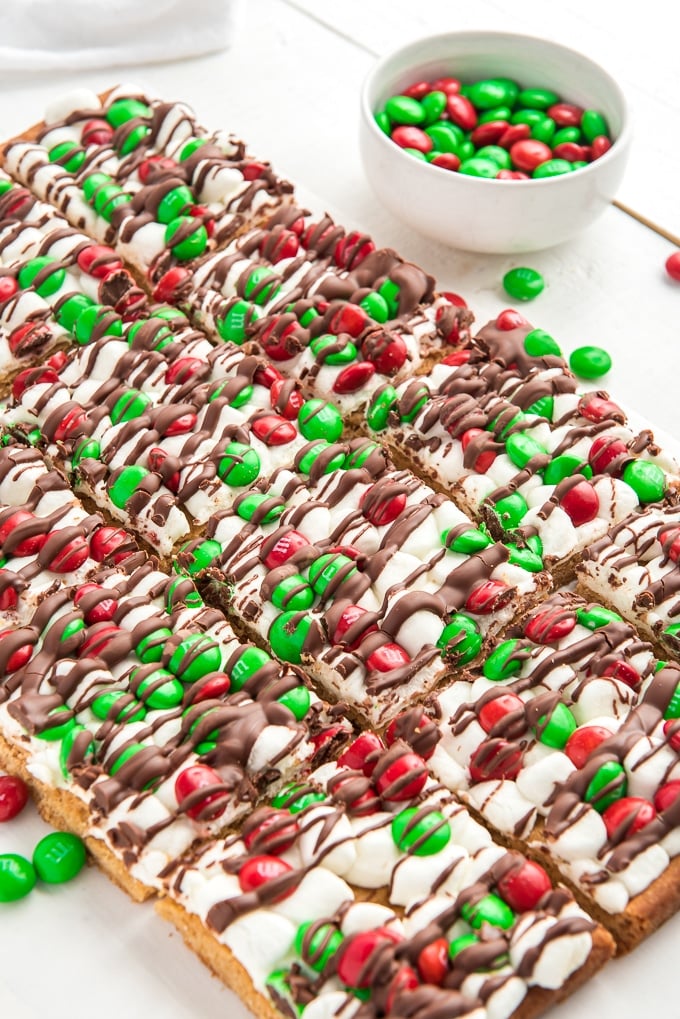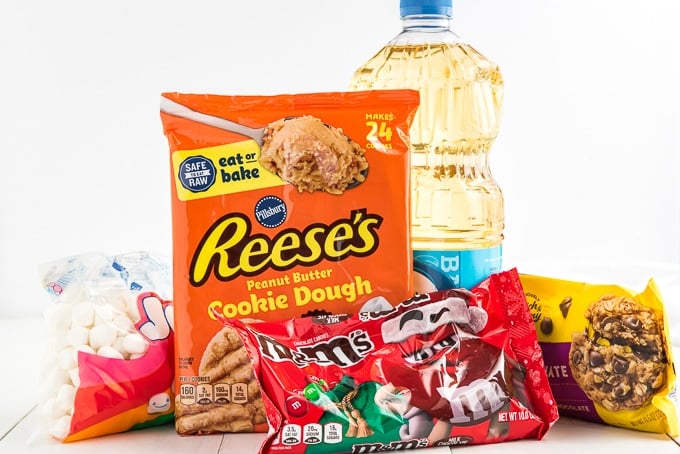 INGREDIENTS FOR S'MORES BARS
Here are the simple ingredients you will need to make these holiday bars!
CHOCOLATE CHIPS: 1/2 cup milk chocolate chips. You could also use dark chocolate chips for a richer flavor.
VEGETABLE OIL: 3/4 teaspoon vegetable oil.
PEANUT BUTTER COOKIE DOUGH: 1 package of Pillsbury's Ready to Bake Reese's Refrigerated Peanut Butter Cookie Dough.
MINI MARSHMALLOWS: 3 cups mini marshmallows. I usually just but the 16 oz package of marshmallows.
M&M's: 1 cup of green & red M&Ms, I just buy the holiday bag. But other times of the year, feel free to use the Valentine's M&M's or just the regular M&Ms…options are endless.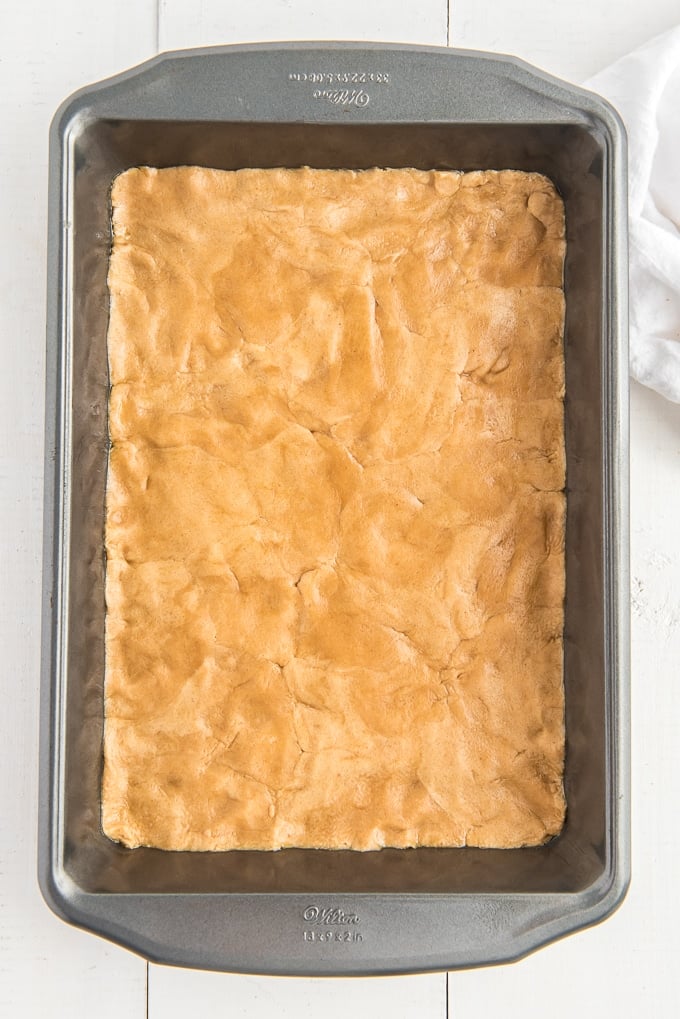 How to Make Holiday S'mores Bars
Here's how to make your new favorite Christmas treat recipe!
PREPARE. Preheat the oven to 350°F and prepare a baking dish with non-stick spray.
Melt the chocolate chips. Combine the chocolate chips and oil in a small saucepan over low heat. Stir until smooth.
Bake the cookie dough. Press the room temperature cookie dough unto the bottom of your baking dish. Bake the dough for 12-14 minutes.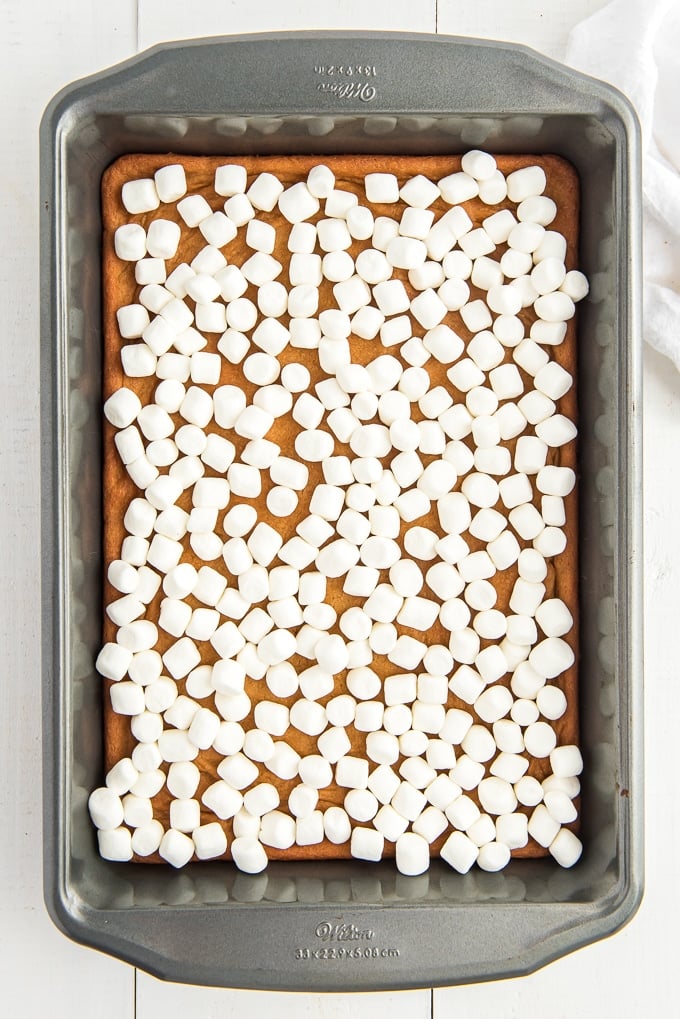 Add the marshmallows. Sprinkle the marshmallows all over the baked cookie dough. Return the pan to the oven and bake for another 2-3 minutes.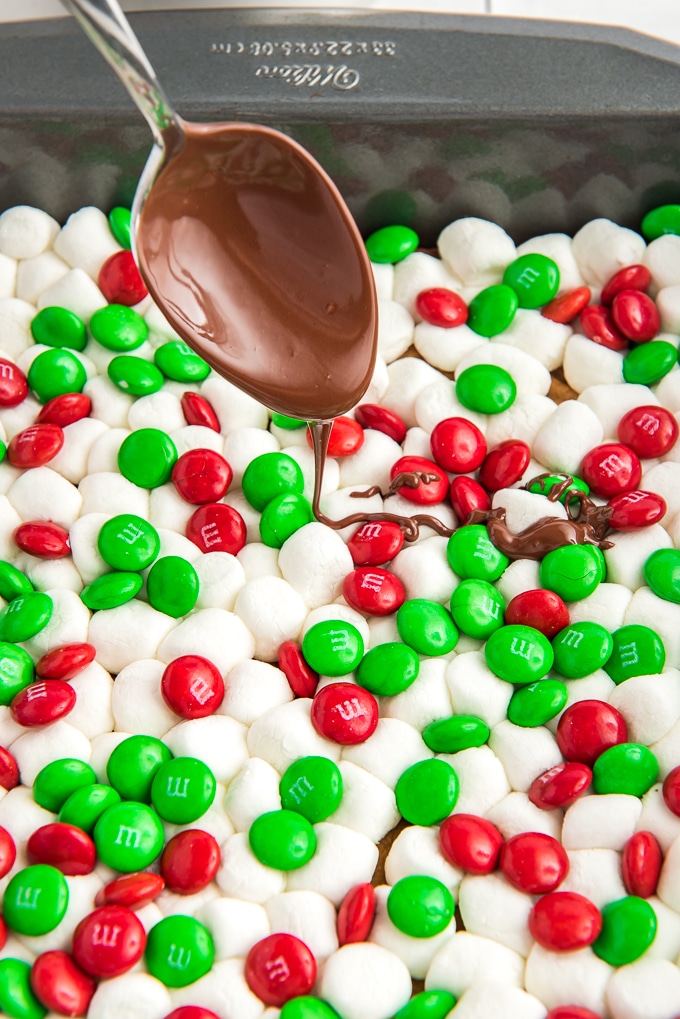 Top it all off! Sprinkle the red and green M&M's all over the marshmallow layer. Drizzle the melted chocolate all over as well, and let it cool completely before cutting into bars. Enjoy!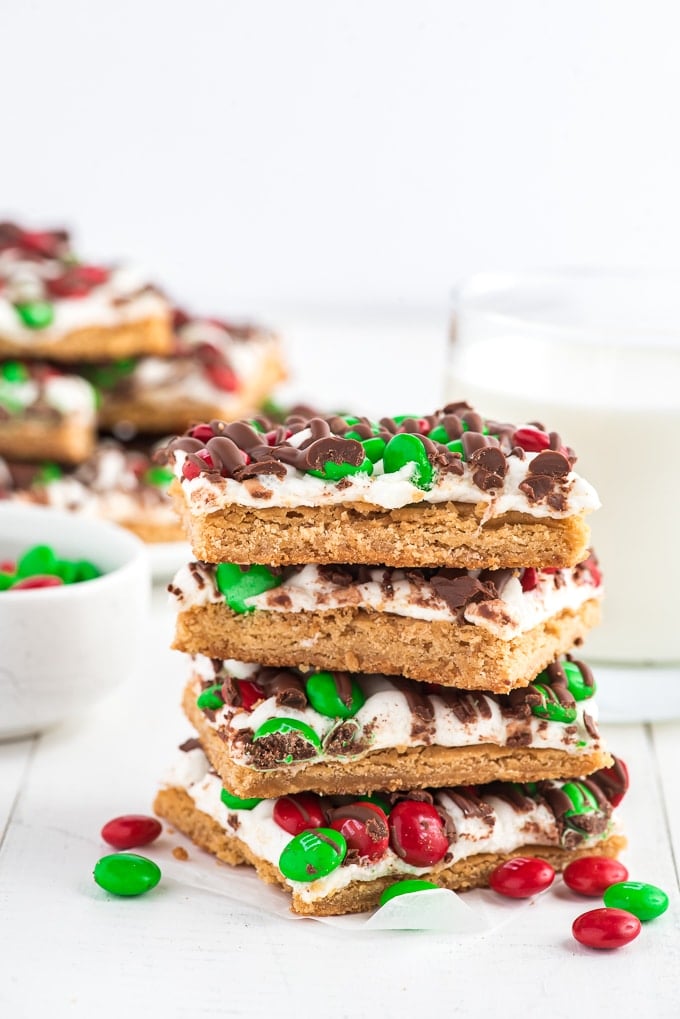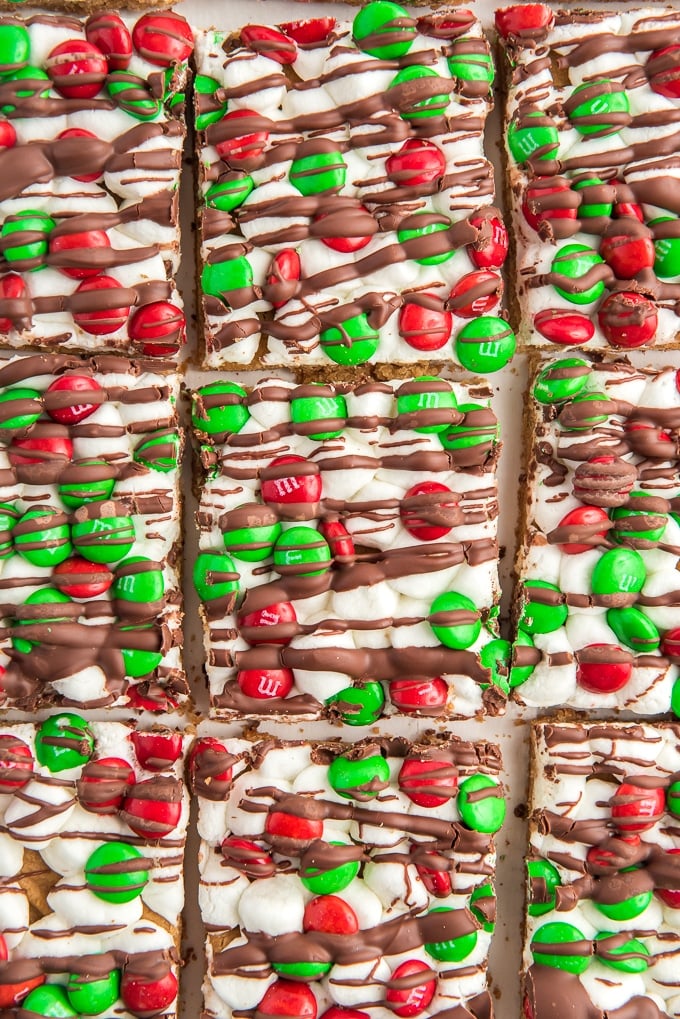 Tips for the Best Holiday S'mores Bars
Wait for the bars to cool before cutting. If you cut into the bars before they're cooled, you're going to end up with a gooey, chocolatey mess! When the bars are cooled to room temperature, they're ready to be sliced into even, clean cut pieces.
Sprinkle the M&M's immediately. As soon as the marshmallow covered bars are taken out of the oven, immediately sprinkle on the M&M's. This will ensure that they stick to the marshmallows. If you wait too long, they won't stick and they'll roll around.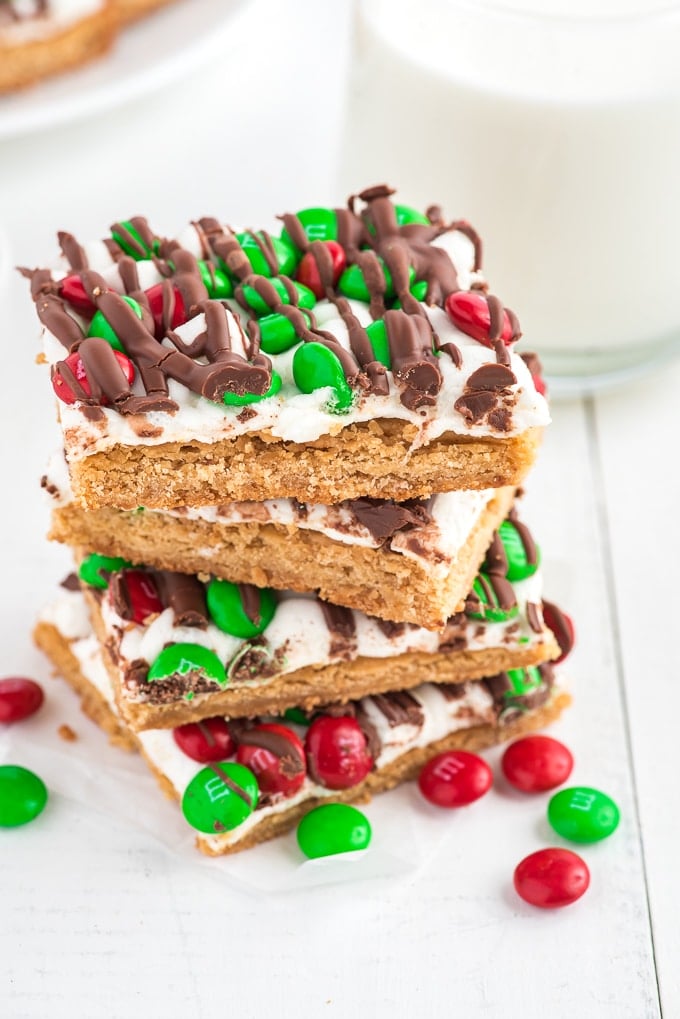 Yield: SERVES: 12-24 BARS DEPENDING HOW BIG YOU CUT THEM
Holiday S'mores Bars
Prep Time 10 minutes
Cook Time 12 minutes
Total Time 22 minutes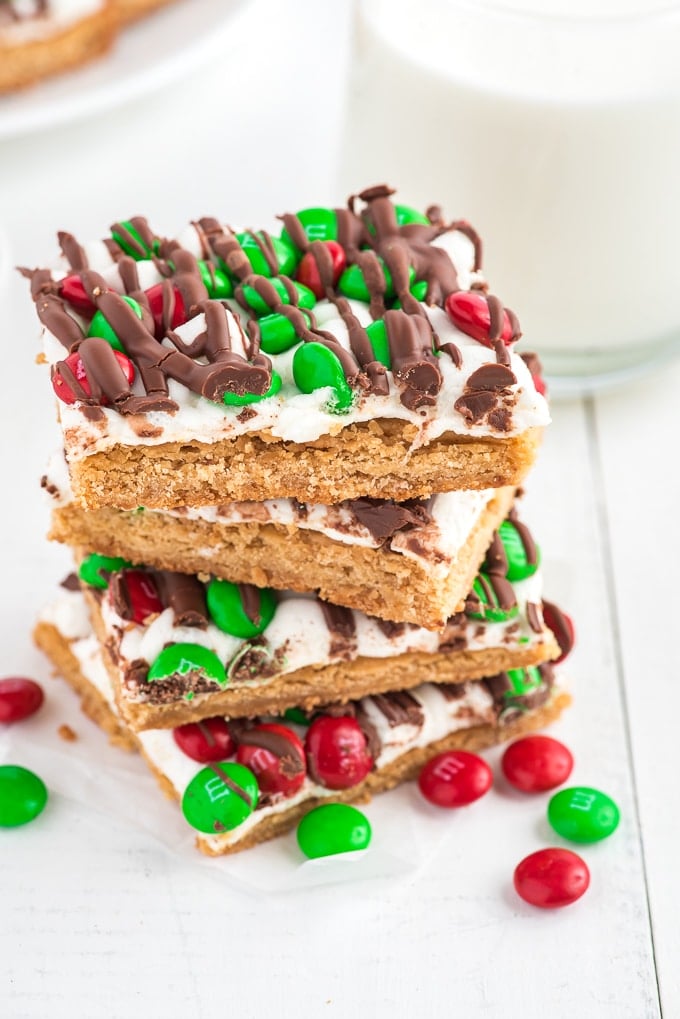 Ingredients
1/2 cup milk chocolate chips
3/4 teaspoon vegetable oil
1 package of Pillsbury Ready To Bake Refrigerated Reese's Peanut Butter Cookie Dough (Let dough get to room temperature so it's easier to press into the baking pan.)
3 cups miniature marshmallows
1 cup red and green M&M's
Instructions
Preheat the oven to 350 F degrees. Spray a 13x9 inch baking pan with baking cooking spray. Set aside.
In a small saucepan over low heat, combine chocolate chips and oil, stirring until smooth; set aside.
Press (room temperature) cookie dough into the bottom of the prepared baking pan.
Bake for 12 to 14 minutes, or until golden brown. Remove from the oven; sprinkle with marshmallows.
Return to the oven; bake for an additional 2 to 3 minutes, or until marshmallows are puffed.
Immediately sprinkle with the red and green M&Ms.
LIGHTLY….drizzle melted chocolate over warm bars.
Let cool COMPLETELY before cutting into squares.
Nutrition Information:
Yield:
12
Serving Size:
1
Amount Per Serving:
Calories: 275
Total Fat: 12g
Saturated Fat: 6g
Trans Fat: 0g
Unsaturated Fat: 5g
Cholesterol: 6mg
Sodium: 124mg
Carbohydrates: 39g
Fiber: 1g
Sugar: 24g
Protein: 3g
Merry Christmas, friends! Make this holiday season oh so sweet with more recipes like Chocolate Sandwich Cookies, Easy Christmas Crack and Peanut Butter Cup Cookies.