Pineapple Fruit Dip
This Pineapple Dip is creamy, light and full of pineapple flavor.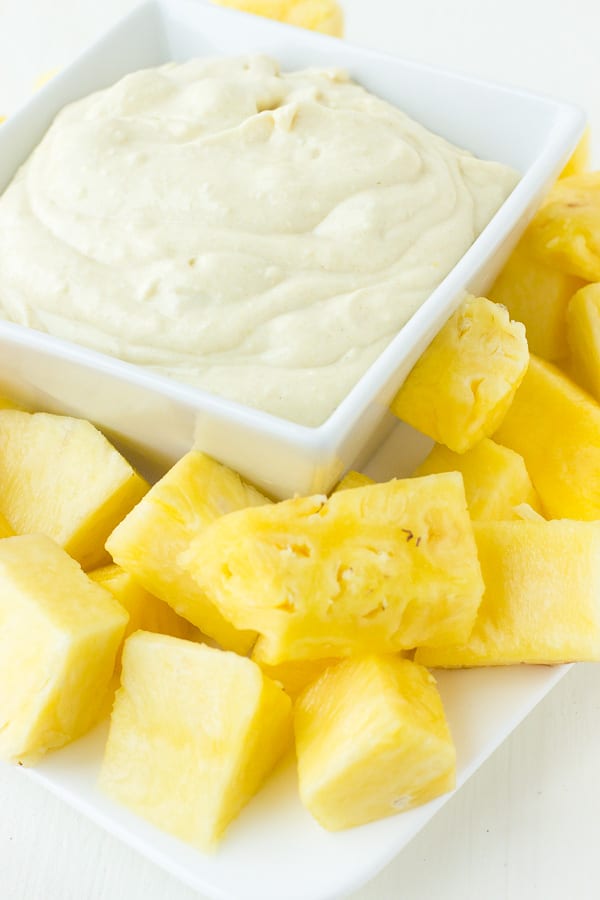 I may have mentioned a time or two how I'm a huge fan of summer and all the flavors that accompany it.
Summer, to me, means fresh fruit, hot sun and hours spent lounging around with family and friends. The great part about summer is that when you're out in the sun, lounging around with family and friends, you're going to need a sweet and juicy cool snack to keep your temps at bay. My recommendation? Pineapple Fruit Dip.
The sweetness and flavor of pineapple is truly amazing. The next time that you head to the store, let your nose guide you to find the ripest and sweetest pineapple possible and then take it home to make an amazing Pineapple Fruit Dip. It's one of those dishes that will kick your taste buds up a notch, and also satisfy your sweet tooth craving as well!
Why not think outside the box of traditional fruit salads and make this Pineapple Fruit Dip instead. It's unique in a way that will be unfamiliar to your senses at first, but after you take that first bite, you'll be snacking away until that bowl is empty!
Make and share this recipe at your next outdoor gathering or just pack it as a fun poolside snack. It's always a good idea to have a delicious and fruity snack on hand whenever you get hungry! And it makes more than plenty to share!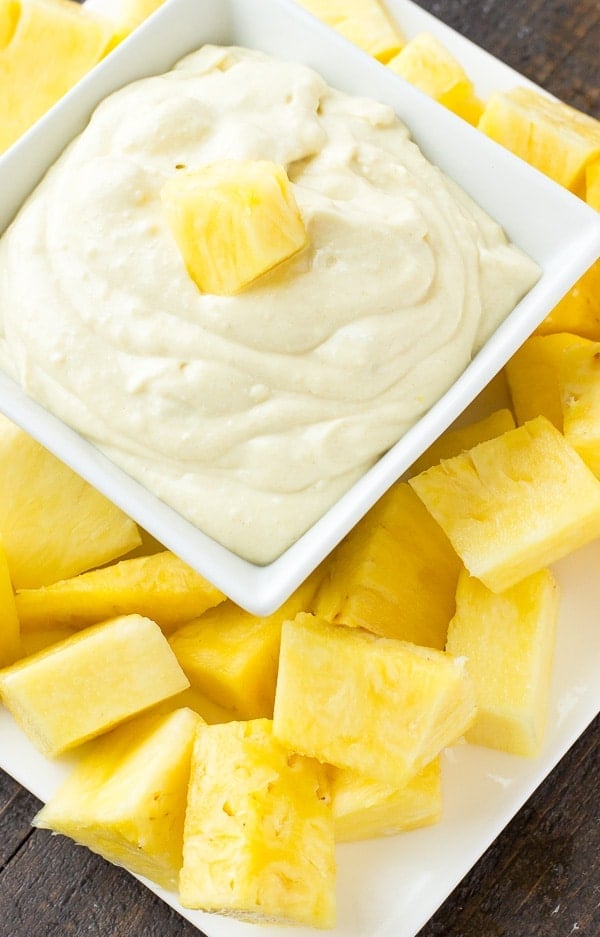 HOW TO MAKE FRUIT DIP
COTTAGE CHEESE: The secret ingredient in this dip is definitely the cottage cheese. It's the key to making this fruit dip so creamy and without the "tangy flavor" you can get from sour cream.
VANILLA OR COCONUT PUDDING MIX: I used vanilla pudding mix because I always have at least a couple boxes of vanilla pudding in my pantry but if you really want to take this dip to the next level of delicious, you can use coconut flavor pudding mix and it seriously makes this dip OUT OF THIS WORLD GOOD!
MAKE AHEAD: This pineapple dip can be made ahead of time, it keeps in the fridge for a good week. I like to make it every Friday so we can enjoy it over the weekend and throughout the work week. It also goes great with ANY FRUIT, not just pineapple.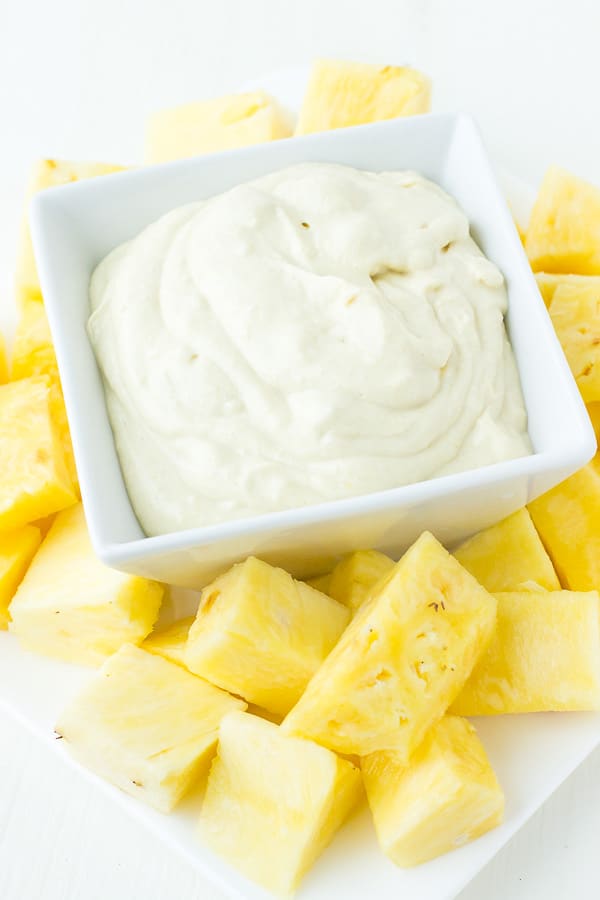 MORE SUMMER DIP RECIPES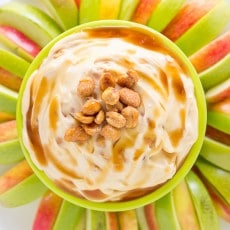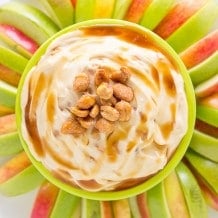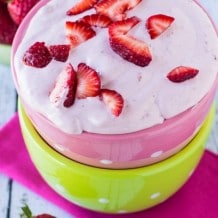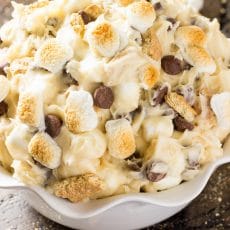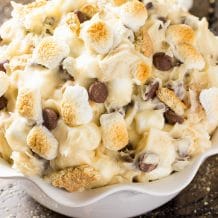 Yield: Serves 12
Pineapple Fruit Dip
Prep Time 10 minutes
Total Time 10 minutes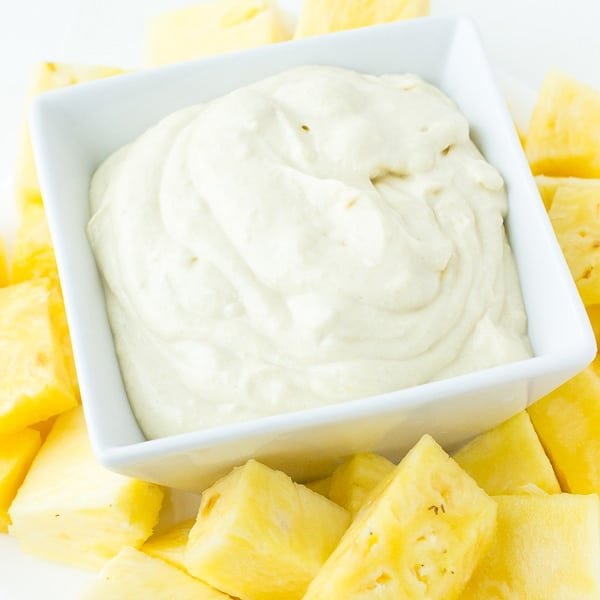 Ingredients
1 cup cottage cheese
1 (8 oz.) package cream cheese, softened
1 (20 oz.) can crushed pineapple
1 (3.4 oz.) package vanilla or coconut instant pudding mix
1 tablespoon lemon juice
1 tablespoon honey
3 Tablespoons ground ginger
1 cup Cool Whip topping, thawed
Instructions
STEP 1: Using a food processor or hand mixer, blend cottage cheese, cream cheese, pineapple, pudding mix, lemon juice, honey and ginger.
STEP 2: Mix in cool whip. Serve with fruit.
NOTES:
Notes
STORE: Store in a covered container in the refrigerator for up to 1 week.