Glazed Peach Bread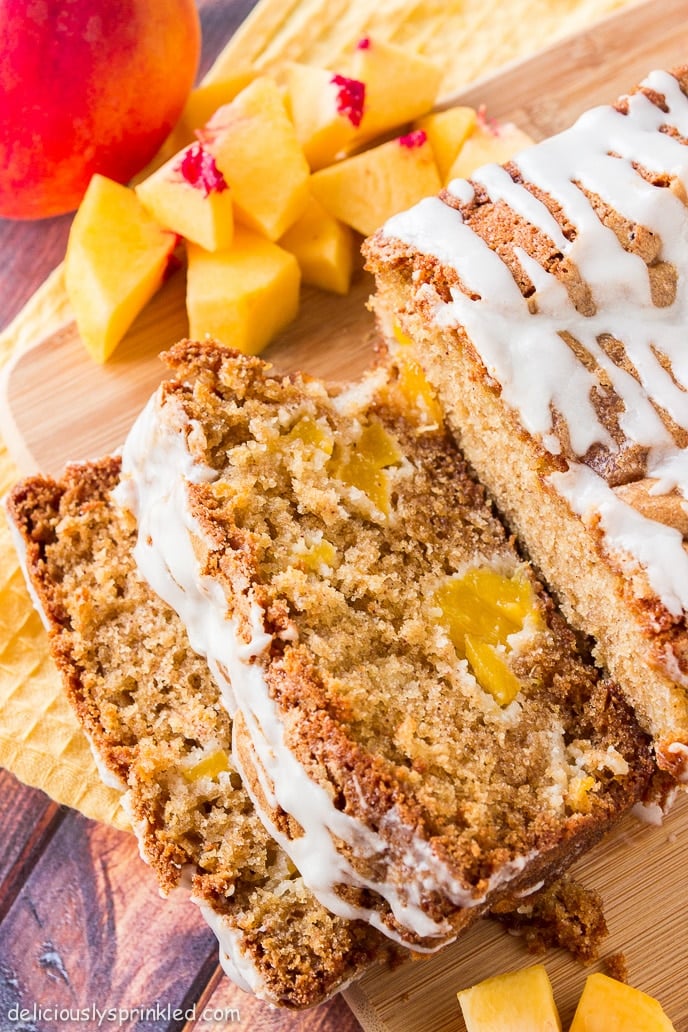 Can you believe it's already August? I can't…this summer is going by way too fast! We have been so busy lately; that last weekend was the first weekend I went to a farmer's market this summer, I know super depressing. As I was walking around looking at all the delicious vegetables, flowers, and homemade jams that were on display, I noticed a tent with four huge baskets of fresh peaches… JACKPOT!
I couldn't wait to get home to start making my glazed peach bread, which is one of my all-time favorite summer quick bread recipes. It is so moist and delicious; it's the perfect bread along side a cup of coffee or even a refreshing summer dessert. If you have fresh peaches on hand, you need to try this bread. I know your going to love it as much as I do. Enjoy!
Step-by-step on how to make this Glazed Peach Bread: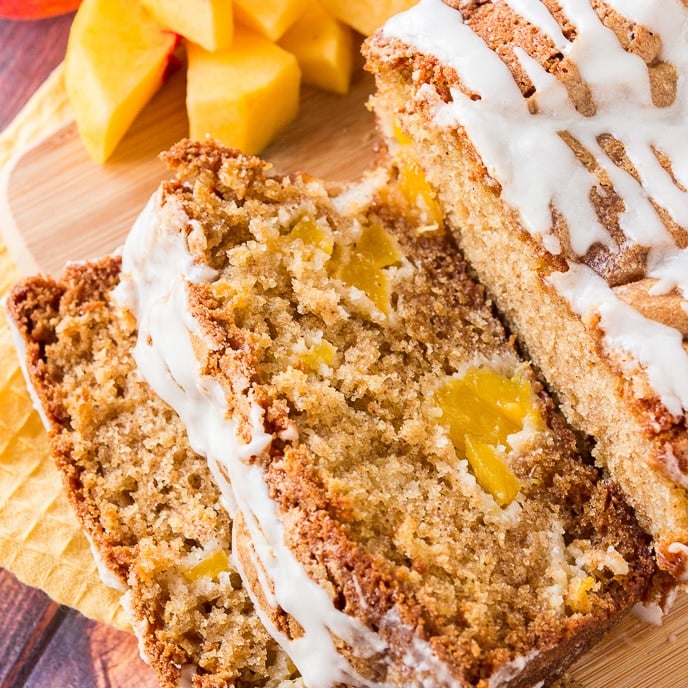 Yield: 1 loaf
Glazed Peach Bread
Additional Time 1 hour

Total Time 1 hour
Ingredients
2 cups all-purpose flour
2 teaspoons baking powder
1 teaspoon baking soda
1/2 teaspoon salt
1/2 teaspoon ground cinnamon
1/2 (1 stick) cup butter, softened
1/2 cup granulated sugar
1/2 cup light brown sugar, packed
2 teaspoons vanilla extract
2 large eggs
3/4 cup heavy whipping cream
2 cups peeled, chopped peaches (4 peaches*)
1 cup powdered sugar
2 Tablespoons heavy whipping cream
2 teaspoons vanilla extract
Instructions
Preheat oven to 350F degrees. Spray a 9x5 inch loaf pan with non-stick cooking spray. Set aside.

In a large bowl, whisk together the flour, baking powder, baking soda, salt, and ground cinnamon. Set aside.

In a medium sized bowl, using an electric or stand mixer, beat together the butter, sugars, and vanilla extract. Add one egg at a time, mixing between each egg. Beat in heavy whipping cream. Pour wet mixture into dry mixture, using a spatula to mix until just combined. DO NOT OVERMIX. Fold in peaches. Pour bread batter into prepared pan.
Bake for 50 minutes or until toothpick inserted into the center comes out clean. Let cool completely before glazing with vanilla glaze and slicing.
To make vanilla glaze:
In a small bowl, mix powdered sugar, heavy whipping cream, and vanilla extract together until a light, creamy glaze forms. Drizzle on top of cooled bread right before you are ready to serve.
Notes
* You could use unthawed frozen peaches.
 Try my Peach Cobbler next, it's delicious topped with vanilla ice cream!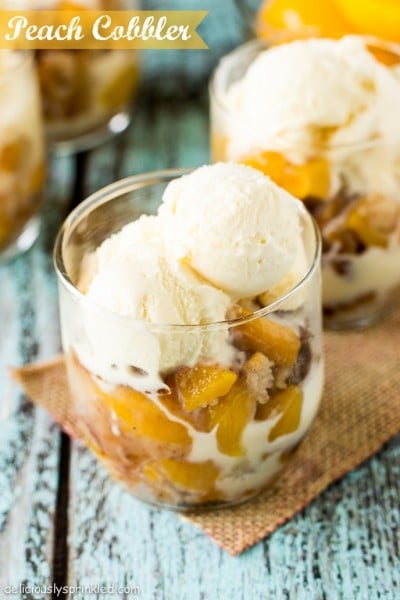 ENJOY!