Blueberry Banana Bread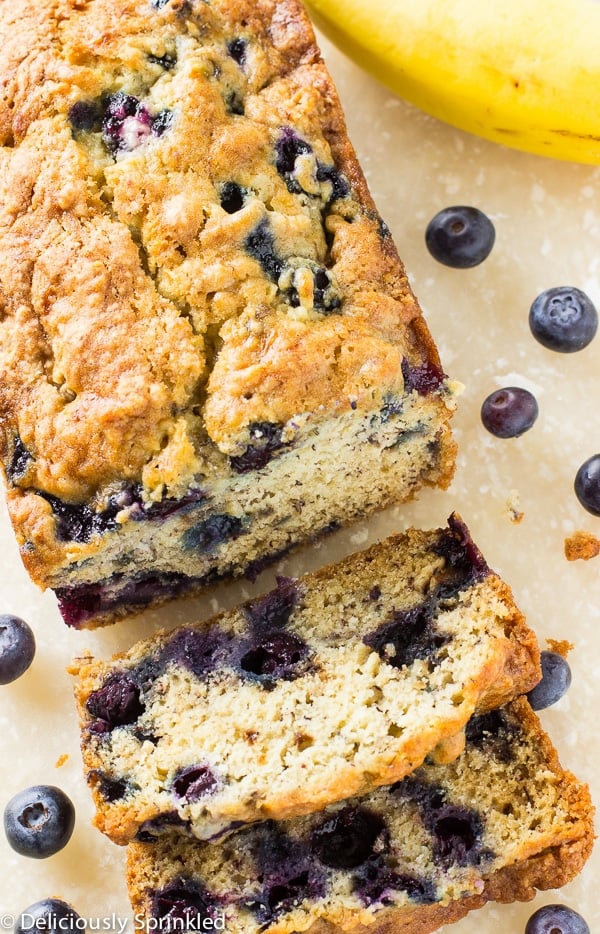 This Blueberry Banana Bread is the perfect way to start any morning off on the right foot!
Oh, Blueberry Banana Bread…I just can't quit you.
Tell me I'm not alone in this. I LOVE the flavor duo of blueberries and bananas.
So much so, that I've combined them into this delicious Blueberry Banana Bread to find another way to enjoy and eat them together.
Seriously, it's THAT good.
Breakfast is one of the most important meals of the day, right?
We all know this as we've been told this since we were little.
And I agree, 100%.
When I know that I have a delicious, fresh out of the oven bread waiting for me to enjoy early in the morning, I literally cannot wait to start my day.
The great thing about this bread recipe?
You can literally eat it at any point in time throughout your day as well.
While it's perfect for breakfast, the sweet flavor and fluffiness make it perfect for a quick snack or an after lunch or dinner treat.
Don't delay in making this amazing Blueberry Banana bread because right now is the perfect time while the blueberries are delicious, plump and in season!
And if you find that you can't consume a whole loaf (invite me over, I'll help!), it can be put in the freezer to eat later as well!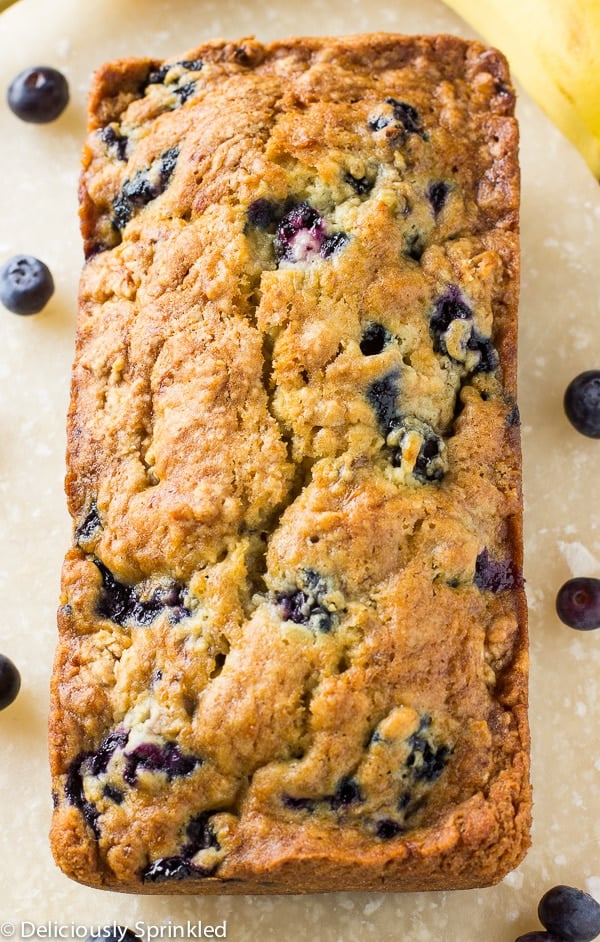 BLUEBERRY BANANA BREAD INGREDIENTS:
To make this banana bread recipe, you will need:
● BUTTER: just one stick of salted or unsalted butter. Make sure the butter is softened to room-temperature before you start making this bread.
● GRANULATED SUGAR: just one cup.
● EGGS: two large eggs, beaten. I just crack two eggs in a small bowl and then beat with a fork.
● BANANAS: you will need three ripe (brown) bananas, the more brown the better.
● FLOUR: just 2 cups of all-purpose or white whole wheat.
● BAKING SODA: 1 teaspoon..make sure your baking soda is new in the last 3 months..old baking soda could cause the bread to sink in the middle.
● SALT: a 1/2 teaspoon to bring out the sweetness in the bananas and blueberries.
● BLUEBERRIES: fresh blueberries if they are in season, or you can use frozen blueberries. A trick…coat the blueberries with about a tablespoon of flour so the blueberries don't sink to the bottom of the bread.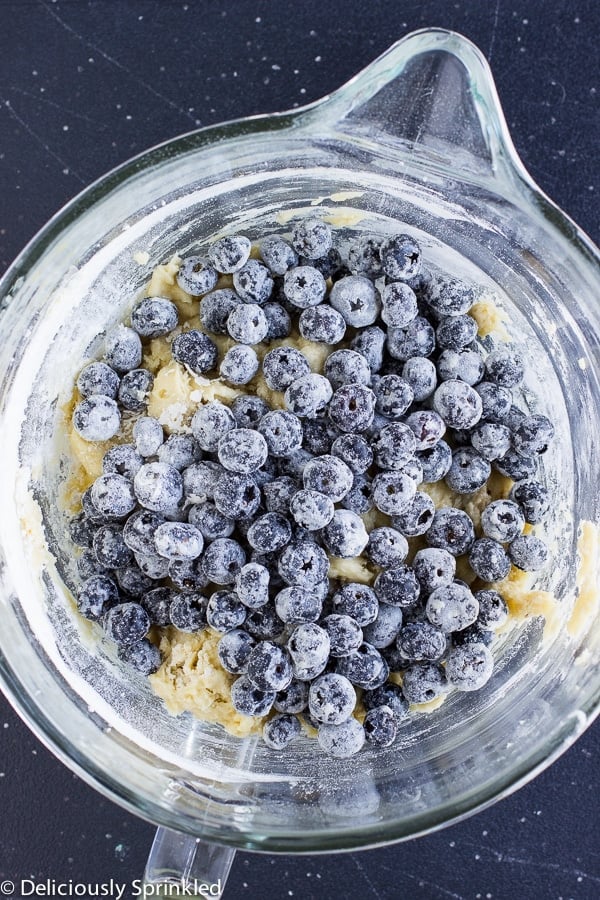 HOW TO MAKE BLUEBERRY BANANA BREAD
To make blueberry banana bread:
1. Using a mixer, mix the butter and sugar together. Until it's light and fluffy.
2. Add beaten eggs to the butter and sugar mixture. Mix until combined.
3. Add mashed bananas. And mix until combined.
4. Sift all dry ingredients. Flour, baking soda and salt. Slowly add sifted dry ingredients to banana mixture and mix until flour is just combined. DO NOT OVERMIX. Gently, fold in blueberries.
5. Pour banana bread batter into 2 9×5 loaf pans. You can also make one large loaf and pour the batter into one large loaf pan.
6. Bake it in the oven. At 375F for 15 minutes. reduce heat to 350F and bake for additional 30 minutes or until toothpick inserted into center comes out clean.
7. Let it cool. On a wire rack, make sure the bread is completely cool before removing it from the loaf pan.

BANANA BREAD TIPS
● BAKING TRICK: Want to know the trick to get the big, fluffy top!? Well, it's easy, all I do is bake the banana bread at 375F for 15 minutes, then I REDUCE the heat to 350F and bake for an additional 30 minutes. I then let the bread completely cool before removing from loaf pan.
● DON'T LET THE TOP BURN: Don't let the top of your bread BURN! About half way through baking this bread, make sure to check to see if the top of the bread is getting too brown and if it is, place a piece of aluminum foil over the top of the bread for the rest of the baking time to avoid burning the top of the bread.
● WANT TO MAKE ONE LOAF? NO PROBLEM!: If you want to make just one large loaf, all you need to do is bake it for an additional 20-25 minutes (15 minutes at 570 degrees and 45 minutes at 350 degrees)!
● MAKE AHEAD: This bread freezes very well for up to 3 months. When ready to enjoy, place bread in the refrigerator overnight to thaw. Then place the bread on your kitchen counter top for about 30-60 minutes to allow it to come to room temperature before slicing and enjoying.

LOVE BANANA BREAD? CHECK OUT THESE RECIPES TOO!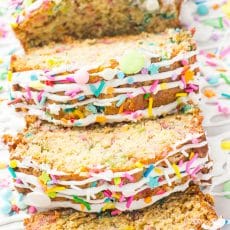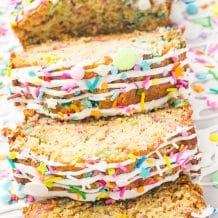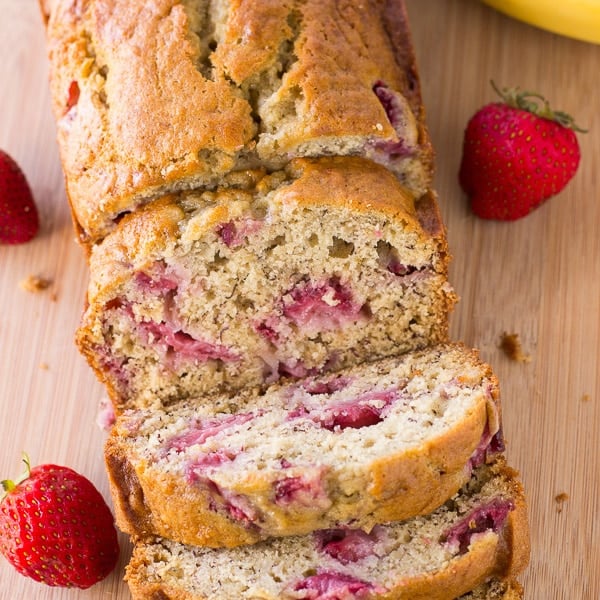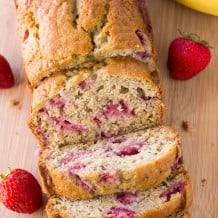 Lemon Poppyseed Zucchini Bread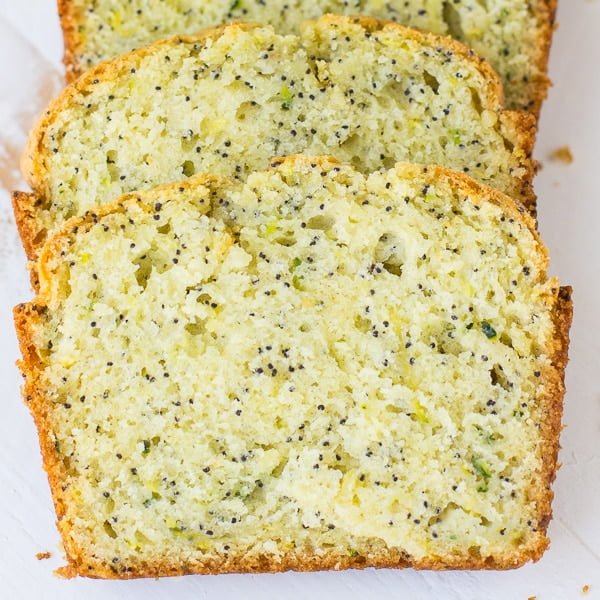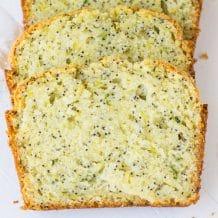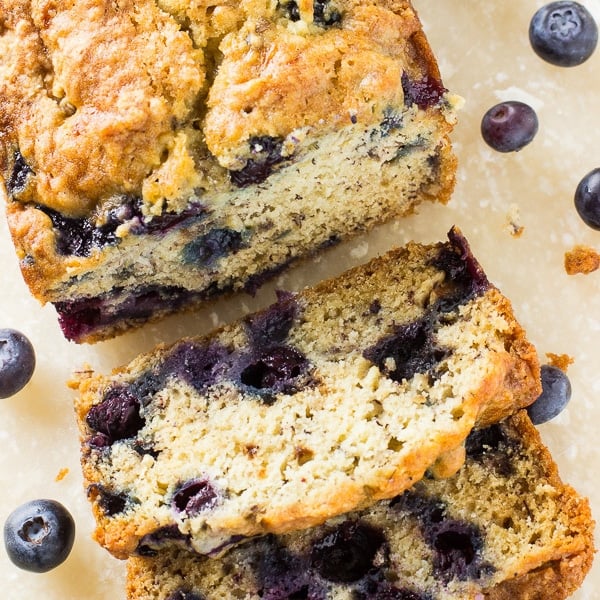 Yield: 2 Loafs
Blueberry Banana Bread
Prep Time 15 minutes

Cook Time 45 minutes

Total Time 1 hour
Ingredients
½ cup (1 stick) butter, softened
1 cup granulated sugar
2 large eggs, beaten
3 ripe bananas, mashed
2 cups flour
1 teaspoon baking soda
½ teaspoon salt
1½ cups fresh blueberries tossed in 1 Tablespoon of flour
Instructions
Preheat oven to 375F degrees. Spray two 9x5 loaf pan with nonstick spray. Set aside.
In a large bowl, using an electric or stand mixer with paddle attachment cream butter and sugar together until light and fluffy.
In a small bowl, beat eggs using a fork. Add eggs to sugar mixture and beat until combined. Add mashed bananas and mix until combined.
Sift all dry ingredients: flour, baking soda, and salt. Slowly add sifted dry ingredients to banana mixture and mix until flour is just combined. DO NOT OVERMIX! Fold in floured covered blueberries.
Pour batter into prepared loaf pans and bake at 375F for 15 minutes. REDUCE heat to 350F and bake for an additional 30 minutes until edges are slightly brown or until toothpick inserted into center comes out clean. Let cool completely before removing from loaf pans.