Orange Smoothie Recipe
I don't know about you, but I'm definitely ready to hang out by the pool with a delicious homemade Orange Smoothie! This fruity smoothie is made with all natural ingredients that your body will thank you for. Make this refreshing smoothie today – you deserve it!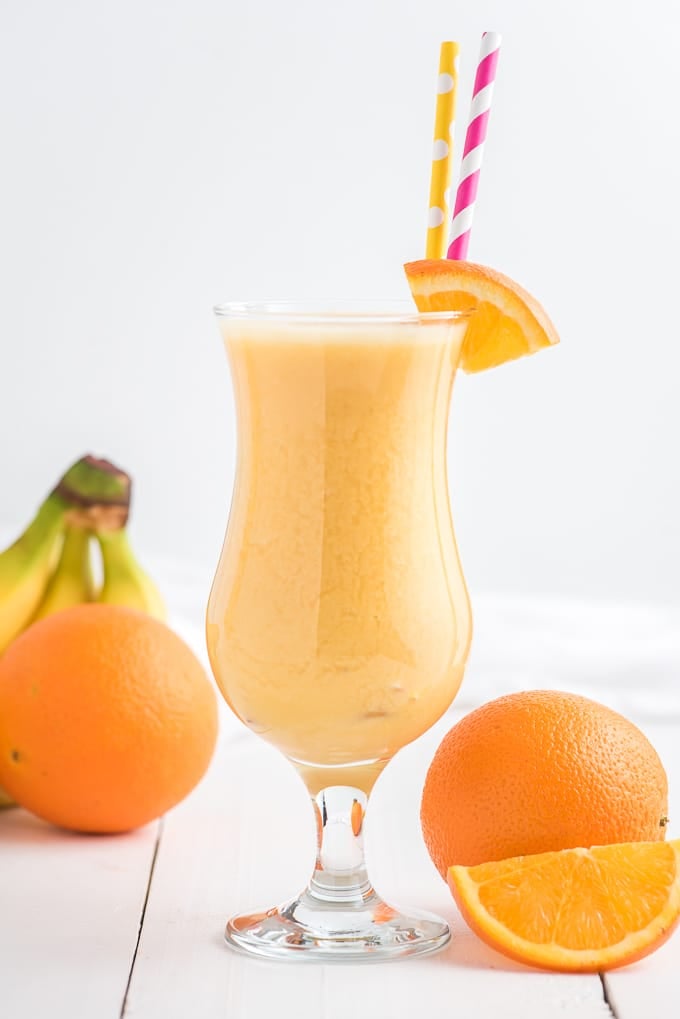 ORANGE SMOOTHIE RECIPE
You know when those summer days are especially hot – like, water just isn't doing the trick kind of hot? On those hot summer days, refresh yourself with one of these insanely delicious orange smoothies! They're healthy, filled with fruity flavor, and are sure to help cool you off.
One of the best things about making your own smoothie at home is that you get to totally control what goes into it. As much as I enjoy a smoothie from a place like Jamba Juice now and again, I much prefer making my own concoctions at home. That way, I can make sure they're made with all natural ingredients. Not to mention, these at home smoothies are WAY less pricey than the chain smoothies!
Summer is really the best time to make smoothies, too. I enjoy them all year round, but there's something that just can't be beat about enjoying an orange smoothie on a hot day! The strong orange flavor is ultimately refreshing, while notes of banana and mango take you right to the tropics.
If you love feeling beachy, you're going to love this easy orange smoothie!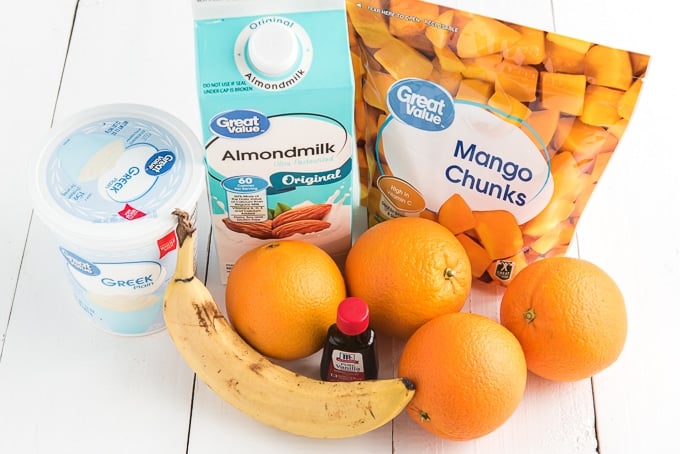 EASY ORANGE SMOOTHIE INGREDIENTS
This summertime smoothie only calls for six simple, inexpensive ingredients!
ORANGES: 4 medium oranges
ALMOND MILK: 1/3 cup almond milk
BANANA: 1 ripe banana
MANGO: 1 1/2 cups frozen mango pieces
GREEK YOGURT: 1/4 cup plain greek yogurt
VANILLA EXTRACT: 1/4 teaspoon vanilla extract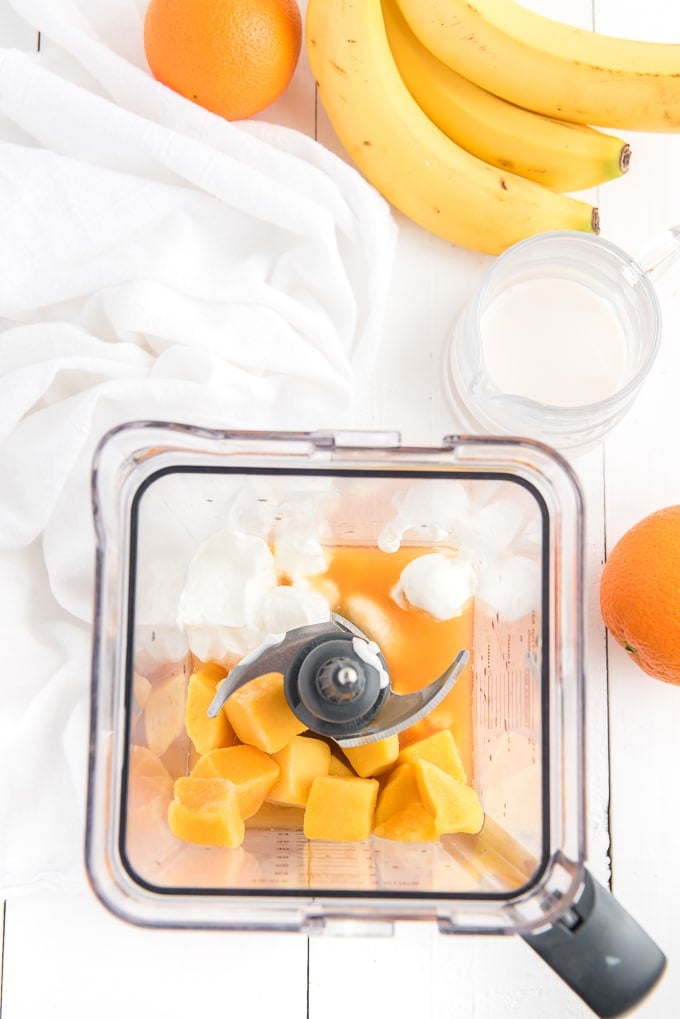 HOW TO MAKE THIS EASY ORANGE SMOOTHIE
Just like any other good smoothie recipe, this recipe is really as easy as 1, 2, 3! You're going to love how healthy and happy you feel after enjoying this orange smoothie.
PLACE: Place all of the ingredients into a blender.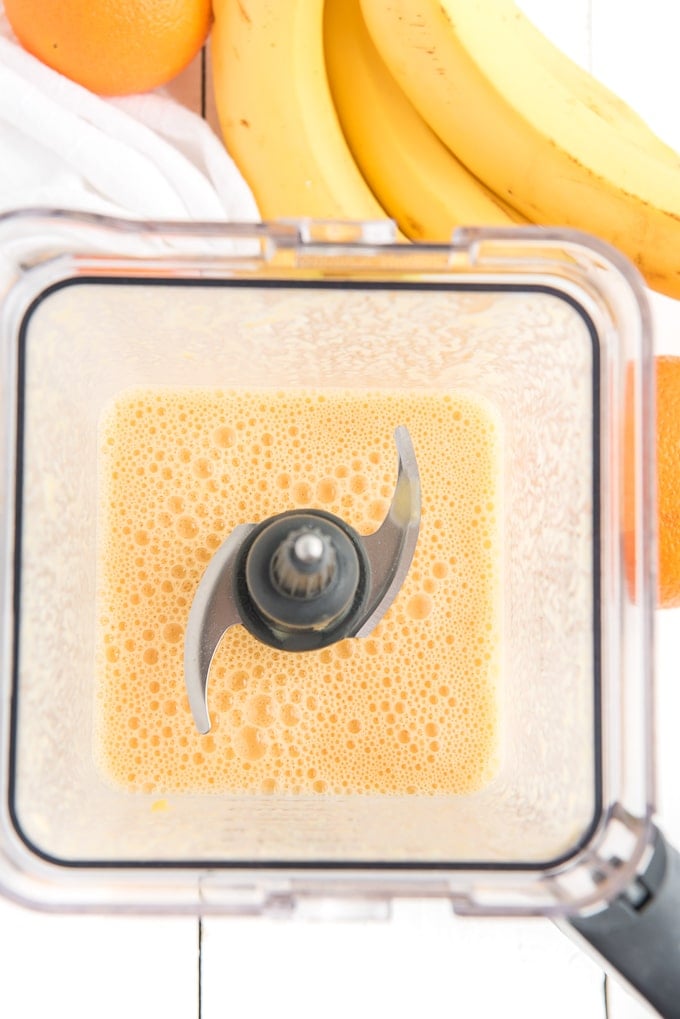 BLEND: Now, blend it all together for 45 seconds on high! Depending on your blender, you may want to blend for more or less time. Additionally, if you notice your blender is having a hard time, add a few extra splashes of almond milk to help get things moving.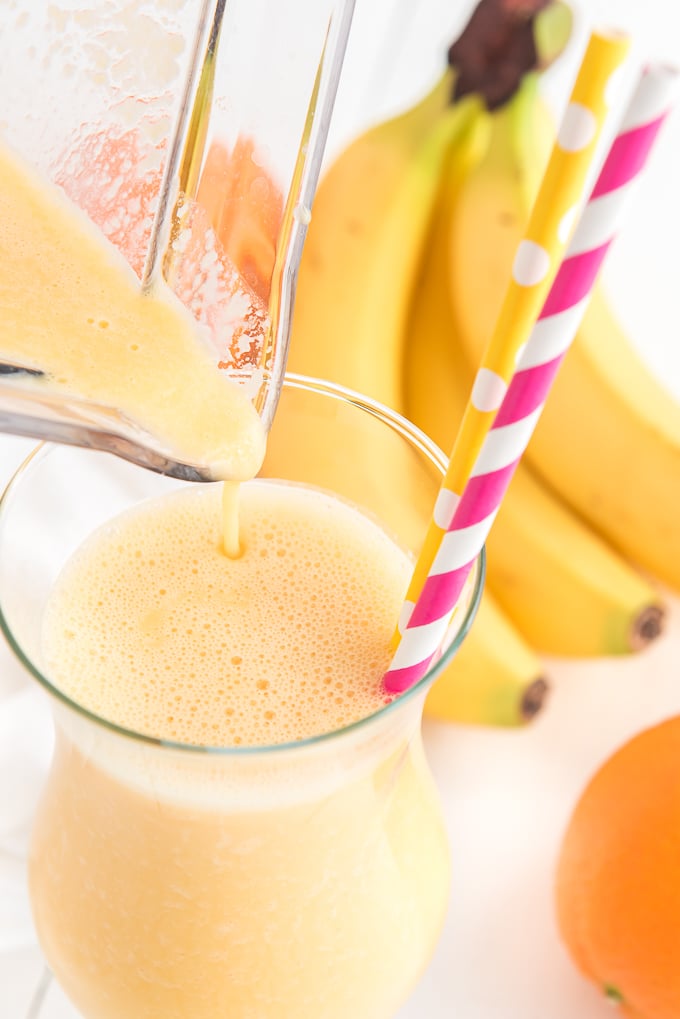 POUR: Pour your freshly blended smoothie into your favorite glass, and enjoy! Oh – and don't forget to garnish with an orange slice, of course!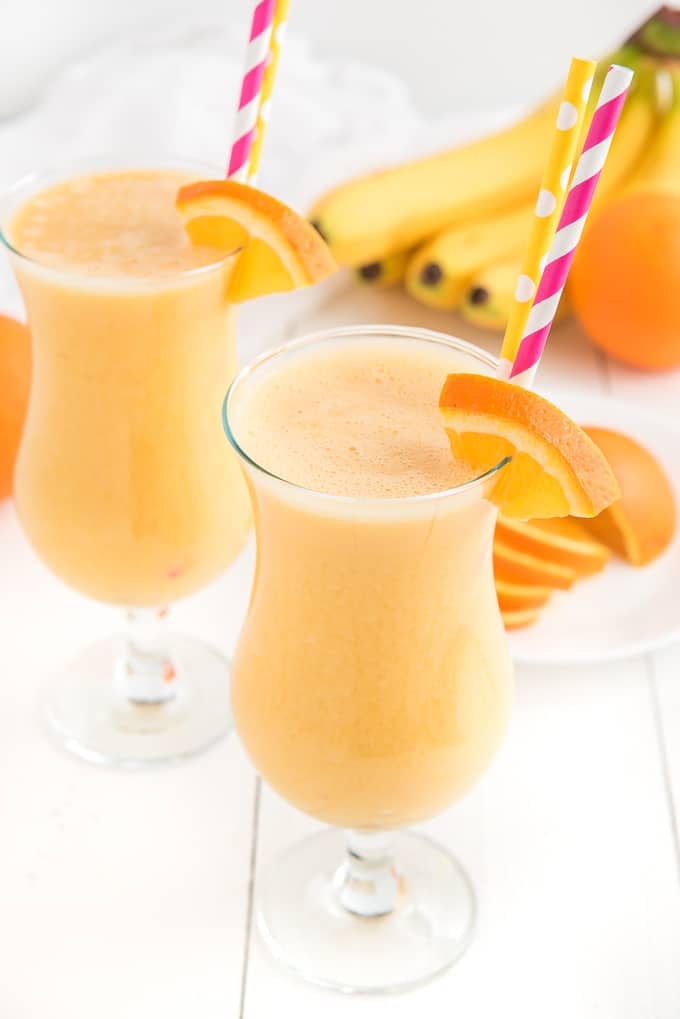 VARIATIONS TO TRY:
MAKE IT SWEETER: If you'd like more sweetness, try adding a tablespoon of honey! Be sure to use a raw, organic honey to keep things all natural.
ADD COLLAGEN: Want to make this smoothie even healthier? Add some collagen! Most brands of collagen supplements can be added to smoothies with no added colors or flavors. It's a great way to keep your hair, nails, bones and skin healthy!
SWITCH THE MILK: The almond milk can be substituted with oat, coconut, or even banana almond milk. Using banana almond milk will add a bit more sugar to the smoothie, but it's worth it if you love that extra hint of banana!
MAKE IT BOOZY: Listen, I totally get it – this healthy smoothie would also make a fantastic frozen cocktail! To make it boozy, just add 1 oz of your favorite liquor. I recommend rum, to keep things tropical!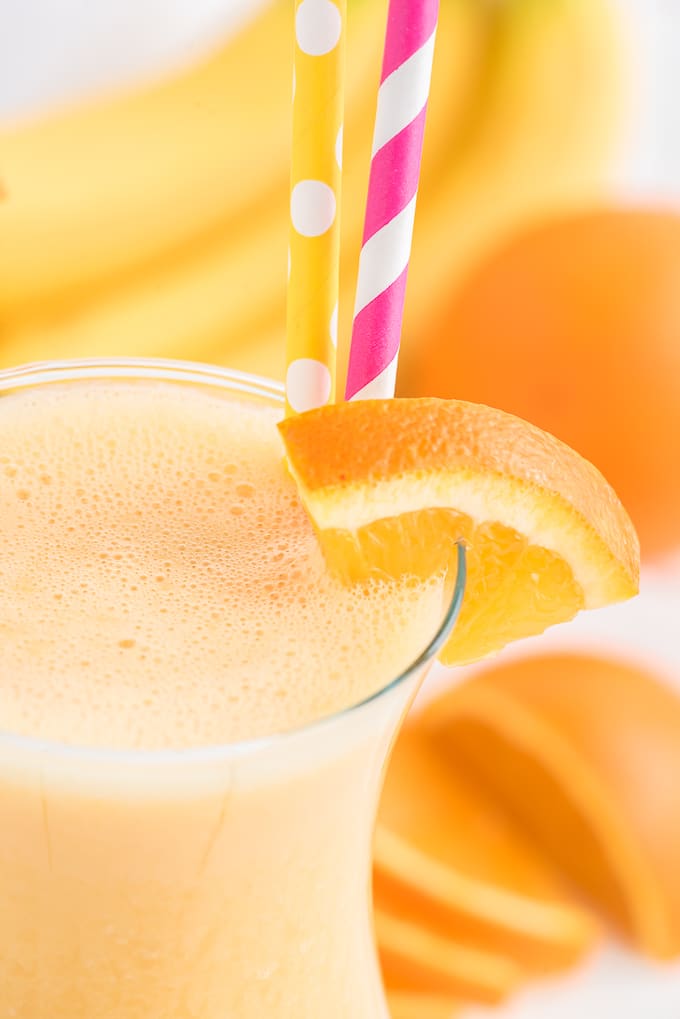 If you love this easy smoothie recipe, you absolutely need to try out more of my favorites! When I need a strong start to my day, I always make an Energizing Green Smoothie, or a Breakfast Energy Smoothie. And if you want to keep with the beachy vibes that this orange smoothie has, then you need to make my favorite Mango Green Smoothie!
Yield: 2
ORANGE SMOOTHIE RECIPE
Prep Time 5 minutes
Total Time 5 minutes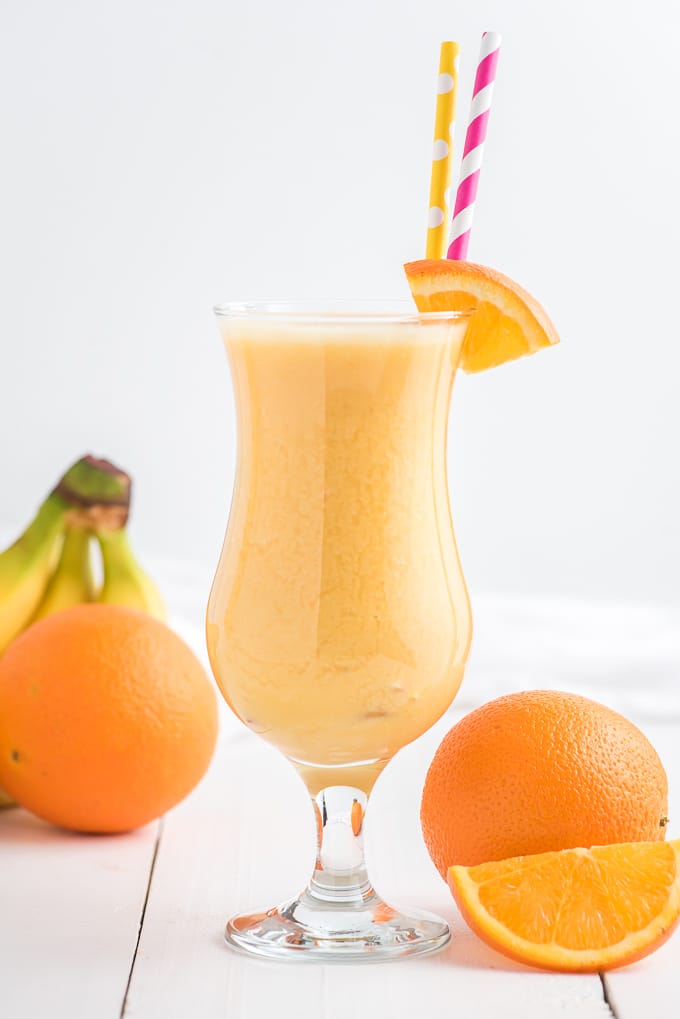 Ingredients
4 medium oranges
⅓ cup almond milk
1 banana
1 ½ cups frozen mango pieces
¼ cup plain greek yogurt
¼ teaspoon vanilla extract
Instructions
Place all ingredients into a blender. Blend for 45 seconds on high.
Enjoy. Garnish with orange slice.
Nutrition Information:
Yield:
2
Serving Size:
1
Amount Per Serving:
Calories: 291
Total Fat: 2g
Saturated Fat: 0g
Trans Fat: 0g
Unsaturated Fat: 1g
Cholesterol: 1mg
Sodium: 16mg
Carbohydrates: 70g
Fiber: 10g
Sugar: 50g
Protein: 7g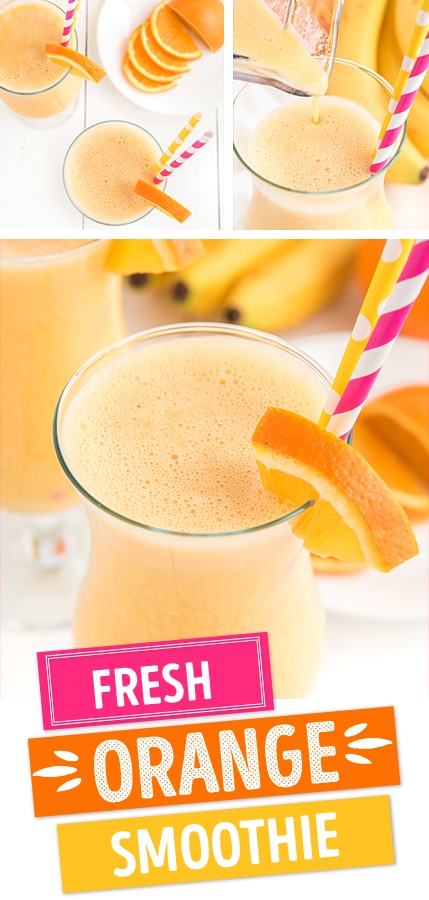 This blog post contains affiliate and/or referral links, which pay me a small commission for recommending my favorite products at no extra cost to you! Additionally, as an Amazon affiliate, I earn from qualifying purchases.