Birthday Cake Cookies Recipe
Homemade Birthday Cake Cookies are the best way to celebrate! Chocolate chip cookies are made even more delicious with white chocolate chips and plenty of colorful sprinkles. Although they're made entirely from scratch, these picturesque cookies are a total cinch to whip up!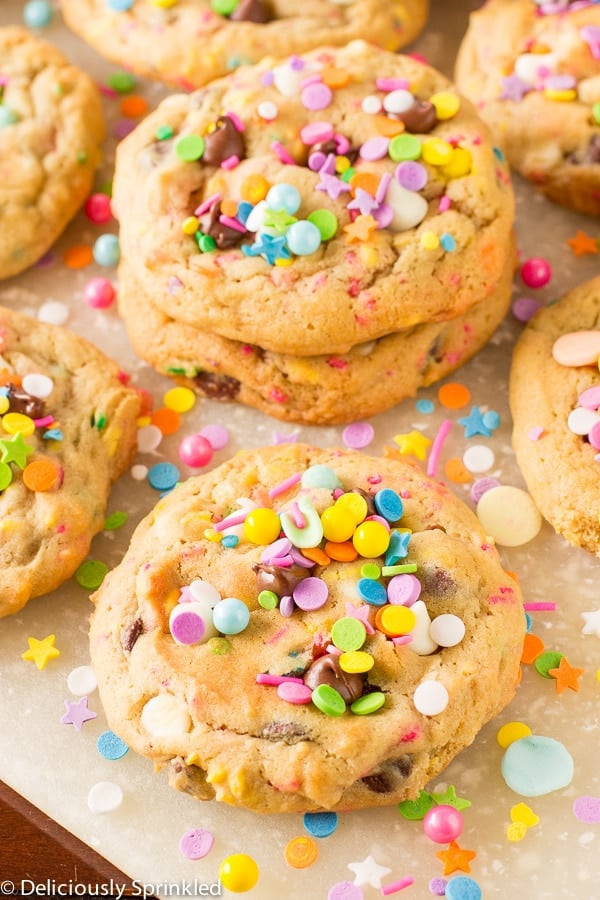 Birthday Cake Cookies
It doesn't matter if you're serving these freshly baked cookies at a 4th or 40th birthday party – they're sure to be a huge hit! After all, I don't think anyone ever outgrows their love of sprinkle covered chocolate chip cookies. They're wonderfully soft, chewy, and oh so sweet from both chocolate and white chocolate chips. Trust me when I say they're WAY better than any store-bought cookie dough!
When it comes to birthday parties, you can never have too many sweet treats. Instead of fully replacing your birthday cake, you can just accompany it with a batch of these cookies! However, you could also fully replace the cake with these cookies if you're so inclined. As much as I love birthday cakes of all varieties, these cookies are pretty good at stealing the spotlight.
You can totally customize the sprinkles as you see fit, but I think that pastel rainbow sprinkles really say "birthday" the most! To me, birthdays are always associated with rainbows and vibrant colors, so why not deck your cookies out with the most beautiful multi-colored hues? And let's be real – you don't need to wait for a birthday party to make these cookies. They're perfect for any day you need a little extra happiness!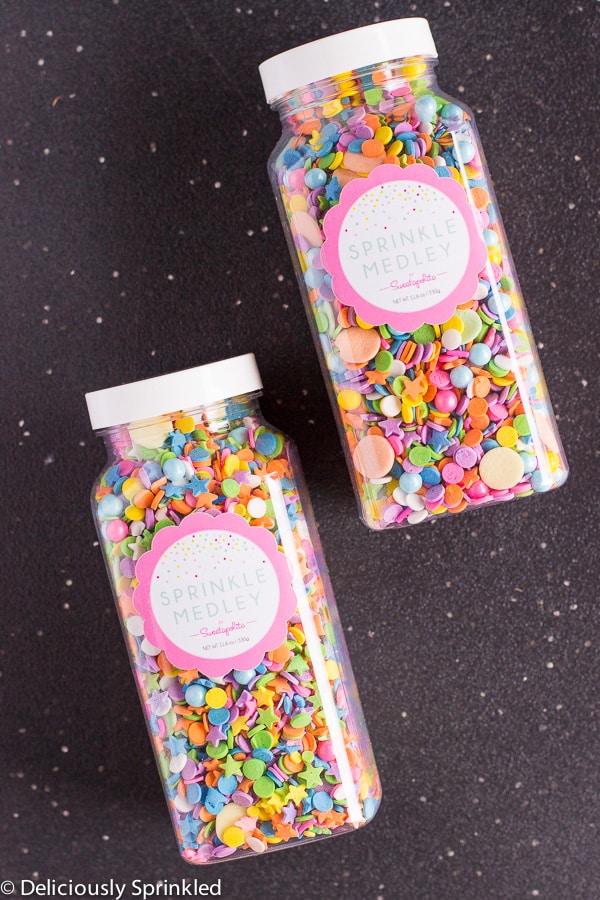 Ingredients for Birthday Cake Cookies
FLOUR: 2 1/4 cups all-purpose flour
BAKING SODA: 1 tsp baking soda
SALT: 1/2 tsp salt
BUTTER: 12 tbsp unsalted butter, softened
GRANULATED SUGAR: 1/2 cup granulated sugar
LIGHT BROWN SUGAR: 3/4 cup light brown sugar, packed
VANILLA: 1 tbsp vanilla extract
EGGS: 2 large eggs
SPRINKLES: 1/2 cup sprinkles
CHOCOLATE CHIPS: 1/2 cups milk chocolate/white chocolate chips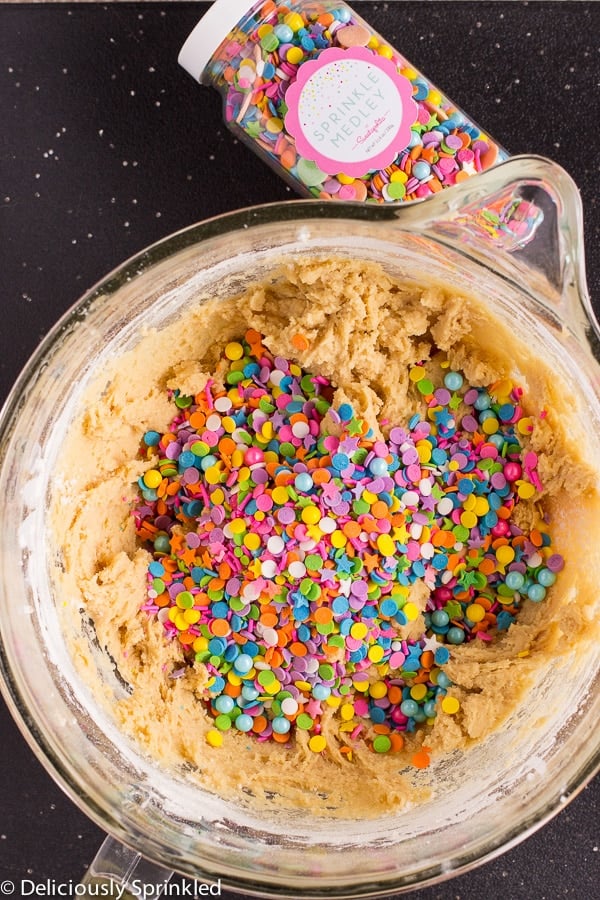 How to Make Birthday Cake Cookies
PREPARE. Preheat your oven to 370°F and line two large baking sheets.
WHISK. Whisk together the flour, baking soda, and salt.
CREAM. Cream together the butter, granulated sugar, light brown sugar, and vanilla.
ADD EGGS. Add the eggs to the wet mixture one at a time, mixing between each egg.
COMBINE. Combine the wet and dry ingredients. Do NOT over mix!
MAKE IT PRETTY! Fold in the chocolate chips and sprinkles.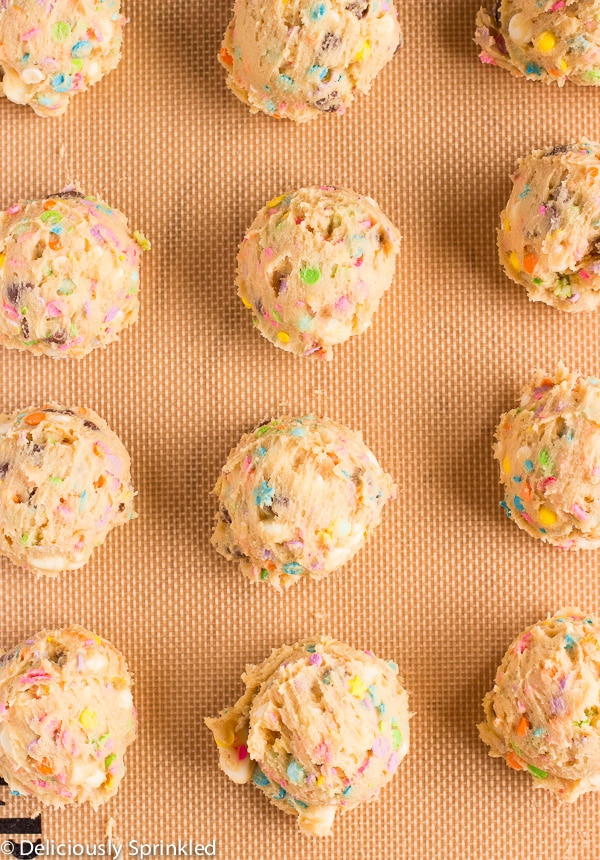 SCOOP. Using a cookie scoop, scoop the dough into balls and place them on the prepared baking sheet.
BAKE. Bake the cookies for 10 minutes, then rotate and cook for another 4-5 minutes.
COOL. Right after they're pulled from the oven, top the cookies off with more sprinkles and chocolate chips (because why not?!) and let them cool on the baking sheet for 5 minutes before moving them to a wire rack.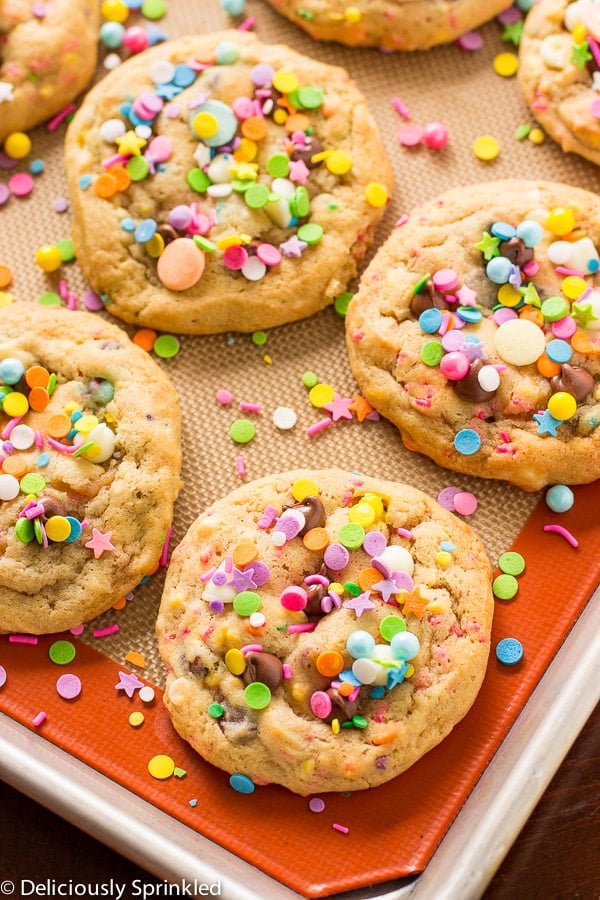 Tips for the Best Birthday Cake Cookies
Do not over mix the batter! This could cause the cookies to become gummy and flat.
Use a cookie scoop or ice cream scoop to scoop the dough into balls. This way, the cookies are all uniform and the same size, and they bake evenly.
If you see any muli-colored chocolate chips at the grocery store, snag them! They have all sorts of crazy colors now (including unicorn, I believe) that will be too cute when baked into these cookies.
Do not over bake them! These cookies should be lightly golden brown around the edges and have a cakey consistency. Don't bake the soft cake-like texture out of them!
In my experience with these cookies, they haven't spread while they bake too much, so I don't refrigerate the dough. However, if you're nervous, you can certainly chill the dough 30 minutes prior to baking to ensure they don't spread in your oven.
I've been in SUCH a cookie crazy mood lately! Some of my favorites to whip up when I'm craving a baker's dozen include Chocolate Chip Peanut Butter Cookies, Chewy Oatmeal Cookies, and some classic Soft Sugar Cookies!
Yield: 12 Large Cookies
Birthday Cake Cookies
Prep Time 10 minutes
Cook Time 15 minutes
Total Time 25 minutes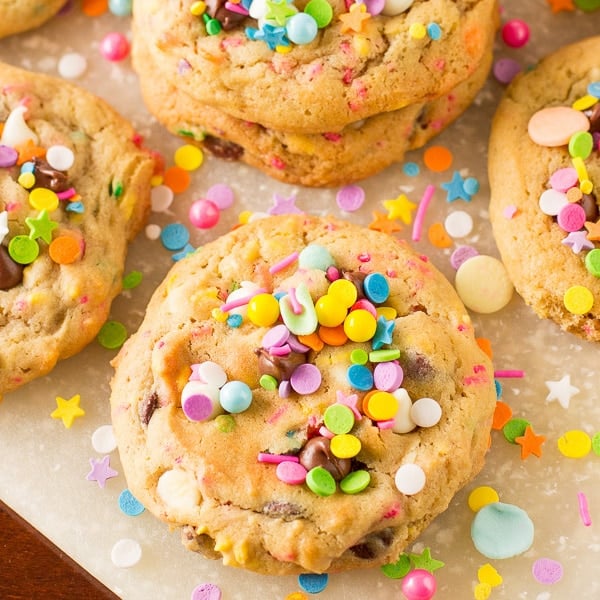 Ingredients
2 1/4 cups all-purpose flour
1 teaspoon baking soda
1/2 teaspoon salt
12 Tablespoons UNSALTED butter, softened
1/2 cup granulated sugar
3/4 cup light brown sugar, packed
1 Tablespoon vanilla extract
2 large eggs
1/2 cup sprinkles
1 1/2 cups milk chocolate chips/white chocolate chips
additional chocolate chips, for topping
Instructions
Preheat oven to 370F degrees. Line two large baking sheets with parchment paper or silicone baking mats. Set aside.
Whisk together the flour, baking soda, and salt in a medium size bowl. Set aside.
In a large bowl, using an electric or stand mixer, cream together the butter, granulated sugar, light brown sugar, and vanilla extract until combined.
Add eggs one at a time, mixing between each egg.
Add flour mixture and mix until just combined. DO NOT OVERMIX!
Using a spatula, stir in sprinkles and chocolate chips until combined.
Using a cookie scoop/ice cream scooper, scoop dough into balls about 2 Tablespoons each and place onto prepared baking sheet.
Bake for 10 minutes, rotate baking sheet clockwise and bake for additional 4-5 minutes or until golden brown around the edges.
Immediately after taking cookies out of the oven, place additional chocolate chips on top of cookies and top with more sprinkles, and let cool for 5 minutes on baking sheet before moving them to a wire rack.
Notes
* STORE: Cookies will stay fresh for up to 7 days in an airtight container, stored at room temperature.
* FREEZING: Roll the dough into balls and place them in an airtight container. You can freeze the cookie dough for up to 2 months. To bake, place frozen cookie dough balls onto prepared baking sheet and bake for 16-18 minutes.
Nutrition Information:
Yield:
12
Serving Size:
1
Amount Per Serving:
Calories: 464
Total Fat: 23g
Saturated Fat: 13g
Trans Fat: 0g
Unsaturated Fat: 9g
Cholesterol: 67mg
Sodium: 231mg
Carbohydrates: 60g
Fiber: 2g
Sugar: 38g
Protein: 6g
Some of the links above are affiliate links, which we get paid a small commission for recommending my favorite products at no extra cost to you! Thank you for supporting Deliciously Sprinkled.