Banana Bread
Super moist, homemade Banana Bread that is simple to make and perfect for spreading some delicious Nutella on top of each slice that will bring a smile to everyone's face at breakfast!
Yesterday, my mom came to visit me to go shopping for shoes for some upcoming weddings I am in this summer.Tis' the season for weddings! Before my mom arrived, I woke up early to bake my moms favorite quick bread, Banana Bread. It's my grandma's recipe and it's been in the family forever, my grandma still makes a loaf or two for everyone for Christmas. It seriously is the best gift EVER!
And this banana bread recipe is one of the first recipes my mom taught me how to make when I was learning to bake as a little girl, as I grew up I loved baking so much that I took over all the baking in our house. Which is the reason, I have a passion for baking today. It makes me the most happiest, and luckiest girl to do what I love as a food blogger, sharing my love and passion for baking with all of YOU!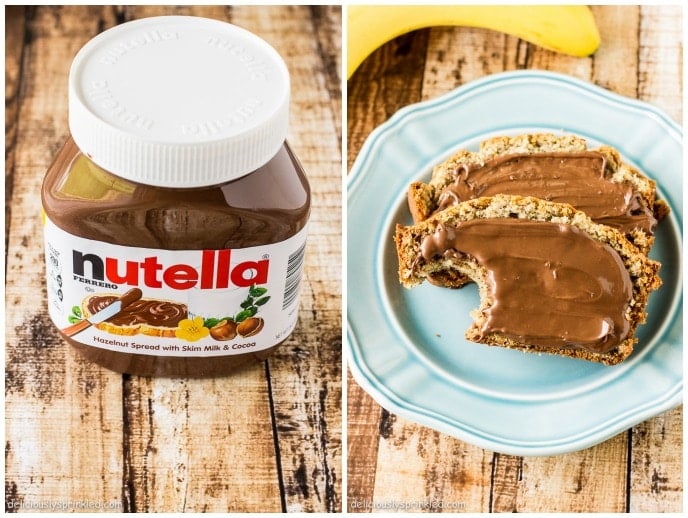 JUST A FEW BAKING TIPS:
✔ Don't let the top of your bread BURN! About half way through baking this bread, make sure to check to see if the top of the bread is getting too brown and if it is just place a piece of aluminum foil over top of bread for the rest of the baking time to avoid burning the top of the bread.
✔ Want to know the trick to get the big, fluffy top!? Well, it's easy, all I do is bake the banana bread at 375F for 15 minutes, then I REDUCE the heat to 350F and bake for an additional 40-45 minutes. I let the bread cool before removing from loaf pan.
✔ Lastly, this banana bread freezes very well. You can freeze this bread up to 3 months. When your ready to enjoy let thaw completely, and cut into slices.
STEP-BY-STEP GUIDE ON HOW TO MAKE THIS BANANA BREAD: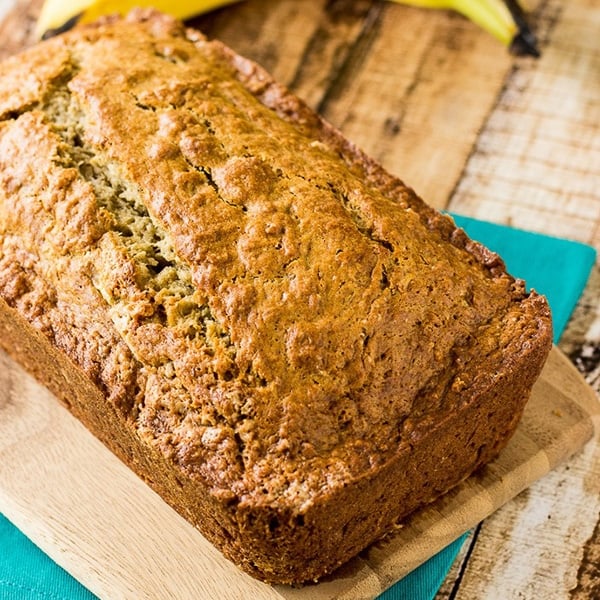 Yield: 1 Loaf
Banana Bread
Prep Time 15 minutes
Cook Time 1 hour
Total Time 1 hour 15 minutes
Ingredients
1/2 cup (1 stick) butter, softened
1 cup granulated sugar
2 large eggs, beaten
3 ripe bananas, mashed
2 cups flour
1 teaspoon baking soda
1/2 teaspoon salt
Instructions
PRE-STEP: Preheat oven to 375F degrees. Spray a 9x5 loaf pan with nonstick spray. Set aside.
STEP 1: In a large bowl, using an electric or stand mixer with paddle attachment cream butter and sugar together until light and fluffy.
STEP 2: In a small bowl, beat eggs using a fork. Add eggs to sugar mixture and beat until combined.
STEP 3: Add mashed bananas and mix until combined.
STEP 4: Sift all dry ingredients: flour, baking soda, and salt. Slowly add sifted dry ingredients to banana mixture and mix until flour is just combined. DO NOT OVERMIX!
STEP 5: Pour banana bread mixture into prepared loaf pan and bake at 375F for 15 minutes. REDUCE heat to 350F and bake for an additional 40-45 minutes until edges are slightly brown or until toothpick inserted into center comes out clean.
STEP 6: Let cool completely before removing from loaf pan. Once cooled, spread some Nutella on a slice of the banana bread before serving.
Check out more delicious Bread Recipes…
And try these delicious Chocolate Chip Banana Muffins next!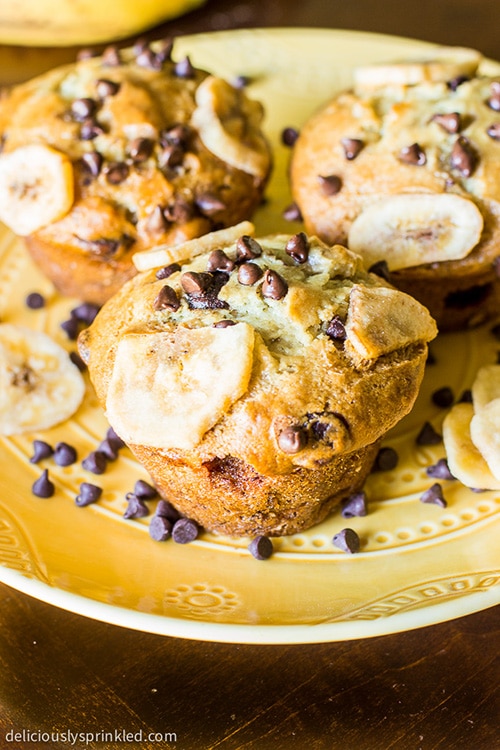 Nutella® hazelnut spread is a happy start to every day! Pick up a jar of Nutella in the spreads aisle and enjoy it with whole wheat toast, waffles, pancakes, strawberries, bananas and many other foods. Nutella. Spread the Happy™.
Disclosure: Compensation was provided by the makers of Nutella via Mode Media. The opinions expressed herein are those of the author and are not indicative of the opinions or positions of Nutella.