Chocolate Frosted Peanut Butter Bars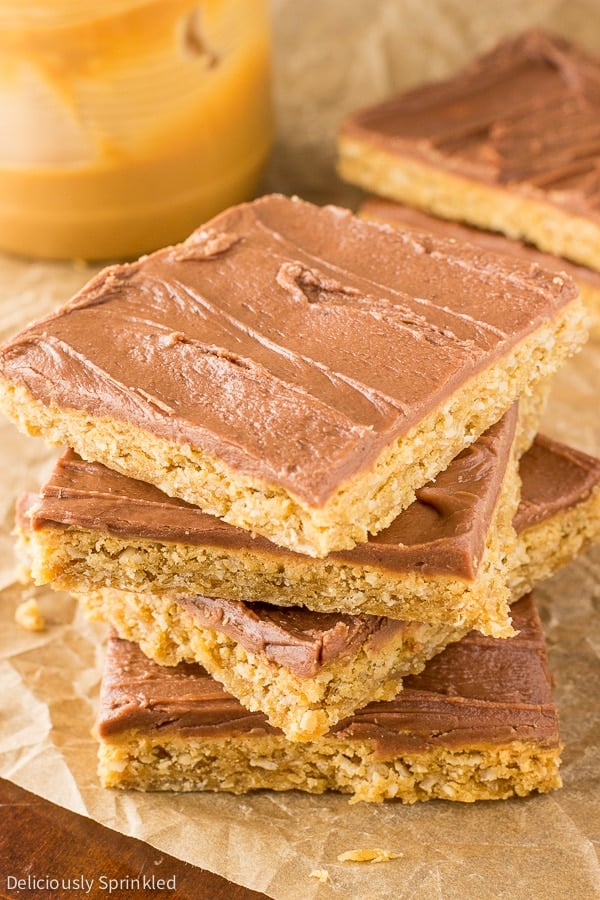 These Chocolate Frosted Peanut Butter Bars are inspired by one of my favorite grade school lunch desserts. Every time the lunch ladies made these chocolate frosted peanut butter bars, no one brought a packed lunch because we all wanted hot lunch that day, we didn't even care what the main course was, it didn't matter. All we cared about was these delicious chocolate frosted peanut butter bars.
I don't know if these bars were just made at my grade school or maybe it was a Wisconsin school lunch dessert recipe, not sure. Either way, if you never had these bars, then you need to make them as soon as possible. I mean, you can't go wrong with chocolate and peanut butter! ♡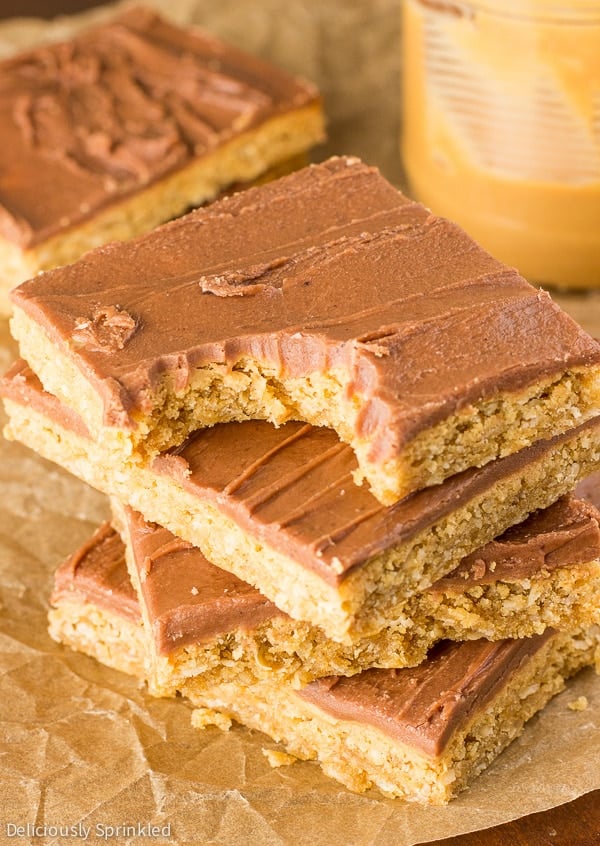 JUST A FEW BAKING TIPS:
✔  Make sure that you use QUICK OATS and not old fashioned oats. Quick Oats are a much smaller, thinner oats which gives these bars a nice texture. If you used old fashioned oats then these bars would taste more like a peanut butter oatmeal bar and we don't want that. So just make sure to double check that you are using quick oats before you start baking these bars.
✔ To make it super easy for you to cut these peanut butter bars into squares, line your jelly roll pan with aluminum foil, leaving enough overhang on the sides and spray the foil with non-stick cooking spray. Once you have frosted and the bars have cooled, lift the brownies out of the pan, folding down the aluminum foil sides. Then use a sharp knife to cut the bars into squares. SUPER EASY! 
✔ For the chocolate frosting, make sure that you really whip the peanut butter until it's light and fluffy. You don't want to even notice that there is a peanut butter layer below the chocolate frosting, it's just there to kick up the peanut butter flavor even more. When I make these bars, most people don't even know their is a peanut butter layer.
STEP-BY-STEP GUIDE ON HOW TO MAKE THESE CHOCOLATE FROSTED PEANUT BUTTER BARS:

Chocolate Frosted Peanut Butter Bars
Yield: 24 Bars
Prep Time:15 minutes
Cook Time:15 minutes
Total Time:30 minutes
★ Make sure to read my BAKING TIPS above before you start baking!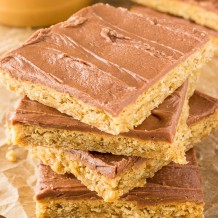 Ingredients:
PEANUT BUTTER BARS:
1 cup all-purpose flour
1 teaspoon baking soda
1/2 teaspoon salt
1/2 cup (1 stick) butter
1 cup sugar
3/4 cup brown sugar
1  cup creamy peanut butter or chunky peanut butter
1  teaspoons vanilla extract
2 large eggs
1  cup quick oats or rolled oats
CHOCOLATE FROSTING:
1 cup creamy peanut butter, whipped
1/2 cup (1 stick) real butter
1/4 cup milk
3 Tablespoons cocoa powder
1 teaspoon vanilla extract
3 1/2 cups powdered sugar
Directions:
PRE-STEP: Preheat oven to 350F degrees. Line a 11 x 15 inch jelly roll pan with aluminum foil and spray with non-stick cooking spray. Set aside.
STEP 1: In a small bowl, whisk together flour, baking soda, and salt. Set aside.
STEP 2: In a large mixing bowl, cream together butter, granulated sugar, brown sugar, peanut butter, eggs, and vanilla until light and fluffy.
STEP 3: Gradually add the dry ingredients. DO NOT OVERMIX!
STEP 4: Stir in quick oats.
STEP 5: Spread peanut butter mixture into prepared pan. Bake for 15 minutes or until lightly brown. Cool for 10 minutes (I placed the whole pan in the fridge to speed up this process).
MAKE CHOCOLATE FROSTING:
STEP 6: Whip remaining creamy peanut butter until it becomes light and fluffy. Carefully spread on top of semi-cool peanut butter bars.
STEP 7: Mix the butter, milk, cocoa powder, vanilla extract, and powdered sugar together until frosting is light and fluffy.
STEP 8: Place a scoop of chocolate frosting on several spots on top of the whipped peanut butter. This helps so you aren't dragging the frosting around and messing with the whipped peanut butter layer.
STEP 9: Carefully spread the chocolate frosting almost to the edge of the bars. Let frosting set for another 10-15 minutes before cutting bars into squares.
*Store bars in an airtight container at room temperature or in the fridge for up to 5 days.
BAKING TOOLS I USED TO MAKE THESE BARS:
Check out more delicious Peanut Butter Recipes…
Try these Trail Mix Peanut Butter Bars next!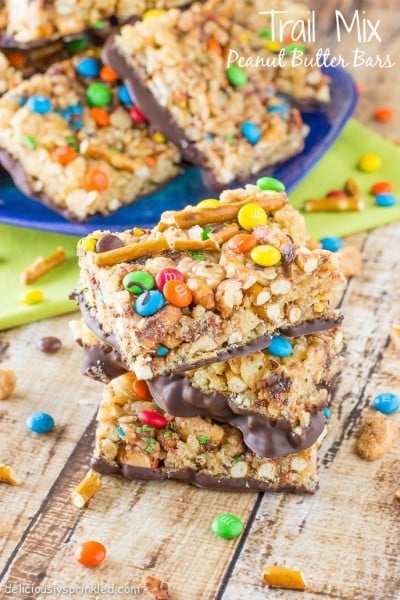 10 Responses to "Chocolate Frosted Peanut Butter Bars"
Leave a Comment