SLOW COOKER CHEESY POTATO SOUP
This Slow Cooker Cheesy Potato Soup is creamy, cheesy and full of flavor making it a delicious soup the whole family will love.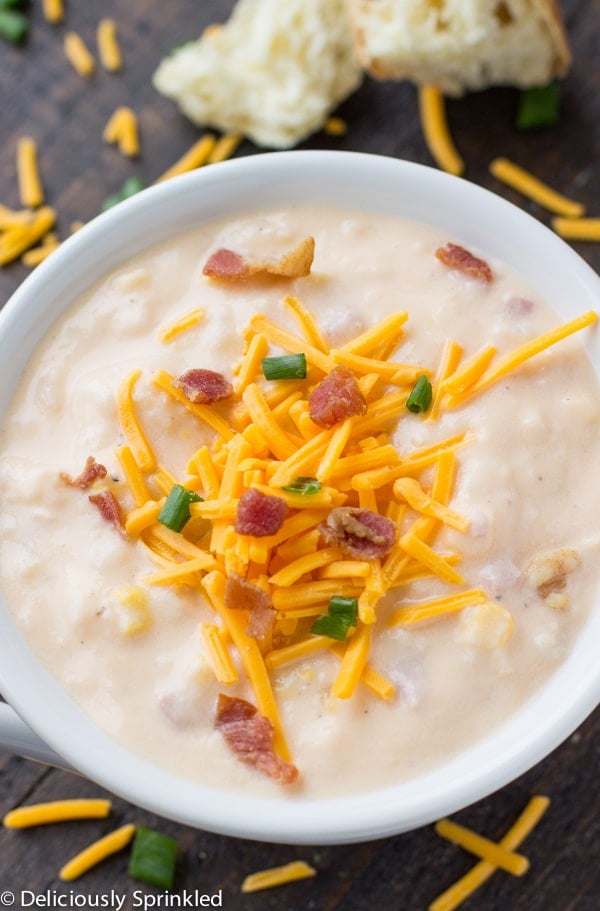 I love love love soup!
I eat soup year round, it's not just a winter thing.
This Cheesy Potato Soup is so delicious. It's full of potatoes, cheese, and bacon.
I've tried a TON of potato soup recipes and they were never as good as I was hoping…some were too watery, some didn't have enough flavor. So I came up with my own potato soup recipe and it's the BEST!
Just dump everything in the slow cooker and in a couples hours, you will have a delicious cheesy potato soup!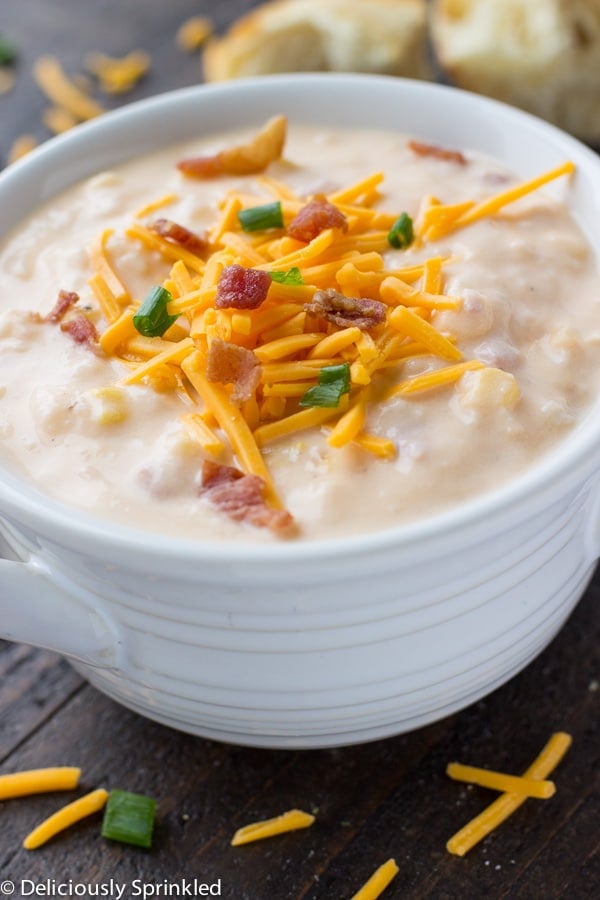 HOW TO MAKE CHEESY POTATO SOUP IN THE SLOW COOKER
BEST SLOW COOKER:  I used my 6-quart slow cooker to make this potato soup. And don't forget to use these slow cooker liners for easy cleanup.
FROZEN DICED HASH BROWNS: OK…so you know I'm ALWAYS looking for ways to make recipes as EASY as possible. Well, when I first tried this recipe I used yukon potatoes, boiled them first and then put them in the slow cooker. I was like…wow, that was a lot of work and when I'm making a slow cooker recipe, I want to be able to dump all the ingredients in the slow cooker and turn it on. So I decided to try uses frozen diced hash browns instead and the soup turned out just as delicious without all the work!
TOPPINGS: I like to top this cheesy potato soup with bacon bits, cheddar cheese, and green onions.
FREEZE IT: We always have leftovers because it's just my husband and I right now, so I just place the leftovers in a freezer bag and it stays good in the freezer up to 3 months.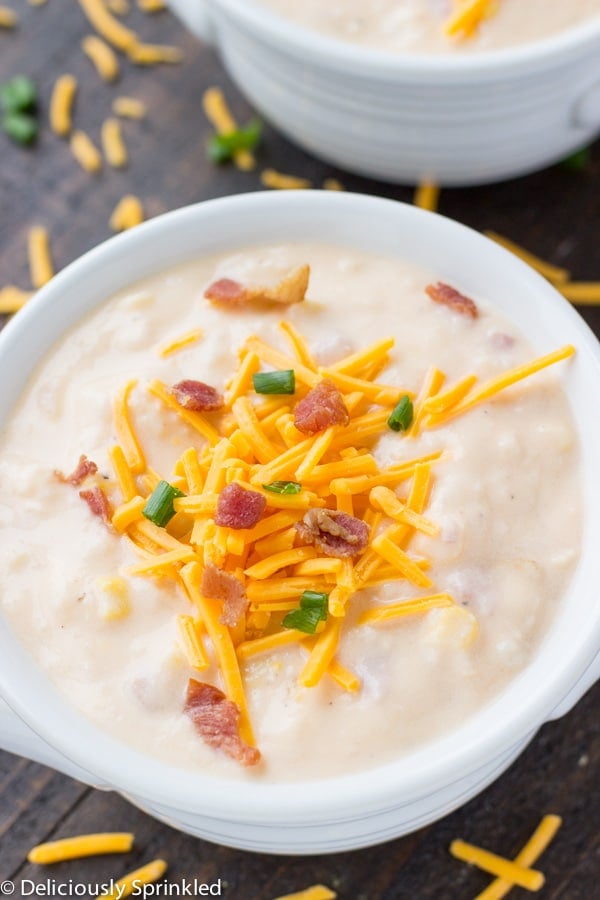 MORE SOUP RECIPES
SLOW COOKER BROCCOLI CHEDDAR SOUP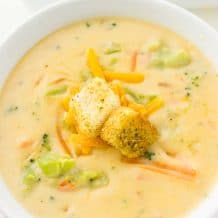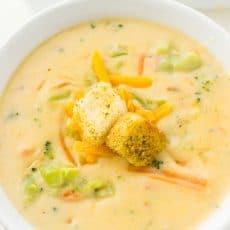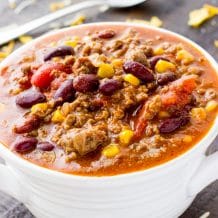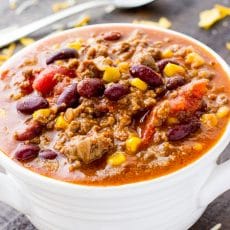 Slow Cooker Cheesy Potato Soup
Yield: Serves 6-8
Prep Time: 10 minutes
Cook Time: 4 hours
Total Time: 4 hours 10 minutes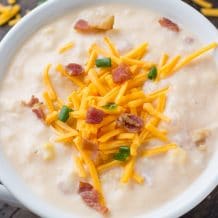 Ingredients:
2 (32 oz.) packages diced frozen hash browns
3 (14 1/2 oz.) cans chicken broth
1 (10 3/4 oz.) can cream of chicken soup
2 cups diced ham
1 (16 oz.) package frozen corn
1 medium onion, chopped
2 teaspoons garlic salt
1 teaspoon pepper.
1 cup heavy cream
1 (8 oz.) package cream cheese, cubed
2 cups shredded cheddar cheese
bacon pieces, green onion and cheese, for topping
Directions:
STEP 1: In the slow cooker, combine frozen hash browns, chicken broth, chicken soup, ham, corn, onion, garlic salt, and pepper.
STEP 2: Cover and cook on HIGH for 4 hours or LOW for 6-8 hour.
STEP 3: Add heavy cream and cream cheese, stirring until well blended.
STEP 4: Add shredded cheese, heat until cheese melts.
STEP 5: Serve and top with bacon pieces, green onions and shredded cheddar cheese.
One Response to "SLOW COOKER CHEESY POTATO SOUP"
Leave a Comment