Cheesy Bacon Cornbread Muffins
Cheesy Bacon Cornbread Muffins- These savory cornbread muffins are filled with cheddar cheese and bacon.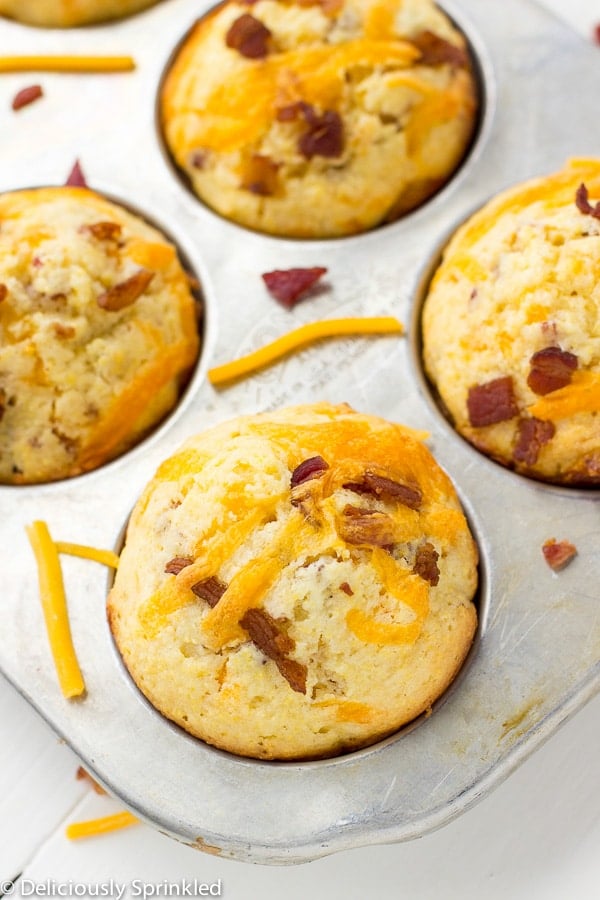 These Cheesy Bacon Cornbread Muffins have three of my favorite ingredients…
Cornbread.
Cheese.
and BACON!
I already can't wait to make these for my family this weekend during the long Labor Day weekend. Summer went by way too fast, I'm not ready for summer to be over yet but I do love Fall too.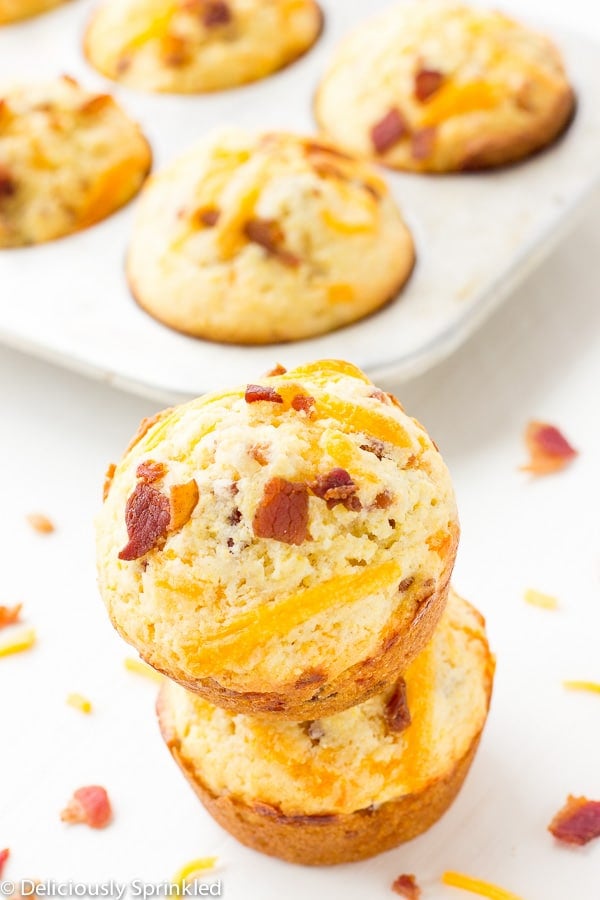 And speaking of fall, these muffins are the perfect addition to my Mom's famous chili, I might have to share her chili recipe with all of you soon, it's so good. So stay tuned!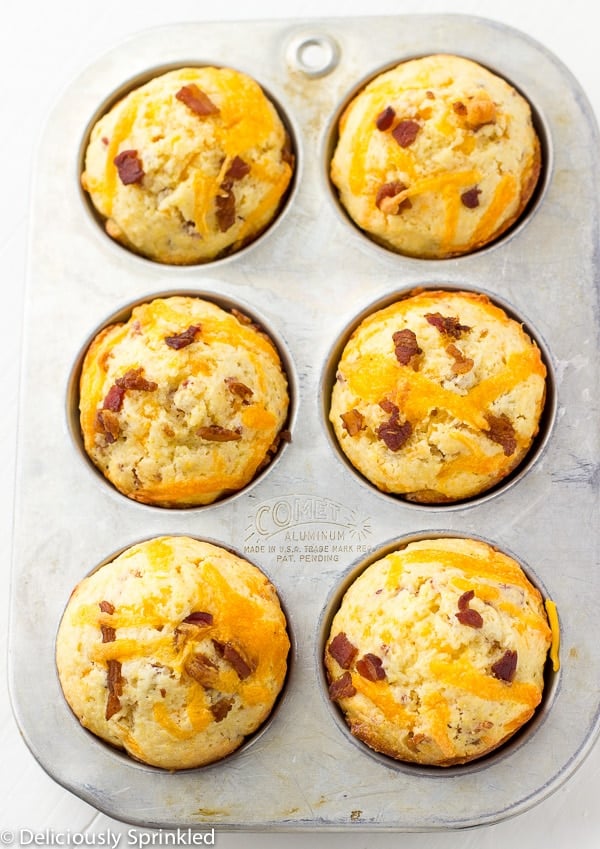 CORNBREAD MUFFFIN INGREDIENTS
KRUSTEAZ® HONEY CORNBREAD MIX: To make this cornbread recipe super simple, I used my favorite cornbread mix. This cornbread mix is made with fresh corn, honey, and rich butter making it taste just like homemade without all the work.
MILK, EGG & VEGETABLE OIL: I recommend using 2% or whole milk because it will add even more flavor to these cornbread muffins.
CHEDDAR CHEESE: Being from Wisconsin, we eat a lot of cheese. I love using different kinds of cheese's when making these muffins, like Pepper jack cheese and a four cheese blend.
BACON: I don't know about you but I'm not the biggest fan of making bacon. So I love to use Oscar Mayer Real Bacon Recipe Pieces instead. They are perfect for recipes like this and the bacon tastes just as good if I would of made it myself.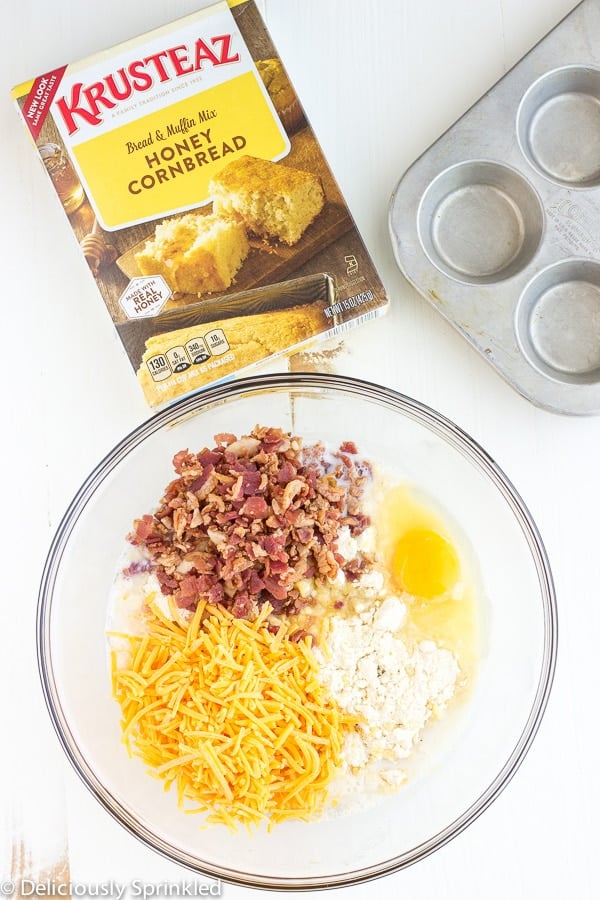 HOW TO MAKE CORNBREAD MUFFINS
MIX IT UP: No need to bring out your mixer, all you need is a large bowl and a spatula. Mix all the ingredients together until blended.
ICE CREAM SCOOPER: The best way to fill a muffin pan with batter is an ice cream scooper.
RE-HEAT MUFFINS: These muffins re-heat in the microwave really well. Just place the muffin(s) on a microwave safe plate and microwave for about 15-30 seconds depending on your microwave.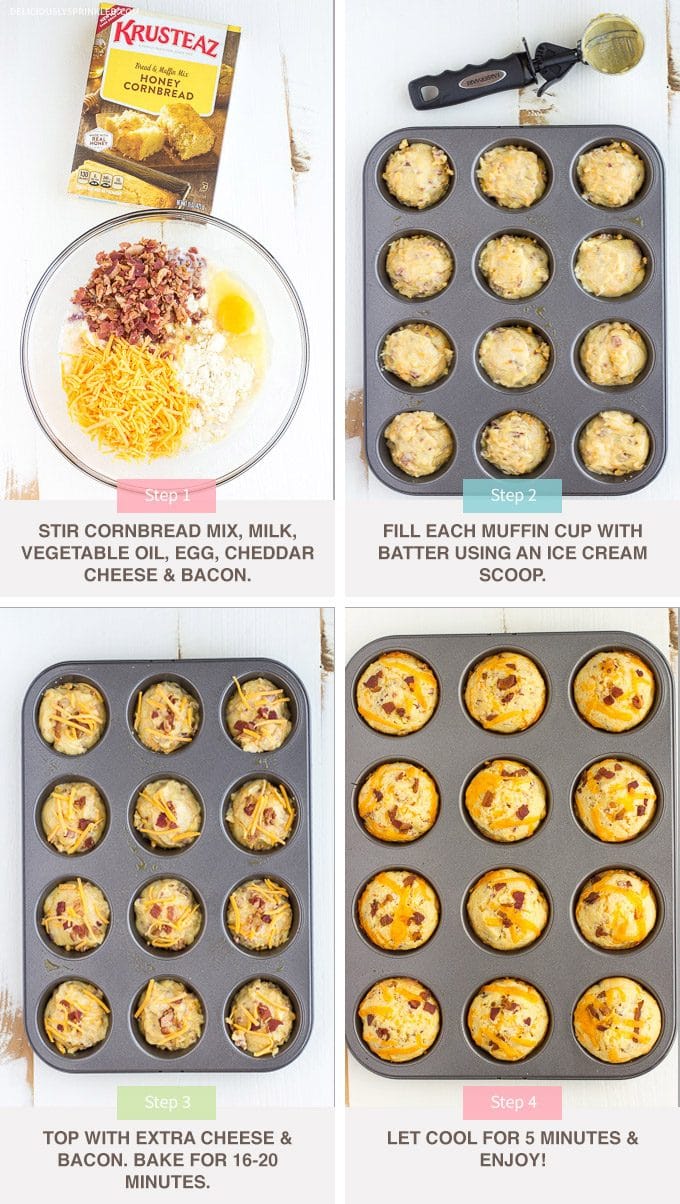 If You Love These Cheesy Cornbread Muffins, Try These Muffin Recipes too…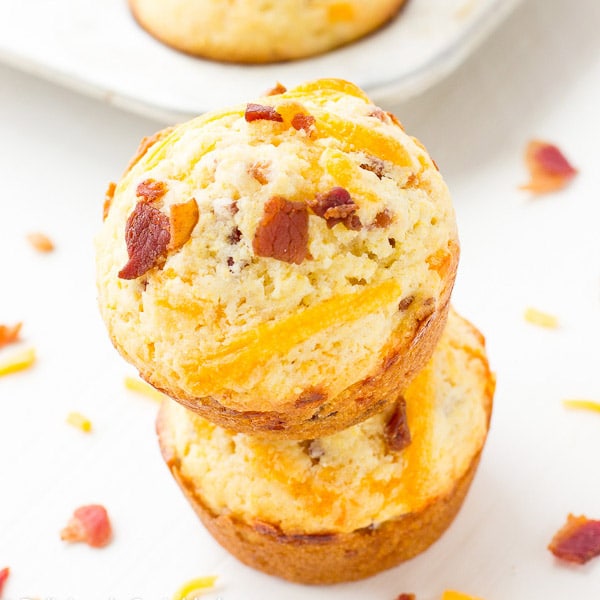 Yield: 12 Muffins
Cheesy Bacon Cornbread Muffins
Prep Time 5 minutes
Cook Time 20 minutes
Total Time 25 minutes
Ingredients
1 package Krusteaz Honey Cornbread Mix
2/3 cup milk
1/3 cup vegetable oil
1 large egg
1 cup cheddar cheese, shredded
6 slices cooked bacon, chopped into bite size pieces
Instructions
1. Preheat oven to 400⁰F. Spray muffin pan with nonstick cooking spray, set aside.
2. In a medium bowl, stir together cornbread mix, milk, vegetable oil, egg, cheddar cheese and bacon until blended.
3. Using an ice cream scooper, fill each muffin cup 2/3 full with batter.
4. Bake 16-20 minutes or until light golden brown. Let cool 5 minutes and then remove muffins from pan and enjoy.
I am a proud member of the Krusteaz® Baker's Dozen program. I was hired by the brand as an ambassador and content creator. Thank you for supporting my wonderful sponsors. They make it possible for me to keep the ideas coming! All content, ideas, photography and opinions are that of my own and I'd have it no other way!