Orange Cream Cake
Super moist orange cake topped with orange buttercream frosting making this a refreshing, summer dessert!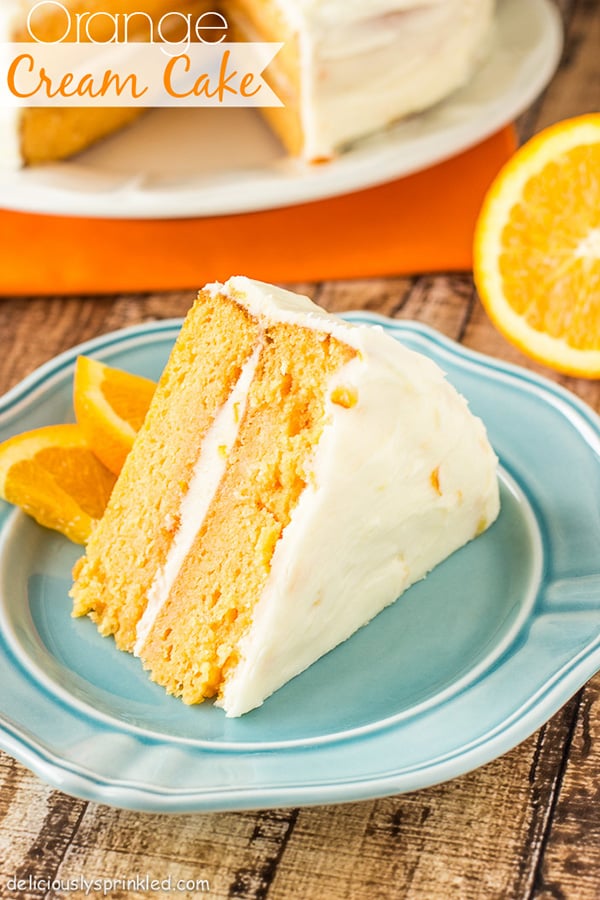 Are you still trying to figure out what to get your mom for Mother's Day!? No worries, I got you covered with this super moist, delicious and easy to make Orange Cream Cake.
I usually don't make cakes that often, especially not layered cakes because I am always nervous they are not going to look good. I'm no Cake Boss, maybe someday I will learn how to make those pretty frosting flowers but for now I will stick to the old fashion way of using a frosting spatula to frost my cakes.
I mean really all that matters is that the cake taste good, right!?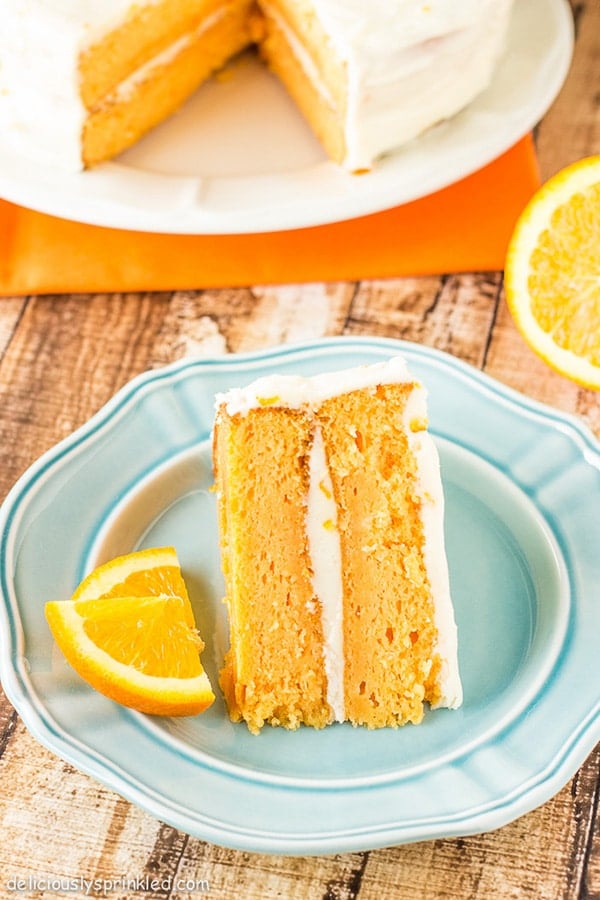 JUST A FEW BAKING TIPS:
✔ This cake starts out by using an orange cake mix (I used Duncan Hines Signature Orange Supreme Cake Mix) and just like my Chocolate Marble Cupcakes I jazzed up the cake mix by adding 1 box of INSTANT Vanilla pudding, vegetable oil, milk, sour cream and eggs. I used two 9-inch round cake pans to make this cake.
✔ Don't OVERMIX the batter.  This will cause the cupcakes to be rather chewy instead of perfectly moist. You just want to mix until JUST combined, meaning that you should still seem some flour in the bowl.
✔ For the oh so delicious buttercream frosting, I made my favorite vanilla buttercream frosting using butter, powdered sugar, whipping cream and clear vanilla extract . I then stirred in  3 Tablespoons of sweet orange marmalade jelly to give the frosting a hint of orange flavor and the little pieces of orange marmalade SPRINKLED throughout the frosting gives it a little texture. 
Orange Cream Cake
Yield: 10-12 Cake Pieces
Prep Time: 15 minutes
Cook Time: 25 minutes
Total Time: 45 minutes
★ Make sure to read my BAKING TIPS above before you start baking!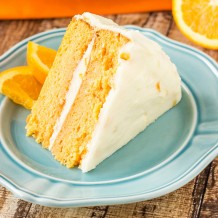 Ingredients:
ORANGE CAKE:
1 box orange cake mix (I used Duncan Hines Orange Supreme Cake Mix)
1 box (3.4oz) Vanilla INSTANT pudding mix, dry
1 cup vegetable oil
½ cup milk
1 cup sour cream
3 large eggs
ORANGE BUTTERCREAM FROSTING:
1 (2 sticks) cup unsalted butter, softened
4 cups powered sugar
¼ teaspoon salt
1 teaspoon clear vanilla extract
2 Tablespoons heavy whipping cream or milk
3 Tablespoons sweet orange marmalade
Directions:
PRE-STEP: Preheat oven to 350F degrees. Spray (2) 9x2 inch cake pans[ with nonstick spray. Set aside.
STEP 1: Use a electric or stand mixer, mix the cake mix, vanilla instant pudding mix, vegetable oil, milk, sour cream and eggs until combined.
STEP 2: Pour cake batter evenly into 2 prepared cake pans. Bake for 25-27 minutes or until a toothpick inserted near the center comes out clean. Allow to cool before frosting.
MAKE FROSTING:
STEP 3: Mix the softened butter on medium speed with an electric or stand mixer. Beat for about 3 minutes until smooth and creamy. Add powdered sugar, whipping cream, vanilla extract, and salt. Increase to high-speed and beat for 3 minutes. Using a spoon, stir in 3 Tablespoons of sweet orange marmalade until evenly distributed throughout the frosting.
STEP 4: Place 1 layer on your cake stand. Evenly cover the top with buttercream frosting. Top with 2nd layer and top with frosting and spread the frosting around the sides evenly. Refrigerate for at least 30 minutes before serving.
 *Store cake covered in fridge for up to 3 days. Cake can be frozen for up to 2 months.
Check out more delicious Cake & Cupcake Recipes…
And try delicious and easy to make Lime Cupcakes next!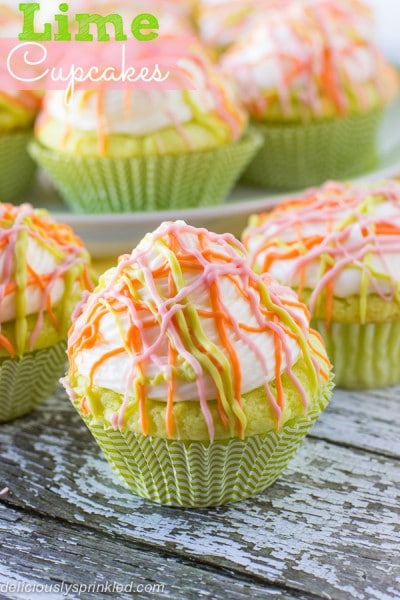 42 Responses to "Orange Cream Cake"
Leave a Comment