Macaroni Salad
This is the BEST Macaroni Salad EVER! It's the perfect side dish for all your summer BBQ's.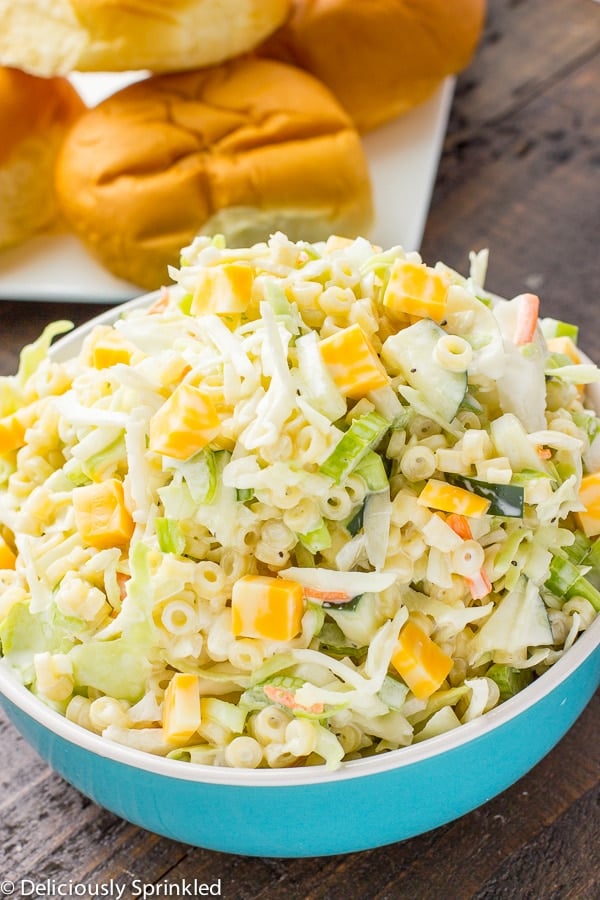 I'm SO excited about today's recipe because after MANY months of debating if I should keep only sharing my favorite dessert recipes or if I should branch out and also share my favorite savory recipes. Well, as you can see I decided to start sharing savory recipes starting with this delicious Macaroni Salad.
Seriously, this Macaroni Salad is the BEST. Every time I bring it to a party, I'm always getting ask for the recipe. What I love about this salad is that it's the best of both world's…macaroni salad and coleslaw. I add cucumbers, green peppers and celery which gives this macaroni salad that extra little crunch.
And because I'm from Wisconsin and we put cheese on EVERYTHING. I like to top this macaroni salad off with some coldby jack cheese squares. It's so good and as always it's super simple to make.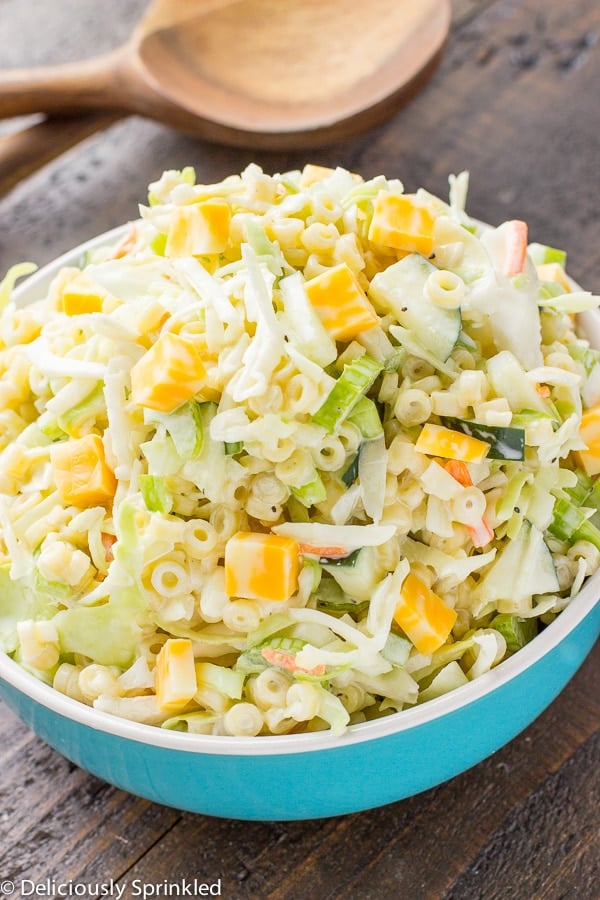 JUST A FEW TIPS:
✓ NOODLES: I like to use rings for this macaroni salad because it's just enough "noodle" to not be over powering and heavy. But I have also used small shell noodles which makes this side dish a little bit more "hearty".
✓ VEGGIES: I like to use cucumbers, green peppers and celery but you can mix it up and use tomatoes, orange/yellow peppers, carrots…the options are endless.
✓ BEST ON THE SAME DAY: I find that this macaroni salad is BEST on the same day you make it because the coleslaw and veggies are fresh and crunchy…the next day things tend to get a little more soggy.
STEP-BY-STEP GUIDE ON HOW TO MAKE THIS MACARONI SALAD:

Yield: Serves 16
Macaroni Salad
Prep Time 25 minutes
Additional Time 1 hour
Total Time 1 hour 25 minutes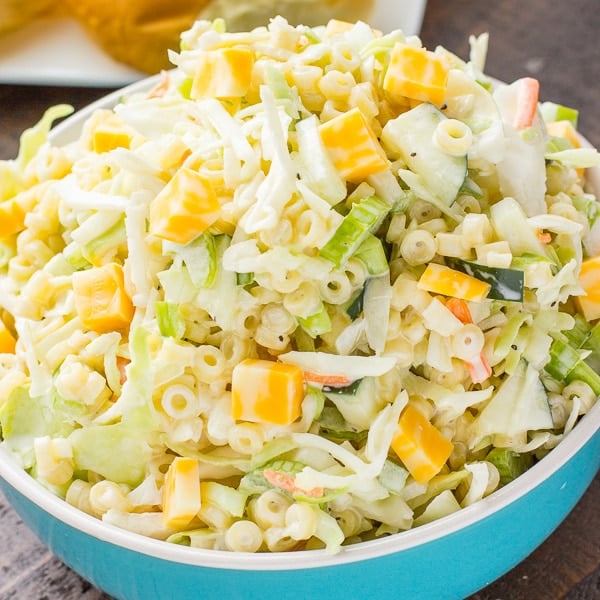 Ingredients
MACARONI SALAD:
1 package ring noodles
1 package coleslaw mix
2 medium onions, chopped
2 celery ribs, chopped
1 cucumber, chopped
1 green pepper, chopped
1/2 cup blue cheese crumbles
4 colby jack cheese sticks, cut into cubes
DRESSING:
1 1/2 cups mayo
1/3 cup sugar
1/4 cup blue cheese crumbles
1/4 cup apple cider vinegar
1/2 teaspoon salt
1/4 teaspoon pepper
Instructions
STEP 1: Cook ring noodles according to package directions. Drain and rinse in cold water.
STEP 2: In a large bowl, add noodles, coleslaw mix, onions, celery, cucumber, green peppers and blue cheese crumbles.
STEP 3: Mix all the ingredients together.
MAKE DRESSING:
STEP 4: In a small bowl, whisk together mayo, sugar, blue cheese crumbles, apple cider vinegar, salt and pepper.
STEP 5: Pour dressing over salad and mix until everything is coated. Add colby jack cheese.
STEP 6: Cover and place in refrigerator for at least 1 hour before serving.
NOTES:
Notes
*STORE: Place leftover macaroni salad in an airtight container and store in refrigerator up to 4 days.
Nutrition Information:
Yield:
16
Serving Size:
1
Amount Per Serving:
Calories: 232
Total Fat: 20g
Saturated Fat: 5g
Trans Fat: 0g
Unsaturated Fat: 14g
Cholesterol: 19mg
Sodium: 322mg
Carbohydrates: 10g
Fiber: 1g
Sugar: 6g
Protein: 4g