Apple Butter Sugar Cookies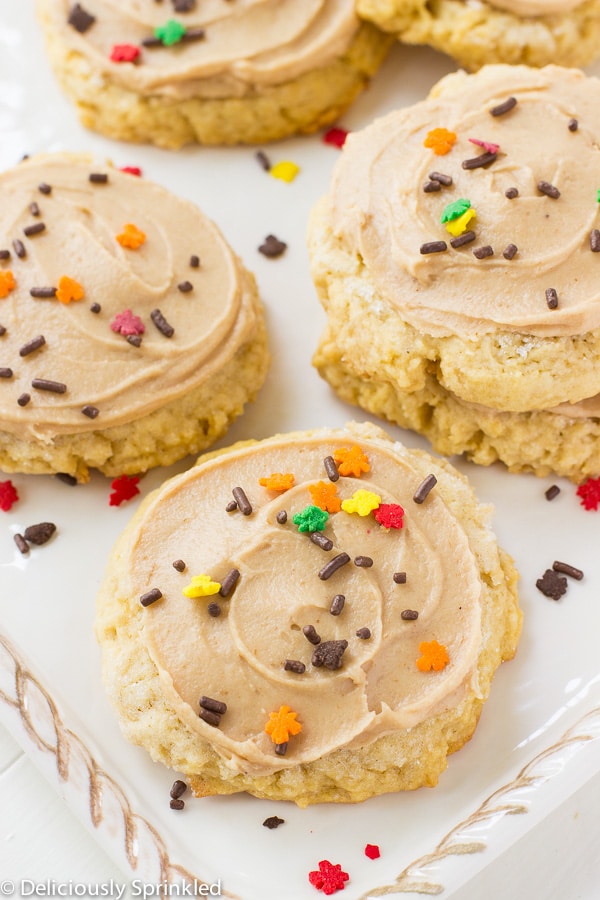 Need an easy, last minute Thanksgiving dessert?
These delicious Apple Butter Sugar Cookies are soft, chewy and the apple butter frosting is to die for! To make the frosting I used Musselman's apple butter and let me  tell you, it took these traditional sugar cookies to a whole new level of yumminess. These Apple Butter Sugar Cookies have all the flavors of fall/Thanksgiving that the whole family will love.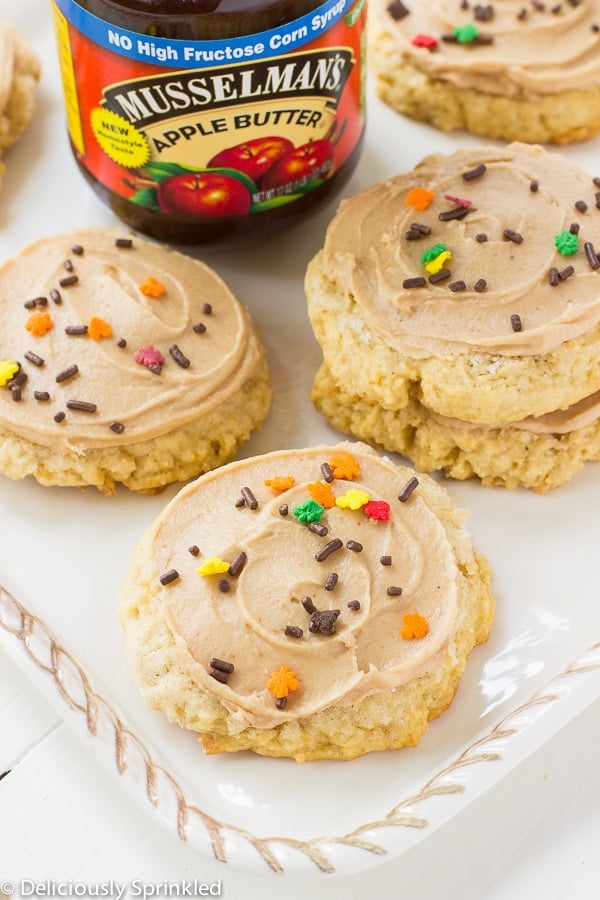 JUST A FEW BAKING TIPS:
✓ DON'T OVERMIX: With almost all my cookie recipes, I always make sure to remind you to not OVERMIX  the cookie dough. Meaning, when you mix the flour mixture into the wet ingredients, only mix them together until just combined…you should still see some flour in your mixing bowl.
✓ SCOOPING THE COOKIE DOUGH:  I always use a 1 Tablespoon cookie scoop, each cookie dough ball has "2 scoops" of cookie dough, meaning that each cookie dough ball is 2 Tablespoons in size. In my opinion, this is the perfect sized cookie. If you don't have a cookie scoop, you can use an ice cream scooper but you will only need 1 ice cream scoop of cookie dough.
★ And to make it super easier for you to learn how to scoop the perfect cookie, I created a step-by-step guide on How To Scoop The Perfect Cookie!  
✓ COOKIE PRESS: After you scoop the cookie dough into balls, you want to use the bottom of a glass (see below) to press the cookie dough balls into a flatter cookie. I also like to dip the bottom of my glass into a bowl of sugar, this helps the dough not to stick to the bottom of the glass.
STEP-BY-STEP GUIDE ON HOW TO MAKE THESE APPLE BUTTER SUGAR COOKIES:

Apple Butter Sugar Cookies
Yield: 2 Dozen
Prep Time: 10 minutes
Cook Time: 10-12 minutes
Total Time: 1 hour 20 minutes (includes chilling)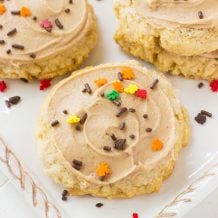 Ingredients:
SUGAR COOKIES:
1 cup butter, softened
¼ cup Musselman's Apple Butter
1 cup granulated sugar
2 large eggs
3 large egg yolks
1 ½ teaspoons vanilla extract
¾ teaspoon almond extract
3 ½ cups all-purpose flour
1 ½ teaspoons baking powder
½ teaspoon salt
FROSTING:
4 cups powdered sugar
¼ cup Musselman's Apple Butter
2 Tablespoons melted butter
1 teaspoon vanilla extract
Directions:
STEP 1: In a large bowl, cream butter, apple butter and sugar until light and fluffy.
STEP 2: Beat in eggs, egg yolks, vanilla and almond extract.
STEP 3: In another bowl, whisk flour, baking powder and salt.
STEP 4: Add dry ingredients into wet ingredients and mix until just combined. Do not overmix.
STEP 5: Shape dough into a disk; wrap in plastic wrap. Refrigerate for 1 hour.
STEP 6: Preheat oven to 375F degrees. Using a cookie scoop or ice cream scoop, scoop dough into balls about 2 Tablespoons each, place onto prepared baking sheet. Put 1/4 c of sugar and a pinch of salt in a dish. Stick the bottom of a glass in it.  This is going to be your cookie press. Firmly press it into the center of your dough ball.  You want your dough to spill out over the sides of the glass.  If there is a lip it's even better. Bake for 10-12 minutes or until edges begin to brown. Let cool before frosting.
MAKE THE FROSTING:
STEP 7: In a medium-sized bowl, mix powdered sugar, apple butter, melted butter and vanilla extract together until combined. Frost cooled cookies and sprinkle with sprinkles.
I am a proud Musselman's Blogger. I was hired by the brand as an ambassador and content creator. Thank you for supporting my wonderful sponsors. They make it possible for me to keep the ideas coming! All content, ideas, photography and opinions are that of my own and I'd have it no other way!
2 Responses to "Apple Butter Sugar Cookies"
Leave a Comment