Cookies and Cream Cupcakes
I'm so excited to share these INSANELY delicious Cookies and Cream Cupcakes recipe with all of you today. Seriously, these cupcakes are my new all-time favorite cupcake…I mean, look at that frosting. ↑
These Cookies and Cream Cupcakes not only taste great but they are SO SIMPLE to make. To make these cupcakes, I start out by using my go-to Vanilla Cupcakes recipe and all I did was add a bunch of crushed Oreos. For the frosting, I made my traditional Vanilla Buttercream Frosting and folded in some more crushed Oreos.
And to make frosting these cupcakes super easy, I used an ice cream scooper to "scoop" the frosting on top of each cupcake and sprinkled some more crushed Oreos on top. It doesn't get much easier than that.
Enjoy & Happy V-Day! ♥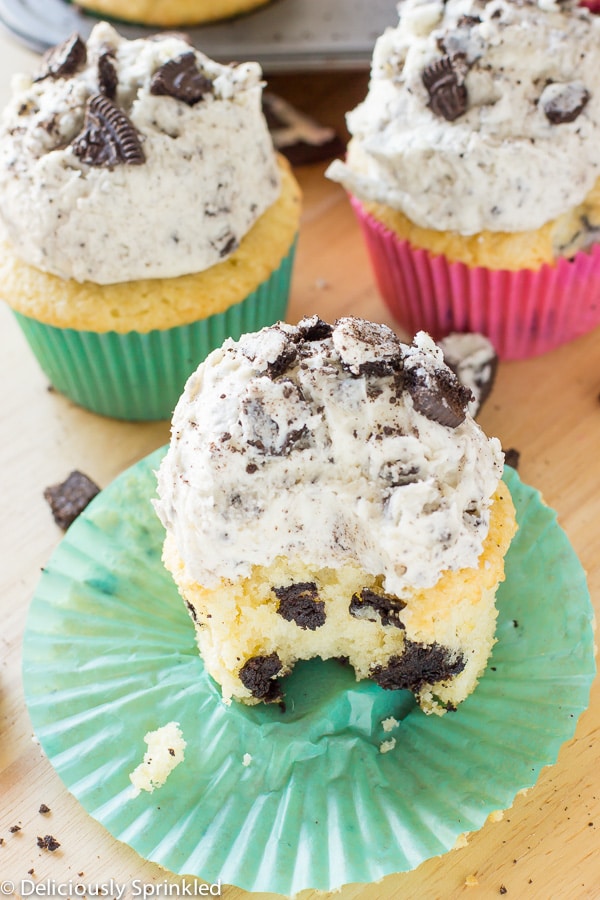 JUST A FEW BAKING TIPS:
✓ DON'T OVERMIX: With almost all my cupcakes recipes, I always make sure to remind you to not OVERMIX the cupcake batter. Meaning, when you mix the flour mixture into the wet ingredients, only mix them together until just combined…you should still see some flour in your mixing bowl. Overmixing leads to cupcakes that will "sink".
✓ SCOOPING THE BATTER: I like to use an ice cream scooper not only to frost these cupcakes but to also fill the cupcake batter into each cupcake tin. It makes it super easy and you know that each cupcake will be the same size.
✓ COOKIES & CREAM FROSTING: I recommend using heavy whipping cream because it gives the frosting that thick, creamy, texture everyone loves. If you don't have heavy whipping cream, you could also use milk.
STEP-BY-STEP GUIDE ON HOW TO MAKE THESE COOKIES AND CREAM CUPCAKES: