Homemade Confetti Cinnamon Rolls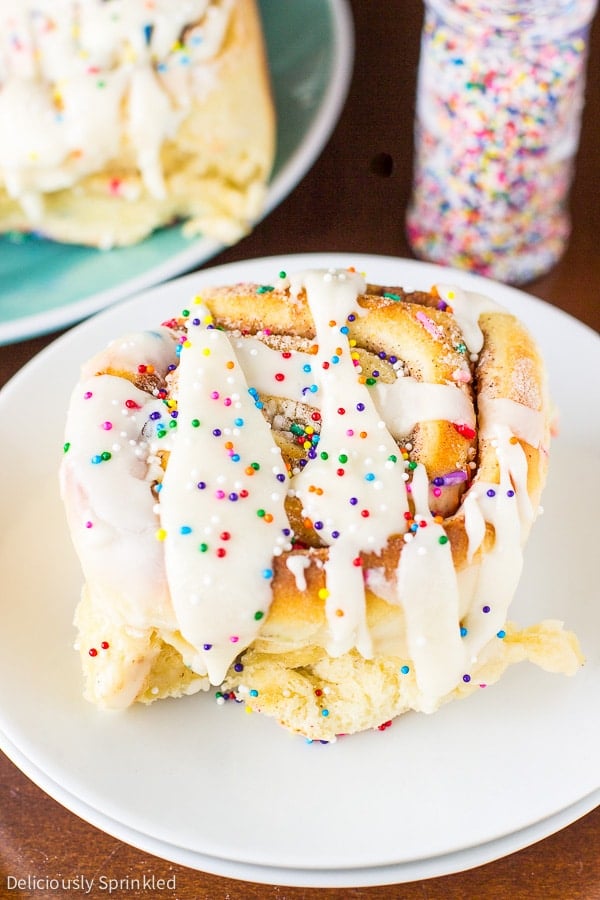 These is nothing better then waking up to Homemade Confetti Cinnamon Rolls. SPRINKLES in the morning, always make for a great start to my day.
These rolls are so tender, soft, fluffy and filled with a delicious funfetti cinnamon filling which takes the classic homemade cinnamon roll to the next level. I made these cinnamon rolls with my favorite Fleischmann's® RapidRise Yeast. I highly suggest this yeast as it significantly cuts down on waiting/rising time and if you ever made homemade cinnamon rolls before you know that the "hardest" part about making them is the waiting/rising time.
And because confetti and SPRINKLES always means a celebration, I have teamed up with some of my awesome blogging friends to giveaway a $400 Amazon Gift Card. Now that's a reason to celebrate….enter to win at the bottom of this post!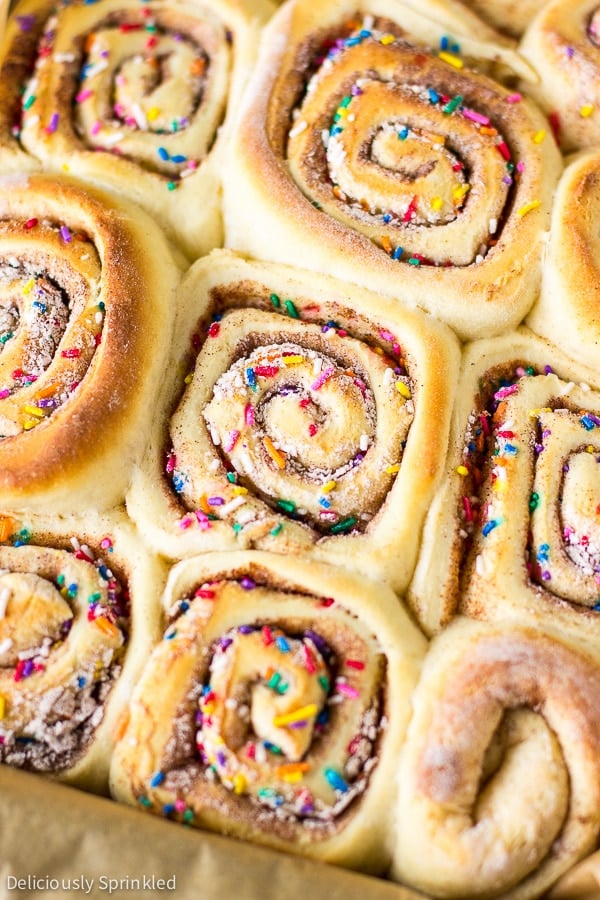 JUST A FEW BAKING TIPS:
✔ I highly recommend using Fleischmann's® RapidRise Yeast. This will cut down your rise time, which means you will be able to enjoy these Homemade Confetti Cinnamon Rolls a lot sooner!
✔ I like to line my 13 x 9 inch baking pan with parchment paper. This makes it super easy to remove the cinnamon rolls from the pan, making it easy to pull each cinnamon roll apart to enjoy!
✔ For the vanilla icing, I highly recommend using heavy whipping cream or half and half because it gives the frosting it's creamy texture. If you don't have heavy whipping cream or half and half you can use milk but just know that the frosting might not be as creamy.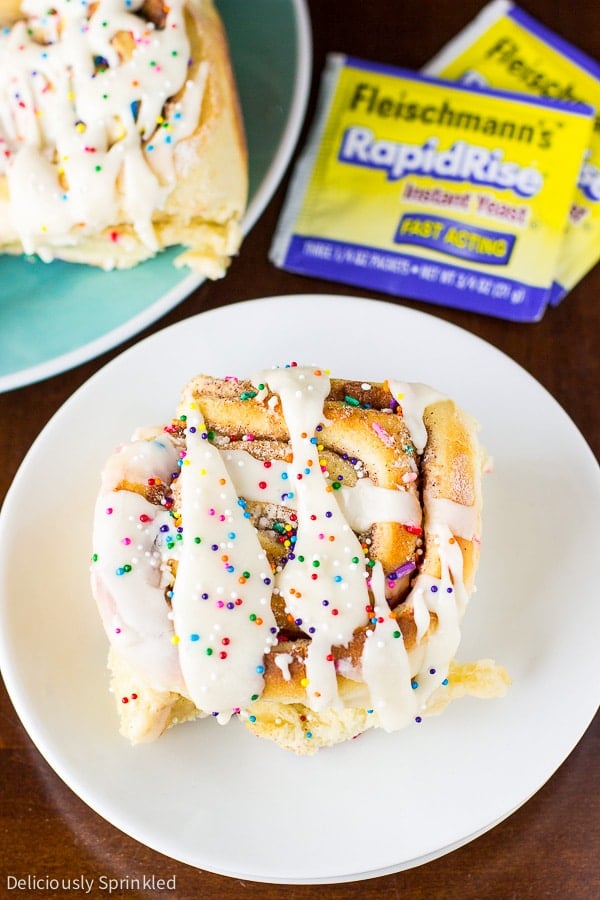 STEP-BY-STEP GUIDE ON HOW TO MAKE THESE HOMEMADE CONFETTI CINNAMON ROLLS:
★ MAKE THE DOUGH:

★ AFTER REFRIGERATING DOUGH FOR 2 HOURS OR UP TO 2 DAYS:

Yield: 13 Cinnamon Rolls
Homemade Funfetti Cinnamon Rolls
Prep Time 2 days 2 hours 25 minutes

Cook Time 45 minutes

Total Time 3 hours 10 minutes

★ Make sure to read my BAKING TIPS above before you start baking!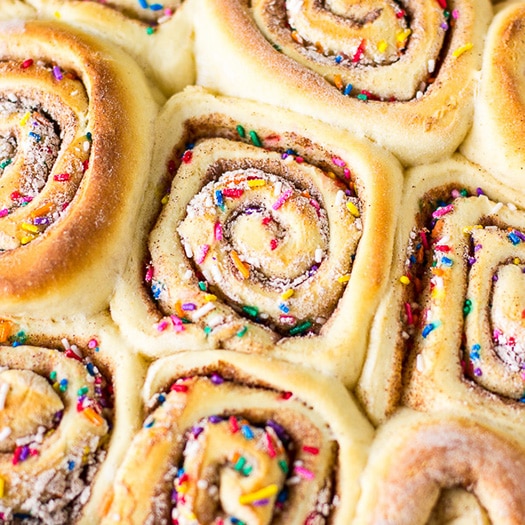 Ingredients
4 1/2 cups all-purpose flour
1/3 cup granulated sugar
2 envelopes Fleischmann's® RapidRise Yeast
1 teaspoon salt
3/4 cup milk
1/2 cup water
1/3 cup butter
2 large eggs
6 Tablespoons butter, melted
1 Tablespoon ground cinnamon
1 cup Funfetti cake mix, dry
1/2 cup rainbow sprinkles
2 cups powdered sugar
4 Tablespoons heavy whipping cream
1 teaspoon vanilla extract
sprinkles, for topping
Instructions
MAKE THE DOUGH:
STEP 1: Combine 1 1/2 cups flour, granulated sugar, undissolved yeast and salt in a large mixing bowl.

STEP 2: Microwave milk, water, and 1/3 cup butter in a microwave safe bowl for 2 minutes or until warm; butter does not need to melt.

STEP 3: Add butter mixture to flour mixture. Beat for 2 minutes on medium speed.

STEP 4: Add eggs and 1/2 cup flour. Beat for 2 minutes on high speed.

STEP 5: Stir in remaining 2 1/2 cups flour until batter forms.

STEP 6: Cover dough tightly with plastic wrap. Refrigerate for 2 hours or up to 2 days.
AFTER DOUGH HAS BEEN REFRIGERATED, MAKE CONFETTI CINNAMON FILLING:
PRE-STEP: Line a 13 x 9 inch baking pan with parchment paper. Set aside.

STEP 7: Remove dough from refrigerator and punch down dough. Place dough onto a lightly floured surface. Rolls dough into a 16 x 10 inch rectangle.

STEP 8: Brush melted butter over dough. Sprinkle evenly with ground cinnamon, then the Funfetti cake mix, and then top with rainbow sprinkles.

STEP 9: Roll dough up tightly. Using a sharp knife, cut roll into 13 equal pieces. Place cinnamon rolls into prepared pan. Cover and let rise for 30 minutes in a warm place until cinnamon rolls double in size.
MAKE VANILLA ICING:
STEP 10: In a small bowl, combine powdered sugar, heavy whipping cream, and vanilla extract. Mix until smooth. Set aside.
BAKE CINNAMON ROLLS:
PRE-STEP: Pre-heat oven to 374F degrees.

STEP 11: Bake cinnamon rolls for 15 minutes.

STEP 12: Remove cinnamon rolls from pan and place onto wire rack. Drizzle with vanilla icing.
EXTRA NOTES:
Notes
Need SPRINKLES !? I buy all my sprinkles in bulk here.
BAKING TOOLS I USED FOR THIS RECIPE:
GIVEAWAY TIME!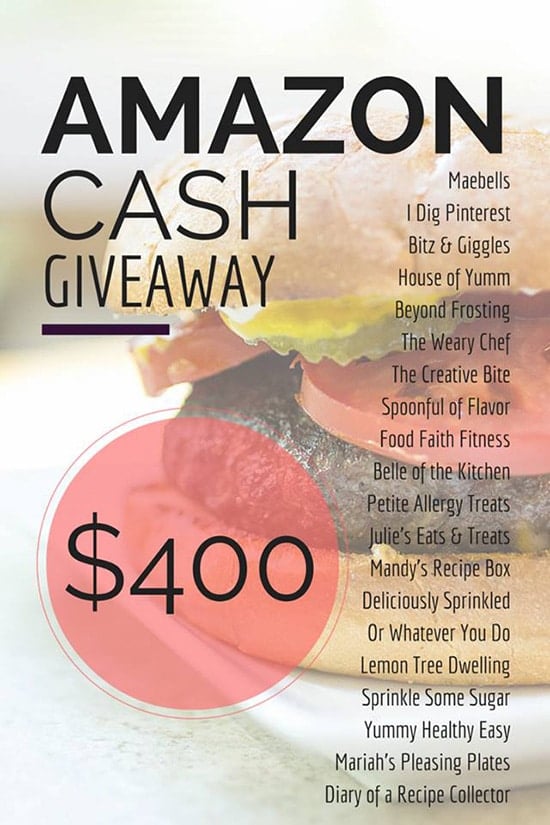 This giveaway is open to U.S. residents only and you must be 18 years or older to enter. Winner will win $400 Amazon Gift Card.
Fine print: Open to U.S. residents only, must be 18 years or older to enter. Giveaway sponsored by the blogs listed above and is no way affiliated with Pinterest, Facebook, or Twitter. You must have a valid email address to enter. Giveaway runs through 4/19/15. A winner will be chosen and emailed within 48 hours. You have 48 hours to respond to said email or a new winner will be chosen. No purchase necessary to enter, void where prohibited. For full rules, see details in the form.
GOOD LUCK! ❤