Cinnamon Roll Funfetti Cake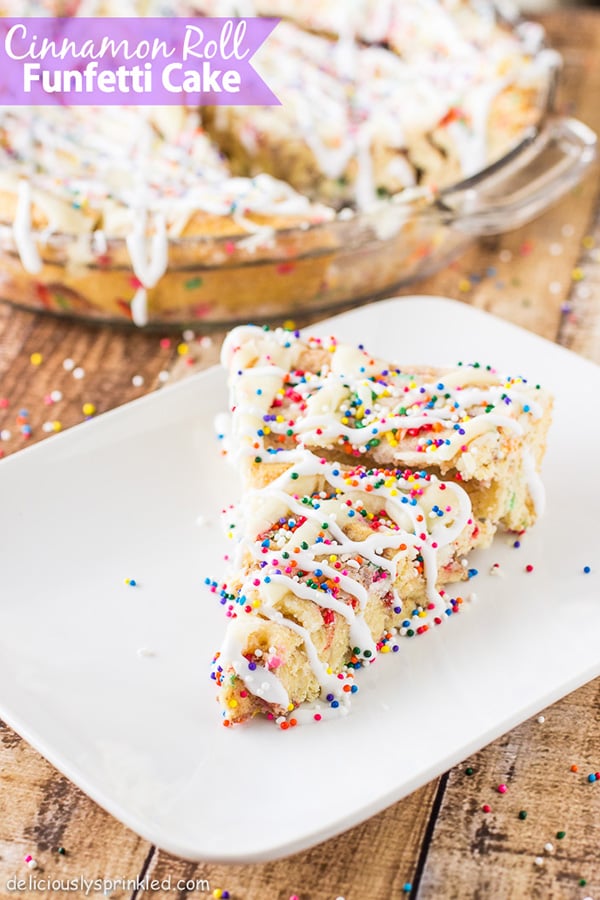 I'm so excited to share this delicious, easy to make Cinnamon Roll Funfetti Cake with you. I would make this cinnamon roll cake every morning if I could because not only is it super fun with all the SPRINKLES but it's probably one of the BEST cinnamon roll cake I ever had!
This cinnamon roll funfetti cake is one of the easiest ways to make cinnamon rolls, no waiting for the yeast to rise to make this cinnamon roll cake. In less then 30 minutes, you will be enjoying this delicious cinnamon roll cake. And  SPRINKLES  for breakfast always makes for a great morning!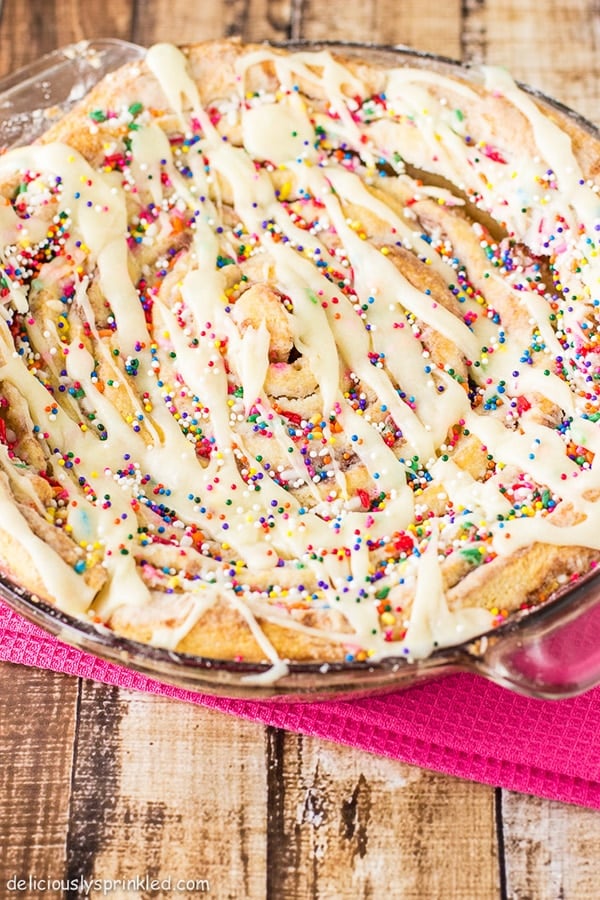 JUST A FEW BAKING TIPS:
✔ IMPORTANT: Make sure to buy the refrigerated flacky cinnamon rolls with icing or the flacky cinnamon twists because these are the ones that you can unroll and separate each dough strip. The other kinds of cinnamon roll dough, you will not be able to unroll the dough. 
✔ Make sure to spray your pie dish or round cake pan with a generous amount of non-stick cooking spray. I also sprinkled a little bit of funfetti cake mix onto the bottom of the pie dish, this will help make it easier to cut cinnamon roll cake into slices.
✔ I have made this cinnamon roll funfetti cake for many occasions. I just switched up the sprinkles on top of the icing. For Christmas I added Christmas colored sprinkles for a fun Christmas morning breakfast.
STEP-BY-STEP GUIDE ON HOW TO MAKE THESE HOMEMADE FUDGY BROWNIES:

Cinnamon Roll Funfetti Cake
Yield: 10 Slices

Prep Time: 15 minutes

Cook Time: 15 minutes

Total Time: 30 minutes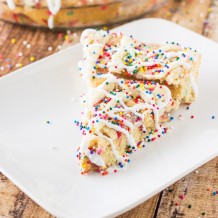 Ingredients:
CINNAMON ROLL FUNFETTI CAKE:
2 (17.5 oz.) cans Pillsbury® Cinnamon Rolls with Icing
1 (15.25 oz.) box funfetti cake mix, dry and divided
6 Tablespoons unsalted butter, melted
FUNFETTI CAKE ICING:
2 icing packets included with cinnamon roll dough
1/4 cup funfetti cake mix
sprinkles, for topping
Directions:
PRE-STEP: Preheat oven to 375F degrees. Spray 9-inch pie dish with non-stick cooking spray and sprinkle 1 Tablespoon of Funfetti Cake Mix on to bottom on the pie dish. Set aside.

STEP 1: Remove cinnamon roll dough from can. Unroll and separate dough into two rectangles.

STEP 2: Place unsalted butter In a small microwavable bowl, and microwave for 30 seconds or until melted. Brush melted butter over cinnamon roll dough.

STEP 3: Sprinkle 3/4 cup of dry funfetti cake mix over top of the dough. Separate each dough strip.

STEP 4: Roll up one of the dough strips like you would a regular cinnamon roll and place it in the center of the prepared pie dish. Next, take another dough strip and press the end of the first dough strip to one end of the second dough strip, wrap the second dough strip around the cinnamon roll in the center. Repeat this step with the rest of the dough strips to create one large cinnamon roll.

STEP 5: Sprinkle with additional funfetti cake mix. Bake for 18 minutes or until top is lightly brown. Let cool for 3 minutes before frosting.

MAKE ICING:

STEP 6: In a medium sized bowl, mix together both frosting packets that were included with the cinnamon roll dough and 1/4 cup of funfetti cake mix until combined.

STEP 7: Drizzle frosting over warm cinnamon roll cake and sprinkle with colored sprinkles. Cut into triangle pieces and enjoy warm.
Check out more delicious Breakfast Recipes…
And try these easy to make Baked Donuts with Vanilla Glaze next!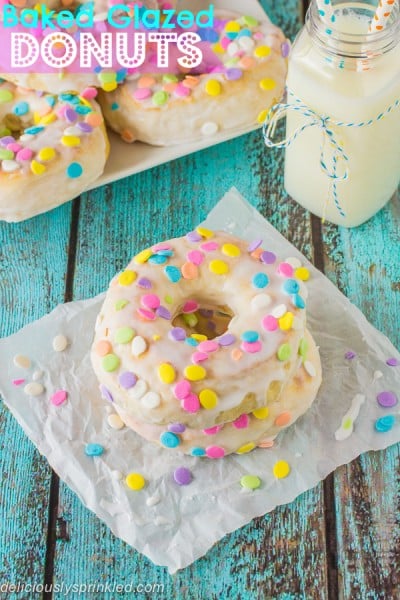 45 Responses to "Cinnamon Roll Funfetti Cake"
Pingback: Top-10 Sprinkles Recipes - RecipePorn

Pingback: Funfetti Cream Pie Cookie Cups
Leave a Comment