Chocolate Cupcakes with Milk Chocolate Buttercream Frosting
Super moist, homemade Chocolate Cupcakes with Milk Chocolate Buttercream Frosting and topped with SPRINKLES!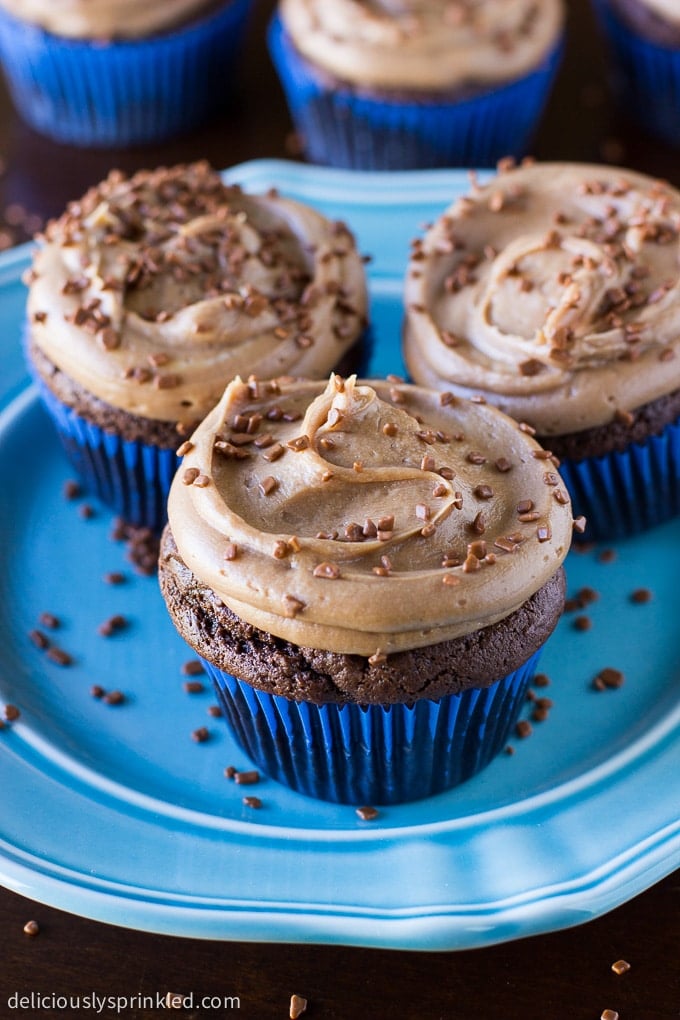 These chocolate cupcakes are simply delicious, nothing fancy about them. Just a simple, super moist, and tender chocolate flavored cupcake topped with a creamy, milk chocolate buttercream frosting. And of course, a ton of chocolate SPRINKLES!
I have used this chocolate cupcake recipe as my base for my overloaded Chocolate Oreo Cupcakes, and my Twix Cupcakes which would be the perfect cupcake to make with all the candy you or your kids will get from Trick or Treating next week. And if your still looking for a Halloween treat to bring to your Halloween party next week, then these chocolate cupcakes are perfect top with Halloween SPRINKLES!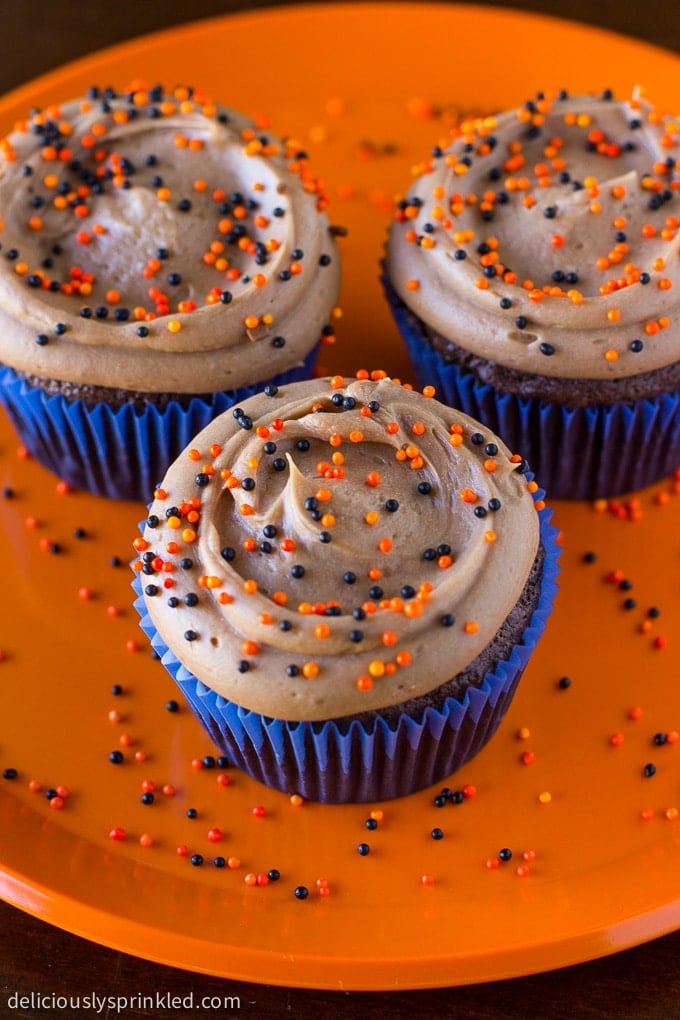 JUST A FEW BAKING TIPS:
✔ Don't be alarmed by how THICK the cupcake batter is, it's suppose to be THICK. That's what makes these chocolate cupcakes the BEST!
✔ To fill the cupcake liners, I used a 3 Tablespoon cookie scoop and I put TWO "cookie scoops" of chocolate cupcake batter into each cupcake liner.
✔ For the milk chocolate buttercream frosting, I bought the XL Hershey's Milk Chocolate candy bar which is 4.4 ounces but if you can't find the XL Hershey's Milk Chocolate candy bar you can buy 4 (1.55 oz.) regular sized Hershey's Milk Chocolate candy bars.
STEP-BY-STEP GUIDE ON HOW TO MAKE THESE CHOCOLATE CUPCAKES:

Yield: 12 Cupcakes
Chocolate Cupcakes with Milk Chocolate Buttercream
Prep Time 10 minutes
Cook Time 20 minutes
Total Time 30 minutes
★ Make sure to read my BAKING TIPS above before you start baking!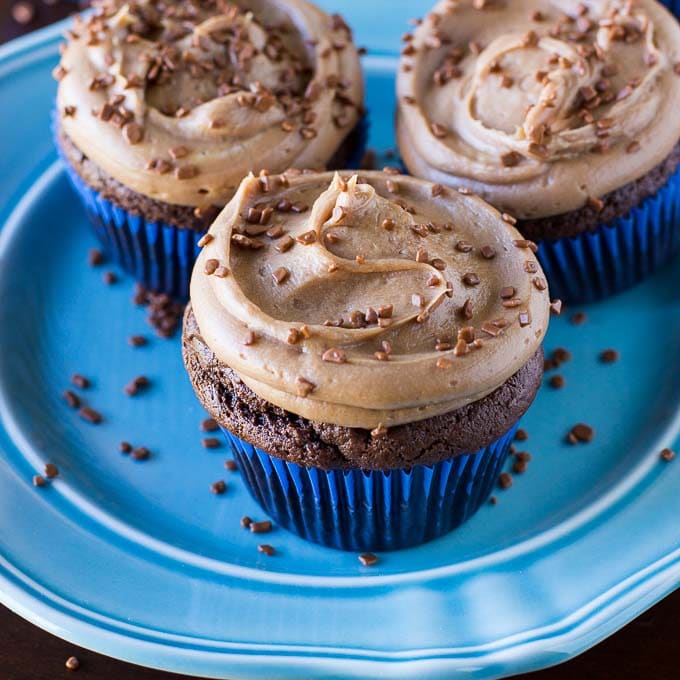 Ingredients
1/2 cup unsweetened cocoa powder
1/2 teaspoon baking powder
1/4 teaspoon baking soda
1/4 teaspoon salt
2 large eggs
1 cup granulated sugar
1/2 cup (1 stick) unsalted butter, softened
1 1/2 teaspoons vanilla extract
1/2 cup sour cream
2 1/2 cups powdered sugar
1/4 cup heavy whipping cream
1/2 teaspoon vanilla extract
sprinkles
Instructions
PRE-STEP: Preheat oven to 350F degrees. Line (1) muffin tins with 12 cupcake liners. Set aside.
STEP 1: In a medium bowl, mix flour, unsweetened cocoa powder, baking powder, baking soda and salt. Set aside.
STEP 2: In a large bowl, using an electric or stand mixer on medium speed, beat eggs and sugar for about 2 minutes, or until light and creamy.
STEP 3: Add the butter and vanilla extract and beat on low speed for about 1 minute, or until well blended.
STEP 4: Beat in the dry ingredients on low speed until blended. DO NOT OVER MIX!
STEP 5: Add the sour cream and beat until smooth.
STEP 6: Fill each cupcake liner about 3/4 the way full with cupcake batter. Bake 18 to 20 minutes or until toothpick inserted in center comes out clean. Allow cupcakes to cool before frosting.
MAKE MILK CHOCOLATE FROSTING:
* Click here to see the step-by-step on how to make the Milk Chocolate Buttercream Frosting!
STEP 7: Place milk chocolate candy bar into small bowl. Microwave for 30 seconds intervals, stirring after each interval until the chocolate is melted and smooth. Set aside and allow to cool.
STEP 8: Using an electric or stand mixer, cream together butter and powdered sugar together until light and fluffy, scraping the sides of the bowl as needed.
STEP 9: Add heavy whipping cream and vanilla extract, and mix until combined. Fold in milk chocolate until fully incorporated into frosting.
STEP 10: Frost cupcakes using a piping bag or knife. Top with SPRINKLES and enjoy!
Notes
 *Store cupcakes in an airtight container for up to 3 days.
And next make my Chocolate Oreo Cupcakes!