Baked Apple Cider Donut Holes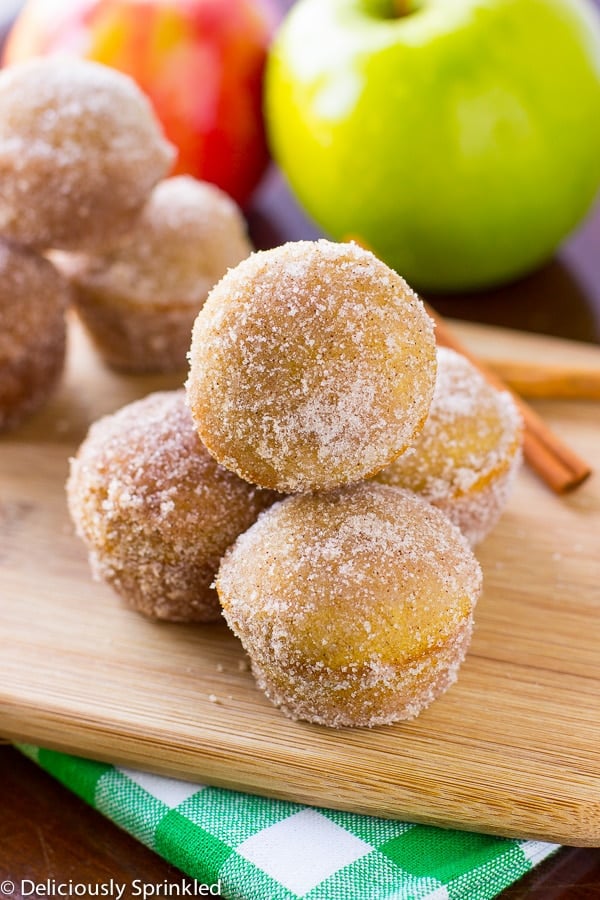 Apple cider donuts were one of my favorite Fall treats as a kid. I couldn't wait to go to the pumpkin patch to pick pumpkins and enjoy a delicious, freshly baked apple cider donut.Well now that I'm all grown up, I haven't been to a pumpkin patch in years and the other day I was craving a apple cider donut, so that's when I came up with the idea to make my own!
Well, let me tell you I'm in TROUBLE because these Baked Apple Cider Donut Holes are WAY to easy to make and if I do say so myself, even more yummy than I remember. I decided to bake these donuts rather then fry them because that way I won't feel as guilty about eating one or two (ok, maybe all of them), and I'm so glad I did because they came out so soft and delicious. Oh, and the cinnamon-sugar topping is amazing! ♥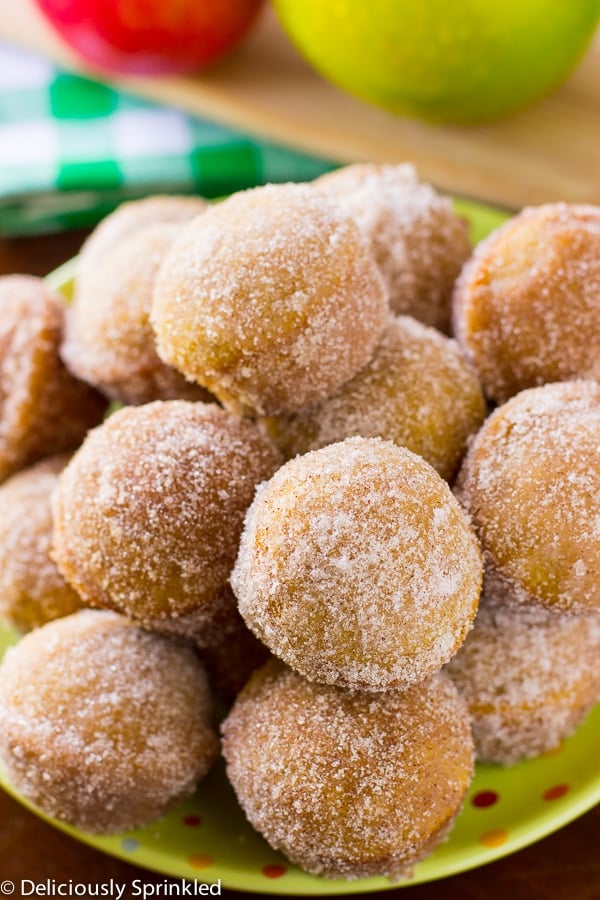 JUST A FEW BAKING TIPS:
✓ APPLE CIDER: I know sometimes it's hard to find apple cider at the store unless it's around halloween/thanksgiving time, so if you can't find apple cider you can use apple juice, I like to use Simply Apple Juice (it's the closet thing I found to apple cider that you can buy all year-round).
✓ MINI MUFFIN PAN OR DONUT PAN: For this recipe, you can make either donut holes using a mini muffin pan or you can make regular sized donuts using a donut pan. The only difference is the bake time. Donut Holes: 9-10 minutes Regular Sized Donuts: 9-12 minutes.
✓ STORING: These donuts taste best on the same day you bake them but you can store them in an air tight container for 2-3 days at room temperature. But trust me, you will not be able to wait 2-3 days to eat them and I guarantee that won't last for 2 days either.
STEP-BY-STEP GUIDE ON HOW TO MAKE THESE BAKED APPLE CIDER DONUT HOLES:

Baked Apple Cider Donut Holes
Yield: 40 Donut Holes
Prep Time:30 minutes
Cook Time:9 minutes
Total Time:40 minutes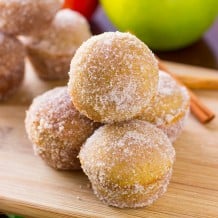 Ingredients:
1 cup apple cider
2 whole cloves
2 cups all-purpose flour
1 1/2 teaspoons baking powder
1 1/2 teaspoons baking soda
1 teaspoon ground cinnamon
1/4 teaspoon salt
1 large egg
2 Tablespoons butter, melted
2/3 cup brown sugar
1/2 cup buttermilk
1 teaspoon vanilla extract
2 Tablespoons applesauce
CINNAMON-SUGAR:
4 Tablespoons butter, melted
1 cup granulated sugar
2 Tablespoons ground cinnamon
Directions:
STEP 1: In a small saucepan, simmer apple cider and cloves together for 10-15 minutes. You want to reduce the apple cider to 1/2 cup. Remove cloves and place apple cider in the refrigerator to cool while you prepare the donut batter.
PRE-STEP: Preheat oven to 350F degrees. Spray mini muffin pan or donut pan with non-stick cooking spray. Set aside.
STEP 2: In a large bowl, whisk together flour, baking powder, baking soda, cinnamon, and salt. Set aside.
STEP 3: In a medium bowl, whisk together egg, melted butter, and brown sugar together.
STEP 4: Add buttermilk, vanilla extract, applesauce, and apple cider.
STEP 5: Add wet ingredients to dry ingredients. Mix until JUST COMBINED.
STEP 6: Pour batter into prepared mini muffin pan or donut pan, filling 3/4 of the way full. Bake for 9-10 minutes for donut holes or 9-12 minutes for regular sized donuts or until toothpick inserted into center comes out clean.
MAKE CINNAMON-SUGAR TOPPING:
STEP 7: In a small bowl, mix sugar and cinnamon together. Dip donut holes into melted butter and then roll into cinnamon-sugar mixture. Repeat for all donut holes. You may need more butter/cinnamon-sugar.
NOTES:
* STORE: Donuts taste the best the same day but can be stored in an air tight container for up to 2-3 days at room temperature.
*DON'T HAVE BUTTERMILK? No problem, you can make homemade buttermilk with just a few simple ingredients. Click here for my step-by-step guide and recipe on how to make homemade buttermilk!
12 Responses to "Baked Apple Cider Donut Holes"
Leave a Comment