Oven Baked Caramel Corn
This homemade Oven Baked Caramel Corn is the best sweet & salty snack. It's so delicious and super easy to make!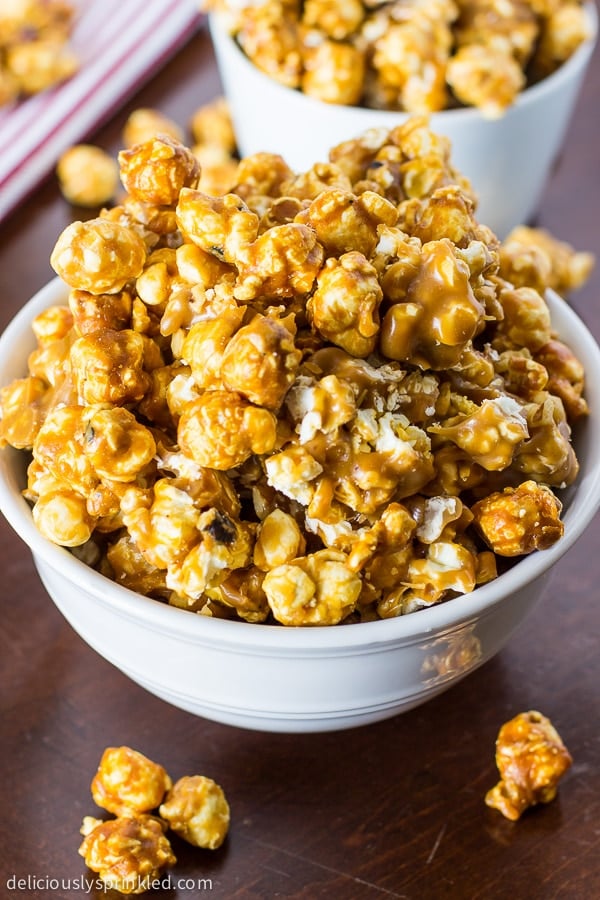 Most people might think of caramel corn as a Halloween treat but not me. In our family, oven baked caramel corn is a holiday favorite. My mom and I always make caramel corn to snack on during all the Thanksgiving day football games, especially if the Packers are playing!
Unfortunately, the Green Bay Packers don't play this year on Thanksgiving but my mom and I will still planning on making our delicious oven baked caramel corn recipe the night before Thanksgiving. It has become a Thanksgiving Eve tradition in our house. We also make a ton of caramel corn for Christmas, because it makes the perfect gift that everyone is guaranteed to love!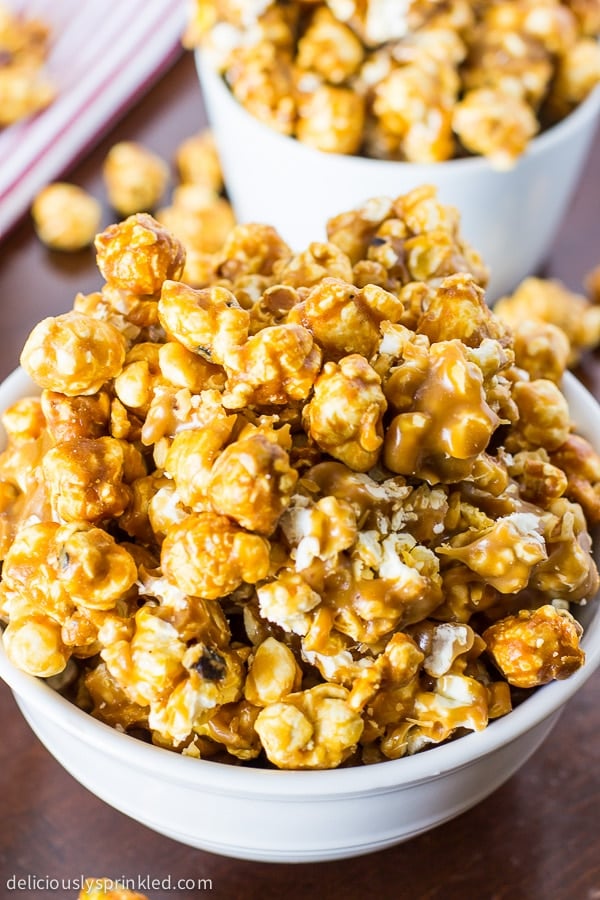 JUST A FEW BAKING TIPS:
✔ I like to use microwave popcorn, I'm actually afraid to make popcorn on the stove! When I'm making caramel corn I like to use the butter flavored popcorn to give the caramel corn even more flavor. But you can use whatever kind of popcorn you like.
✔ Also, you don't need a candy thermometer to make the caramel for this popcorn. Just bring the caramel to a rapid boil, set a timer for 5 minutes, stir it a couple times and that's it….your caramel is ready. Remove caramel from burner and stir in the vanilla and butter extract.
✔ If you don't have a silicone baking mat, I HIGHLY recommend getting one (I use mine almost everyday). It makes stirring the caramel corn every 15 minutes so EASY because the caramel corn doesn't stick to the pan. But if you don't want to get a silicone baking mat, no worries…just make sure you line your baking sheet with parchment paper.
STEP-BY-STEP GUIDE ON HOW TO MAKE THIS OVEN BAKED CARAMEL CORN: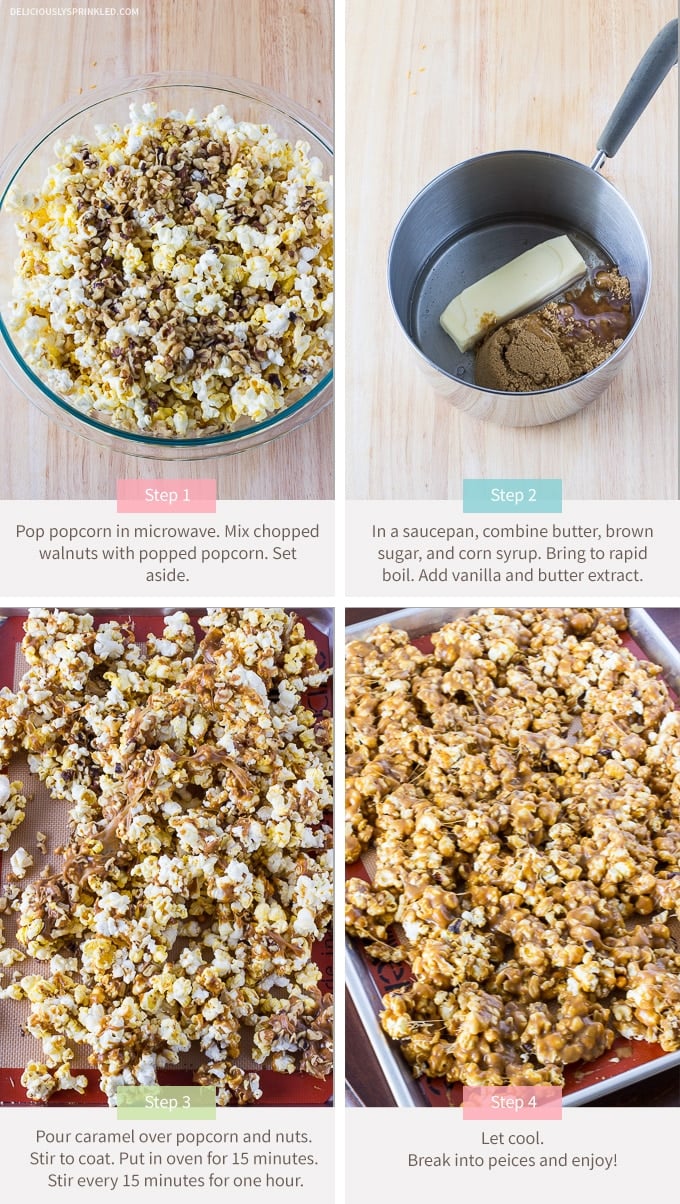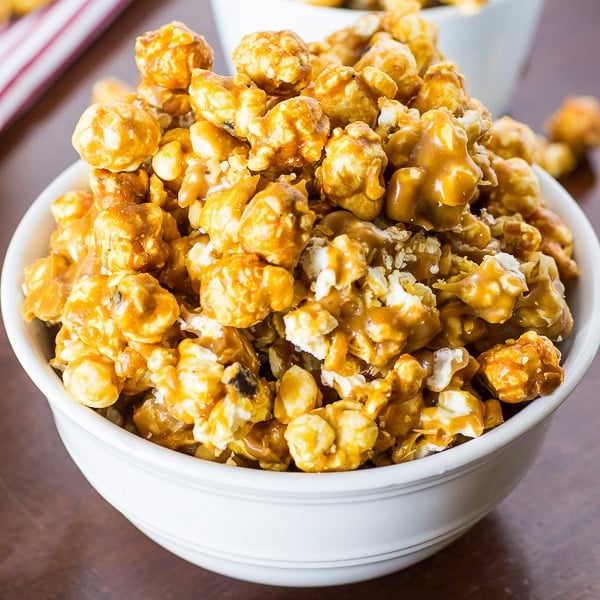 Yield: 8-10 Servings
Oven Baked Caramel Corn
Prep Time 15 minutes
Cook Time 1 hour
Total Time 1 hour 15 minutes
Ingredients
16 cups popped popcorn (3 microwave popcorn bags)
3 cups chopped walnuts or pecans
1/2 cup (1 stick) butter
1 cup brown sugar, packed
1/2 cup light corn syrup (the clear syrup)
1 teaspoon vanilla extract
1 teaspoon butter extract
Instructions
Preheat oven to 250F degrees. Line a large baking sheet with parchment paper or a silicone baking mat. Set aside.
Place popped popcorn into a large bowl. Mix in chopped walnuts or pecans. Evenly, spread popcorn mixture onto prepared baking sheet. Set aside.
In a heavy saucepan, combine butter, brown sugar, and light corn syrup. On medium-high heat, bring to a rapid boil and boil for five minutes, stirring as necessary. Remove from burner and stir in vanilla extract and butter extract.
Pour caramel over popcorn mixture and stir to coat. Put in oven for 15 minutes. Take it out and stir it. Repeat this every 15 minutes for one hour.
Let cool on baking sheet. Once caramel corn is cooled, break up the popcorn and enjoy!
Notes
*Store caramel corn in an airtight container at room temperature for up to 7-10 days.
BAKING TOOLS I USED:
Check out more of my Snack Recipes…
And this Caramel Apple Puppy Chow is delicious too!