Sweet Cherry Bread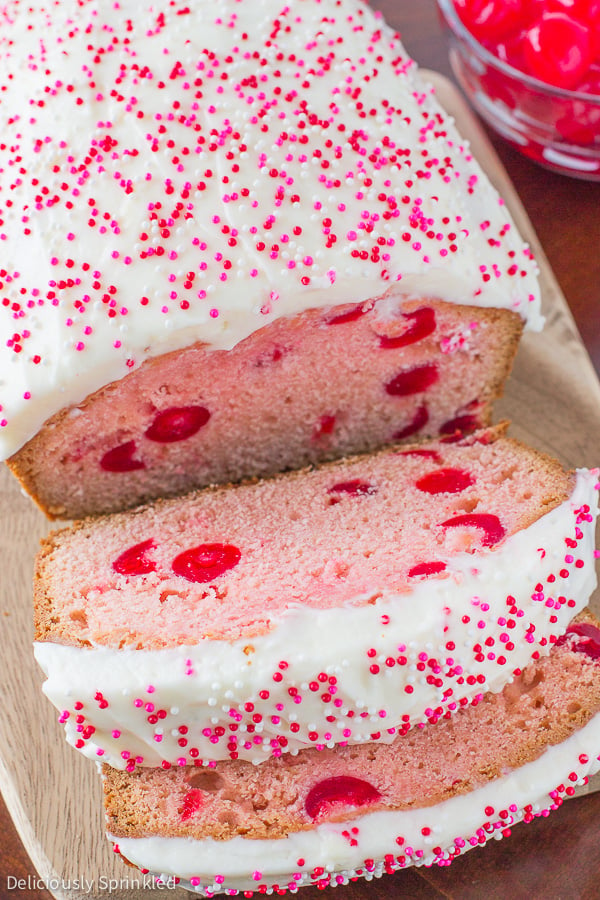 I love maraschino cherries! Ever since I was a little girl sipping on my kiddie cocktail (aka shirley temple), I would always ask my Dad if he could tell the bartender to add more cherry juice and EXTRA cherries on top of my kiddie cocktail, it was the BEST.  And if you have been following my blog for awhile, you know that my all-time favorite ice cream is Ben and Jerry's Cherry Garcia, which inspired my favorite Cherry Chocolate Chip Brownies. ♡
So with Valentine's Day next week, I couldn't wait to make another cherry favorite of mine, which is this Sweet Cherry Bread with Cream Cheese Frosting. It's a delicious, soft, sweet bread filled with maraschino cherries and topped with a light, fluffy cream cheese frosting. Also to make this cherry bread perfect for Valentine's Day breakfast or dessert next week, I added some fun SPRINKLES!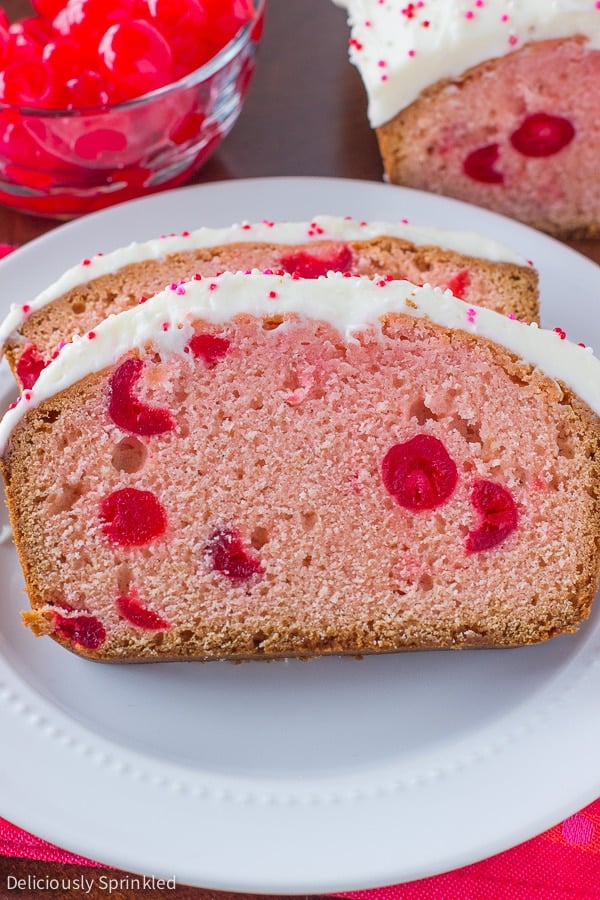 JUST A FEW BAKING TIPS:
✔  Don't let the top of your bread BURN! About half way through baking this bread, make sure to check to see if the top of the bread is getting too brown and if it is just place a piece of aluminum foil over top of bread for the rest of the baking time to avoid burning the top of the bread.
✔  This sweet cherry bread is also great plain without the cream cheese frosting. But I do like that the cream cheese frosting complements the sweetness of the cherry bread making it a perfect combination. And the SPRINKLES makes this sweet cherry bread just so much more FUN!
✔  Lastly, this sweet cherry bread freezes very well. You can freeze this bread up to 3 months but without the cream cheese frosting. When your ready to enjoy let thaw completely, make the cream cheese frosting, frost the top of the completely thawed bread and SPRINKLE with colored sprinkles.
STEP-BY-STEP GUIDE ON HOW TO MAKE THIS SWEET CHERRY BREAD: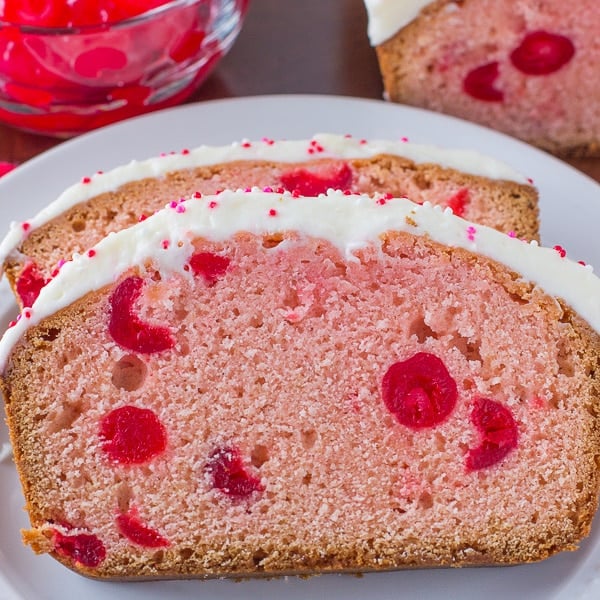 Yield: 1 loaf
Sweet Cherry Bread
Prep Time 15 minutes
Cook Time 1 hour
Total Time 1 hour 15 minutes
★ Make sure to read my BAKING TIPS above before you start baking!
Ingredients
2 cups all-purpose flour
1 cup granulated sugar
1 teaspoon baking powder
1/2 teaspoon salt
1/2 cup real butter, softened
2 large eggs
1 teaspoon vanilla extract
4 oz. cream cheese, softened
1/4 cup unsalted butter, softened
1 cup powdered sugar
1 Tablespoon milk
pinch of salt
sprinkles
Instructions
PRE-STEP: Preheat oven to 350F degrees. Spray a 9x5 loaf pan with non-stick cooking spray. Set aside.
STEP 1: In a large bowl, whisk together flour, granulated sugar, baking powder, and salt. Using a fork or just your fingers, cut the butter into the flour mixture until crumbly.
STEP 2: Add eggs, vanilla extract, and cherry juice to crumble mixture and mix until combined.
STEP 3: Fold in cherries.
STEP 4: Pour the batter into prepared loaf pan. Bake for 1 hour and 10 minutes or until a toothpick inserted into center comes out clean. Let cool completely on wire rack.
MAKE CREAM CHEESE FROSTING:
STEP 5: In a large bowl, using an electric or stand mixer, mix together cream cheese and butter until light and fluffy.
STEP 6: Slowly, add powdered sugar and mix until combined.
STEP 7: Add milk and mix for about 2 minutes or until frosting becomes light and fluffy. Add a pinch of salt, to taste.
STEP 8: Using a knife or cake spatula, frost the top of the cooled bread. Sprinkle with colored sprinkles.
Notes
*Store bread covered in the fridge for up to 5 days.
BAKING TOOLS I USED FOR THIS RECIPE:
Check out more delicious Bread Recipes…
And if you ❤  cherries, you will love these Cherry Chocolate Chip Brownies!