Peppermint Bark Brownies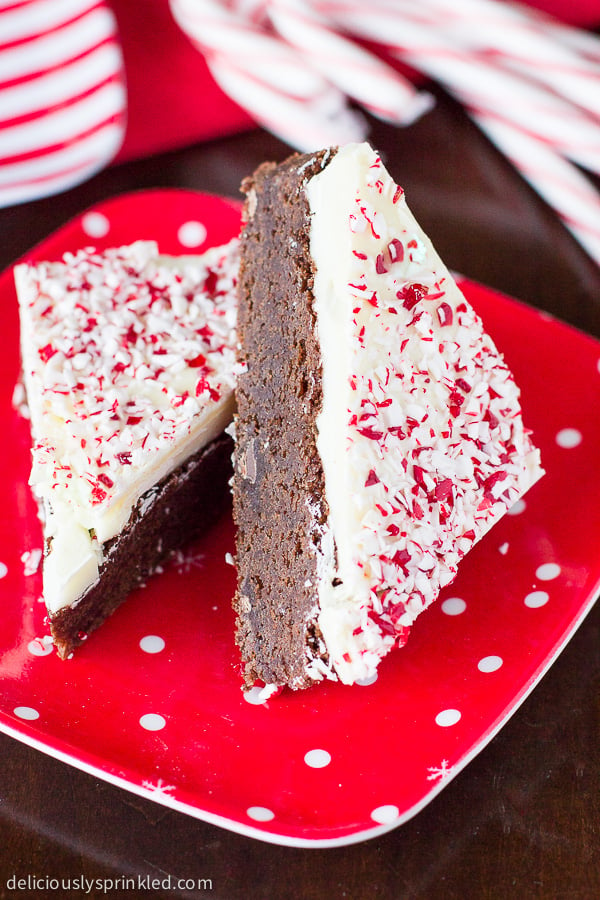 Christmas is less than a week away, can you believe it? I still have some Christmas shopping left to do, I know talk about waiting until the last minute. Speaking of last minute, if your still looking for a delicious Christmas treat to make for your upcoming parties, then look no further. These Peppermint Bark Brownies are so easy to make and are always the first dessert to go when I bring them to a party!
These Peppermint Bark Brownies are made with my favorite double-fudge brownie base and topped with a layer of white chocolate and crushed candy canes. It's a peppermint lovers dream, just like my Peppermint Sugar Cookies. And they make perfect last minute gifts!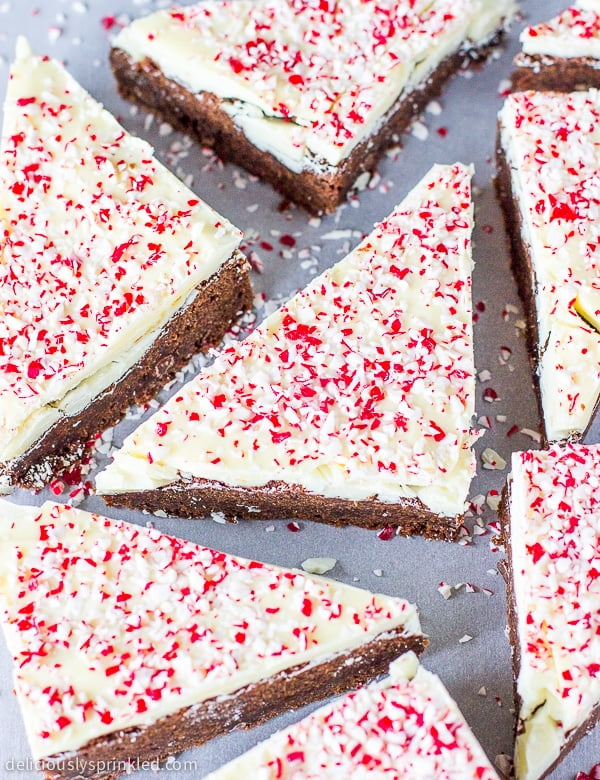 JUST A FEW BAKING TIPS:
✔ You could use a brownie mix instead of making my homemade brownies, but I promise you that these brownies are a MILLION times better then any brownie mix. And to making my favorite double-fudge brownies from scratch don't take any longer to make then using a brownie mix….so your just better off making them homemade, you won't regret it!
✔ For the peppermint bark topping, I used white chocolate baking bars but you could also use white chocolate chips. If your using white chocolate chips you will not need to melt them, just sprinkle a 12 ounce bag  of chocolate chips over the top of the brownies as soon as they come out of the oven. And using a knife or cake spatula, evenly spread the melted chocolate chips over the top of the brownies and sprinkle with crushed candy canes. I just find it easier to pour the melted baking bars over the top of the brownies, I find this way is much easier to spread on top of the brownies…but it's up to you, either way these brownies are delicious! 🙂
 ✔ To crush the candy canes, I placed about 6 or 7 candy canes into a large ziplock bag. I then used a rolling pin to crush the candy canes into pieces. Or if you don't want to get a workout crushing all the candy canes, you can buy crushed candies, like these! 
✔ I cut my brownies into triangles which I think makes them look "fancier" for Christmas or if I'm giving these brownies as a gift. And when you cut these brownies either in triangles or squares don't worry if some of the peppermint bark topping breaks apart a little when you cut them…that's why they are called peppermint bark brownies, there not suppose to look perfect.
STEP-BY-STEP GUIDE ON HOW TO MAKE THESE PEPPERMINT BARK BROWNIES: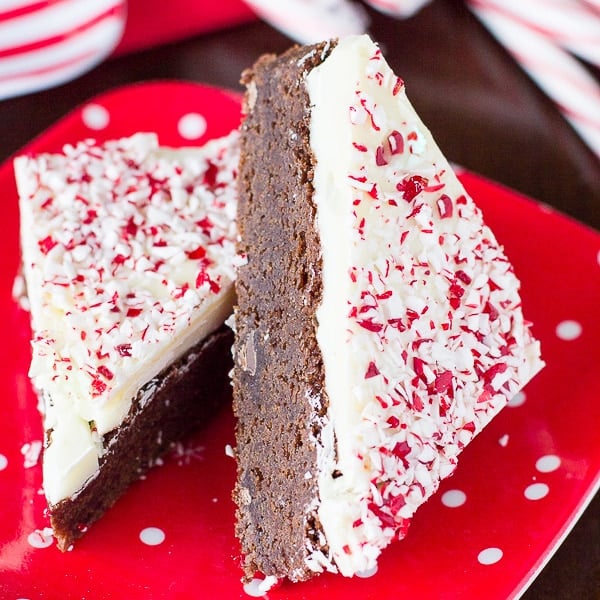 Yield: 24 Brownies
Peppermint Bark Brownies
★ Make sure to read my BAKING TIPS above before you start baking!
Prep Time 15 minutes
Cook Time 50 minutes
Total Time 1 hour 5 minutes
Ingredients
1 1/2 cup granulated sugar
11 Tablespoons butter
1/4 cup water
1 ( 12 oz.) bag chocolate chips
2 teaspoons vanilla extract
4 large eggs
1 1/2 cups all-purpose flour
1/2 teaspoon baking soda
1/2 teaspoon salt
6-7 candy canes, crushed
Instructions
PRE-STEP: Preheat oven to 325F degrees. Line a 9x13 inch baking pan with aluminum foil leaving enough overhang on the sides and spray with non-stick cooking spray. Set aside.
STEP 1: In a medium sized saucepan, combine sugar, butter, and water. Bring to boil and remove from heat.
STEP 2: Add chocolate chips and vanilla extract; stir until chocolate melts.
STEP 3: Pour chocolate mixture into a large mixing bowl. Add eggs, beating after adding each egg.
STEP 4: Mix in flour, baking soda, and salt until combined.
STEP 5: Pour brownie batter into prepared pan. Bake for 50 minutes.
STEP 6: Place brownies on wire rack. Pour melted white chocolate over top of brownies and sprinkle with crushed peppermint candy canes. Let brownie cool completely before cutting them into squares.
Notes
❤ I'd love to see what you have baked! Just snap a photo and hashtag it #DELICIOUSLYSPRINKLED or tag me @deliciouslysprinkled on Instagram!
BAKING TOOLS I USED IN THIS RECIPE:
Check out more Brownie & Bar Recipes…
Also, try this delicious Brownie Dessert Pizza !