Cherry Bars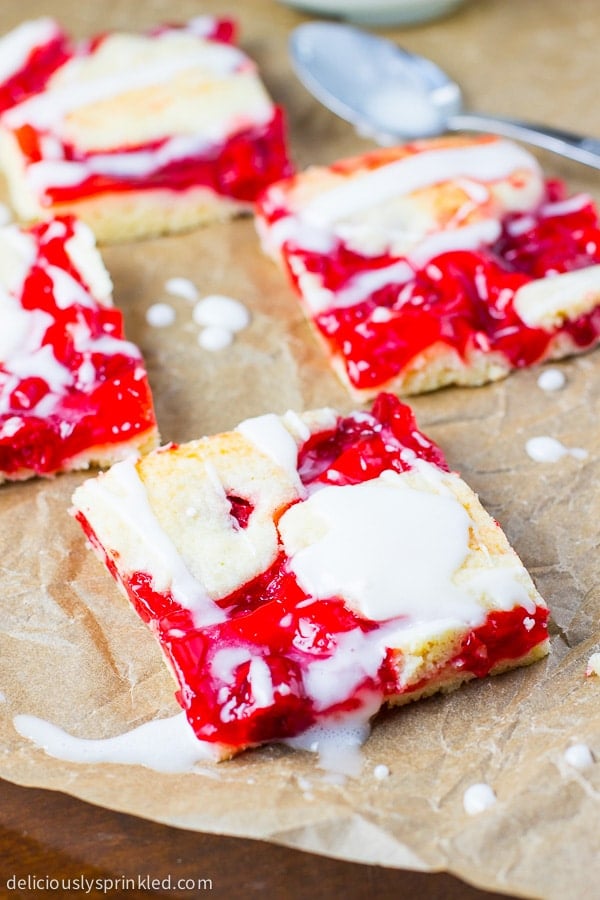 These Cherry Bars are my go-to recipe when I need to bring a dessert to a party with a lot of people and I don't have time to make cookies. They are so easy to make and not to mention that their pretty red color is perfect for a holiday party.
Every time I bring these cherry bars to a party, they are always a huge hit. These bars are sweet but not too sweet, with a delicious, soft,  buttery dough. Drizzle them with a simple vanilla glaze and you have a FANTASTIC dessert!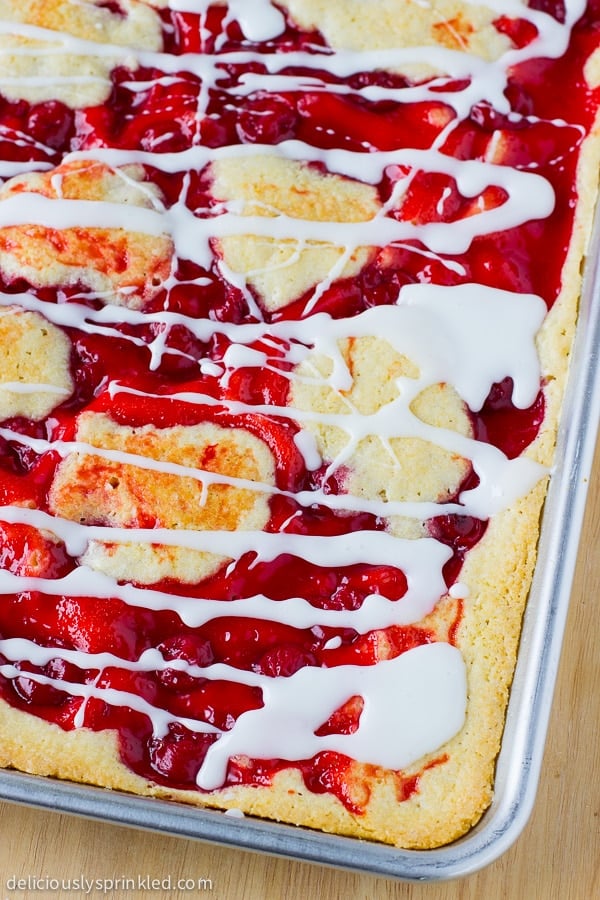 LET'S START BAKING…
STEP 1: Using an electric or stand mixer, cream together the butter and sugar. Make sure you use softened butter in this recipe. So about an hour before your ready to start baking these bars, set out 16 Tablespoons of butter on the counter to let it soften.
STEP 2: Add eggs, vanilla extract, flour, baking powder and salt. Mix together until the batter starts to form. Do not overmix the batter, you want to mix the batter until all the ingredients are JUST combined.
STEP 3: Spread 1/2 of the batter onto a jelly roll pan that is GENEROUSLY sprayed with non-stick cooking spray (DO NOT FORGET this step or you will have a hard time getting the bars out of the pan 🙁 ). I also sprayed a cake spatula with non-stick cooking spray to make it easier to spread the batter out onto the jelly roll pan.
STEP 4: Using a knife or cake spatula, spread the cherry pie filling or your favorite flavored pie filling on top of batter.
STEP 5: Scoop remaining batter onto pie filling. I used a spoon and dropped the batter throughout the top of the pie filling, the remaining batter will not fill the entire pie filling. I then used the sprayed cake spatula to gently spread the batter over the pie filling.
STEP 6: Bake for 35 minutes or until the edges are lightly brown. Depending on your oven, if you notice the top getting too brown, then just place a piece of aluminum foil over the top of the bars. Once the bars are done baking, let them cool for at least 15 minutes before drizzling them with the vanilla glaze.
JUST A FEW BAKING TIPS:
 Use a sharp knife to cut these bars into squares. I usually can cut about 24 bars, but if you cut your bars smaller you can get at least 32 bars.
 Serve warm with vanilla ice cream or whipped cream.
STEP-BY-STEP PHOTOS ON HOW TO MAKE THESE CHERRY BARS: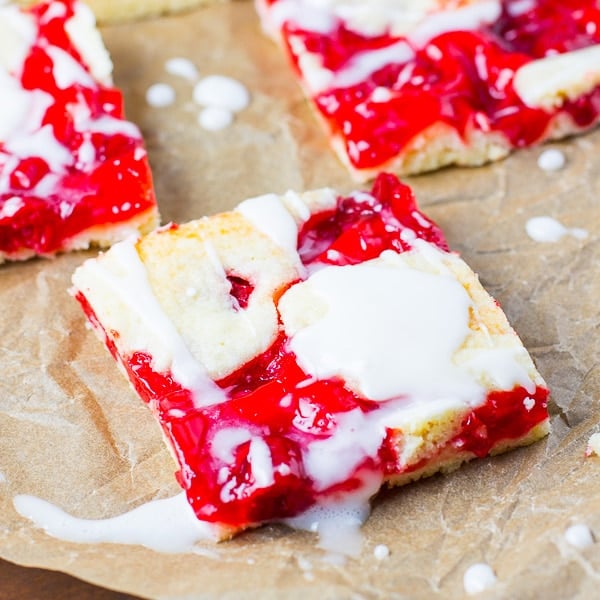 Yield: 24 Bars
Cherry Bars
Prep Time 15 minutes
Cook Time 40 minutes
Total Time 55 minutes
Ingredients
16 Tablespoons butter, softened
1 3/4 cups granulated sugar
4 large eggs
1 teaspoon vanilla extract
2 1/2 cups all-purpose flour
1/2 teaspoon baking powder
1/8 teaspoon salt
1 can cherry pie filling
1 1/2 cups powdered sugar
2 1/2 teaspoons milk
1/8 teaspoon salt
1/4 teaspoon vanilla extract
1 teaspoon butter
Instructions
PRE-STEP: Preheat oven to 350F degrees. Spray 11 x 15 inch jelly roll pan with non-stick cooking spray. Set aside.
STEP 1: Using an electric mixer or stand mixer, cream together butter and sugar.
STEP 2: Add eggs, vanilla extract, flour, baking powder, and salt. Mix until combined.
STEP 3: Spoon 1/2 of the batter into prepared pan and spread evenly.
STEP 4: Spread cherry pie filling evenly over batter.
STEP 5: Spoon remaining batter on top of pie filling and spread. The batter will not cover the pie filling completely.
STEP 6: Bake for 35-40 minutes. Let cool for at least 20 minutes before drizzling with vanilla glaze.
MAKE VANILLA GLAZE:
STEP 7: In a small bowl microwavable bowl, microwave butter for 10-15 seconds or until melted completely. Add vanilla, milk, salt and powered sugar to melted butter and mix until smooth.
STEP 8: Drizzle glaze over cooled bars and cut into squares.
Notes
❤ I'd love to see what you have baked! Just snap a photo and hashtag it #DELICIOUSLYSPRINKLED or tag me @deliciouslysprinkled on Instagram!
BAKING TOOLS I USED TO MAKE THESE BARS:
Check out more Pie Recipes…
And try these Dark Chocolate Raspberry Pie Bars next!