Peppermint Sugar Cookies
Peppermint and the holiday season go perfect together. There's just something about the flavor of peppermint that makes everything taste better. It's no wonder that, once December rolls around, all we want to do is make recipes with peppermint in them, like these Peppermint Sugar Cookies!
These Peppermint Sugar Cookies are a great addition to your Christmas cookie plate this year. These cookies are made with real candy canes and if you love peppermint you can even add peppermint extract to the dough itself. And the best part about this recipe is that it is super easy to make and won't take a lot of time away from all the other dishes you need to make for your Holiday party.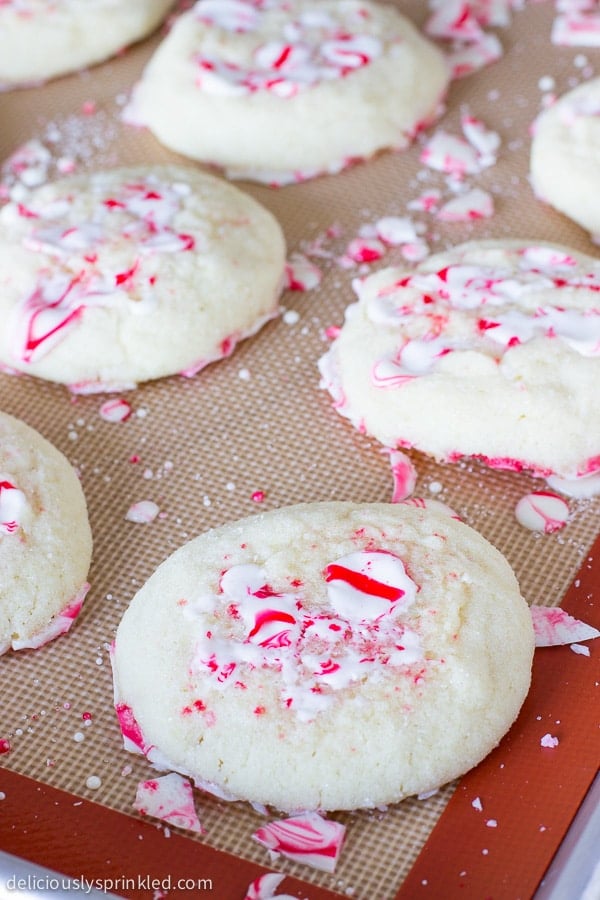 JUST A FEW BAKING TIPS:
✔ To crush the candy canes, I placed about 6 or 7 candy canes into a large ziplock bag. I then used a rolling pin to crush the candy canes into pieces.
✔ If you don't have a whisk you can use a fork or a sifter to combine the dry ingredients together for the flour mixture.
✔ Make sure that you use softened butter. I like to set the butter on the kitchen counter for about an hour before I'm ready to start baking, this gives the butter enough time to become soft.
✔ If you want even more peppermint goodness, use peppermint extract instead of the vanilla extract.
✔ When adding the flour mixture, you don't want to over mix the dough, meaning you still want to see some flour in the dough. Overmixing leads to flat cookies and no one likes a flat cookie!
✔ I make my cookie dough balls 2 Tablespoons each, which makes the perfect sized cookie. Check out my step-by-step tutorial on How to Scoop The Perfect Cookie!
✔ To butter the bottom of the glass, I take 1 Tablespoon of butter and spread it all over the bottom of the glass. Then dip the bottom in the bowl of sugar.
STEP-BY-STEP GUIDE ON HOW TO MAKE THESE PEPPERMINT SUGAR COOKIES:
Peppermint Sugar Cookies
Yield: 24 Cookies
Prep Time: 15 minutes
Cook Time: 10-12 minutes
Total Time: 30 minutes
★ Make sure to read my BAKING TIPS above before you start baking!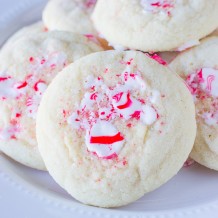 Ingredients:
1 1/2 cup granulated sugar, plus 1/2 cup for rolling
2 1/2 cups all-purpose flour
1/2 teaspoon baking powder
1/4 teaspoon salt
14 Tablespoons butter, softened
2 large eggs
2 teaspoons vanilla extract
1/2 cup crushed candy canes (about 6-7 candy canes)
Directions:
PRE-STEP: Preheat oven to 350F degrees. Line two large baking sheets with parchment paper or a silicone baking mat.
STEP 1: Place 1/2 cup of sugar into small bowl. This sugar will be used for rolling the cookie dough balls into. Set aside. Place about 6 0r 7 candy canes into a large ziplock bag, using a rolling pin, crush candy canes into small pieces. Set aside.
STEP 2: In a large bowl, whisk together flour, baking powder, and salt. Set aside
STEP 3: Using an electric or stand mixer with paddle, cream together butter and remaining 1 1/2 cups sugar on medium speed until fluffy, about 2 minutes.
STEP 4: Add eggs, one at a time, and then add vanilla extract and beat until combined.
STEP 5: Slowly add flour mixture and beat until combined. DO NOT OVERMIX!
STEP 6: Using a 1 Tablespoon cookie scoop or 1 Tablespoon measuring spoon, scoop cookie dough into balls. I make my cookie dough balls 2 Tablespoons each, which makes the perfect sized cookie. Roll the cookie dough balls into the small bowl of sugar. Place dough balls onto prepared baking sheet.
STEP 7: Using a buttered and sugar bottom of a flat-bottomed drinking glass, flatten each ball to about 3/4 inch thick. Sprinkle each flattened cookie dough ball with the crushed candy canes. Bake for 10-12 minutes or until edges are slightly brown. Let cookies cool on cookie sheet for 10 minutes before transferring them to wire rack. ENJOY!
❤

I'd love to see what you have baked! Just snap a photo and hashtag it #DELICIOUSLYSPRINKLED or tag me @deliciouslysprinkled on Instagram!
BAKING TOOLS I USED TO MAKE THESE COOKIES:
Check out more of my Cookie Recipes…
Check out my Christmas Recipes…
And try these amazing Eggnog Cut-Out Cookies next!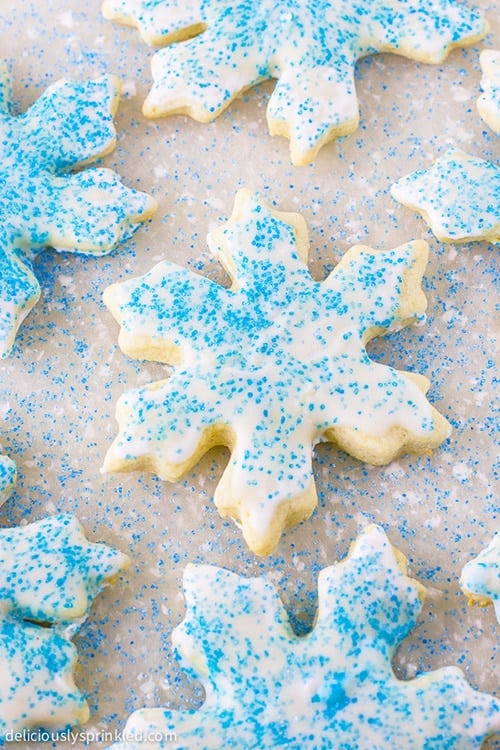 17 Responses to "Peppermint Sugar Cookies"
Leave a Comment