No-Bake Cake Batter Truffles
These No-Bake Cake Batter Truffles are super simple to make and perfect for a party!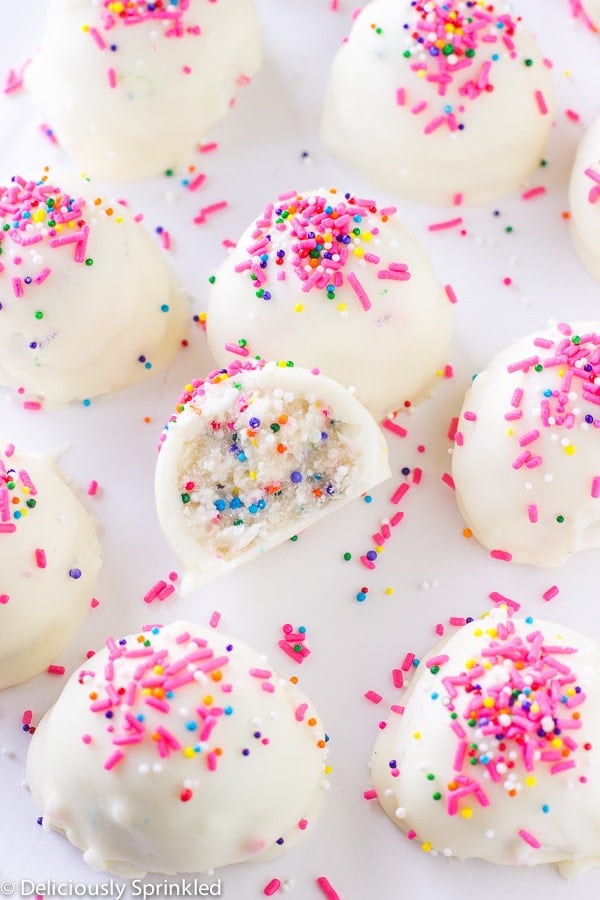 No-Bake.
Cake Batter.
Sprinkles.
It doesn't get much better than that, right?
These No-Bake Cake Batter Truffles are the perfect dessert for the summer months when it's too hot to turn on the oven or as a super easy treat to bring to a party.
They are guaranteed to be a hit because who doesn't love chocolate, cake batter, and SPRINKLES!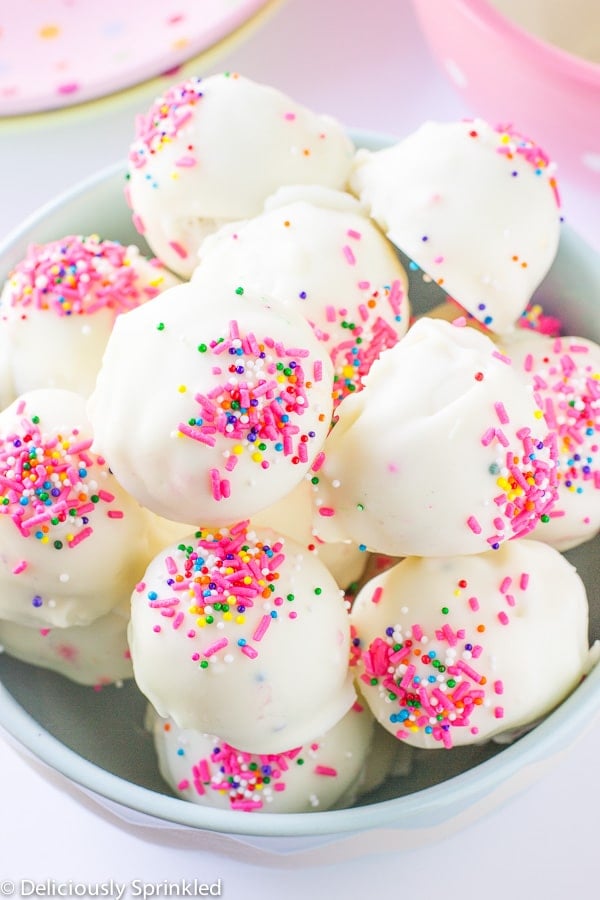 INGREDIENTS TO MAKE TRUFFLES
✓BUTTER
✓FUNFETTI CAKE MIX
✓ GRANULATED SUGAR
 ✓ FLOUR
✓VANILLA EXTRACT
✓SPRINKLES
✓VANILLA ALMOND BARK
✓VEGETABLE OIL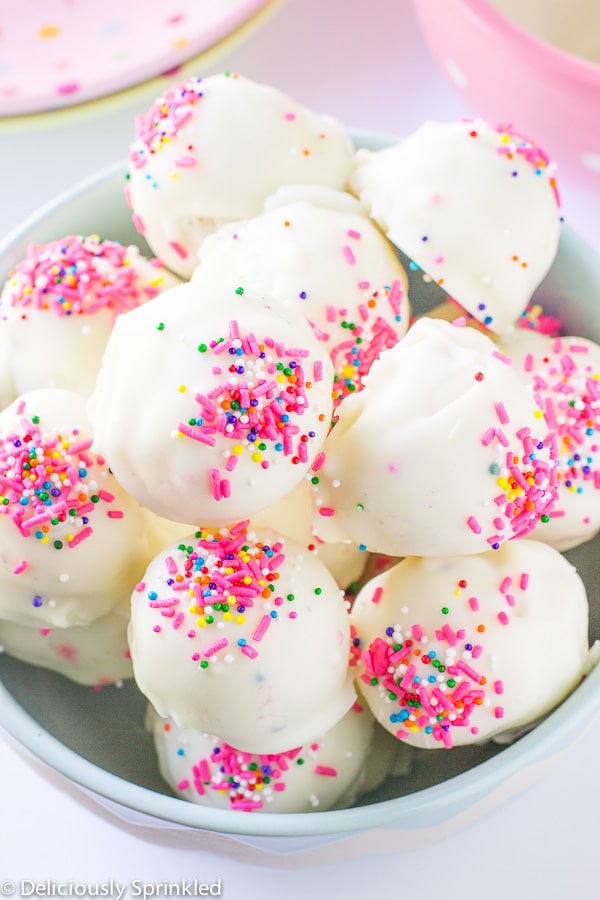 HOW TO MAKE NO BAKE TRUFFLES
SPRINKLES I USED: I used nonpareils sprinkles to mix into the cake batter dough. For the tops of each truffle, I used a mix of nonpareil sprinkles and these bright pink sprinkles.
SCOOPING THE DOUGH: To scoop the cake batter dough into balls, I used a 1 Tablespoon cookie scoop but if you don't have a cookie scoop you can use a 1 Tablespoon measuring spoon.
DIPPING TRUFFLES INTO ALMOND BARK:
Here's the EASIEST way to coat the Cake Batter Truffles in chocolate:
(I like to use Almond Bark  for these truffles. Do NOT use white chocolate chips, they will NOT coat the truffles properly.)
STEP 1: Drop the cake batter truffle in the middle of the melted almond bark.
STEP 2: Using a fork, coat the entire truffle with the almond bark.
STEP 3: Pick up the truffle with a fork – do not pierce it, simply pick it up on top of the fork's prongs (see STEP 5 image below).
STEP 4: Tap the fork on the edge of the bowl to allow the excess almond bark to drip off. Place on a lined baking sheet. Top with SPRINKLES while the almond bark is still wet.

MORE FUNFETTI RECIPES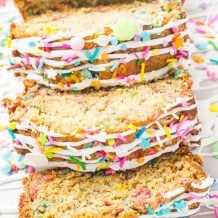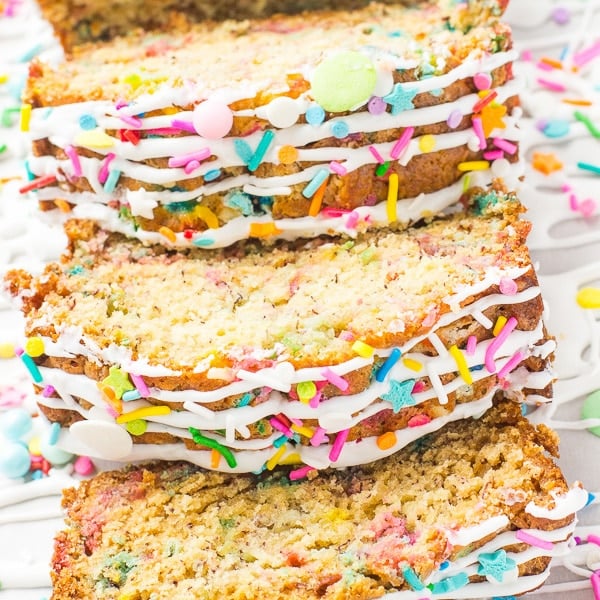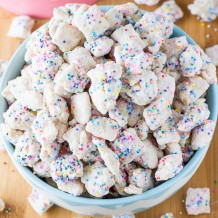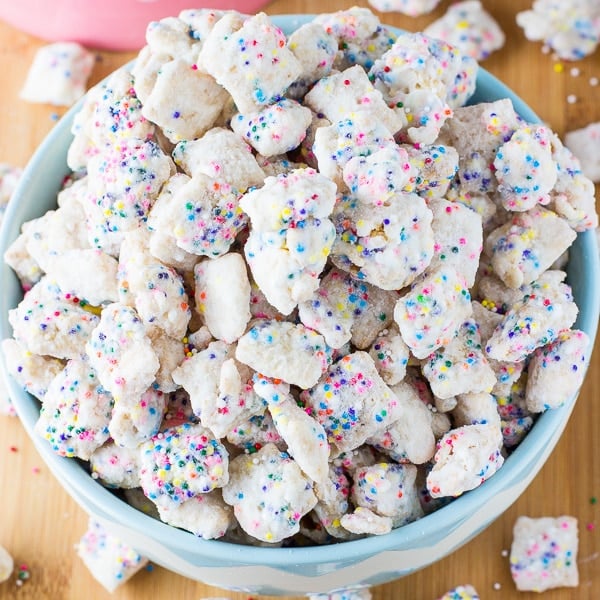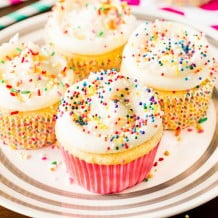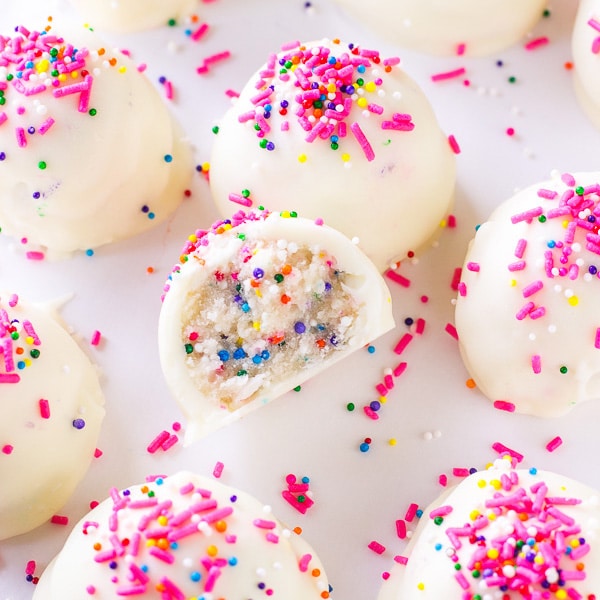 Yield: 35 Truffles
No-Bake Cake Batter Truffles
Prep Time 15 minutes
Additional Time 30 minutes
Total Time 45 minutes
Ingredients
10 Tablespoons butter, softened
1 1/2 cups Funfetti  cake mix
1/2 cup granulated sugar
1/2 cup all-purpose flour
2 teaspoons vanilla extract
1/3 cup sprinkles
16 oz. vanilla almond bark
1 teaspoon vegetable oil
sprinkles, for topping
Instructions
STEP 1: Using a food processor, pulse butter, funfetti cake mix, sugar, flour and vanilla extract together until dough forms.
STEP 2: Put dough into a large bowl and mix sprinkles into dough.
STEP 3: Using a 1 Tablespoon cookie dough scoop, scoop dough and roll into a ball. place dough balls onto baking sheet. Place in freezer for 10 minutes.
STEP 4: While the dough balls are chilling, melt almond bark in microwave until smooth, stir in vegetable oil.
STEP 5: Using a fork, dip each dough ball into melted almond bark. Place covered dough ball back on baking sheet.
STEP 6: Top each covered dough ball with more sprinkles. Place all the dough balls in the fridge for at least 20 minutes to let the almond bark coating to harden.