Mummy Hazelnut Brownies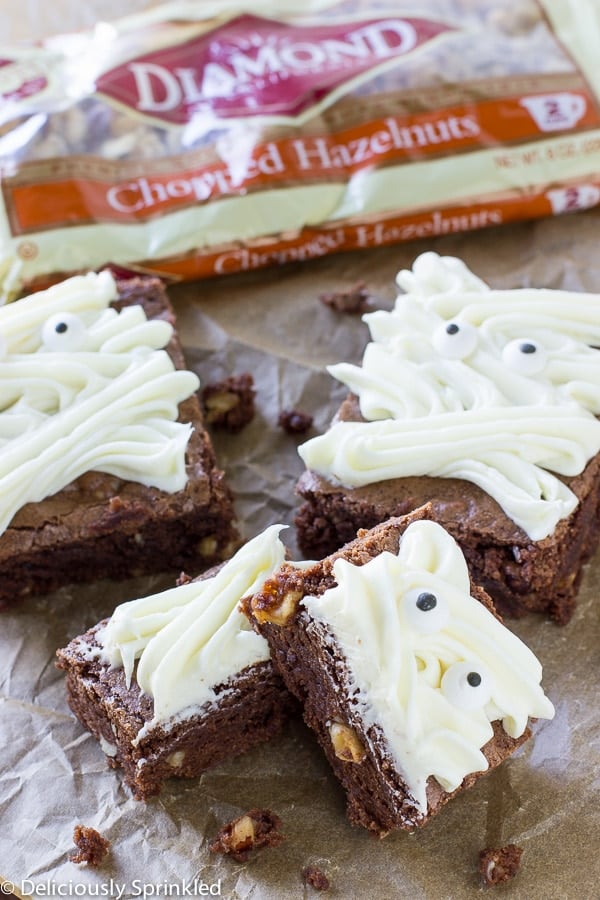 Happy October! ♥
After my Monster Brain Halloween Bark was such a HUGE hit last week, I decided to make these Mummy Hazelnut Brownies. I just can't get enough of "cute Halloween" dessert recipes, don't you agree?
These Mummy Hazelnut Brownies are so delicious. They start out with my favorite homemade hazelnut brownie recipe, trust me these brownies are super simple to make and taste 1000 times better than a store-bought brownie mix (you don't even need a mixer!).
To make these brownies extra cute, I frosted each brownie square to look like a mummy using my favorite vanilla buttercream frosting and some small candy eyeballs. Seriously, these brownies taste amazing and are super fun for Halloween!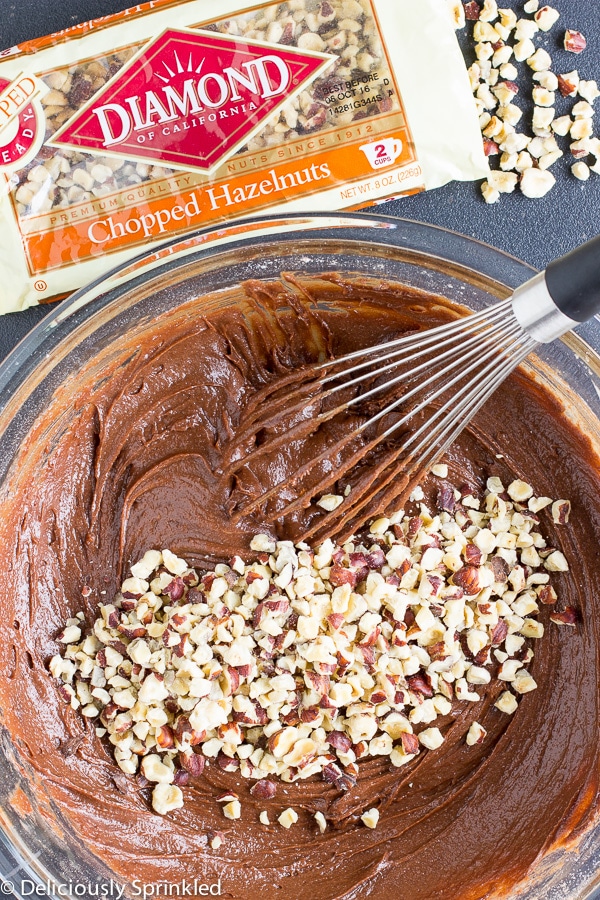 JUST A FEW BAKING TIPS:
✓ LINE YOUR BAKING PAN: To make it super easy for you to cut these brownies into squares, line your 9×13 inch baking pan with aluminum foil, leaving enough overhang on the sides and spray the foil with non-stick cooking spray. Once the brownies have cooled lift the brownies out of the pan, folding down the aluminum foil sides. Use a sharp knife to cut these brownies into squares before frosting.
✓ VANILLA BUTTERCREAM FROSTING: I used my favorite Vanilla Buttercream Frosting, you can find my step-by-step guide to making this frosting recipe here.
✓ FROSTING TOOLS: To frost these brownies, I used a plastic piping bag and a 1M frosting tip to make the mummy pattern. See my step-by-step photos below.
STEP-BY-STEP GUIDE ON HOW TO MAKE THESE MUMMY HAZELNUT BROWNIES:

STEP-BY-STEP GUIDE ON HOW TO FROST MUMMY HAZELNUT BROWNIES: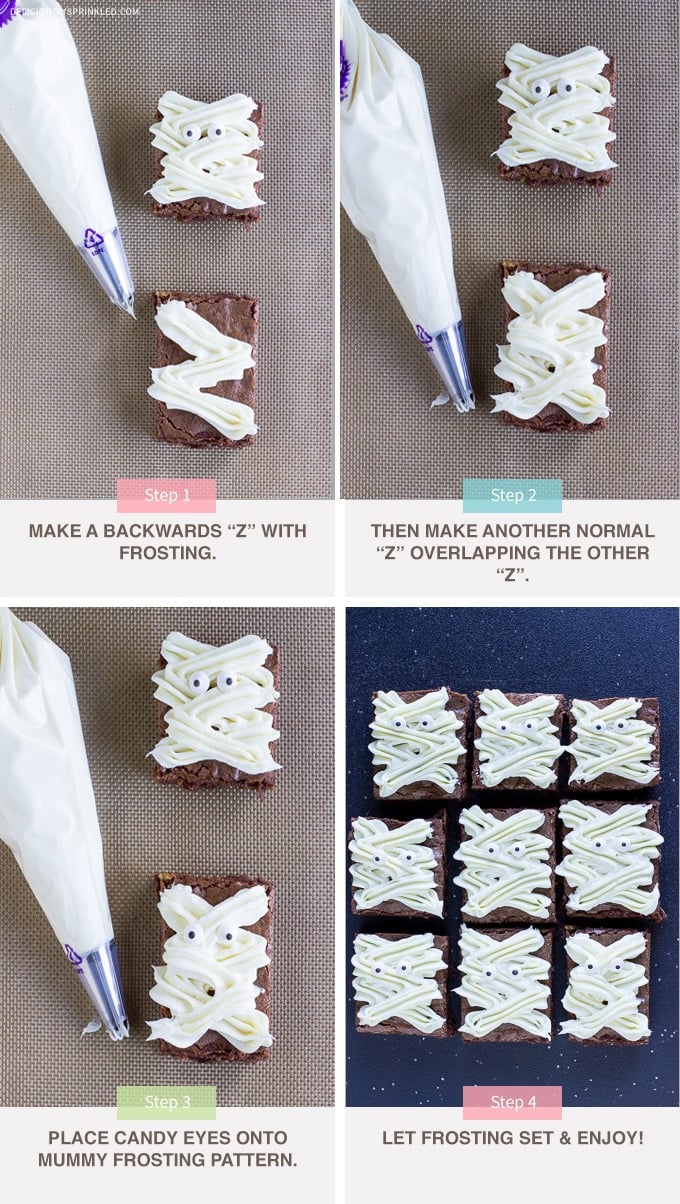 Yield: 15 Brownies
Mummy Hazelnut Brownies
Prep Time 10 minutes
Cook Time 35 minutes
Total Time 45 minutes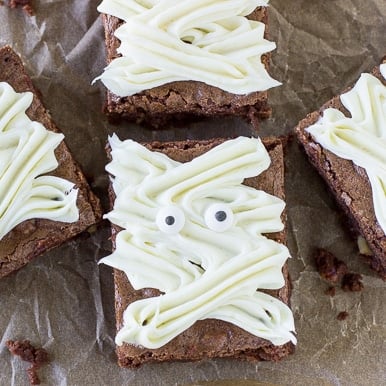 Ingredients
1 cup (2 sticks) butter
4 ounces semisweet chocolate bars, chopped
2 cups granulated sugar
4 large eggs
1 1/2 cups all-purpose flour
1/3 cup unsweetened cocoa powder
1/2 teaspoon salt
vanilla buttercream frosting
candy eyeballs
Instructions
PRE-STEP: Preheat oven to 350F degrees. Line 9x13 inch baking pan with foil, leaving a 2-inch overhang on two sides; coat the foil with cooking spray. Set aside.
STEP 1: In a medium bowl, melt butter and chopped semisweet chocolate together. Let cool slightly.
STEP 2: Stir in sugar and eggs.
STEP 3: Whisk in flour, cocoa powder, and salt.
STEP 4: Stir in chopped hazelnuts.
STEP 5: Pour brownie batter into prepared pan. Bake for 30-35 minutes or until a toothpick inserted into the center comes out clean. Let cool completely before cutting into squares and frosting.
MAKE MUMMY FROSTING PATTERN:
STEP 6: Cut cooled brownies into squares. See step-by-step photos above to learn how to frost each brownie with a mummy pattern.
NOTES:
Notes
*STORE: Store leftover brownies in an airtight container in the refrigerator for up to 1 week.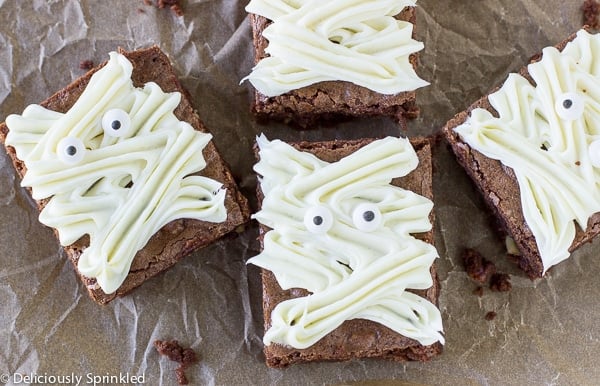 I'm working with Diamond of California to bring you this fun Halloween recipe!