Eggnog Coffee Cake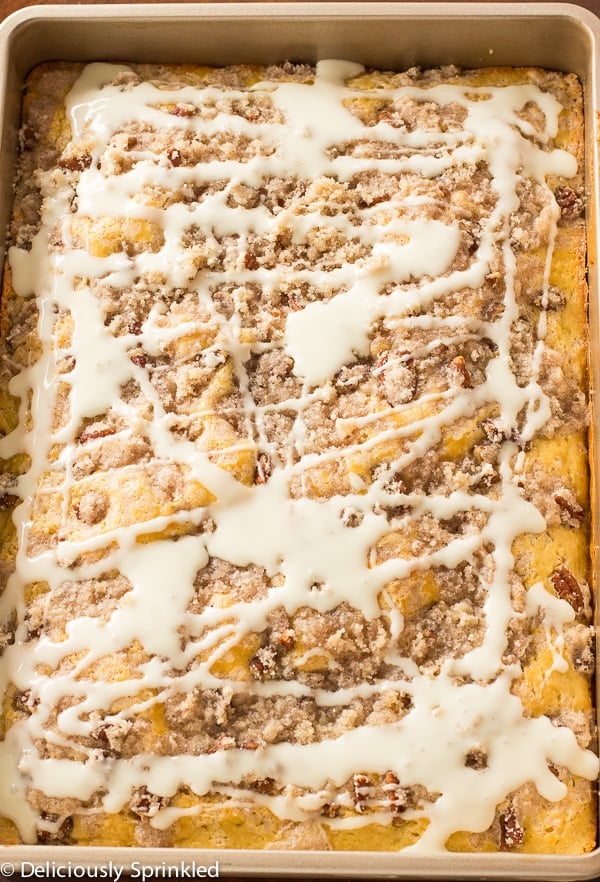 Our Christmas tree is up, holiday music is playing and it's starting to snow. This is my favorite time of year and it wouldn't be Christmas without this Eggnog Coffee Cake.
This Eggnog Coffee Cake is a holiday classic in our family. I make this every year for Christmas morning and the best part is that I can make it the night before and then toss it in the oven in the morning. I also used Silk Soy Nog Orginal which is dairy-free and makes this coffee cake so delicious!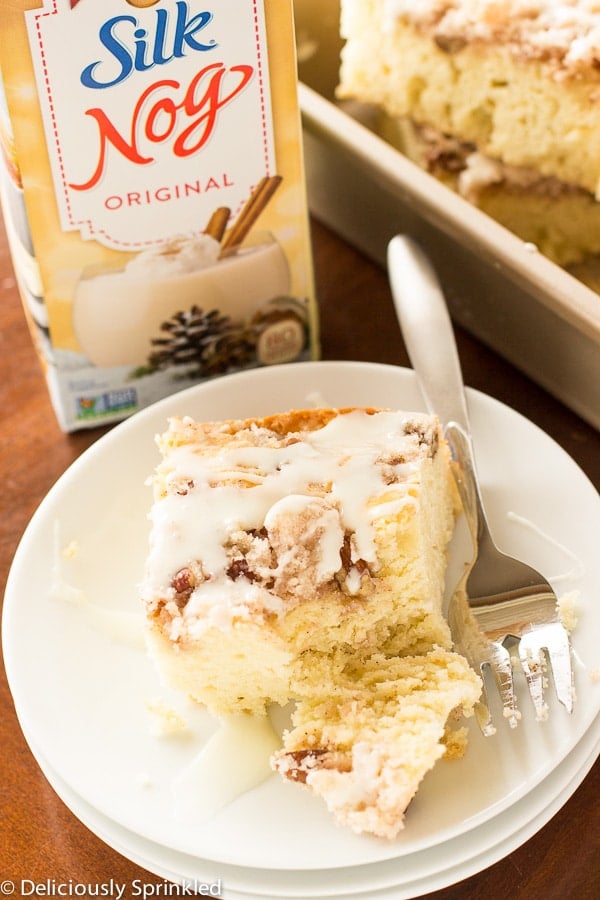 JUST A FEW BAKING TIPS:
✓ SPRAY YOUR BAKING PAN: Make sure to generously spray your 9×13 inch baking pan with non-stick cooking spray. This will make it SO much easier to remove the coffee cake from the pan once it has cooled.
✓ MAKE AHEAD: I like to make this eggnog coffee cake the night before. If you make it the night before just cover it and place it in the refrigerator. Then in the morning, uncover it and bake for 35-40 minutes. Drizzle eggnog glaze over top and serve warm!
STEP-BY-STEP GUIDE ON HOW TO MAKE THIS EGGNOG COFFEE CAKE: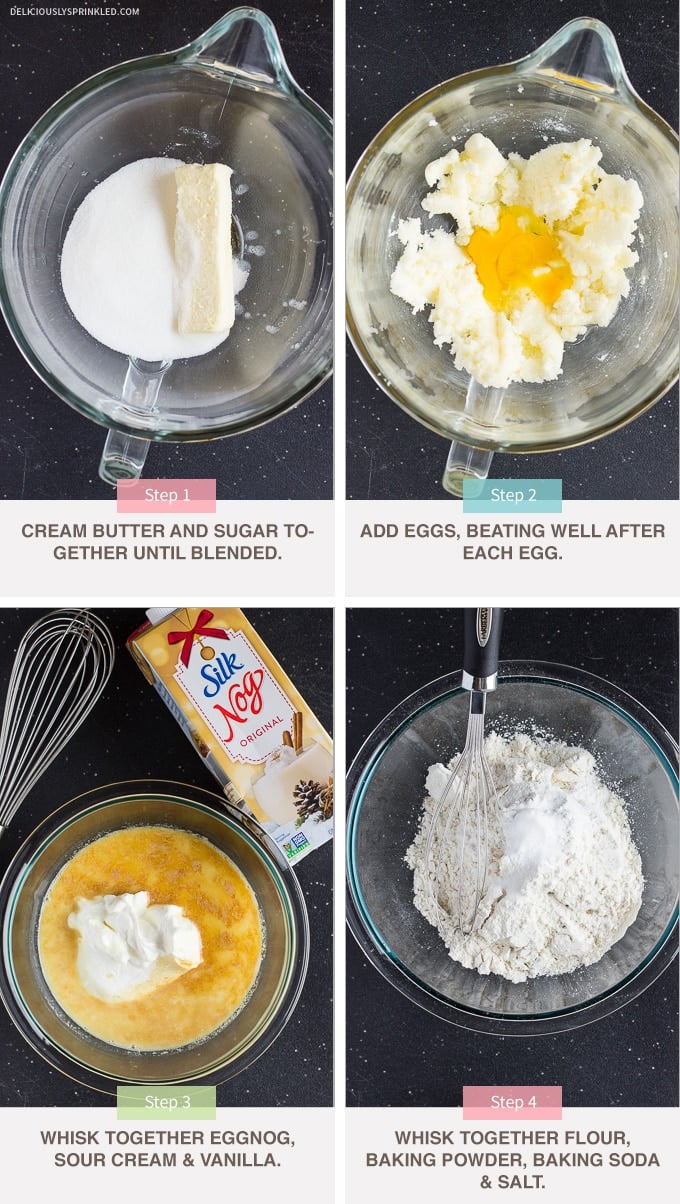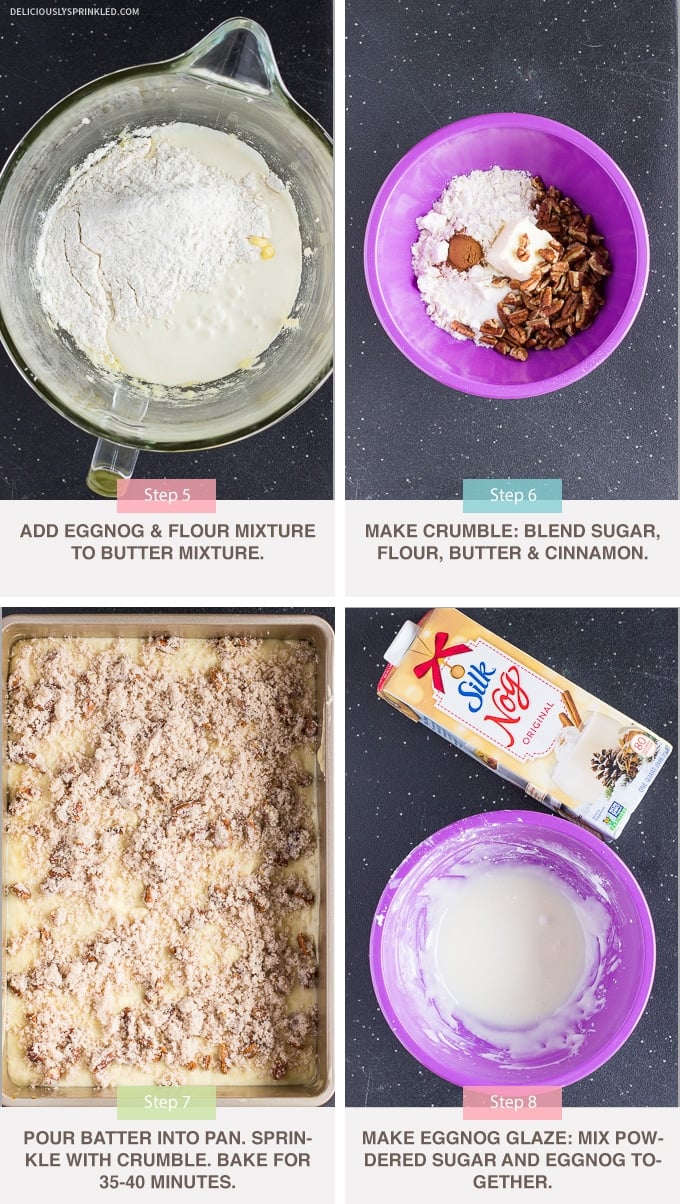 Eggnog Coffee Cake
Yield: 15 Servings
Prep Time: 25 minutes
Cook Time: 35-40 minutes
Total Time: 1 hour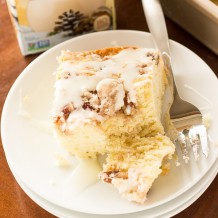 Ingredients:
COFFEE CAKE:
1/2 cup butter, softened
1 cup granulated sugar
2 large eggs
1 cup Silk Soy Nog Orginal
1 cup sour cream
1 teaspoon vanilla extract
2 1/2 cups all-purpose flour
1 1/2 teaspoons baking powder
1/2 teaspoon baking soda
1/2 teaspoon salt
STREUSEL:
2/3 cup granulated sugar
2 Tablespoons all-purpose flour
2 Tablespoons butter, softened
1/2 teaspoon ground cinnamon
1/2 cup chopped pecans
EGGNOG GLAZE:
1/2 cup powdered sugar
1 Tablespoon Silk Soy Nog Orginal
Directions:
PRE-STEP: Preheat oven to 350F degrees. Spray a 9x13 inch baking pan with cooking spray. Set aside.
MAKE COFFEE CAKE:
STEP 1: In a large bowl, cream butter and sugar until blended.
STEP 2: Add eggs, one at a time, beating well after each addition.
STEP 3: In a small bowl, whisk eggnog, sour cream and vanilla.
STEP 4: In another bowl, whisk together flour, baking powder, baking soda and salt.
STEP 5: Add flour mixture to the butter mixture alternating with eggnog mixture, beating well after each addition.
MAKE STREUSEL:
STEP 6: In a small bowl, mix sugar, flour, butter and cinnamon until blended. Stir in the pecans.
STEP 7: Pour batter into prepared pan. Sprinkle with streusel topping. Bake for 35-40 minutes or until toothpick inserted into center comes out clean.
MAKE EGGNOG GLAZE:
STEP 8: In a small bowl, mix powdered sugar and eggnog until smooth. Drizzle over cake. Serve warm.