Blueberry Lemon Cream Cheese Bread
 Blueberry Lemon Cream Cheese Bread filled with a zesty lemon cream cheese mixture and bursting with fresh blueberries. Drizzled with a simple lemon glaze.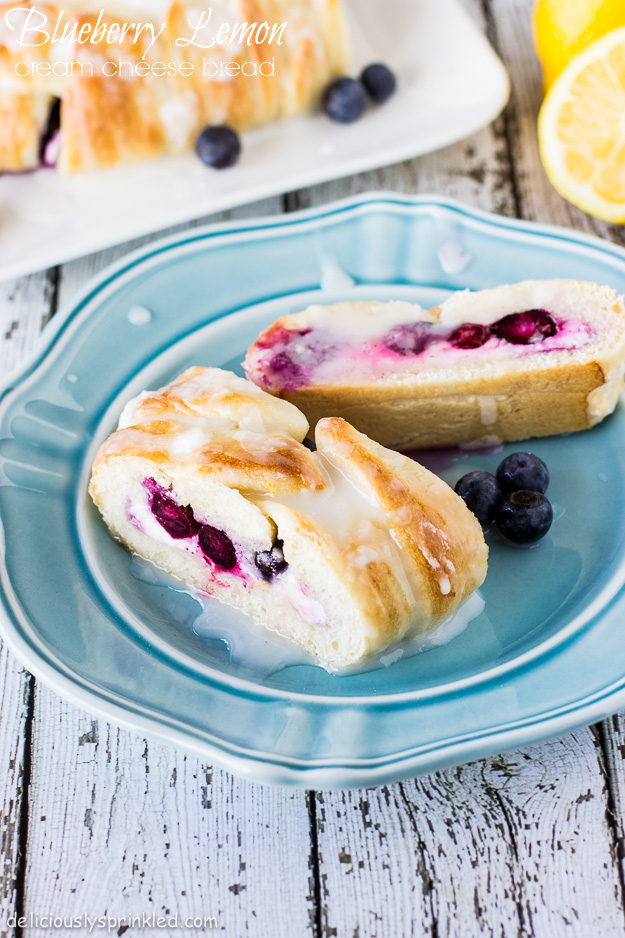 There is just something magical about the combination of blueberries and lemon. Just the thought of these two flavors together makes my mouth water. And ever since I made the amazingly delicious Blueberry Crumb Sticks, I have been wanting to make another simple, delicious recipe using blueberries. This Blueberry Lemon Cream Cheese Bread is bursting with the bright, happy flavors of blueberry and lemon. Perfect for Spring!
This moist and creamy bread loaf, bursting with fresh blueberries, and lemon zest brings together that amazing cheesecake flavor, with a braided bread loaf twist. Drizzled with a simple lemon glaze making this a lovely breakfast or brunch bread that the whole family will love.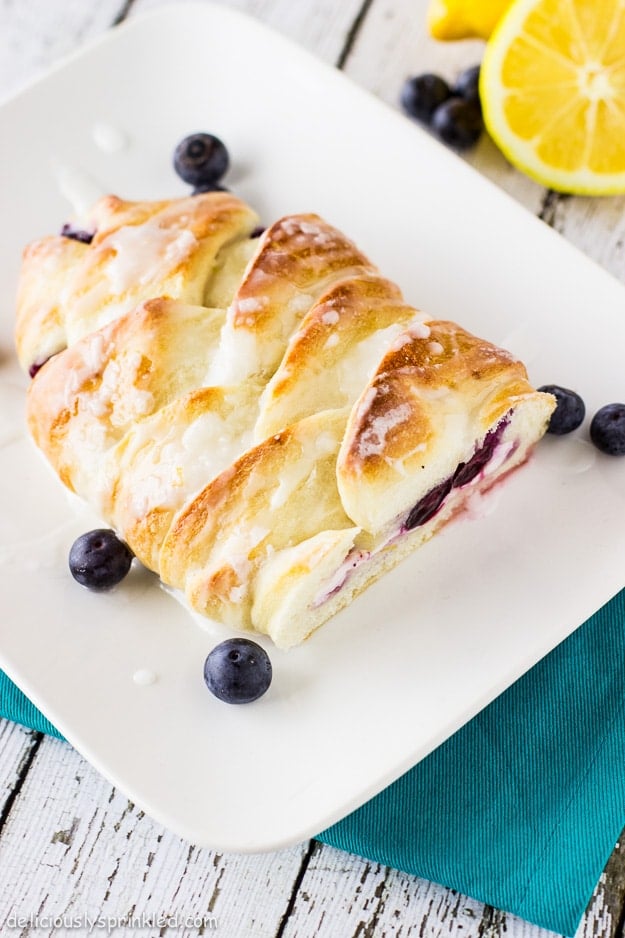 JUST A QUICK TIP:
✔  I have made this bread recipe many times, and I love switching up the fruit filling. Mix it up by using strawberries, raspberries, bananas or even chocolate!
STEP-BY-STEP GUIDE ON HOW TO MAKE THIS BLUEBERRY LEMON CREAM CHEESE BREAD: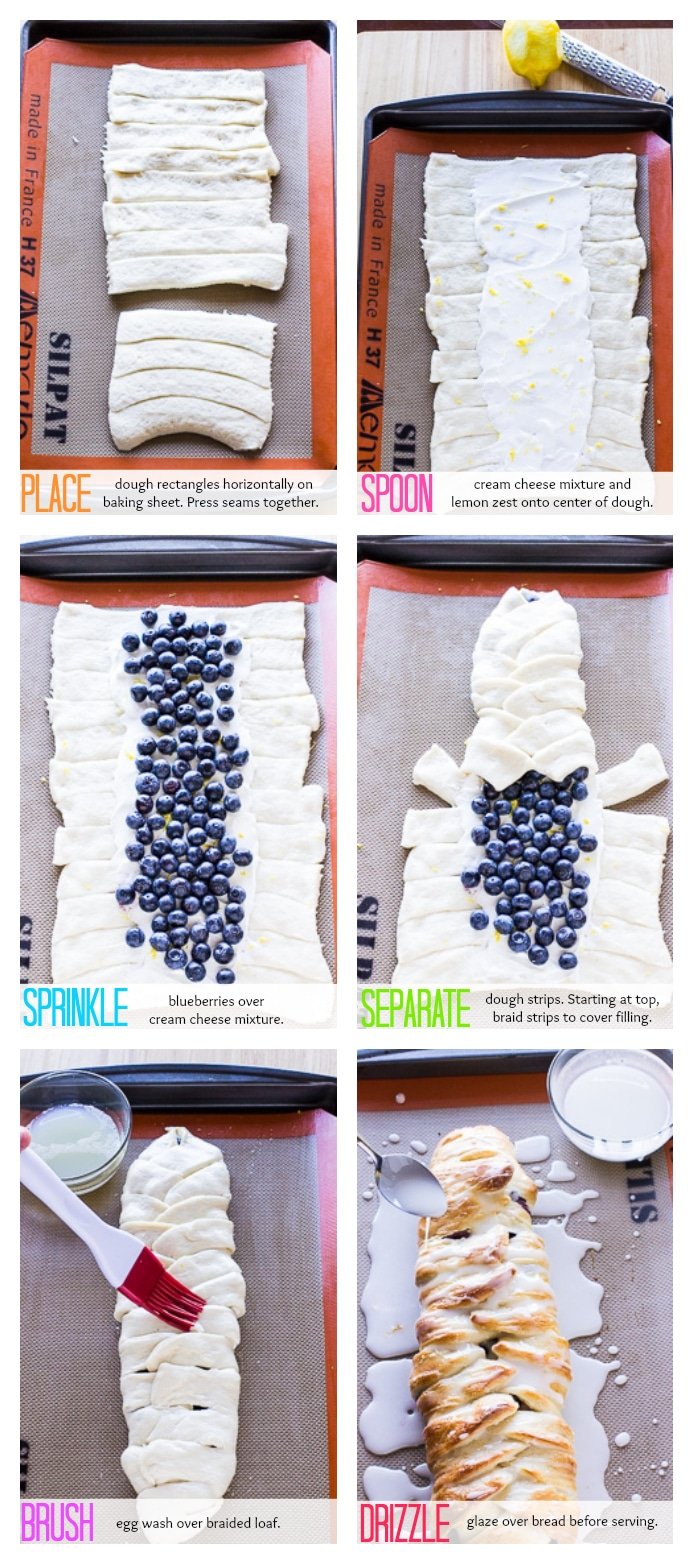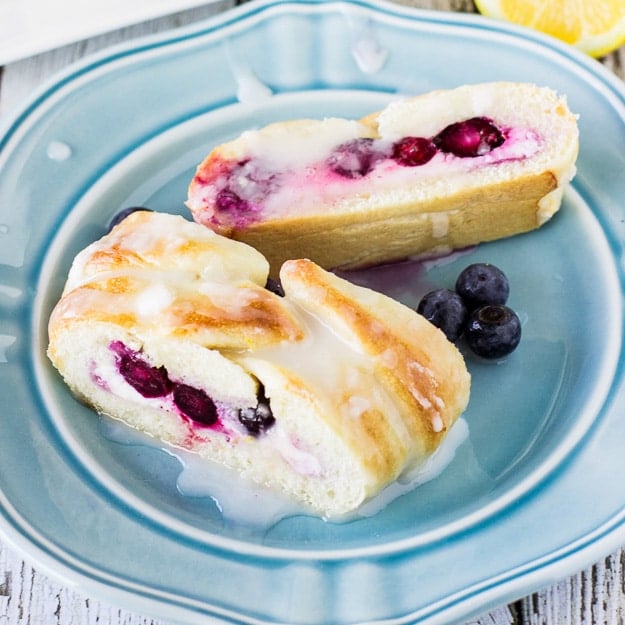 Yield: 16 Servings
Blueberry Lemon Cream Cheese Bread
★ Make sure to read my TIPS above before you start baking!
Prep Time 15 minutes
Cook Time 20 minutes
Total Time 35 minutes
Ingredients
6 ounces cream cheese, softened
1 egg yolk
1/4 cups powdered sugar
3 Tablespoons lemon juice
1 can refrigerated breadstick dough
1/4 cup lemon zest
3/4 cup fresh, frozen, or canned blueberries
2 cups powdered sugar
4 Tablespoons heavy whipping cream
2 teaspoons lemon juice
Instructions
PRE-STEP: Preheat oven to 375F degrees. Line baking sheet with parchment paper or silicone baking mat. Set aside.
STEP 1: Using an electric hand mixer or stand mixer, beat cream cheese until creamy. Add egg yolk, lemon juice and 1/4 cup powdered sugar. Beat until well mixed. Set aside.
STEP 2: Remove breadstick dough from can. Unroll and separate dough into two rectangles.
STEP 3: Place dough rectangles horizontally on prepared baking sheet that is positioned vertically to you. Press seams together to seal.
STEP 4: Spoon cream cheese mixture onto center of dough. Sprinkled lemon zest and blueberries over cream cheese mixture.
STEP 5: Separate dough at perforations up to cream cheese mixture, slightly stretching dough strips. Beginning at top edge of dough, braid strips to cover filling. Tuck last two ends under at bottom of bread.
STEP 6: In a small bowl, beat egg white and water with a fork until blended to form an egg wash. Brush egg wash over braided bread.
STEP 7: Bake for 20 minutes, or until golden brown. Cool for at least 45 minutes before serving.
MAKE VANILLA GLAZE:
STEP 8: In a small bowl, combine powdered sugar, heavy whipping cream, and lemon juice. Mix until smooth. Drizzle glaze over bread before serving.